By Lambert Strether of Corrente.
Trade
"Iowa Gov. Terry Branstad has accepted Trump's offer to be U.S. ambassador to China, Bloomberg reported late Tuesday, citing a trio of sources close to the matter. Branstad, who met with Trump on Tuesday, has a close relationship with Chinese President Xi Jinping, whose country is Iowa's second-largest export market. As the Bloomberg story pointed out, Branstad's friendship with Xi, which goes back to 1985, was a main factor in Trump signaling — during a rally in Sioux City, Iowa, a few days before the election — that the Iowa governor would be his "prime candidate to take care of China" [Politico]. Here we see a liberal taking time out from defending Boeing:
This is a perfect illustration of the kind of snotty, scornful Washington condescension – from @thinkprogress – that is Trump's best asset pic.twitter.com/FJa2b8MOZn

— Glenn Greenwald (@ggreenwald) December 7, 2016
Yes, the "Think" Progress dude later deleted his tweet. But first impulses are so telling, aren't they? And they wonder why they keep losing.
"Fixing trade with Mexico requires raising labor standards" [Sandor Levin, The Hill]. "The economics of production in Mexico are built on labor conditions that fall far short of even the most basic internationally recognized minimum labor standards. It is nearly impossible for workers there to organize and bargain collectively. Almost all of the few unions in Mexico are shams, focused on protecting employers from their workers, not the other way around. That's why Carrier can pay a Mexican worker 10 cents for every dollar it pays an American worker."
Politics
2016 Post Mortem
"The Clintons have done enough damage: Steven Strauss" [The Tennessean]. Spiking the blame cannons quite effectively, from a member of the Board of Contributors at USA Today. Here's an interesting fact I missed: "Every moment on the political campaign trail is precious. Clinton's loss in Wisconsin, for example, might have resulted from her never having visited that state during the entire campaign. Yet, Clinton insisted on flying home most nights during the campaign season — a significant expense of money and, more important, of time and lost opportunities. Imagine if she had used those evenings for more rallies and more contact with local voters in the battleground states — to listen to their needs and concerns." Indeed.

"Van Jones: Only a 'Love Army' Will Conquer Trump" [Rolling Stone]. No, no, no, no, no. For one thing, I don't want to hear "love" in the mouth of a politician. Even I'm not that cynical. For another, don't share your f-e-e-e-l-i-n-g-s. Show me concrete material benefits. "Paint my car," as the punchline to that old Roseanne joke goes.

"[A]bout one quarter of whites who didn't even think blacks and whites should date each other still supported Obama for president" [WaPo].

"Rep. Keith Ellison: I will resign my seat if I win DNC chair" [Star-Tribune]. I dunno. Wasserman-Schulz was pretty effective in rigging the primary for Clinton, and she was only a part-timer.
Trump Transition
Donald Trump: "What amazes a lot of people is that I'm sitting in an apartment the likes of which nobody's ever seen. And yet I represent the workers of the world" [Time]. Which describes the vacuum the goddamned Democrats left quite precisely. Dear Lord. (And what's the deal with Time not even shortlisting Sanders for "Man of the Year"?

"John Kelly, Retired Marine General, Is Trump's Choice to Lead Homeland Security" [New York Times].

"'We're not going to do [an ObamaCare] replacement,' Schumer said of the Senate Democratic caucus. 'If they repeal without a replacement, they will own it. Democrats will not then step up to the plate and come up with a half-baked solution that we will partially own. It's all theirs'" [WaPo]. Which is silly, because ObamaCare is a "half-baked solution." Anyhow, good to know where Schumer's priorities are.

"Trump's not so crazed speech in Ohio" [Ian Welsh]. Good to see somebody else actually looking seriously at a Trump speech and working from a transcript, instead of press reactions (see Naked Capitalism here, here, here, and here.)

"The job of the executive branch, headed by the President, is to enforce the law. And it's perfectly legal for companies to move production, etc. to other countries" [Mosler Economics]. "However, the President elect is seeking to have companies that are acting legally alter their business plans by using leverage/retribution such as threatening tariffs and altering govt. contracting terms and conditions. Unconstitutional abuse of executive power?" Unlike liberals, who are rushing to create a "safe space" for Boeing, Mosler makes a serious point. But I'm not sure he's correct. I seem to remember that when Kennedy did this, it was called "jawboning."

"So far, Trump is acting a lot like Obama" [MarketWatch]. "Both leaders love Goldman and using the heavy hand of government to interfere in private business." With a long list of parallel examples from Obama, including Obama wanting to kill Marine One (the President's helicopter) and jawboning Caterpillar over layoffs. Plus ça change…

"Why a Trump economic boom isn't so farfetched" [Kenneth "Spreadsheet" Rogoff, MarketWatch]. "I am certainly not saying that repealing Obama-era regulation will improve the average American's wellbeing. Far from it. But businesses will be ecstatic, maybe enough to start really investing again. The boost to confidence is already palpable." Ah. The Confidence Fairy.
The Voters
UPDATE "Why Pat McCrory Lost and What It Means in Trump's America" [Public Policy Polling]. Two reasons: Unpopular policies, and Moral Mondays nailing him on them. (Note that PPP is a Democrat shop.)

UPDATE "After the defeat of Hillary Clinton, what should the US left do next?" [New Statesman]. Vivid anecdote:

One left-leaning activist, who prefers to be identified by his blogging pseudonym Cato of Utica, campaigned door-to-door for Clinton. He explains in visceral detail his disillusionment with the party he'd worked within for roughly a decade: "I was heavily involved in North Carolina in places where the recovery never even touched. What else isn't the landlord taking care of? I looked at our candidates and none of the people I was pushing were going to address the problems in these people's lives."

Good summary, interesting not least because apparently the Democratic Socialists of America can only get quoted by a publication on the other side of the pond.
Our Famously Free Press
2003: Rifle-toting Americans barge into Iraq after reading viral Fake News story about weapons of mass destruction.

— Murtaza Hussain (@MazMHussain) December 5, 2016
Stats Watch
I'm including yesterday's stats.
Factory Orders, October 2016: "[A] very strong month for the factory sector as durable goods orders rose 2.7 percent" [Econoday]. "Aircraft (both civilian and defense) was October's special strength, excluding which the gain in orders falls sharply but still comes in at a very solid 0.7 percent…. Core capital goods orders (nondefense excluding aircraft) did rise in October but not much, up only 0.2 percent and well short of offsetting a 1.5 percent decline in September. Weakness here points to trouble for business investment in the fourth-quarter GDP report. And shipments for this category have gotten off to a bad start in the quarter, down 0.1 percent in October." And but: " As previously discussed, manufacturing is a lot smaller than the service sector, and after falling to lower levels with the collapse in oil related capital expenditures growth is resuming at the lower levels, as the lack of aggregate demand moves deeper into the service sector" [Mosler Economics]. However: "There will still be doubts surrounding investment levels, but he data suggests that the manufacturing sector was gaining some strength ahead of the November Presidential election. The concern now will be that renewed dollar strength following the election will tend to halt the recovery as exports are subjected to renewed pressure and imports increase" [Economic Calendar].
Productivity and Costs, Q3 2016: "productivity which rose 3.1 percent for the highest reading since second-quarter last year" [Econoday]. "The rise in compensation, however, was higher than that for output." Oh, bad show!
JOLTS, October 2016: "Job openings dipped 1.7 percent in October" [Econoday]. "Year-on-year, openings are up 2.1 percent in contrast to a 2.2 percent decline for hiring. Openings have been ahead of hiring the past two years, consistent with other data indicating that employers are having a hard time finding the right people." If only there were some force… call it… call it an invisible hand… that would solve this problem! And: "Both employment and JOLTS job openings year-over-year growth have been slowing for the past year. This aligns with Econintersect's Employment Index and the Conference Boards Employment Index – but both indices are forecasting moderate employment gains similar to the last fjour months weaker employment growth" [Econintersect]. And: "Job openings are mostly moving sideways at a high level… This is another solid report" [Calculated Risk].
Gallup U.S. Job Creation Index, November 2016: "Job creation remained strong in November" [Econoday]. "According to the Job Creation Index, a measure of hiring activity that began in January 2008, November's reading tied its high of plus 33 and remained similar to October's score of plus 32."
Employment Situation: "Growth in multiple jobholders continues to trend up (bottom line in graph below). Meanwhile, single jobholder growth remains in an easing trend, falling to a six-month low in November" [Econintersect]. The economy is so great people have two or three jobs!
International Trade, October 2016: "The nation's trade deficit widened substantially in October, to a higher-than-expected $42.6 billion and reflecting a 1.8 percent decline in exports and a 1.3 percent rise in imports" [Econoday]. "Goods exports were soft across the board including for foods/feeds/beverages (down $1.4 billion in the month) and also industrial supplies (down $1.0 billion). Exports of consumer goods fell $0.9 billion with exports of capital goods, barely in the plus column, held down by a $0.6 billion dip in civilian aircraft. The offset is services exports which at $63.3 billion is the highest on record and largely reflects global demand for the nation's technical and managerial services." Heaven help the world… And: "Trade deficit moving back out. I expect a lot more to come this quarter and next. Oil is getting more expensive and the quantity imported is up as well. The 'one time' soybean export bulge is behind us, and global trade in general has slowed" [Mosler Economics].
Gallup US Economic Confidence Index, November 2016: "Americans' confidence in the economy continues its post-election improvement. Confidence has now been above the neutral mark for three consecutive weeks" [Econoday]. "The recent increase in economic confidence appears mostly to be a reaction to the presidential election — chiefly among Republicans, who are much more likely to view the economy positively after Donald Trump's victory." Hmm.
MBA Mortgage Applications, week of December 2, 2016: "Mortgage rates increased again but purchase applications for home mortgages still managed to rise 0.4 percent in the December 2 week, as previously indecisive and cautious buyers chose to lock in what are still relatively low rates before they move higher" [Econoday].
Commodities: "The world's second most traded bulk commodity after oil, iron ore (+16% since the election and 83% year to date) has defied expectations and while the price of the steelmaking raw material is influenced more by stimulus in top consumer China, Trump's infrastructure push should provide some support" [Mining.com].
Shipping: "The percentage of returns has also grown with the advent of e-commerce. "In the Internet age, returns have been driven to a much higher rate—two to three times higher than with a brick-and-mortar store," says Tony Sciarrotta, executive director of the Reverse Logistics Association, an organization of companies and other players involved in returns management" [DC Velocity]
Shipping: "The next big losers in the shipping industry crisis are likely to be ports and terminals, leading to a decline in safety and services" [The Load Star]. "Yesterday, at TOC Middle East, shippers, analysts and forwarders urged the sector to halt the price race-to-the-bottom across the supply chain, to protect the remaining players…. TT Club statistics show that 73% of accidents come from operational errors – which could be mitigated by training, Lack of maintenance leads to 16% of accidents, while lack of contingency planning for events such as poor weather make up the last 11%." Remember the oil tanker that exploded in the Pakistan ship breaker's yard? Like that.
Shipping: "Hundreds of shippers still waiting for cargo in Hanjin boxes 'held hostage' by out-of-pocket ports" [The Loadstar]. "It has not been formally disclosed by authorities, but there are thought to be tens of thousands of Hanjin containers at Singapore terminals, effectively abandoned by shippers unable or unprepared to pay the deposit and other charges required to release the boxes."
Honey for the Bears: "Restaurant traffic suffers first decline in five years as fear of recession takes hold" [MarketWatch]. "Traffic at U.S. fast-food restaurants fell 1% in the third quarter to mark the sector's first traffic decline in five years, the industry tracker NPD Group said Tuesday. Total restaurant visits were also down 1%, hurt by the now familiar list of factors that have weighed this year, ranging from the higher costs of eating out, changing consumer behavior and higher bills for items such as rent and prescriptions." When fast food is no longer an "affordable luxury…"
The Bezzle: "Human scum Jonathan Gray of Blackstone Group LP went on the biggest homebuying spree in history after the U.S. foreclosure crisis, purchasing repossessed properties from the courthouse steps and through online auctions. Four years, $10 billion and roughly 50,000 homes later, he will find out if his gambit will pay off. [Wall Street Journal, "Wall Street as Landlord: Blackstone Going Public with a $10 Billion Bet on Foreclosed Homes"]. "Blackstone and others investors believed that the housing collapse presented a rare opportunity to acquire homes for less than it cost to build them. Millions of foreclosures created a market large enough to justify investing in large systems to manage and maintain sprawling portfolios of rental homes. … Blackstone [aimed] to acquire enough in each market to make maintenance efficient enough to profit." I dunno what "secret sauce" private equity brings to the table here. To be fair, Maine has the oldest housing stock in the nation, and they tend to be sprawling structures, not crap shacks, but that said: Every building manager I've tried who was tech-focused was a disaster. The only way to manage a Maine house is to know the physical plant, know the seasons, know the tenants, know the vendors, and do frequent spot checks on the building. Building management, in other words, will not scale as Blackstone hopes (assuming Blackstone actually wants to be a good landlord. What was I thinking?)
The Bezzle: "Our new report, The Banks That Finance Private Prison Companies, uncovers the banks that provide financing to the two largest private prison companies, GEO Group and CoreCivic (formerly CCA). The companies rely on Wells Fargo and other Wall Street banks for money to build new prisons, get huge tax breaks and expand their control of the criminal justice system. All the while, the banks profit from charging interest and fees" [Capital and Main]. "CoreCivic." Love it.
The Bezzle: "Google parent Alphabet Inc. and others in Silicon Valley are broadening their sights from the digital to the physical world in a bid to expand their influence, and their bottom lines. They promise to reinvent everything from cars to thermostats to contact lenses. Yet in a sign of how innovation is stalling broadly in the American economy, they are finding their new terrain far harder to control than their familiar digital turf" [Wall Street Journal, "Silicon Valley Stumbles in World Beyond Software"]. Maybe Google could "innovate" by reversing the crapification of search and introducing some customer service. And maybe Apple could "innovate" by reversing the crapification of its hardware and software. Just a thought. Anyhow, the problem seems to be… stuff.
Alphabet's 58 self-driving cars have traveled 2.2 million miles [which isn't much], but they are still flummoxed by snow [not a lot of that in Silicon Valley] and drive so conservatively they can disrupt traffic. Its high-altitude balloons designed to beam internet to remote areas have sometimes crashed in shreds, baffling engineers. A planned interactive jacket was delayed for a year in part because its sensor-embedded threads snapped under the pull of industrial looms. The tech giant abandoned projects involving cargo blimps, vertical farming and seawater-to-fuel technology that proved too difficult or expensive.
Turns out engineering that involves stuff is hard. Makes you wonder how good Google's software engineering really is. And their management, which seems to have a lot more money than sense. Eh?
Political Risk: "There is a high degree of probability (approaching 90%, I'd say) that Italy will experience a severe banking crisis in the next few quarters. Perhaps they can stave off the problem for a year, but something will have to be done about the banks. We'll go into that later in the letter, since the plight of the banking system is the root cause of all the country's other problems. Without a banking crisis, Italy would still be the political mess it has been for 65 years, but the banking mess turns the political mess into an economic mess" [Econintersect].
Political Risk: "But the engineering that helps China maintain its reputation as a superbuilder is increasingly financial… and the hundreds of 'industrial funds' used to back projects come weighted with complications. Critics say the funds, which use money from ordinary investors who expect present returns, merely disguise debt while piling more obligations onto strained local governments. [Wall Street Journal].
Today's Fear & Greed Index: 78 Extreme Greed (previous close: 75, Extreme Greed) [CNN]. One week ago: 26 (Fear). (0 is Extreme Fear; 100 is Extreme Greed). Last updated Dec 7 at 11:36am. Mr. Market normalizing…
Gaia
"Eminent Domain Moves Front and Center in Battle Against Pipelines" [Corporate Crime Reporter]. "But many of the liberal groups in Nebraska were saying — no eminent domain for private gain." Good interview with emininent domain maven Alexandra Klass, professor of law at the University of Minnesota. "Let's say President Trump approves that permit for the Keystone XL pipeline on day one, which he said he will do. That doesn't mean the pipeline gets built. It just resurrects the lawsuit that has been on hold in Nebraska over whether you can use eminent domain in Nebraska for oil pipelines."
Black Injustice Tipping Point
"Kerry James Marshall's Met Breuer Retrospective Breaks the Canon Wide Open" [ArtNet]. This show is in New York. Has anybody been?
Our Famously Free Press
"Facebook, Microsoft, Twitter, and YouTube have announced that they will be working together to curb the dissemination of terrorist material online. The Web giants will create a shared industry database of hashes—digital fingerprints that can identify a specific file—for violent terrorist imagery and terrorist recruitment materials that have previously been removed from their platforms" [Ars Technica]. No potential for scope creep there!
"Of Nine Tech Companies, Only Twitter Says It Would Refuse to Help Build Muslim Registry for Trump" [The Intercept].
Imperial Collapse Watch
"The Vietnamese women who fought for their country" [BBC]. "We always had some threat: enemy, disease, dangerous animals. Our hair fell out from malaria and we did not have enough to eat. But the strength of the mind became a physical strength. We would never give up." And they won.
Class Warfare
"Economic growth in the United States: A tale of two countries" [Thomas Piketty, Washington Center for Equitable Growth]. "First, our data show that the bottom half of the income distribution in the United States has been completely shut off from economic growth since the 1970s. From 1980 to 2014, average national income per adult grew by 61 percent in the United States, yet the average pre-tax income of the bottom 50 percent of individual income earners stagnated at about $16,000 per adult after adjusting for inflation.5 In contrast, income skyrocketed at the top of the income distribution, rising 121 percent for the top 10 percent, 205 percent for the top 1 percent, and 636 percent for the top 0.001 percent."
" From Full Employment To 'Inclusive Growth'" [Econospeak]. "But why worry about redistribution when 'technology platforms such as taskrabbit, Alibaba, etsy, and Sama can help give smaller-scale producers and service providers a direct stake in global markets'? Not to mention the burgeoning opportunities to sell Chiclets to Uber drivers stuck in traffic jams! After all, 'more inclusive growth requires frank talk about risks and concrete initiatives to help people adjust to new realities.'" Nonsense from Mark Carney who, as a Canadian, I had assumed to be sane. Crushed again!
News of the Wired
"This accessory fixes everything that's wrong with Apple's new MacBook Pro" [CNet]. Ports!
Annals of typography:
Mediaeval scribes invented this bizarre Latin sentence as a joke to show just how difficult Gothic text could be to read. pic.twitter.com/v9tj9PZZt7

— Haggard Hawks Words (@HaggardHawks) September 28, 2016
"Raise your hand if you doodle while taking notes" [Nature]. Suggestions for visual note-taking (which I use on some projects myself, and find very useful. And fun).
* * *
Readers, feel free to contact me with (a) links, and even better (b) sources I should curate regularly, and (c) to find out how to send me images of plants. Vegetables are fine! Fungi are deemed to be honorary plants! See the previous Water Cooler (with plant) here. And here's today's plant: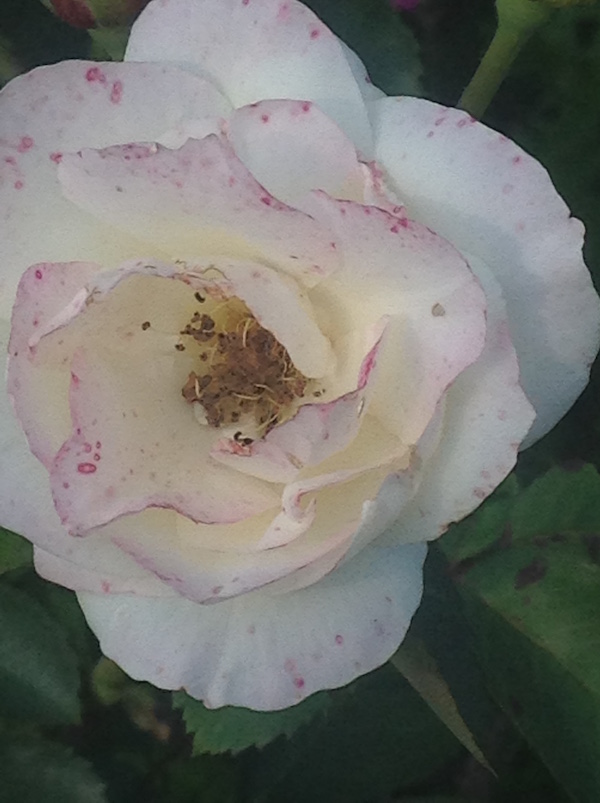 Readers, Water Cooler is a standalone entity, not supported by the very successful Naked Capitalism fundraiser just past. Now, I understand you may feel tapped out, but when and if you are able, please use the dropdown to choose your contribution, and then click the hat! Your tip will be welcome today, and indeed any day. Water Cooler will not exist without your continued help.