Our mini-fundraiser for Water Cooler is on! 87 donors have already invested to support Water Cooler, which provides both economic and political coverage, at a time when former Clinton Administration official Brad Delong announced, following the purge of two Sanders-supporting writers, that those deemed to be too far to the left will be "gleefully and comprehensively trash[ed]" come November. Independent funding is key to having an independent editorial point of view. Please join us and participate via Lambert's Water Cooler Tip Jar, which shows how to give via check, credit card, debit card, or PayPal.
Readers, I apologize for a posting miscue. I set the publication date for this post to June , 2016. And so it appeared, and promptly fell off the front page. –lambert.
By Lambert Strether of Corrente.
In this post, we continue taking a close look at primary sources, in this case a second speech by presumptive Republican candidate Donald Trump. Yesterday, we looked at the speech that Trump gave on national security, prompted by the mass shooting at the Pulse nightclub in Orlando. Today, we'll look at the speech Trump gave on the occasion of his primary victory at the Trump National Golf Club (!) in Briarcliff Manor, a small town in New York state and a pleasant fifteen minute drive away from Chappaqua; Clinton "clinched" her nomination shortly thereafter. The video follows, and the transcript is here.
If you just skipped over the video, I urge to reconsider, grab some coffee and/or start checking your mail, and listen to it now; it's only a little over fifteen minutes long. (Note: I listened; I did not watch. I'd be interested to know what readers who are more visual see, perhaps with the sound down?) As a speech, it's excellent, and it inspired me to give Trump, as a speaker, the same level of attention that I've previously given to Obama, Clinton, Rubio, and even Julia Gillard, then Prime Minister of Australia. Since Trump's speech on national security was timely, I had to post on it first; and since that speech bumped a speech he had planned to give on "Hillary Clinton and how bad a President" she would be, analysis of that speech to come will be forthcoming.
This Trump speech is a "victory speech," a genre where a candidate accepts the mandate of the voters, so it's simpler than a speech on policy. As before, I won't annotate or mark up the entire text. Instead, I'll look at four major themes:
Appeal to Sanders Supporters
Populist Appeal
Corrupt Elites
1. Appeal to Sanders Supporters
The contrast between Trump's appeal to Sanders supporters, and Clinton's, is most immediately seen in the form of a table. Trump's text comes from the video above; Clinton comes from her own victory speech at the Brooklyn Navy Yard (video and transcript here).
Figure 1: Appeal to Sanders Supporters: Trump vs. Clinton
Trump
Clinton

[TRUMP:] To those who voted for someone else in either party, I will work hard to earn your support and I will work very hard to earn that support. . And by the way, the terrible trade deals that Bernie was so vehemently against and he's right on that will be taken care of far better than anyone ever thought possible and that's what I do. We are going to have fantastic trade deals. We're going to start making money and bringing in jobs.

Now I know some people say….

And as your president, I will always have your back. I want to congratulate Senator Sanders for the extraordinary campaign he has run. He has spent his long career in public service fighting for progressive causes and principles, and he's excited millions of voters, especially young people. And let there be no mistake: Senator Sanders, his campaign, and the vigorous debate that we've had about how to raise incomes, reduce inequality, increase upward mobility have been very good for the Democratic Party and for America.

This has been a hard-fought, deeply-felt campaign. But .

Now, I know it never feels good to put your heart into a cause or a candidate you believe in – and to come up short. I know that feeling well. But as we look ahead to the battle that awaits, let's remember all that unites us.

We all want an economy with more opportunity and less inequality, where Wall Street can never wreck Main Street again. We all want a government that listens to the people, not the power brokers, which means getting unaccountable money out of politics. And we all want a society that is tolerant, inclusive, and fair.

We all believe….

At a high level, both appeals have the same structure: A direct address to Sanders supporters, followed by a discussion of policy discussion. I won't discuss the rhetoric of the two in detail[1], but their stylistic differences are plain. Where Trump is concise, Clinton is verbose. Where Trump is concrete ("money… and jobs"), Clinton is abstract ("an economy with more opportunity"). Where Trump is about the voters ("To those who voted…"), Clinton is about Clinton ("And as your president, I…").[2]
Let's contrast these two appeals in more detail. Trump (a) appeals to Sanders supporters in simple language ("we welcome you with open arms"), (b) recognizes a strongly felt and still painful sense of injury ("left out in the cold by a rigged system of super delegates"), and (c) pivots to policy ("the terrible trade deals that Bernie was so vehemently against and he's right on that"). Trump's talking points also have the great merit of being true: The superdelegate system is "rigged," by design, and the trade deals are terrible.[3]
Clinton's appeal follows the same sequence of appeal, injury, and policy, but in a way that is at once more abstract and more clumsy. For (a) appeal, Clinton begins with a lengthy shout-out to "Senator Sanders" (not "Bernie"), much as if she were at a ribbon-cutting ceremony, in which she manages to condescend ("excited") to those she most needs ("young people"), and then meanders through mentions of "the Democratic Party" and "America" before coming to (b) the injury, which, again, is all about her ("Now, I know…"), is couched in terms both abstract and infantilizing ("…it never feels good…), is framed as inside baseball ("…. cause or a candidate…."), and twists the knife in the wound at the end ("and to come up short.")[4]. Finally, Clinton pivots (c) to policy, where as we have seen, she is bloodless and abstract, and Trump is simple and concrete. Worse, there are very few Sanders voters who would view her professed desire to get "accountable money out of politics" as anything but ludicrously and imperviously hypocritical, given the contrast between the Clinton and Sanders fundraising operation.
Trump reminds me of a vacuum cleaner salesman: When he comes to my door, I know just who and what he is, his patter may be entertaining, and I can make him go away. When Clinton comes to my door, she does so with all the charm of a process server presenting a demand note to garnish my vote.
At this point, I should reiterate the caveat that I'm not endorsing any candidate; what I am saying is that if Clinton is to gain Sanders voters, she'll do so using techniques other than those she used here. If it's possible for her to do so without reintroducing herself again, she should ask herself why Trump can say something as simple as "we welcome you with open arms" and she cannot.
2. Populist Appeal
Now to Trump, les amis du peuple:
[TRUMP:] Now I know some people say I'm too much of a fighter.
I confess: I laughed out loud at Trump's humblebrag, because it's exactly like an answer to the classic job interview question: "What is your greatest weakness?" ("I care too much"; "I'm obsessively punctual," "I work too hard," etc.) However, Trump is canny, on multiple levels: First, he's recalling his successful TV show, The Apprentice; second, he shows that he understands that he is asking us for a job, that we are his boss; and third, for those of us who are looking for a job, or worried about the job we have, Trump puts himself in our place. Let it never be said that simple language cannot send complex messages!
[TRUMP:] My preference is always peace, however and I've shown that. I've shown that for a long time. I built an extraordinary business on relationships and deals that benefit all parties involved, always. My goal is always again to bring people together. But if I'm forced to fight for something I really care about, I will never, ever back down and our country will never, ever back down.
Always. Be. Closing.
Thank you. I've fought for my family. I've fought for my business. I've fought for my employees. And now, I'm going to fight for you, the American people like nobody has ever fought before. And I'm not a politician fighting, I'm me. You're going to see some real good things happen.
"I'm me," along with "some people say I'm too much of a fighter," pre-empts pearl-clutching about Trump's Twitter eruptions, outrageous statements, and so on; the storm comes, but passes quickly, and all is sunny again. (Paul LePage used a similar strategy in Maine, successfully. "He may be an assh*le, but he's our assh*le.")
Just remember this: I'm going to be your champion. I'm going to be America's champion because you see this election isn't about Republican or Democrat; it's about who runs this country – the special interests or the people and I mean the American people.
Astonishingly, Trump steals Clinton's clothes while she's at the swimming hole: "I want to be your champion" is an abandonted iteration of Clinton populism.
Every election year politicians promise change. Obama promised change and it didn't work out too well.
A neat transition to our next theme.
3. Corrupt Elites
Here is the "headwind" — to use an elite metaphor — that Clinton is fighting. Pavlina Tcherneva's famous chart, presented by a political figure some may recognize: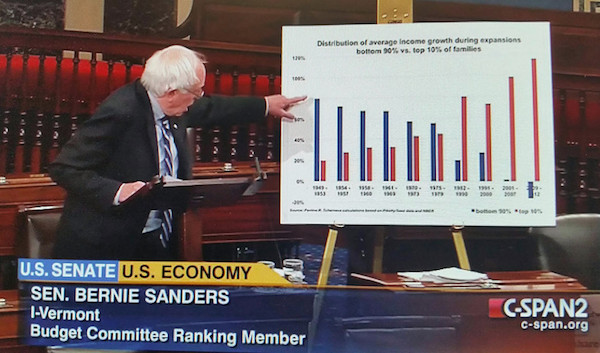 What Tcherneva's chart shows is that under Obama — and unlike all previous "recoveries" — the 1% creamed off all the income gains, and the rest of us (on average) were left worse off. Income inequaltiy under Obama is worse than Bush! That's not good news for Clinton, the candidate of stability. Worse news for Clinton: Anybody who's seen the The Big Short (Oscar-winning, Oscar-nominated, box office smash) understands that the 2008 crash was, in large part, brought about by elite criminals who benefitted, personally, from their crimes, and were never prosecuted. And people understand that the country is still run by those same elite criminals, many of whom dominate Clinton's list of campaign contributors[5], and that based on past performance, those criminals have impunity for future crimes. With that as background, let's see what Trump has to say:
[TRUMP:] Every election year politicians promise change. Obama promised change and it didn't work out too well. And every year they fail to deliver. Why would politicians want to change a system that's totally rigged in order to keep them in power? That's what they're doing, folks. Why would politicians want to change a system that's made them and their friends very, very wealthy? [common sense] I beat a rigged system by winning with overwhelming support, the only way you could've done it – landslides all over the country with every demographic on track to win; 37 primary caucus victories in a field that began with 17 very talented people.
Putting aside parsing of words on "primary caucus victories," Trump is right. Trump took the Republican Establishment and beat it like a gong. To volatility voters, that's very appealing. Note also the appeal of "totally rigged" to Sanders voters.
After years of disappointment, there is one thing we all have learned – we can't fix the rigged system by relying on very, and I mean this so, so strongly, on the very people who rigged it, and they rigged it, and do not ever think anything differently. We can't solve our problems by counting on the politicians who created our problems.
This seems like common sense, but watch Trump's sleight of hand: First, we have "the very people who rigged it," who turn out to be "the politicians." But "the politicians" don't run the country. Crudely, they and the political class (and more diffusely, Thomas Frank's 10%) manage the country, on behalf of its absentee owners, the 1%. Oligarchs "create," not politicians. Second, you should be extremely wary of any candidate who runs against "the politicians" while deploying a narrative of national restoration. We know how that movie ends: Badly. (When I look at Trump's next speech, I'll cover the question of fascism and Trump in some detail; for now, let me note that there are rather a lot of "-isms," being deployed in this campaign, and a large proportion of them call into the category of "any stick to beat a dog.")
The Clintons have turned the politics of personal enrichment into an art form for themselves. They've made hundreds of millions of dollars selling access, selling favors, selling government contracts, and I mean hundreds of millions of dollars.
In my view, this statement, again, has the great merit of being true.
Secretary Clinton even did all of the work on a totally illegal private server. Something about how she's getting away with this folks nobody understands.
Putting aside parsing of words on "totally illegal," right on both counts. "Nobody understands," for starters, because Clinton destroyed half the mail on the server before turning the rest over. I mean, come on.
Designed to keep her corrupt dealings out of the public record, putting the security of the entire country at risk and a President in a corrupt system is totally protecting her – not right. I am going to give a major speech on probably Monday of next week and we're going to be discussing all of the things that have taken place with the Clintons. I think you're going to find it very informative and very, very interesting. I wonder if the press will want to attend, who knows.
Hoo boy. (This is the speech bumped for the national security speech.)
Hillary Clinton turned the State Department into her private hedge fund – the Russians, the Saudis, the Chinese – all gave money to Bill and Hillary and got favorable treatment in return. It's a sad day in America when foreign governments with deep pockets have more influence in our own country than our great citizens.
Trump's upcoming speech should be quite something.
I didn't need to do this. It's not easy, believe me. I didn't need to do it. But I felt I had to give back to our wonderful country which has been so good to me and to my family. I've traveled to many of our states and seen the suffering in people's eyes. I've visited communities in New York, New Jersey, Pennsylvania, Connecticut, Indiana and Ohio whose manufacturing jobs, they literally, these jobs have virtually disappeared, an embarrassment to our country and it's horrible.
Absolutely right. Notice, however, the sleight of hand again: Trump doesn't mention private equity, which played such a large part in "disappearing" those jobs.
I've embraced the victims of illegal immigration, moms and dads who have had to bury their own children because of people that shouldn't have been in the country – remember it, folks, remember it.
And absolutely wrong. I'm not a fan of nativism.
Conclusion
Again as a troll prophylactic, let me say that this post is not an endorsement of any candidate. It's easy to see how Clinton can and should assault Trump's nativism. It's not so easy to see how Clinton can defend herself against Trump's charges of corruption, especially when Trump connects, as he can and should, real suffering to the actions of corrupt and criminal elites. It's also not clear whether Clinton can, or even seeks, to connect to voters outside her relatively narrow base.[6] Finally, Trump is not dumb. Trump is not a buffoon. Trump is focusing on the vulnerabilities of his adversary with laser-like precision and lethality. Trump can discipline himself to use a Teleprompter, select an excellent speechwriter, and deliver a scorcher of a speech; it will be interesting to see how he does in the debates when he's had time to polish his zingers. Whether Clinton can neutralize the truths (many) in Trump's critique and capitalize on calling out the bullshit (much, much, much) is unknown. Whether our famously free press can do to Trump what they did to Sanders is unknown. Whether Republican elites will do a McGovern on Trump is unknown, and whether Johnson will do for Hillary in 2016 what Perot did for Bill in 1992 is unknown. There is our rickety and fraud-prone electoral system to consider. And then there are "Events, dear boy. Events." But anybody who thinks that Clinton will get a free ride to the Oval Office is delusional.
NOTES
[1] You will note the anaphora in Clinton's speech: "We all want…. We all want… We all want…." Trump uses even simpler figures of repetition, like diacope ("repetition of a word with one or more between, usually to express deep feeling"): " and that ." Other figures of repetition include epizeuxis ("We had some days") and the more general conduplicatio combined with parallelism (" who it is, who they are." Trump's rhetorical figures, like his vocabulary and syntax, are simpler than Clinton's. (One wonders whether the repetition is useful to achieve continuity in a speech punctuated by regular applause or laughter.) That doesn't mean that they're ineffective; to me, the repetitive words strike like hammer blows.
[2] Of course voters know that Trump isn't really "about" them. Voters, and especially NC readers, aren't children. They know that Trump is a billionaire, not an especially nice man, and a business past not without shade. But at least he cares enough to fake it!
[3] Nobody should take Clinton's crawfishing on trade seriously; Obama's for TPP. If Clinton is really against TPP, then she needs to start fighting Obama about it, to make sure it doesn't pass in the lame duck.
[4] At least when Trump says "loser," he uses only one word!
[5] It's unfortunate that Open Secrets categorizes finance as an "industry." In Veblen's terms, finance is not industry but business.
[6] Given Sanders' performance among all "identities" encountering today's economy, I hope we can finally put the nonsense about an "Obama Coalition" to rest.