By Lambert Strether of Corrente
In this post, we continue our tradition of close reading of primary sources, in this case a third speech by presumptive Republican candidate Donald Trump (previous posts here and here). Today, we'll look at the speech Trump gave at the Trump SoHo Hotel, a "posh high-rise" in Lower Manhattan (in which the Trumps invested no capital). This is the speech Trump had planned to give before the Orlando mass shootings, after which he rescheduled. The video follows, and the transcript is here.
Here's a word cloud of the speech: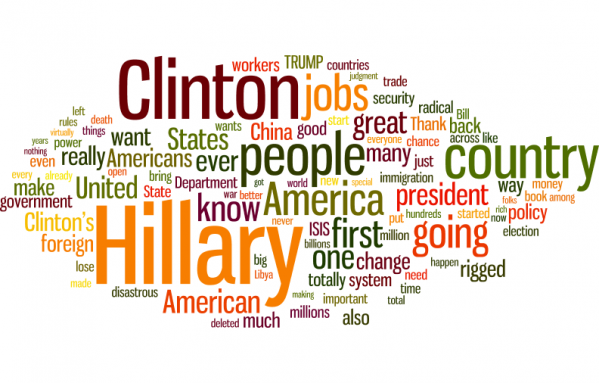 As you can see, the speech has one central subject: "Hillary" "Clinton." (My original word cloud had a tiny "Libya" neatly positioned between the jaws of the large "C" in "Clinton" — readers, I swear it! — but unfortunately Wordle's algorithm has some randomness built in, and when I refreshed the page after changing the typeface, the word cloud's layout had changed, and I wasn't able to reproduce the effect. Sad!) Whether the cloud of smaller and tiny subjects surrounding "Hillary" "Clinton" is the result of a scattershot approach, or of machine gun fire, is yet to be determined.
Let's begin by looking at the spin, starting out with the Republicans; from Politico, "Is this the new Trump?":
"You can really see a difference between a Corey and a Manafort approach," said Michael Steele, the former RNC chairman. "Corey would say 'just go for it.' Manafort is telling him he has to define a narrative and stick to it; and he clearly is trying to turn some corners. The test is can he sustain that. The next interview he gives, can he stay on message and drive those points home?"
Of course, the Rice-Davies Rule ("They would say that, wouldn't they?") applies, as with all partisan operatives, and we see the bipartisan technical vocabulary ("narrative," "on message") of the exact sort of Beltway professional Trump scorched in the primaries. Nevertheless, that a fully paid-up member of the Republican establishment says this now is a story in itself, Manafort is stone professional and either an excellent speechwriter himself or made a good hire, and Trump wrangled a teleprompter successfully. So we see some signs of health in the Trump campaign.
The Rice-Davies Rule also applies to the Democratic nomenklatura; picking one at random [please give me a moment to throw a dart at the list David Brock keeps for his "writer's bureau" — kidding!] we find Brian Beutler, by no means the worse of them, at The New Republic (seemingly unaffected by its latest ownership change). Let's parse this out:
Though scripted, Trump's remarks were scattershot and defensive. In that regard, and in the rather inelegant and desperate way they were deployed to change the current narrative of the race, they resemble the disorganized, information-dump-like attacks his primary campaign rivals aimed at him, just as their campaigns were about to falter. Everything all at once, but too little, too late.
As for "scattershot," I will leave that to you to decide. "Defensive"? Hardly. And "too little, too late" is something we really don't know, isn't it? (Democrats, in general, ever since they discovered the word "performative" in 2003 or so, have had a bad habit of acting as if saying words makes them come true. Pronouncing any campaign over in June, when voters won't be paying attention 'til after Labor Day, strikes me as premature triumphalism. Just ask President Dukakis.)
The defining quality of Donald Trump's bill of particulars against Hillary Clinton, laid out in a bullet-pointed speech Wednesday morning, is that much of it was fabricated or embellished.
First, the speech isn't bullet-pointed, literally or metaphorically. Like his style or not, Trump transitions from point to point informally, but smoothly. Second, even I know to look for the weasel words: "much of it" — this of a "defining quality"! — and "fabricated embellished." "Or"? How much of each? A salesman, especially a successful one, is permitted some puffery, after all.
"Hillary Clinton, who already has the blood of so many on her hands, is now announcing that she is willing to put each and every one of our lives in harms' way." (False.).
"False," forsooth? Not even "half true"? Even the New York Times, which endorsed Clinton, says Clinton personally tipped the balance in the adminstration toward intervention in Libya, and so bears responsibility for the subsequent debacle. So: "Blood of so many on her hands": True. And: "Now announcing that she is willing to put each and every one of our lives in harms' way." If not true, 100% plausible, if you think past performance is a good indicator of future results, if your consider that Clinton's finger wasn't "on the button" at State, and if you are worried that a new generation of small, stealthy, and more precise nuclear weapons will make them easier to use, for button-pushers so minded.
The 2012 campaign Barack Obama ran against Mitt Romney, to take one contrary example, was much more methodical. Many months before Romney secured the Republican presidential primary, Obama laid the groundwork to run against a heartless plutocrat, proposing a tax reform he called the "Buffett Rule," which would ensure that high-income earners and people with large investment incomes (people, in other words, like Mitt Romney) wouldn't pay lower effective tax rates than their employees. Republicans everywhere, including Romney, obligingly inveighed against the proposal.

Obama's efforts to define Romney flowed from there: He isolated key aspects of Romney's business record and his political agenda, and held them up through that lens.

What Obama didn't do was rattle off all the unlovely Romney facts he thought he knew, without any connective tissue binding them together into an organic whole.
Here we have the heart of Beutler's complaint: That Trump — unlike Obama — didn't organize or present his material in the style that the Acela-riding polical class prefers! Can Beutler really believe that Paul Manafort doesn't know how to organize a speech? What on earth can undergraduate English-minor language like "without any connective tissue binding them together into an organic whole" possibly mean? For my money, the "connective tissue" is "Crooked Hillary." (One might also consider that Trump doesn't need to lay so much groundwork, given that Clinton, through hubris or incompetence, has done so much of Trump's work for him. Obama couldn't hold up a copy of Rommey Cash and tell voters to read it, because there was no such book.)
Now let's look at a source likely to be read outside the Beltway: People magazine:
Trump's Turn: GOP Nominee Attacks Hillary Clinton as 'World-Class Liar' in Takedown Speech, Launches LyingCrookedHillary.com

"She's a world-class liar. Just look at her pathetic email and server statements, or her phony landing in Bosnia, where she said she was under attack and the attack turned out to be young girls handing her flowers," the billionaire businessman told supporters at Trump Soho in New York Wednesday morning. It was "a total and self-serving lie."

Trump claimed that Clinton has prioritized "making money for special interests and taking money from special interests." "They totally own her and that will never, ever change, including if she ever became president, God help us," said Trump, whose children Tiffany, Eric and Ivanka were among the crowd.
(Nice touch about Trump's children being in the crowd.) People seems to have picked up — and amplified — Trump's message just fine. Perhaps there was more "organic" "connective" "tissue" than Beutler thought?
With that, I'll look at four themes that should carry Trump through to November, as exemplied by excerpts from the speech:
Rigged System
Corruption
TPP
Email
The speech is long, and there's a rather a lot of oppo, including a narrative of Benghazi that is, at long last, at least coherent — red meat for the base! — but these the themes that I think are in NC's wheelhouse, and will resonate most with NC readers. (I've demoted Clinton's warmongering to a footnote, since in my view that's so obvious as not to need discussion.) You can decide for yourselves whether the truth lies closer to Beutler's interpretation, or to People's.
I'm going to take selected portions of Trump's speech, and annotate them, with two streams of notes: The first, numbered ("[1"), will cover the substance of Trump's speeech. The second, lettered ("[A]"), will cover the rhetoric. (At some point, I should get out the Magic Markers™and look at Trump's rhetoric exclusively, but this post is not that post.) First, the rigged system.
1. Rigged System: "Her phony landing in Bosnia"
[TRUMP:} [I]it's not just the political system that's rigged, it's the whole economy.

(APPLAUSE)

It's rigged[A] by big donors who want to keep wages down[1]. It's rigged by big businesses who want to leave our country, fire our workers and sell their products back into the United States with absolutely no consequences for them.[2]

It's rigged by bureaucrats who are trapping kids in failing schools[3]. It's rigged against you, the American people. Hillary Clinton, and as you know she — most people know she's a world-class liar. Just look at her pathetic e-mail server statements[4] or her phony landing…

(APPLAUSE)

TRUMP: … or her phony landing in Bosnia[5], where she said she was under attack, and the attack turned out to be young girls handing her flowers[6], a total and — look, this was — this was one of the beauts[B], a total and self-serving lie. Brian Williams' career was destroyed for saying less, remember that[7].
[1] "Keep wages down": The Apple, Google, Intel and Adobe wage-fixing cartel, for example, which involved over a million employees.
[2] "Leave our country, fire our workers": For example, Carrier. More generally, private equity selling off the Rust Belt for parts.
[3] "Bureaucrats": Trump probably means unions. Of course, the Obama administration's charter-friendly policies, backed by scab temp agency Teach for America, are also an assault on unions, using the classic neoliberal strategy of starving public services budgets and then introducing a privatized, rent-seeking alternative. Conservatives (Trump) and liberals (Clinton) can't say that, although the left can.
[4] "Pathetic email statements." There are many, such that only long-form posts can cope with the volume and shifting detail. See here, here, and here.
[5] "Phony landing in Bosnia." "pants on fire."
[6] "Flowers": true. Also effective because it recalls the pervasive trope that we'd be greeted with candy and flowers after invading Iraq.
[7] "Saying less": Less than, or equal to.
* * *
[A] "It's rigged… It's rigged… It's rigged…." a fine example of anaphora, especially because the repeated word, "rigged," is so charged.
[B] "[O]ne of the beauts": This descent to a low style is very characteristic of Trump. It's a figure of pathos, designed to provoke an emotional response, or even a function of the emotional state of the speaker, but I can't find a precise term for it! (The technique is like bathos, which also a descent in style, but an anti-climatic lapse. Aschematiston is a vice, not a virtue.) Because Trump is disconnecting from his audience in one style, and reconnecting with them by addressing them in a second style, I'm going to use apostrophe as a placeholder in this post.
2. Corruption: "They totally own her and that will never ever change "
[TRUMP:] Then when she left, she made $21.6 million giving speeches to Wall Street banks and other special interests[1] and in less than two years[A], secret speeches that she does not want to reveal under any circumstances to the public[2]. I wonder why?[B]

Together, she and Bill made $153 million giving speeches to lobbyists, CEOs and foreign governments in the years since 2001[3]. They totally own her[4] and that will never ever change, including if she ever became president, God help us[C].
[1] "21.6 million": true.
[2] "[D]oes not want to reveal": true (ha). "Recalled one attendee: 'She sounded more like a Goldman Sachs managing director.'"
[3] "$153 million: true.
[4] "Own her:" A pardonable exaggeration; for a typology of corruption in American political life, see at NC here. This is really not hard: Up here in the Great State of Maine, when the managers of the (privatized) landfill give "the community" a tour, they always make sure to serve free food? Why? Out of the goodness of their hearts? Of course not! They want to influence people to feel good about the landfill and its owners, duh! Doctors can be influenced in their prescriptions by promotional items as small as a coffee mug. Are we really to believe, then, that Clinton won't be influenced by $21.6 million dollars? If your answer is "No", or "Hell no," then understand the definition of corruption: It's not only leaving an envelope on the dresser with cash in it; corruption is the use of public office for private gain. And in allowing Wall Street to purchase options on her future, public actions, based on her past, public actions as FLOTUS and SoS, that is exactly what Clinton is doing. (Note that when Clinton advocates demand proof of a quid pro quo, they're accepting the majority doctrine of Citizens United, which in essence sets "money in an envelope in exchange for services rendered" as the standard. That's not the case with my landfill example, it's not the case with the doctors, and it's not the case with Clinton, either. All these relations are still corrupt using Teachout's approach, which is grounded in how the writers of the Federalist papers understood corruption, and not Antonin Scalia.
* * *
[A] "and in less than two years": anastrophe, changing word order for emphasis. Putting this phrase at the end of the sentence (rather than following "millions") emphasizes the rapidity with which Clinton made this money, suggesting greed. Anastrophe is another important feature of Trump's style.
[B] "I wonder why?": rhetorical question.
[C] Anastrophe once more.
3. TPP: "If she is elected president, she will adopt the Trans-Pacific Partnership"
[TRUMP:] This is the latest Clinton cover-up and it doesn't change anything. If she is elected president, she will adopt the Trans-Pacific Partnership[1] and we will lose millions of jobs and our economic independence for good[2]. She'll do this, and just as she has betrayed the American worker on trade at every single stage of her career[3], and it will be even worse than the Clinton's NAFTA deal, and I never thought it could get worse than that.[A]

We will lose jobs, we will lose employment, we will lose taxes, we will lose[B] everything. We will lose our country[4]. I want trade deals, but they have to be great for the United States and for our workers.
[1] "She will adopt": Likely true. The Democratic National Convention drafting committee defeated a proposal from Rep. Keith Ellison that would have rejected the pact. If you believe that the Clinton campaign has the DNC wired, then you believe Clinton supports the TPP.
[2] "millions of jobs and our economic independence for good": partly true. On "jobs," some estimates say 450K, not "millions." If we go by NAFTA, "millions" would be correct, but the Rust Belt has already been hollowed out; we can't do that twice. On "economic independence," that's true if losing our "independence" means "surrendering our national sovereignty to the ISDS system."
[3] "every single stage of her career": Not true, since Clinton voted against CAFTA.
[4] Again, I'm surprised Trump doesn't mention ISDS; loss of "sovereignty" would certainly be red meat for his audience. He should talk to Jeff Sessions, who has actually taken a principled stand on the issue.
* * *
[A] "worse than that": Anastrophe.
[B] "we will lose": Anaphora
4. Email: "Her server was easily hacked by foreign governments"
[TRUMP:] To cover up her corrupt feelings [sic], Hillary illegally[1] stashed[A] her State Department e-mails on a private server[2]. She's under investigation, but it seems like nothing is going to happen[3]. Even though other people who have done similar things, but much — at a much lower level, their lives have been destroyed[4].

It's a rigged system, folks. It's a rigged system.[B] Her server was easily hacked by foreign governments[4], perhaps even by her financial backers in communist China.[5] Sure they have it.[C] Putting all of America and our citizens in danger, great danger.[D]

Then there are the 33,000 e-mails she deleted. Well, we may not know what's in those deleted e-mails, our enemies probably know every single one of them. So they probably now have a blackmail file over someone who wants to be the president of the United States.[6]

This fact alone disqualifies her from the presidency. We can't hand over our government to someone who's deepest, darkest secrets[E] may be in the hands of our enemies. Can't do it.[F]
[1] "illegally": Not yet determined by a court. Again, see here, here, and here, all of which make the case that Clinton committed crimes.
[2] "e-mails on a private server": Plausible. If you believe that the half of her email Clinton (believed she) destroyed was about Chelsea's wedding and yoga lessons, then you reject Trump's thesis.
[3] "seems like nothing is going to happen": True. Clinton has said that there is 'absolutely' no chance FBI investigation will be problem. Here too the Rice-Davies Rule applies, but still.
[4] "lives have been destroyed": true. David Petraeus, who pleaded guilty to a misdemeanor for mishandling classified documents, or any number of victim's of the administration's campaign against whisteblowers, which are often based on the misuse of confidential information (for example, William Binney).
[4] "easily hacked by foreign governments": True. AP: "In a blistering audit released last month, the State Department's inspector general concluded that Clinton and her team ignored clear internal guidance that her email setup broke federal standards and could leave sensitive material vulnerable to hackers. Her aides twice brushed aside concerns, in one case telling technical staff 'the matter was not to be discussed further,' the report said."
[5] "communist China": unproven, although note the lawyerly "perhaps"!s
[6] Plausible, especially if you consider an unsecured email server as a phishing equilibrium.
* * *
[A] "Stashed." Ouch!
[B] "rigged system": conduplicatio, repetition of words in adjacent phrases or clauses, a third key Trump technique.
[C] "Sure they have it": Anastrophe.
[D] "danger": conduplicatio.
[E] "eepest, arkest secrets": alliteration, most often repeated initial consonants.
[F]. "Can't do it": Anastrophe.
Conclusion
Again as a troll prophylactic, let me say that this post is not an endorsement of any candidate. However, as we know too well with the Clintons. just because it's oppo doesn't mean it isn't true! In this speech, Trump opens up four lines of attack:
Rigged System
Corruption
TPP
Email
There's a lot of truth on each front, and Trump builds his case using simple, effective language. Of course, there's a million dollar SuperPAC with the billable hours to refute these charges by funding trolls — you can go online and meet them! — but to me, they're pounding the table because they're losing on the facts and (maybe) the law. On corruption, it's common sense that taking huge sums of money from Wall Street influences you, just as much as an effing coffee mug can influence your doctor when he's prescribing that. If you agree with that, then you agree that Clinton has used her past public service and prospects for future public service for private gain; there's no way around the influence peddling. Corruption is important, because it means that the calculus for the actual policies that Clinton will deliver — as opposed to those she says she'll deliver now — isn't transparent to voters, although we already know enough to know it will be skewed to donor interests.
Many have commented that both the Democrat and Republican candidates have unfavorables that are, historically, uniquely high. At 55%, Trump's unfavorables are, amazingly, 20 points higher than Clinton's also amazing unfavorables, at 35%. Short of running into a burning building to save a small child, it's doubtful that Trump can reduce his unfavorables. What he can do is drive up Clinton's unfavorables so that they are at his level. The series of speeches that we've looked at are, I think, a coordinated effort to do that, and there's good reason to think they'll succeed. To what extent, we don't know. Again, anybody who thinks that Clinton will get a free ride to the Oval Office is delusional.