By Lambert Strether of Corrente
I should start by saying that the headline isn't exactly clickbait, because who writes clickbait on Boxing Day anyhow, but it does oversell what I'm about to write, which is not a Grand Unified Theory mutually contextualizing all three topics — perhaps another time — but a consideration of each topic, in linear order. That is, first I'll consider "The Narrative," then I'll consider the neo-liberal dispensation that has ordered the governance of the country since the mid-70s, and lastly I'll ask if identity politics can provide an account of neo-liberalism, and if so, what sort.
"The Narrative"
I know I linked to this already this morning, but I've been turning it over in my mind as a jumping off point (and in any case, I forgot to say, as I should have said: "Please distribute widely"!) From "Stunned By Trump, The New York Times Finds Time For Some Soul-Searching," in the Hollywood Reporter:
For starters, it's important to accept that the New York Times has always — or at least for many decades — been a far more editor-driven, and self-conscious, publication than many of those with which it competes. Historically, the Los Angeles Times, where I worked twice, for instance, was a reporter-driven, bottom-up newspaper. Most editors wanted to know, every day, before the first morning meeting: "What are you hearing? What have you got?"

It was a shock on arriving at the New York Times in 2004, as the paper's movie editor, to realize that its editorial dynamic was essentially the reverse. By and large, talented reporters scrambled to match stories with what internally was often called We were occasionally asked to map a narrative for our various beats a year in advance, square the plan with editors, then generate stories that fit the pre-designated line."

Reality usually had a way of intervening. But I knew one senior reporter who would play solitaire on his computer in the mornings, waiting for his editors to come through with marching orders. Once, in the Los Angeles bureau, I listened to a visiting National staff reporter tell a contact, more or less: "My editor needs someone to say such-and-such, could you say that?""

The bigger shock came on being told, at least twice, by Times editors who were describing the paper's daily Page One meeting: "We set the agenda for the country in that room."
So, if you think about what narrative the Times signed onto in early 2015, it would be the inevitability of Clinton's victory, would it not? Certainly there was no place for Sanders coverage in any "pre-designated line," since Sanders came out of nowhere. So, the Sanders campaign (and, to be fair, the Trump campaign) both charged ahead to the sound of smashing rice bowls: Not only is "the narrative" a commitment by subordinates to management (and by management to various power players), the episodes from which it is composed are the creation of the stenographer reporter and the sources to which the reporter has access, and that involves any amount of backscratching, favors exchanged, and careerist maneuvering, all of which the reporter will consider assets. News — "newly received or noteworthy information, especially about recent or important events" — puts the narrative in jeopardy. So we have another reason that the Times suppressed coverage of the Sanders campaign, beyond simple class hatred; class interest.
The Neoliberal Dispensation
Is there an example of a narrative that might not be, shall we say, the first item on the agenda of the Times's daily Page One meeting? Why yes. Yes, there would be. In fact, there are certainly many such narratives, but this is the one that occurred to me: From a brutal takedown administered by Fed watcher Tim Duy (!) to the Times' star faux Nobelist and globalization enabler, Paul Krugman. Here's a narrative of neoliberalism's "tsunami of globalization":
That Krugman can wonder at the source of the disdain felt toward the liberal elite while lecturing Trump's voters on their own self-interest is really quite remarkable.

I don't know that the white working class voted against their economic interest. I don't pretend that I can define their preferences with such accuracy. Maybe they did. But the working class may reasonably believe that neither party offers them an economic solution. The Republicans are the party of the rich; the Democrats are the party of the rich and poor. Those in between have no place.

That sense of hopelessness would be justifiably acute in rural areas. Economic development is hard work in the best of circumstances; across the sparsely populated vastness of rural America, it is virtually impossible. The victories are – and will continue to be – few and far between.

The tough reality of economic development is that it will always be easier to move people to jobs than the jobs to people. Which is akin to telling many, many voters the only way possible way they can live an even modest lifestyle is to abandon their roots for the uniformity of urban life. They must sacrifice their identities to survive. You will be assimilated. Resistance is futile. Follow the Brooklyn hipsters to the Promised Land.

This is a bitter pill for many to swallow. To just sit back and accept the collapse of your communities. And I suspect the white working class resents being told to swallow that pill when the Democrats eagerly celebrate the identities of everyone else.

And it is an especially difficult pill given that the decline was forced upon the white working class; it was not a choice of their own making. The tsunami of globalization washed over them with nary a concern on the part of the political class. To be sure, in many ways it was inevitable, just as was the march of technology that had been eating away at manufacturing jobs for decades. But the damage was intensified by trade deals that lacked sufficient redistributive policies. And to add insult to injury, the speed of decline was hastened further by the refusal of the US Treasury to express concern about currency manipulation twenty years ago. Then came the housing crash and the ensuing humiliation of the foreclosure crisis.

The subsequent impact on the white working class – the poverty, the opioid epidemic, the rising death rates – are well documented. An environment that serves as fertile breeding ground for resentment, hatred and racism, a desire to strike back at someone, anyone, simply to feel some control, to be recognized. Hence Trump.
There's plenty more to add to this narrative — Duy leaves out the failure to prosecute any bankster executives, and he leaves out how the Democrats turned against their former working class base after the Democratic Leadership Council inserted its proboscis into Bill Clinton's quivering brain — but as a narrative, as an exercise in sense-making, it works.
Duy's "subsequent impact" is illustrated by Branko Milanovic's famous "elephant chart" (in either version; discussion here, and at the Financial Times here and here), which is explicitly characterized as "the narrative of 2016" by Conor Sen" at Bloomberg. The original chart: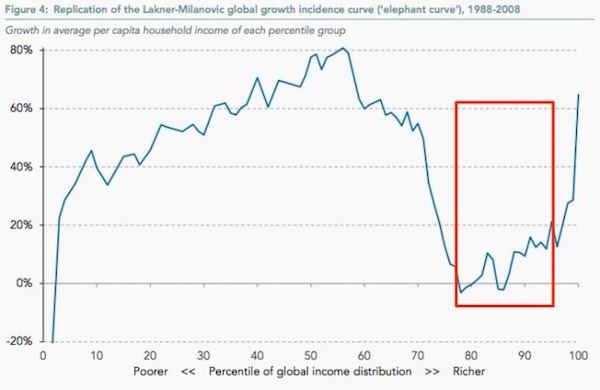 The Resolution Foundation's[1] revised version: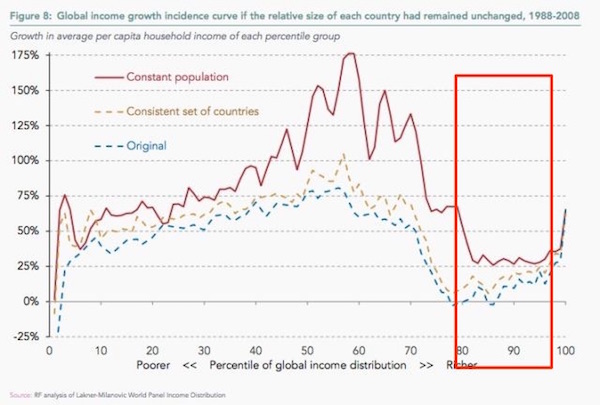 Responding to the Resolution Foundation critique, Milanovic writes of "very substantial differences in middle-class income growth between Asia and the west [which I've helpfully boxed in red, above]. These differences are 5 per cent or more per year; they give the 'elephant curve' its distinctive shape." (Those are the differences I'm concerned with, not what's happening with the 1%.)
The red boxes show where income growth would have been if our elites hadn't decided to lay waste to the Rust Belt and ship the jobs to Asia (and, to be fair, union-busting Souther States, and Mexico). Now, a mainstream neoliberal professional economist would say two things: (1) Globally, average well-being has improved, and (2) cheap consumer goods make up for any perceived fall in living standards here at home. Of course, averages conceal, and in this case what they conceal is that the livelihoods and families and communities of millions were destroyed after their work was shipped off to Asia, and crapified jobs at Walmart don't make up for that, financially or as a matter of dignity. And iPhones don't compensate for a boarded up Main Street. That's the ground truth of the elephant curve. It's also a narrative the Page One meeting has ignored for forty years, and looks to go on ignoring. Along with the press generally, and the economics professors, our elected representatives, and the political class generally.
Identity Politics
So that's the story, or one story. But stories have morals. What moral does identity politics offer? Adolph Reed on identity politics[2]:
[I]t is a class politics, the politics of the left-wing of neoliberalism. It is the expression and active agency of a political order and moral economy in which capitalist market forces are treated as unassailable nature. An integral element of that moral economy is displacement of the critique of the invidious outcomes produced by capitalist class power onto equally naturalized categories of ascriptive identity that sort us into groups supposedly defined by what we essentially are rather than what we do. As I have argued, following Walter Michaels and others, within that moral economy a society in which 1% of the population controlled 90% of the resources could be just, provided that roughly 12% of the 1% were black, 12% were Latino, 50% were women, and whatever the appropriate proportions were LGBT people. It would be tough to imagine a normative ideal that expresses more unambiguously the social position of people who consider themselves candidates for inclusion in, or at least significant staff positions in service to, the ruling class.

This perspective may help explain why, the more aggressively and openly capitalist class power destroys and marketizes every shred of social protection working people of all races, genders, and sexual orientations have fought for and won over the last century, the louder and more insistent are the demands from the identitarian left that we focus our attention on statistical disparities and episodic outrages that "prove" that the crucial injustices in the society should be understood in the language of ascriptive identity.
So, if we ask an identitarian[3] whether shipping the Rust Belt's jobs off to China was fair — the moral of the story — the answer we get is: "That depends. If the private equity firms that did it were 12% black, 12% Latino, and half women, then yes." And that really is the answer that the Clintonites give. And, to this day, they believe it's a winning one[4].
Conclusion
"A narrative" is not "the narrative." And people are multifaceted, and select for narratives based on facets of their choosing[5]. But if one had to devise a narrative for political purposes, I think it makes sense to appeal to a facet shared by as many people as possible (and no more than possible). I'm guessing that upwards of 90% of United States voters work for wages, and hence a simple platform of universal concrete material benefits could be developed to appeal to all of them. That's my story and I'm sticking to it. It's just math.
NOTES
[1] Blairite centrist? Perhaps a UK reader can clarify.
[2] This paragraph refers to "race politics," but I think that's a subset of "identity politics" (identitarianism). Certainly that's how Ben Norton understood Reed.
[3] I hereby offer the title/elevator pitch "Ask An Identitarian!" to the first podcast willing to use it.
[4]. Hence the claim that liberals and the left are "on the same side."
[5] That is the strength of intersectionality, IMNSHO. As readers know, I urge people to cross out "white" in the phrase "white working class" and see how that changes their thinking. The destruction of the Rust Belt affected the "white" working class located there most directly, but the entire working class, of all identities, was surely affected as well.