Our attorney Jim Moody sent Daniel Sieradski, who operates The Self Agency, a letter last Friday demaning that Sieradski, among other things, remove Naked Capitalism from B.S. Detector, a Chrome browser extension he had developed to identify "fake news" sites. Even though Sieradski had been alerted to the fact that the browser extension falsely included sites such as Shadowproof, Truthout, Truthdig, and Naked Capitalism, and Sieradski had acknowledged that those should never have been included, he made another browser release without correcting the error. Moody's letter, among other things, also asked Sieradski to issue a prominent apology, send it to news outlets that had reported on B.S. Detector, most importantly CBS News, and inform all those who had downloaded B.S. Detector of the erroneous inclusion of Naked Capitalism.
Sieradski put up a long note on his website the next day, a Saturday, titled Naked Capitalism and the B.S. Detector. It includes a short letter from his attorney to Jim Moody at the end.
While we appreciate that Sieradski apologized quickly, he has not taken any of the other steps we requested. We must note that a substantial amount of Sieradski's note consists of self-justification and an effort to depict himself as victimized. He also mischaracterized some of the elements of Moody's letter. Moody correctly pointed out areas of potential legal exposure for Sieradski, given that he has stated that his team of 20 developers is entirely volunteers. Unless Sieraski has extensive prior work experience with all these individuals, it is unlikely that he knows their full backgrounds or the complete scope of their recent activities. The nature of having volunteers is you don't scare them off by asking lots of pointed questions.
Even more troubling is that Sieradski apparently sincerely views the steps he has taken to date as reasonable and transparent, despite the fact that calling websites "B.S.," which is the express intent of his browser extension, and "fake news" which is what anyone downloading the tool is told it does, is destructive to any business so targeted. In the view of my attorney, who has spend a considerable amount of his career litigating First Amendment and defamation cases, including ones that set important legal precedents, those designations are per se defamatory.
Yet Sieradski appears to have convinced himself that he is merely offering helpful input, when the product's brand name and marketing strategy (the use of "fake news" in its product description and that Sieradski has repeatedly retweeted tweets that pick up on his "fake news" description) say otherwise. The term "bullshit" specifically indicates that the author is either a deliberate liar (see the Urban Dictionary's definition as an example), or per Harry Frankfurter's classic essay, On Bullshit, that the writer has an utter lack of interest in whether what he is saying is truthful or not.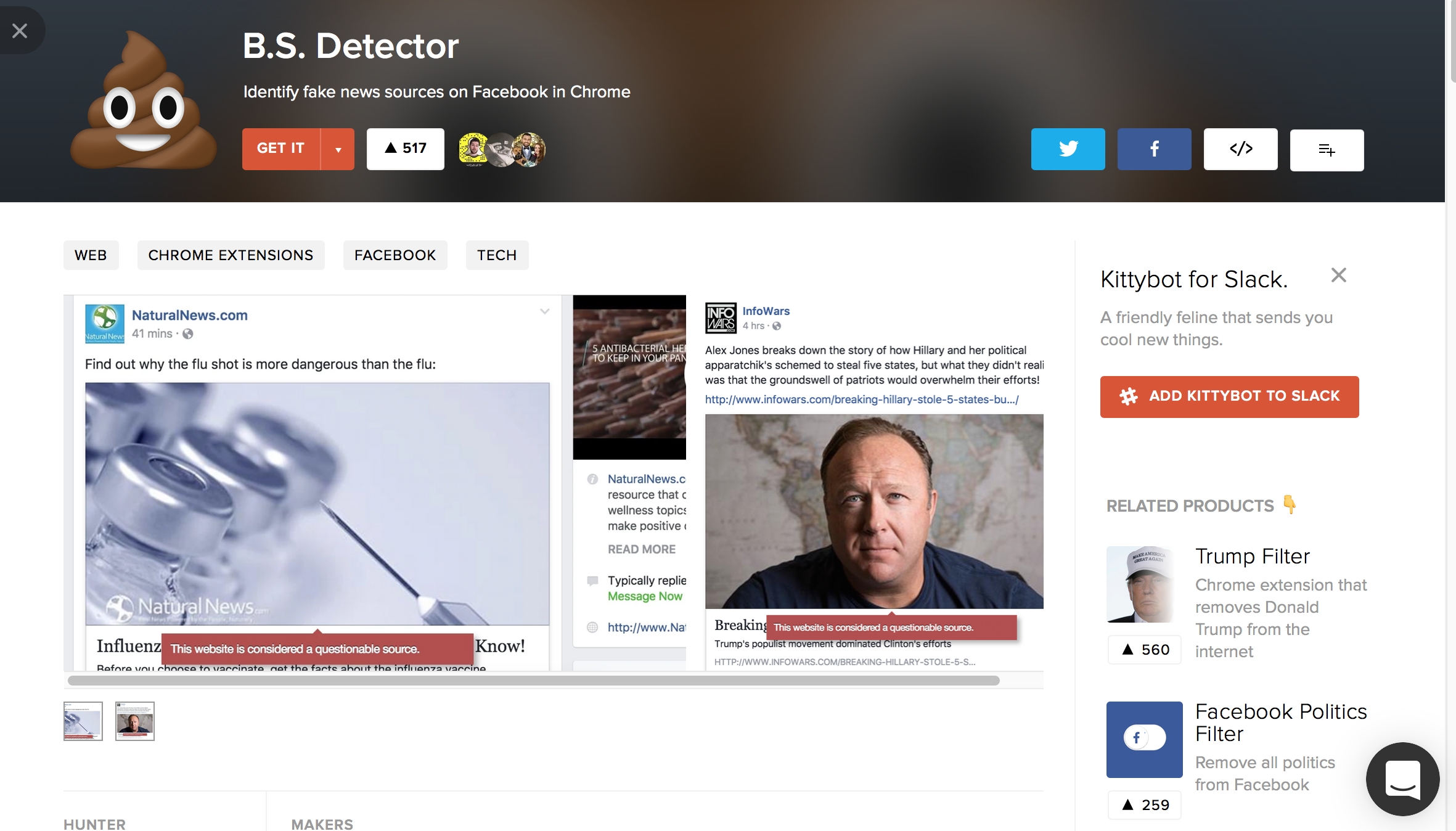 Given the commercial damage that the "fake news" designation can do to any site incorrectly targeted, it is irresponsible not to contact site owners, present them with Sieradski's evidence that they warrant inclusion, and give them the opportunity to dispute it in advance. Ex post facto remedies are not adequate. Yet he is still apparently unwilling to do that despite the damage that inclusion does.
Research on cognitive biases has shown repeatedly that initial impressions are almost impossible to dislodge. Someone who is concerned enough about the "fake news" issue to have downloaded Sieradksi's tool is certain to take any warning on a site they view the first time seriously. Moreover, psychological research has also shown that people are strongly subject to the "halo effect" bias, of seeing individuals and organizations as all good or all bad.
It is also not at all clear if Naked Capitalism and other sites are still being incorrectly tagged as false news sites when those who have downloaded Sieradski's tool roam around the Internet. His note says that Naked Capitalism has been removed from the database. If the browser is set up so that it goes to a cloud-based database every time it visits a site to check if that site gets a warning, then the removal would stop the damage from continuing. However, if the database is downloaded by users with the software and updated only when users themselves obtain updates to the database, there is no assurance that users have or will update their tool (I personally rarely update software and I won't belabor the reasons why, so I know from personal experience that this does occur. Update: a reader looked at the code and says our fears were correct. Readers who have not updated their software will indeed still see Naked Capitalism as a tainted site).
Moreover, it is perverse to read Sieradski assert repeatedly that his process has been transparent when it has been anything but. If you want to look at what "transparency" looks like, even though we have criticized it repeatedly for falling short of its transparency obligations, start with CalPERS. All of its important decisions are taken in public view, with the meetings recorded and available on line for years afterwards. The documents supporting those decisions are made available prior to the public meetings and again are accessible to the public for years afterwards. All the responsible parties, both members of the board and the relevant CalPERS officials, are named, with their roles clearly defined, and have their biographies available on line. Members of the public have the right to speak to inform any decision made by CalPERS' board before the vote is taken, and those public speakers are required to say who they are. The public also had the right to obtain records from CalPERS under the California Public Records Act, the California version of FOIA, and the carve-outs are comparatively limited.
Now you may say that this standard is unreasonable. But this is what transparency looks like. Sieradski's process isn't in the same universe.
And the reason that Sieradski feels compelled to claim his process is transparent is that, like it or not, he and entire "fake news" campaign is McCarthyite, but this version proposes to use private, faux-reasonable approaches as a substitute for government information control. This is a witch hunt, and Sieradski needs to take responsibility for what he is actually doing.
For instance, he describes the process he put in place after the browser tool was released. We have no idea who was involved in the original determination. Sieradski denies that PropOrNot was the reason that Naked Capitalism was included in his initial list of targeted sites and offers his justification instead: "This data was compiled from established lists of questionable news sources." We are unaware of Naked Capitalism being on any list of that sort and we challenge Siedaski to publish all of these "established lists."
Similarly, Sieradski seems to regard it as adequate to post a general description of a methodology provided by Melissa Zimdarsi and set up a chat room. We still do not know who Sieradski's volunteers are and whether they have commercial agendas or personal biases that amount to conflicts of interest. We do not know what if any protocols he has put in place to assure that the "methodology" is actually being followed in a rigorous manner. Anyone who has lived in Corporate America knows that there are entire departments dedicated to creating policy manuals that are not followed in practice to give senior management a liability shield. Sieradski may very well have strict, hard-coded procedures to assure compliance with Professor Zimdarsi's methodology. But his process is sufficiently opaque that we have no way to know.
This is how Sieradski justifies keeping the identity of other key participants secret:
The reason we have not published a list of our "anonymous supposed experts," as Naked Capitalism deems them, is because of the harassment to which I and Prof. Zimdars have been subjected since we began to tackle the issue of so-called "fake news." Nonetheless, anyone who chooses to join our public chat can see who is participating in the review process.
Sieradski wants to have influence, whether he admits to it or not, through playing a role in the "fake news" campaign. The proper exercise of power carries responsibilities, including accepting criticism, which Sieradski mislabels as "harassment." He and his colleagues were the ones who went on a campaign against publishers. Public officials, journalists, and columnists are on the receiving end of far more disapproval than I anticipate he has received. He's surprised and wounded that some have taken exception not just to being targeted, but to the entire "fake news" enterprise as a soft form of censorship? If you don't like the heat, stay out of the kitchen.
Finally, Sieradski denies having a commercial motive for releasing B.S. Detector. But even though he is not obtaining revenue from this project, he features it regularly on his Twitter feed, and his handle, @selfagency, is consistent with that feed being about the promotion of his business, and not a venue for expressing personal views.
Again, while we appreciate Sieradski's speedy response, the failure to recognize the damage projects like his are doing to legitimate sites is deeply troubling. He seems to think it is reasonable to put defamatory information out into the wild and act as if the harm done can be remedied later. That is simply not the case, particularly given how rapidly information propagates across the Web. The time to be vigilant is ex ante above all, yet Sieradski appears unwilling to change his procedures to do that.