Yves here. The real headline should be "How How Much We Eat Has Changed."
American portion sizes are too large. I don't eat out much, but it's not hard to notice that even at upscale restaurants (as in their clientele sees being Not Fat as a status marker), if your order an appetizer and a main course, unless you are a large man, it's too much food (and that's before you get how free most of them are with using fats to make the food taste better). And since many social occasions (celebrations, dating, business meetings) are supposed to be more about having a good time with your fellow diners than the food, eating more courses prolongs the event (as in is better for the dynamics). Ordering only one course or two appetizers comes off as neurotic, stingy, and/or implied criticism of the less calorically inhibited diners. Plus the restaurant's economics pre-suppose most people eating at least two courses, so if you don't eat up, if you are like me, you feel like you've underpaid the restaurant for the use of their table and staff (assuming the restaurant is full).
I assume this portion-sizing has been replicated in prepared food; I see when I'm invited out to dine at people's homes that they've internalized "big food" norms.
Thus why Americans are fatter and getting more related diseases isn't primarily about endocrine disruption or more people having metabolic disorders. It's that on average people are eating 23% more than they used to. Even though calories are not a perfect measure, they are not a bad first order approximation. And then we add to that that more people are in sedentary jobs than was the case 40 years ago, and it's no wonder the public has more weight related ailments.
By Mike Kimel. Originally published at Angry Bear
From Pew: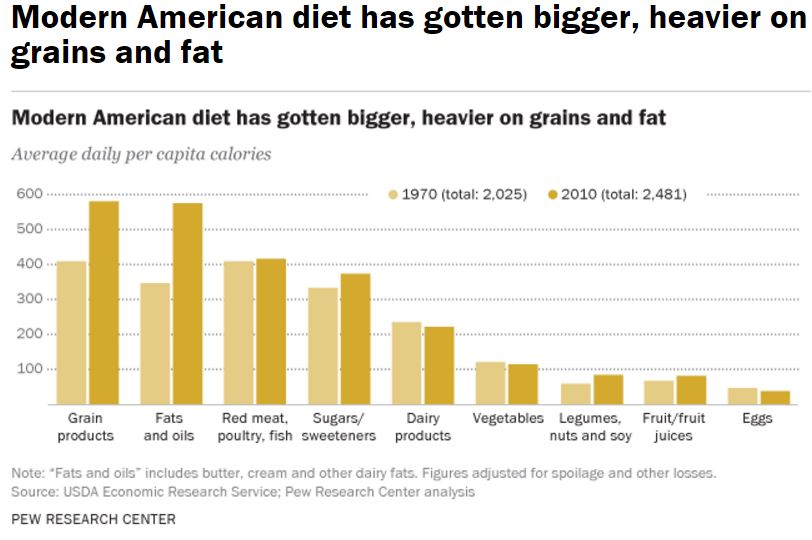 Americans eat more chicken and less beef than they used to. They drink less milk – especially whole milk – and eat less ice cream, but they consume way more cheese. Their diets include less sugar than in prior decades but a lot more corn-derived sweeteners. And while the average American eats the equivalent of 1.2 gallons of yogurt a year, he or she also consumes 36 pounds of cooking oils – more than three times as much as in the early 1970s.

Americans' eating habits, in short, are all over the place, at least according to our analysis of U.S. Department of Agriculture (USDA) data.
The post goes on:
Broadly speaking, we eat a lot more than we used to: The average American consumed 2,481 calories a day in 2010, about 23% more than in 1970. That's more than most adults need to maintain their current weight, according to the Mayo Clinic's calorie calculator. (A 40-year-old man of average height and weight who's moderately active, for instance, needs 2,400 calories; a 40-year-old woman with corresponding characteristics needs 1,850 calories.)

Nearly half of those calories come from just two food groups: flours and grains (581 calories, or 23.4%) and fats and oils (575, or 23.2%), up from a combined 37.3% in 1970. Meats, dairy and sweeteners provide smaller shares of our daily caloric intake than they did four decades ago; then again, so do fruits and vegetables (7.9% in 2010 versus 9.2% in 1970).
I guess its not just me. Or you.
On the other hand, I don't like chicken, so this is more you than me:
Several interesting shifts are happening within food groups. For the past decade, for instance, chicken has topped beef as the most-consumed meat. In 2014, Americans ate an average of 47.9 pounds of chicken a year (2.1 ounces a day), versus 39.4 pounds (1.7 ounces a day) of beef. While average chicken consumption has more than doubled since 1970, beef has fallen by more than a third.
How healthy any of this is another story. (Warning: link to Youtube.)