Avoid the bureaux de shortchange The Times. People have to be told this?
NASA Produces First 3D Animation of Global Carbon Emissions NASA (furzy)
The Irrationality Within Us Scientific American (resilc). If you were rational, you could not deny the inevitability of death, which is critical to having at least some enjoyment in life.
China
Exclusive: China installs weapons systems on artificial islands – U.S. think tank Reuters (furzy). See also our post today.
Witnessing Japan's Growing Antiwar Movement Truthout (resilc)
Court finds "deliberate and systemic" bank corruption MacroBusiness
India
Re-monetisation Debacle: Why Didn't the RBI Print the New Notes At Foreign Printing Presses? The Wire (vlade)

Entrenching Capitalist Agriculture in India Under the Guise of Development Counterpunch (Wat)
EBA makes final recommendations for strengthening loss-absorbing capacity of banks in Europe European Banking Authority. Banks may need to pony up as much as €276 billion to prevent taxpayer losses.
Brexit
Italy's best hope: Berlusconi Politico. Lambert would probably say, "Kill it with fire!"
Ukraine/Russia
THE ROSNEFT SHARE SALE IS A GENUINE PIECE OF UNHACKED RUSSIAN FAKE NEWS, THE TRUTH OF WHICH THE SWISS GOVERNMENT HAS ORDERED GLENCORE TO PRODUCE FOR US GOVERNMENT INSPECTION, SO EVERYONE WILL KNOW THE TRUTH EXCEPT THE RUSSIANS John Helmer. Per Helmer:
We were the target of a special hacker attack on Tuesday – not your usual DOS type. This time it was a surgical strike at the internal programming of the site. No way of telling who paid for it, except that they started work at about 9 am Moscow time. My bet is that it was Mordashov in his attempt to obliterate this.
Syraqistan
The graffiti kids: How an act of teenage rebellion sparked the Syrian war Globe and Mail (resilc)
There Is More Than One Truth to Tell in the Awful Story of Aleppo Reader Supported News (furzy)
Trump's Foreign-Policy Appointees Are Set to Provoke War With Iran Nation (resilc). Iran has made clear it will attack directly only in defense, and that it will strike back brutally (as in torch Saudi Arabia, for starters). So the only way to "provoke" them is to attack and then somehow pretend there was no attack. Our media is no doubt up to carrying that off.
Trump Transition
Trump to U.S. businesses in China: drop dead Reuters (furzy). I was gobsmacked in the late 1990s and early 2000s when US companies went whole hog for locating production in China. I thought the political risk was far too high. But I never imagined that the political risk would prove to be US political risk.

Source: Twitter cut out of Trump tech meeting over failed emoji deal Politico (vlade)

Trump Casts Browbeating Aside to Tell Big Tech He's an Ally Bloomberg. Trump also gave Bezos one of the worst seats at the table….

Google extends conservative outreach as Trump calls tech meeting Reuters (furzy)

Mainstream Republicans Think They're in Control Bloomberg. As we've said, underestimating Trump has proven to be a losing strategy. But he might not mind playing nice with conventional Republicans.

Exclusive: Top U.S. spy agency has not embraced CIA assessment on Russia hacking – sources Reuters (furzy)

G.O.P. Resistance Builds to John Bolton as State Dept. Deputy New York Times. I wonder if Trump really wants him or Bolton was a concession to certain extremists, or just a bargaining chip. Trump's key attribute is being wildly improvisational. Narrow rigid ideologues are impediments unless they are in token positions. What becomes of Bolton will become an interesting test case of how Trump governs and what his priorities are.

Scientists Frantically Copying Critical Climate Data as Energy Dept. Refuses to Release Names EcoWatch

EXCLUSIVE: Ex-British ambassador who is now a WikiLeaks operative claims Russia did NOT provide Clinton emails – they were handed over to him at a D.C. park by an intermediary for 'disgusted' Democratic whistleblowers Daily Mail (Wat)

Democratic House Candidates Were Also Targets of Russian Hacking New York Times. Just so you know what the NYT lead story today is….

Loath to Meddle in Election, Obama Delayed Blaming Russia for D.N.C. Hack New York Times (furzy). Translation: It's Obama's fault too!

The Russian Bear Uses a Keyboard Craig Murray

Judge orders Colorado electors to vote for Hillary Clinton Associated Press (furzy)

WHY I'M LEAVING MY JOB AT THE ILLUMINATI AND JOINING THE TRUMP ADMINISTRATION McSweenys
2016 Post Mortem
How Clinton lost Michigan — and blew the election Politico. Important and damning.

2016 Election Results: Detroit Machines Registered More Votes Than Voters, Report Says International Business Times

Records: Too many votes in 37% of Detroit's precincts Detroit Free Press
North Carolina G.O.P. Moves to Curb Power of New Democratic Governor New York Times (resilc)
Gov. John Kasich vetoes Heartbeat Bill, signs 20-week abortion ban Columbus Dispatch (furzy)
RFK, Jr: 'Standing Rock Defines a New Era in Environmental Advocacy' EcoWatch (furzy)
How Ranked Choice Voting kills 3rd Parties in Australia Range Voting (User Friendly). Does say the system is marginally less bad for third parties than the US system.
New McCarthyism
No One In Congress Wants To Regulate Fake News BuzzFeed (resilc). They'll let Facebook and Google do the dirty work.
Yellen Takes Post-Hike Victory Lap Bloomberg
Trump forced the Fed to raise rates. The results could be ugly. Fabius Maximus (furzy). The Fed may take the position that Trump is going to engage in significant deficit spending, but his infrastructure plan is going to rely on giving incentives for large scale private sector borrowing and won't have much if any fiscal impact.
Private Equity's Latest Differentiator Bloomberg (DO)
Private Equity Fund Adviser Settles with the SEC for Violations Relating to Co-Investments with Affiliate SEC. Another wet noodle lashing.
Fed lifts rates, sees faster pace of hikes in Trump's first year Reuters
Back to the future: Ray Dalio, founder, Bridgewater Associates, explains why the 1930s hold clues to what lies ahead for the economy The World in 2017 (vlade)
Class Warfare
Antidote du jour. The elephant is eating furzy's jackfruit: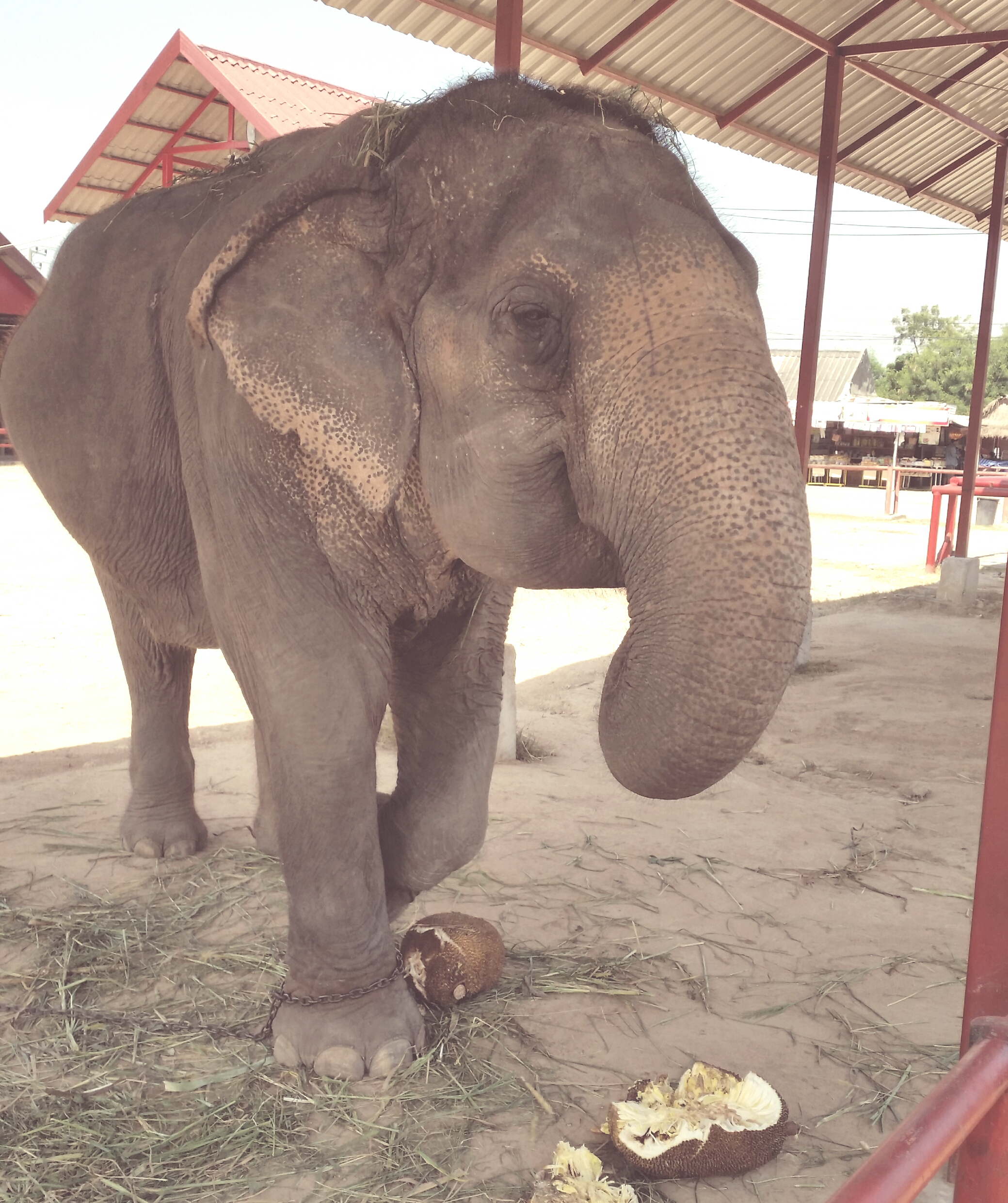 See yesterday's Links and Antidote du Jour here.