Some readers have said that our concern over being smeared as an evil Rooskie propagandist and/or a purveyor of dodgy news was overdone. Yet as we showed yesterday, via our attorney Jim Moody's second letter to the Washington Post, the purge has already started. Counterpunch was dropped from Google News the day after the Post legitimated the propaganda site PropOrNot's false accusation that Counterpunch was a Putin stooge. Even though Counterpunch sought reinstatement and got itself removed from PropOrNot's blacklist, Google has refused to reinstate them and has not given any explanation as to why.
We are now the subject of a direct attack. This segment, which ran on December 13 on "Next with Kyle Clark" which is part of NBC's Denver's news affiliate 6PM news show, should convince you otherwise that the threat to independent sites is real and growing:
You will see not only is the Naked Capitalism URL the only readable URL by virtue of being larger, it also is the only one for an entire site, as opposed to for a single news story: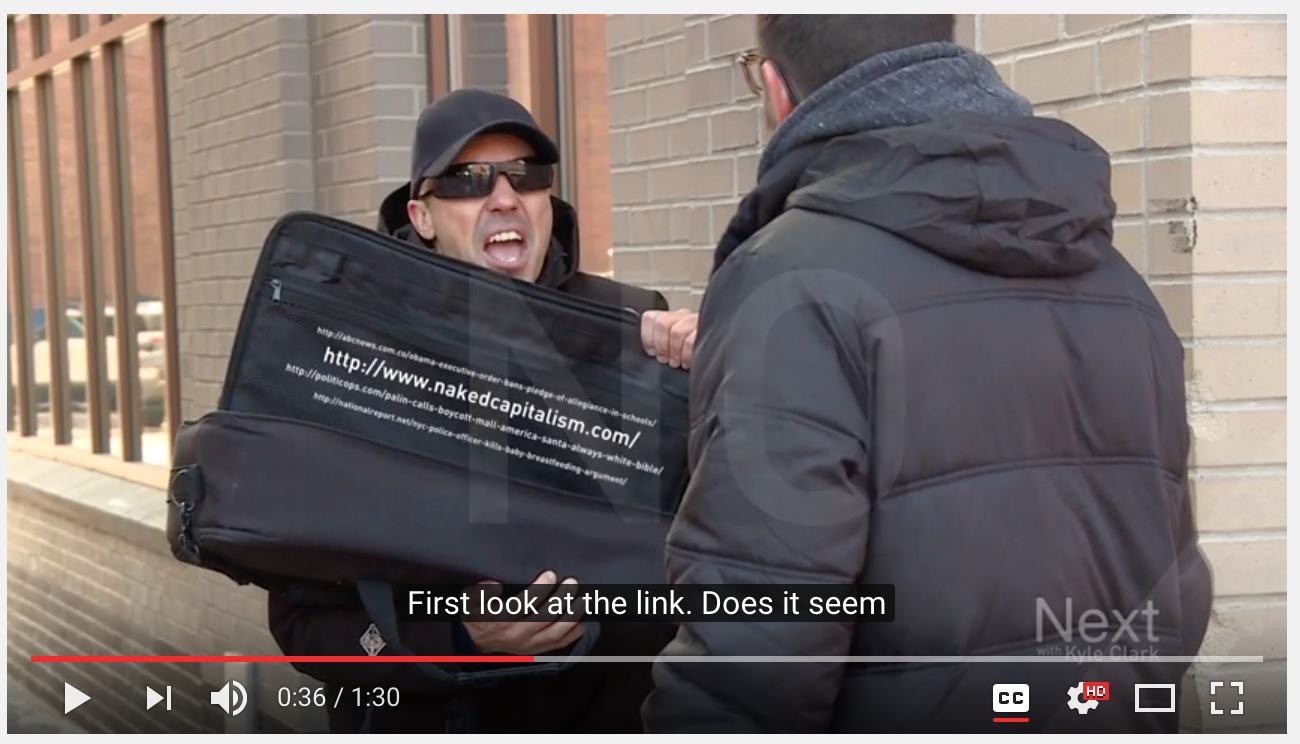 A diligent reader tracked down the location for the clip, and it was indeed filmed in Denver at 1550 17th Street.
Naked Capitalism's name is on view for 5 seconds (in two closely spaced cuts). The site is depicted as confirming readers' existing biases, being in business "for fun," and to earn ad revenues by exploiting gullibility. Viewers are told to stop tweeting and sharing Naked Capitalism. Reading Naked Capitalism is equated with not thinking for yourself.
Naked Capitalism in its entirety is depicted as being as bad as the Internet hoax of Fappy the anti-masturbation dolphin (see here for a phony CBS new site with Fappy's debut; this 2016 story on a mock CNN site is epic).
The clip received 15,000 views on Kyle Clark's Facebook page alone. Lord only knows how many people saw it when it was broadcast.
I urge readers in Denver will contact local advertisers on the 6 PM news show and tell them you are boycotting them and urging all your colleagues, friends and family members to do so as a result of their sponsorship of this show and its irresponsible attack on a small and highly reputable independent website. Send them this Ben Norton and Glenn Greenwald article to prove our bona fides. My lawyer will have a few words to say too, but in the meantime, if you can also voice your disapproval forcefully to the producer and any ombudsman, it would be very helpful.
Due to already being so behind the eight ball due to how much effort this battle is taking, I am being negligent in not providing the normal helpful contact numbers. I trust readers will do so in comments so as to aid other readers in taking action. Thanks again for your patience and support.
I know it is only a modest consolation, but we are providing extra posts on days we provide updates on this ongoing attack against independent news sites.