By Jerri-Lynn Scofield, who has worked as a securities lawyer and a derivatives trader. She now spends most of her time in Asia researching a book about textile artisans. She also writes regularly about legal, political economy, and regulatory topics for various consulting clients and publications, as well as scribbles occasional travel pieces for The National.
Just in case daily news headlines haven't already convinced you that all's far from well in these United States, the National Center for Health Statistics (NCHS) yesterday released a depressing set of statistics, Mortality in the United States, 2015. These show that for the first time in 23 years, overall life expectancy declined in the US in 2015, as compared to 2014, for total population, males, and females.
Overall life expectancy at birth for the total U.S. population– comprising both males and females– declined from 78.9 years in 2014 to 78.8 years in 2014 (as shown in Figure 1 below). For females, life expectancy dropped from 81.3 years in 2014 to 81.2 years in 2015, whereas for males, life expectancy decreased from 76.5 years in 2014 to 76.3 years in 2015.
Figure 1. Life expectancy at selected ages, by sex: United States, 2014 and 2015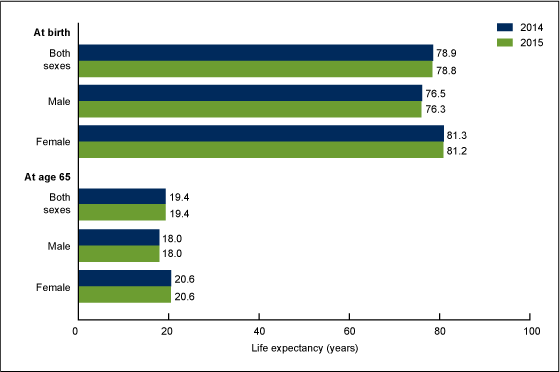 Notes: Life expectancies 2014 were revised using updated Medicare data; therefore, figures may differ from those previously published. Access data table for figure one.
SOURCE: NCHS, National Vital Statistics System, Mortality.
Ten Leading Causes of Death
From 2014 to 2015, the 10 leading causes of death– heart disease, cancer, chronic lower respiratory diseases, unintentional injuries, stroke, Alzheimer's disease, diabetes, influenza and pneumonia, kidney disease, and suicide– remained the same as in 2014 (as shown in Figure 3 below [Jerri-Lynn here: I have retained the original numbering for these figures]). More than 74% of all deaths in the United States in 2015 are due to these 10 leading causes.
From 2014 to 2015, death rates increased for 8 of 10 leading causes of death while declining for  only 1: cancer, decreasing by 1.7%. For influenza and pneumonia (a combined category), the  death rate remained essentially unchanged.
With respect to each of the eight others, the rate increased 0.9% for heart disease, 2.7% for chronic lower respiratory diseases, 6.7% for unintentional injuries, 3.0% for stroke, 15.7% for Alzheimer's disease, 1.9% for diabetes, 1.5% for kidney disease, and 2.3% for suicide.
The Washington Post reports that the pop in the death rate for Alzheimer's disease– up 15.7% from 2014 to 2015– may be largely due to improved reporting.
Figure 3. Age-adjusted death rates for the 10 leading causes of death in 2015: United States, 2014 and 2015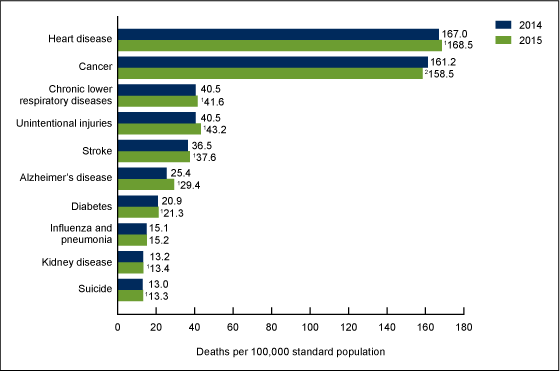 1 Statistically significant increase in age-adjusted death rate from 2014 to 2015 (p < 0.05).
2 Statistically significant decrease in age-adjusted death rate from 2014 to 2015 (p < 0.05).
NOTES: A total of 2,712,630 resident deaths were registered in the United States in 2015. The 10 leading causes accounted for 74.2% of all deaths in the United States in 2015. Causes of death are ranked according to number of deaths. Access data table for Figure 3.
SOURCE: NCHS, National Vital Statistics System, Mortality.
Unintentional Injuries: Opioids, Alcohol, Distracted Driving
Now, it's been several years since I used to pore over the figures in the Morbidity and Mortality Weekly Report (which one of my neighbors, a specialist in treatment of HIV when such a diagnosis was almost inevitably fatal, received). So call me morbid but what jumps out at me here is the pronounced increase in unintentional injuries, from 40.5 per 100,000 of population in 2014 to 43.2 in 2015, a rate of increase of 6.7%, second only to that for Alzheimer's disease.
As The Post reports:
A year ago, research by [Princeton economist Anne] Case and Angus Deaton, also an economist at Princeton, brought worldwide attention to the unexpected jump in mortality rates among white middle-aged Americans. That trend was blamed on what are sometimes called diseases of despair: overdoses, alcoholism and suicide. The new report raises the possibility that major illnesses may be eroding prospects for an even wider group of Americans.

Its findings show increases in "virtually every cause of death. It's all ages," said David Weir, director of the health and retirement study at the Institute for Social Research at the University of Michigan. Over the past five years, he noted, improvements in death rates were among the smallest of the past four decades. "There's this just across-the-board [phenomenon] of not doing very well in the United States."
The headline of an article in the MIT Technology Review paints a stark and depressing picture, Business Big Pharma and Distracted Driving Are Killing Americans Early in quoting Jiaquan Xu, the principal author of the new report, who told Stat  that he's particularly troubled by the rate of increase in unintentional deaths:
 "Motor vehicle accidents have gone up 6 percent," he explains. "Accidental poisoning increased 13 percent. And 97 percent of accidental poisoning was from drug overdoses and alcohol," he added, citing the opioid epidemic as a particular problem.
The Technology Review piece further backs up its vivid headline with this analysis:
Opioid abuse has become a serious public health issue in the U.S., with addiction to the drugs leading to greater risk of overdose. Precise figures for opioid-related deaths aren't included in the report, but they accounted for 28,000 lost lives in 2014, and Xu clearly worries that an appreciable chunk of the rise in accidental poisoning may be attributed to them. While people are working to develop drugs that could end the problem, for now common opioids like Oxycontin are still being prescribed regularly.

Meanwhile, statistics from the National Highway Traffic Safety Administration recently showed that 35,092 people died in crashes on U.S. roads during 2015, up from 32,744 in 2014. Accidents where distracted driving—the result of, say, texting on a cell phone or fiddling with the car stereo—was cited as a reason rose by 8.8 percent year-on-year. While autonomous cars may go some way to solving that in the long-term, experts have warned that semi-autonomous vehicles may yet cause the figures to rise in the near future (Links omitted; I direct interested readers to the main article for these.)
The statistics hint at an underlying level of increasing misery.  As is unsurprising in a publication so named, Technology Review looks to technology for solutions:
There's a small glimmer of hope lurking in the report, though. Deaths due to cancer—the second-biggest cause of death in the U.S.—actually fell by 1.7 percent in 2015. That's partly due to increasing awareness of the disease, but also thanks to tireless research efforts to create new therapies.

Hopefully causes of unintentional deaths will soon benefit from innovation, too.
I'm afraid I don't share this optimism.