By Lambert Strether of Corrente.
Trade
"Several of his cabinet picks and other early nominees to top posts, however, have endorsed or spoken favorably about the trade pact, including Iowa Gov. Terry Branstad, announced Wednesday as Mr. Trump's pick for ambassador to China, and retired Marine Gen. James Mattis, Mr. Trump's pick to head the Department of Defense" [Wall Street Journal, "Donald Trump Is Staffing His Administration with TPP Supporters"]. "While the cabinet and ambassador picks don't suggest Mr. Trump will change his mind on the trade deal, they highlight potential divisions and contradictions on the issue."
"Don't Cry Over Dead Trade Agreements" [Dani Rodrik, Project Syndicate]. "[T]he Trans-Pacific Partnership (TPP) and the Transatlantic Trade and Investment Partnership (TTIP), are as good as dead after the election of Donald Trump as US president. We should not mourn their passing. What purpose do trade agreements really serve? The answer would seem obvious: countries negotiate trade agreements to achieve freer trade. But the reality is considerably more complex. It's not just that today's trade agreements extend to many other policy areas, such as health and safety regulations, patents and copyrights, capital-account regulations, and investor rights. It's also unclear whether they really have much to do with free trade." As Naked Capitalism, along with many others, said all along. Rodrik continues: "Trade policies driven by domestic political lobbying and special interests are beggar-thyself policies. They may have beggar-thy-neighbor consequences, but that is not their motive. They reflect power asymmetries and political failures within societies."
"Now we have the grandly-named Namur Declaration. The name is significant: it's the capital of the Belgian region of Wallonia that came close to derailing the EU-Canada trade deal (and may still do so). The 29 signatories (pdf) are all European academics, and they include the well-known economist Thomas Piketty, and a former political science professor at the Université Libre de Bruxelles, called Paul Magnette. He's better known as the Minister-President of Wallonia, and the person who led the resistance to CETA, which adds an extra piquancy to the Declaration" [TechDirt]. Here's an excerpt from the Namur Declaration:
Standstill clauses should be included to prevent the Parties from lowering their social, sanitary and environmental norms to promote exports and attract investment. These clauses shall be matched with sanction mechanisms, and Parties' compliance with their obligations may in no case substantiate a claim for compensation by investors or other private economic operators
UPDATE "Japan ratifies TPP despite Donald Trump's opposition" [Straits Times]. Japan watchers?
Politics
2016 Post Mortem
"Imagine if those millions wasted by Brock were used to register hundreds of thousands of new voters or to reach out to Rust Belt working class families" [The Hill]. Good to hear somebody else saying this.

"President Obama has asked intelligence officials to perform a "full review" of election-related hacking, a top advisor told reporters Friday. The White House will share a report of its findings with lawmakers before Obama leaves office on January 20, 2017, she said." [The Atlantic].

"Feinstein: Clinton has 'accepted' the election results" [CNN]. Really? Then why isn't she spending more time with her family? Anyhow, Feinstein is unsurprisingly full of it; if Clinton really had accepted her loss — just listen to her tone of voice here — HillaryLand wouldn't be trying to get an obviously reluctant Obama to fire the blame cannons at the Russkis.

"What was on the ballot was plutocracy, complacently stupefied and transparently corrupt at the top of the Republican and the Democratic ticket. Two gold-plated names on the same boardroom door, both candidates representative of and privileged by a government of the rich, by the rich and for the rich that for the last thirty years has been arranging the country's political and socioeconomic affairs. The election campaign was the struggle for control of corporate management, Hillary Clinton seeking to fend off a hostile takeover by Donald Trump, the lady and the lout both standing four square and true blue for the freedom of money, steadfast and vigilant against the freedoms of movement and thought" [Lewis Lapham, Counterpunch (RH)].
New McCarthyism
"America's ruling elite is so wonderful and our prosperity is so fantastic that domestic dissent is impossible. Any dissent must be the work of foreign devils" [Of Two Minds]. "And that's why we're now swimming in the raw sewage of The Washington Post's 'fake news'." With handy charts proving that the U.S. Census Bureau, I.R.S., and St. Louis Federal Reserve are Russian stooges.
Trump Transition
"Valley's "Come to Satan" moment with Trump is happening even faster than I feared" [Pando]. "I'd love to think Silicon Valley will continue to resist Trump's "Come to Satan" call but, then again, I'd also love to think that Mark Zuckerberg would have already removed Peter Thiel from Facebook's board, if only for the gigantic conflict of interest he represents. Given there's no sign of that happening, I fear Silicon Valley's "bold moral stance" ship has already sailed.
Realignment and Legitimacy
"Bernie Sanders congratulates union leader attacked by Trump" [CBS]. "Vermont Sen. Bernie Sanders congratulated local union President Chuck Jones — who represents workers for air-conditioner manufacturing company Carrier — for becoming 'the most famous labor leader in America' during a phone conversation recorded by CBS News on Thursday. 'Well you know, if I did something to piss off President-elect Trump, so be it,' Jones responded, with a cigarette in hand. 'We're moving on, and we're going to keep up the fight, Bernie.'"

"'To attack a local labor leader in Indianapolis who has fought valiantly … to protect the jobs of his steelworkers is really unbelievable,' Sanders said. 'But, as is usually the case with Mr. Trump, there's more beneath the surface, and that is what he was really doing, I think, which was sending a message to the entire trade union movement: 'Do not stand up for working people, or we're going to go after you'" (interview with Chris Hayes) [Policy Mic].

"Senator Bernie Sanders releases letter supporting teaching and research assistant unionization" [Columbia Spectator].

Meanwhile, Clinton wandered in from the woods of Chappaqua and gave a speech on fake news [ABC]. Clinton still firing the blame cannons, while Sanders has opened up a whole new front. Quite a contrast.

"A Clinton Fan Manufactured Fake News That MSNBC Personalities Spread to Discredit WikiLeaks Docs" [The Intercept]. Greenwald in fine form. But no surprise here, after Jon Ralson manufactured the Nevada chair-throwing incident, which the Clinton campaign immediately used to smear Sanders suppporters as violent. Oddly, there was never a retraction from Ralston.

"The odds are very high that the GOP will either split or overreach in the very near future. For the first time since 2006 Democrats will be in a position to exploit Republican incumbency in the midterms in 2018. And there is no particular reason to assume Democrats will be in a worse position to win the presidential contest than they were this year, when they won by one measurement and lost by an eyelash in the other" [Ed Kilgore, New York Magazine]. Best case for the defense I've seen….
Stats Watch
Consumer Sentiment, December 2016 (preliminary): "Post-election confidence continues to build, lifting consumer sentiment by more than 4 points to a 98.0 level that hits the very outside of the Econoday range and is 1 tenth away from the index's recovery peak hit last year" [Econoday]. "Consumers specifically cite expectations of new economic policies as the biggest positive." So meta.
Wholesale Trade, October 2016: "Inventories were looking heavy going into the fourth quarter but, given strength in demand, are turning out to be perhaps too lean" [Econoday]. "Inventories at the wholesale level fell 0.4 percent in October, drawn down by a 1.4 percent surge in wholesale sales. The mismatch drops the stock-to-sales ratio from 1.32 to 1.30 for the lowest reading in nearly two years." And: "Durable goods inventories slipped 0.3% on an adjusted basis, with the biggest drops coming in metals and machinery, both down 1%. Furniture inventories rose 1.6% to post the largest gain in durable goods" [MarketWatch]. But: "We continue to be mystified in the wobble in this data set – there is something wrong with either data collection or methodology. The headlines said this sector improved this month. The big growth this month came from petroleum and electrical. Overally, I believe the rolling averages tell the real story – and they improved this month" [Econintersect]. "Inventories remain at elevated levels – note that they declined from last year's level. To add to the confusion, year-over-year employment changes and sales growth do not match. This adds to me belief that the wholesale trade data set is flawed and must be ignored if one wants to get a feel of what is happening in the economy."
Rail: "Week 48 of 2016 shows same week total rail traffic (from same week one year ago) improved according to the Association of American Railroads (AAR) traffic data. Long term rolling averages remain in contraction – but the 4 week rolling average remains in positive territory" [Econintersect]. After such a long decline, a smidgeon of hope is fodder for the bulls!
Shipping: "US cargo pilots, banned from action over pay and conditions, seethe as peak season profits roll in" [The Loadstar]. "Following a judge's decision to award ABX Air a preliminary injunction prohibiting work stoppages, the pilots have no further leverage to ensure better employment terms – although the union is appealing the decision….
Fodder for the Bulls: " Animal Spirits and Business Confidence" [Calculated Risk]. "A few excerpts from two research reports this morning. [Merrill Lynch:] 'Anecdotes and surveys suggest that business and consumer confidence has improved following the election. The gain in animal spirits could amplify the boost to the economy from fiscal stimulus, creating upside risk to our forecast.' [Wells Fargo:] ' While political factors likely influenced the magnitude of the improvement in small business confidence, business owners' attitudes about the economy and their business have been gradually improving for the past few years. All of the improvement in the most recent quarter, however, came from the expectations series, which jumped 17 points in the fourth quarter. The present situation index fell 5 points, essentially reversing the prior quarter's gain.'
The Bezzle: "High-profile legal proceedings in San Francisco and New York are setting the tone for the nation's overall struggle to regulate short-term rental properties" [Hotel News Now]. "'There's a big divide between some of the major cities, which have the people and time to sort this out," said Jeffrey B. Goodman, a New Orleans-based researcher and community planner entrenched in the market. 'It's more meaningful for them; you're talking about a place like New York that has 10,000 listings, or San Francisco with 7,000. They're being forced to take the time and they have the leverage that your vacation communities and smaller or poorer towns don't have. So you have these big cities really driving the bus when it comes to legislation.'" Nothing sorted yet, but when you think about it, you can see why glibertarian Silicon Valley squillionaires would be all for destroying ADA compliance, and pesky things like building codes, by forcing hotels, which are (rightly) subject to such regulations, to complete with 10%-er property owners who are not.
The Bezzle: "Facebook's Investors Criticize Marc Andreessen for Conflict of Interest" [Bloomberg]. " In a lawsuit, shareholders say Andreessen was advising Facebook's CEO when he was supposed to be representing investors." Read for the detail; Zuckerberg and Andreessen are as twisty as corkscrews.
Political Risk: "Where will the next crisis come from? Every crisis starts with a pile of debt that can't be paid back, and shady accounting to hide that debt. When one big one goes under, everybody starts to question the shady deals they've invested in, the extend-and-pretend game ends, heretofore simple rolling over of short term debt suddenly ends, and the run starts. Governments bail out. Really big crises happen when governments run out of bailout power or will and you have a sovereign debt crisis or inflation" [John Cochrane]. " So, where around the world is there a lot of debt that might not be paid back and really shady accounting? Well, duh, China, right?"
Political Risk: "As of June, 32 publicly traded Chinese banks had a total of $2 trillion in as of June, up from $334 billion at the end of 2011, according to a tally by The Wall Street Journal of the latest available information from data provider Wind Information Co" [Wall Street Journal, "China's Banks Are Hiding More Than $2 Trillion in Loans"] "[A]n 'investment receivable' [is] a loosely regulated category of assets that allows bank officials to set aside little or nothing for potential losses." I dunno. Wind Information? That said: "'All banks are trying to move [loans] off balance sheets,' said an official at Bank of Nanjing, nodding to a common belief in China that Beijing always will stand behind the country's banks. 'The only risk we have is sovereign risk.'" So that's alright, then. What makes me a little leery of this story is the "stuff" aspect; we've been hearing about empty apartment blocks or empty lots in China for years, and it never seems to come to anything, so I wonder if we're projecting something in the American experience onto China. Personally, I'd be more worried about the CP losing the mandate of heaven because an abused and ticked off labor force decides to take it away. Comments from readers who actually know something about China welcome!
Today's Fear & Greed Index: 84 Extreme Greed (previous close: 83, Extreme Greed) [CNN]. One week ago: 71 (Fear). (0 is Extreme Fear; 100 is Extreme Greed). Last updated Dec 8 at 11:28am. Big jump!
Health Care
"To Repeat: Medicare Isn't Going "Bankrupt"" [Center for Budget and Policy Priorities]. Even assuming, incorrectly, that Federal taxes fund Federal spending.
Gaia
"A length of fluffy plumage discovered within a piece of amber has been identified as part of a dinosaur tail, offering new insights into the evolution of feathers" [Guardian]. "Short, fuzzy, and lacking the stiff central shaft ubiquitous among modern birds, the feathers also suggest the dinosaur was unlikely to have taken to the skies."
"The estimated cost of cleaning up Japan's wrecked Fukushima nuclear plant has doubled to nearly 22 trillion yen ($190 billion), with decommissioning expenses expected to continue to increase, a government panel said Friday" [Reuters]. "The panel has been discussing ways to keep TEPCO alive so it can cover the cost that it is responsible for. TEPCO has already received a government bailout, and the panel recommended that Fukushima cleanup-related operations effectively stay under state control until the next review in 2019."
Black Injustice Tipping Point
So I guess after this we can write off Deray, which is really too bad:
He's forced Boeing to pay up so that he won't tweet about them and impact their stocks. This is how tyranny begins. https://t.co/4hW0kkl1gC

— deray mckesson (@deray) December 9, 2016
Sort of amazing to watch Democrats go all-in to defend Boeing.
"13 Ways to Act in Solidarity for Justice for Walter Scott" [Portside]. Handy list, especially for Charleston locals. but with many ideas.
"Descendants of West African slaves in South Carolina are fighting to prevent their land from being confiscated and auctioned. Can they save a traditional way of life that has survived for the one and half centuries since emancipation? [BBC]. Really appalling. The Gullah are coastal, and we know how developers feel about coastal land:
The first Lillian Milton knew about it was when she arrived at the local council offices to settle her tax bill.

She was told her home had been sold because she had not paid a $250 levy for a sewer service. She was shocked – at that point she had not even been connected to the sewer system.

"They had sold everything, the property, the house and all and when I offered to pay them with a cheque, they told me I couldn't. I had to get cash money – 880 some dollars that I had to pay them to get my place back. Many of her friends and neighbours in Jackson Village, one of three black communities in Plantersville, South Carolina, face losing their homes in a similar way if they don't pay the tax for a sewer they say they didn't want and don't need.

Last week 20 homes were put up for auction.

"The only people we see are the developers," says the Rev Ben Grate, gazing at the empty road that snakes through Jackson Village.

"We call them 'strangers' and we are afraid of them. Because they come to take your land.

"They are millionaires, in big cars, driving slow, staking out property, dreaming on what it would be like to have a motel on the river right here."
Creeps. More on Gullah here.
Class Warfare
Interview with Robert Anderson, chief of the mortality statistics branch at the National Center for Health Statistics: "The drug overdoses are a big part of [the decrease in life expectancy numbers]. But we also saw increases in heart disease and stroke mortality. The heart disease probably affects this more than anything else. For heart disease, the increase between the two years—2014 to 2015—was from 614,000 roughly to 633,000, so that's almost 20,000 deaths due to heart disease" [Scientific American]. Stress would be my guess.
"Viewpoint: Trump, Carrier, and Corporate Welfare" [Toni Gilpin, Labor Notes]. "Corporate welfare has been a bipartisan boondoggle for decades. That these tax giveaways have largely benefited hugely profitable companies like Carrier, at the expense of workers and their communities, has failed to garner much media scrutiny until now." Good roundup.
"President-elect Donald Trump's Twitter attack this week on a union official, followed by his choice of a labor secretary who has criticized new worker protections, has rattled leaders of the American labor movement, who fear unions may be facing their gravest crisis in decades" [WaPo]. What, other than the continuing collapse of their membership, along with the complete impotence of the nationals? Who keep throwing billions at Democrats and getting squat for it? Where's card check? Heck, when did Obama ever put on his "comfortable shoes" and walk a picket line?
" I'm the union leader Donald Trump attacked. I'm tired of being lied to about our jobs" [Chuck Jones, WaPo]. WaPo is so crazed with fear they're actually giving a platform to a union guy, and not one of the shills from the national.
When I met with Carrier officials last Thursday, I realized that that wouldn't be the case. Though Trump said he'd saved 1,100 jobs, he hadn't. Carrier told us that 550 people would get laid off.

Trump didn't tell people that, though. When he spoke at our plant, he acted like no one was going to lose their job. People went crazy for him. They thought, because of Trump, I'm going to be able to provide for my family.

All the while, I'm sitting there, thinking . Trump let people believe that they were going to have a livelihood in that facility. He let people breathe easy. When I told our members the next day, they were devastated.
"[T]hat's not what the damn numbers say." We need more of that, up and down the line. One reason that the Sanders platform worked was that people could run the numbers on it. They could see concrete material benefits, as opposed to Clinton's gatekeeper-infested incrementalist markets-first bafflegab.
"Welcome, Robot Overlords. Please Don't Fire Us?" [Kevin Drum, Mother Jones]. Drum writes:
In the economics literature, the increase in the share of income going to capital owners is known as capital-biased technological change. Let's take a layman's look at what that means.

The question we want to answer is simple: If CBTC is already happening—not a lot, but just a little bit—what trends would we expect to see? What are the signs of a computer-driven economy? First and most obviously, if automation were displacing labor, we'd expect to see a steady decline in the share of the population that's employed.

Second, we'd expect to see fewer job openings than in the past. Third, as more people compete for fewer jobs, we'd expect to see middle-class incomes flatten in a race to the bottom. Fourth, with consumption stagnant, we'd expect to see corporations stockpile more cash and, fearing weaker sales, invest less in new products and new factories. Fifth, as a result of all this, we'd expect to see labor's share of national income decline and capital's share rise.

These trends are the five horsemen of the robotic apocalypse, and guess what? We're already seeing them, and not just because of the crash of 2008. They started showing up in the statistics more than a decade ago. For a while, though, they were masked by the dot-com and housing bubbles, so when the financial crisis hit, years' worth of decline was compressed into 24 months. The trend lines dropped off the cliff.
And then there's this:
Next, we'll need to let go of some familiar convictions. Left-leaning observers may continue to think that stagnating incomes can be improved with better education and equality of opportunity. Conservatives will continue to insist that people without jobs are lazy bums who shouldn't be coddled. They'll both be wrong.
As usual in the Beltway, Drum has the left confused with liberals. Read Thomas Frank, and you'll see it's liberals that worries about better education and equality of opportunity (as opposed to outcomes). The left worries about, oh, control of the means of production — here, robots — which oddly, or not, doesn't figure in Drum's futurology at all.
News of the Wired
" PG Wodehouse secures redemption as British Library acquires priceless archive" [Guardian]. "The author's reputation, long tarnished by charges of Nazi collaboration, will be restored as his papers find a new home." I think I'll wait for a biographer's assessment, even though I love Wodehouse's work.
"While they only average about the size of a large postcard, cobweb paintings, also known as gossamer paintings, involved a painstakingly intricate creation process. Artists had to collect cobwebs, layer and stretch them over an oval windowed mat, and paint with a special fine-tipped woodcock feather brush. A range of media were applied to cobweb canvases, from watercolor, India ink, to even print engravings" [Atlas Obscura].
"Airlines could let passengers make in-flight phone calls using Wi-Fi under a proposal from federal regulators" [AP]. Recipe for airline rage. Six hours in a metal tube next to somebody yammering about the details of their last operation? No thanks.
* * *
Readers, feel free to contact me with (a) links, and even better (b) sources I should curate regularly, and (c) to find out how to send me images of plants. Vegetables are fine! Fungi are deemed to be honorary plants! See the previous Water Cooler (with plant) here. And here's today's plant: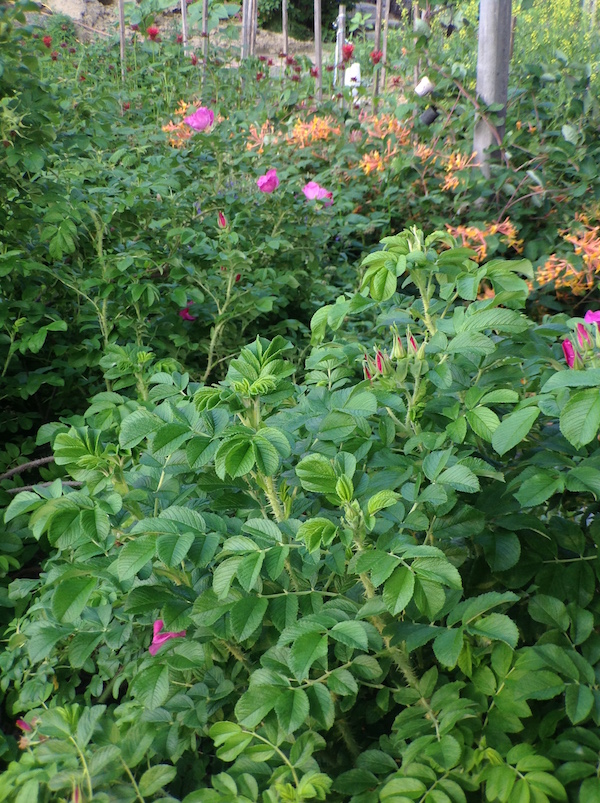 Invasives! Front to back: Rosa Rugosa, raspberries, honeysuckle, and bee balm. Of course, "invasive" is just a word…
Readers, Water Cooler is a standalone entity, not supported by the very successful Naked Capitalism fundraiser just past. Now, I understand you may feel tapped out, but when and if you are able, please use the dropdown to choose your contribution, and then click the hat! Your tip will be welcome today, and indeed any day. Water Cooler will not exist without your continued help.