The fact that rentier capitalism usually operates in corporate form and that US courts have endowed corporations with the weird status of legal personhood, and with it, the right to First Amendment protections, has given business a worse name that it deserves.
The Japanese see a business a community and regard it as important to protect and preserve those communities, to a degree that has ossified the economy. But even one of the aggressive entrepreneur in my circle defined the purpose of business as "having drinks with your buddies".
Perhaps it's just a function of cross-currents in Manhattan, but I can't recall a year, even in the worst of the financial crisis, where so many businesses that I knew, either personally or by reputation, went under. And the part that bothers me is that a very high proportion were well established, as in they'd been around for more than ten years.
Mind you, we've had waves of various sorts of businesses failure over the last 25 years. Hardware stores and small retailers crushed by WalMart. Video rentals killed by downloads. Independent bookstores felled by Amazon. Clothing stores losing out both to "e-tailing" and more consumer dollars going to technology.
And even when it's obvious why these displacements are taking place, that does not make it any less sad. The owners put not just money, but anxiety and years of their life into trying to make it a go. Having to make payroll, or even pay contractors, is a serious obligation. And I always worry about the workers. If we had any sort of decent economy, that wouldn't be a big concern. In the old normal, if their employer failed, they might not get as convenient a location or schedule, or the new boss might be a jerk, but they'd at least be able to provide for themselves in reasonably short order. That is hardly the case now.
But what's happening in my neck of the woods is a bit different. Landlords have been doubling rentals on Third Avenue, and I can't fathom the logic. A huge number of storefronts are vacant, not just on Third but on Madison as well, and they stay empty for a long time. For instance, when a busy health food store where I shopped regularly was put out of business by one of those rent increases, it sat vacant for a full year. Its replacement, an upscale frozen food business (really!) remains open despite having no customers. Perhaps it's a vanity project for the wife of a rich man, or a money laundering operation, but it bears no resemblance to a viable business.
In a story last August, the New York Times bemoaned the loss of small businesses. I was as surprised as the author was when Tekserve, the biggest independent Apple sales and support store in the city, closed its doors, along with other mainstays I had known, like Krup's Kitchen and Bath, due to rent increases:
It's not just a matter of my personal convenience or quirky shopping habits. The usually well-paying, stable jobs lost when family-owned shops close will not be replaced if chain stores with fast-changing work forces come in. And since many chains are already here, a lot of shop fronts will remain empty, producing no revenue — and no street life — at all…

I'm far from the first person to notice the rapid deterioration of the city's street-level fabric. A writer who uses the pseudonym Jeremiah Moss has been bemoaning the problem on his blog Vanishing New York since 2007. His organization, #SaveNYC, is trying to hold back the tide through awareness and grass-roots lobbying. You can join in.

Mr. Moss has called for curbs on tax breaks for chain stores, laws ensuring reasonable rent increases and fines on landlords who leave their storefronts empty. He's also pushing for a cultural preservation program, which would protect businesses that have contributed significantly to a neighborhood's social fabric.
I'm not sure what these landlords are smoking. Do they posit a fixed relationship between residential and storefront rentals? That's broken down with more and more in retail sales moving to the Web; for years, the big story in commercial real estate has been the glut of retail space. Moreover, rental prices have fallen in Manhattan in the last year, which is almost unheard of in the absence of a big downturn on Wall Street. So why do they think the market will support ever rising street-level rentals?
From my vantage, anodyne terms like "street life" don't capture what is at issue. If you live in a city, where even if you are friendly with your neighbors, that almost never means, "friendly enough to have them in for a drink." So the vendors you deal with regularly, even if you only know their faces and some of their quirks, become part of your routine. As one of my friends said, "That's what makes city life bearable." For instance, a couple of the coffee shops I frequented (one of which had its own daily visiting sparrow, that had figured out how to enter, clean the floor of crumbs, and escape) not only knew my regular order but would occasionally give me a freebie. Another store's overweight Tabby has a following. Even though I don't go often enough for him to remember me, I find it reassuring that the owner/operator of my local shoe store does many of the repairs himself (in view of the customers) as well as manning the register, and is clearly proud of his work.
So it's even more disconcerting when a business which has created its own community fails. When I lived in Sydney, I adopted a local pub which had a great crowd, including many colorful regulars. It closed as a result of a major renovation of the building, which turned the pub and a neighboring space into a grocery store. Even though the neighborhood was lousy with bars, and we patrons tried finding a new venue where we could congregate, it never gelled. None of the other spaces were conducive to having a large group meet and mix easily.
To add to the stress of the Washington Post/PropOrNot "Russian propagandist" smear, one of my mainstays, my gym, closed permanently right before Christmas. I'm religious about working out, both for health reasons but also as a desperately needed daily mental health break. My gym was small (which made it fast to get in and out), oriented towards weight training, open early and late, and well appointed (no fluorescent lights, big glass windows, leather banquettes). The evening crowd skewed older and was mainly self-employed people, and I had gotten friendly with quite a few of them. So it was both a shock and depressing to learn my gym had folded with no warning.
It must be horrible for the employees, like the women who tended the women's locker room, and the guys who cleaned and tied the floor and the men's room, to be turfed out right before Christmas. I lost most of a year of membership payments, but I'm less bummed out by the monetary loss than by the fact that I was at that gym because I regarded the other options in the 'hood as less desirable for reasons including: too big and impersonal or too skanky, less good weights (this one had dumbbells in 2.5 lb. increments up to 40 lbs), less good terms (I'd been a charter member, which was a fancy way of saying I joined before construction was fully complete, and the older membership terms, which I'd gotten grandfathered, were better than the current ones), and for the "better" gyms, a lot of amenities that I didn't value (lots of classes, snack and juice bar, beauty services). And I don't know how many of my old buddies will wind up at the nearby upmarket gym, or if they do become members, if we'll see each other that much (with the exercise area on two large floors, we could miss each other even if we showed up at the same time).
So why did my old gym die? The closure message attributed it to an increasingly difficult competitive environment which had become unfavorable to its business model, especially in New York. I'm not sure about all its locations, but the local one looked to personal training as a significant source of income. My sense is that that market has changed a lot in Manhattan, and possibly elsewhere, due to:
1. The rise of micro-gyms. I don't understand them, and think they are a fad about to die, but I've seen tiny gyms spring up in those formerly vacant retail spaces, with small classes featuring full body workouts. Who wants to work out in view of people on the street? And how are you going to get enough variety in a setting like that? The dirty secret of exercise is anything you do repetitively becomes routine activity and you quit seeing gains. That's fine if your objective is general health, but not if you want to train for a sport, get stronger, or change your appearance.

2. Better workout facilities in new apartment buildings. Gyms have been a long-standing amenity in new apartment complexes. However, that used to consist of a couple of treadmills and a bike or two. Now apparently they are much better. Not only have these workout rooms bled off some who'd otherwise get a gym membership to work off winter weight gain, but also others who use trainers, since these in-house facilities are often well enough equipped that a trainer could work with clients there rather than in a full-service gyms.

3. Smartphones. I saw a lot of people at my gym using workout routines on their devices. Mind you, I didn't think this was a great idea. Some of the routines looked dangerous (for instance, calling for the user to do jumps when you need to be able to squat 150% of your body weight for that not to put your joints at risk). In other cases, the routine might not be bad, but I could see the person working out in poor form (I assume either due to the program not showing proper form from the front and side, or the program not giving enough verbal cues, or the person not having enough command of their stance to absorb the instructions, as in they would benefit more than most from oversight and feedback). I suspect this led to some clients reducing or even dropping their use of personal trainers.
This is a long-winded way of using the sad demise of my gym to illustrate that small and mid-sized businesses, even long-established ones with loyal, upmarket clienteles (my gym's branch had been open for 22 years) are facing unexpected pressures.
And this pattern raises a bigger set of issues. Economists have bemoaned a fall in entrepreneurship, as this chart from a 2016 Washington Post story illustrates: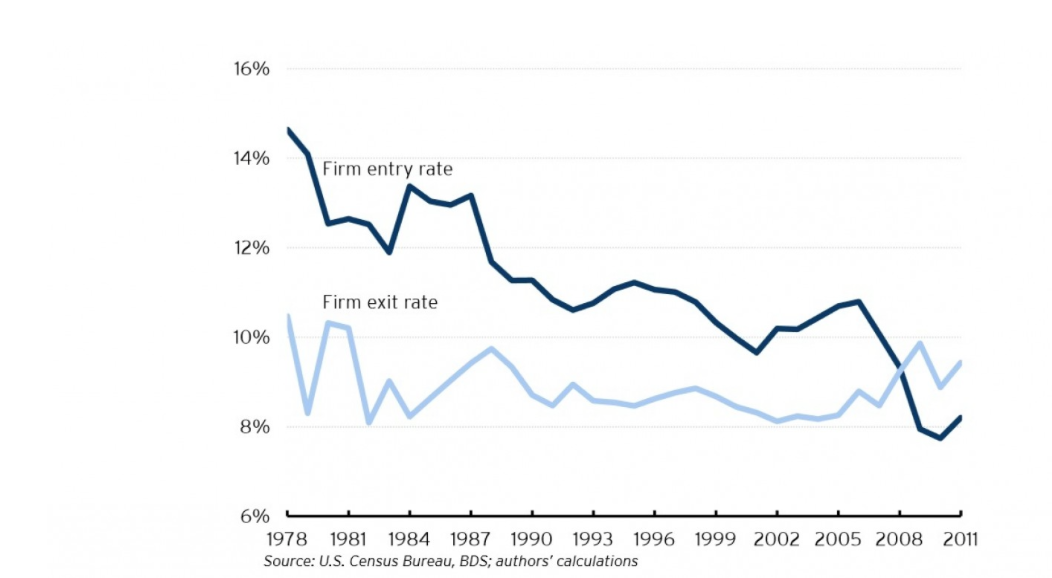 But this should not be hard to understand. The level of business deaths has been hovering around the rate reached in the nasty 1980-1981 recession. That is consistent with what we have been saying for some time: with overall demand in the economy weak, small businesses for the most part have not been keen to expand. And that means starting a new enterprise is an even bigger gamble. On top of that, more young people are having to take menial jobs which may not give them the opportunity to identify unmet customer needs. Academic studies have ascertained that the new businesses that are most likely to survive are started by people who've worked for bigger firm and saw opportunities that industry incumbents were ignoring. And add to that the fact that student debt is another impediment to accumulating savings and/or having good access to credit.
But the death of my gym, along with other long-lived businesses (for instance, Gracious Home, a successful Manhattan retailer that seemed to have a secure niche, also closed in December), points to another impediment: it used to be, as another Washington Post chart showed, that if a businesses made it to the ten year mark, it was likely to continue: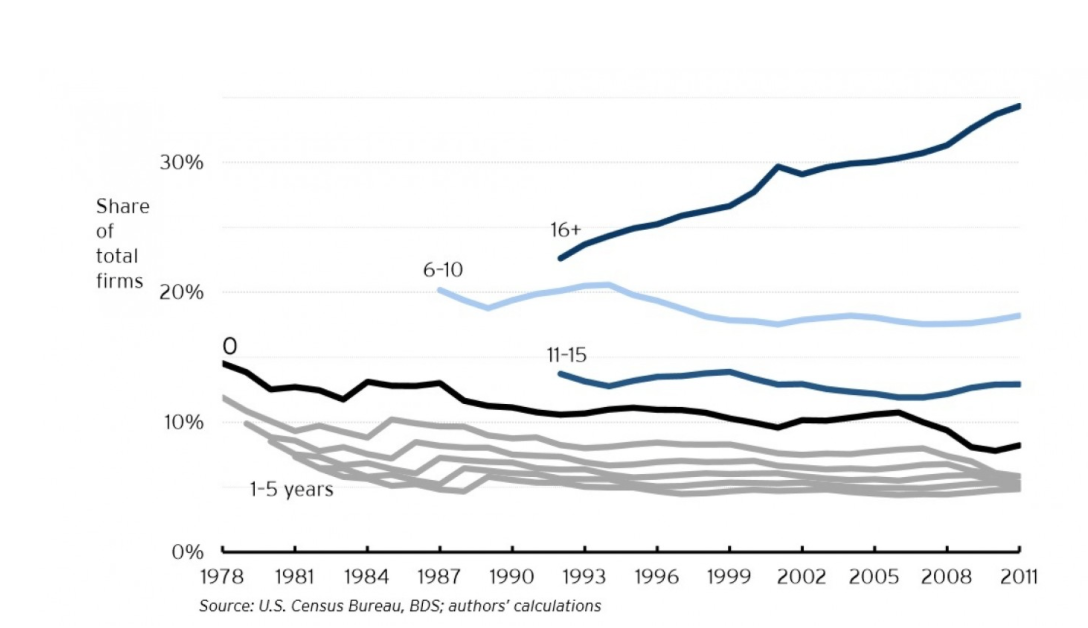 But perhaps that is not the best interpretation of that chart. The data does say that longer-established businesses constitute a growing proportion of all businesses. But the fact that younger firms are dying at a more rapid rate than in the past may mask the fact that older businesses are also failing at a higher rate than before but that the rate of increase is much lower than that of newer concerns.
I have long said that that starting your own business has been unduly romanticized in the US, and most people can and should be on a payroll. Entrepreneurship hype has too often served as an excuse for lowering worker rights (why should employers provide job security if workers can all go out and create their own employment?). Working for yourself has become even riskier. Just because traditional workplace options are lousy does not mean that jumping from the frying pan into the fire is a good idea.