By Lambert Strether of Corrente
Politics
Trump Transition
Perspective:

On the dawn of the Age of Trump, I want to show everyone the greatest inaugural address ever: President Lincoln's Second Inaugural Address. pic.twitter.com/YNym7PANwG

— Action.Brotha.Jedi (@BmoreDoc) January 19, 2017

"Truly, has there ever been as dramatic a contrast between outgoing and incoming chief executives as Barack Obama and Donald Trump? Actually, yes: the refined John Quincy Adams and the rough-hewn populist Andrew Jackson despised each other. Jackson believed he had been cheated out of the White House by a corrupt bargain during 1824's House of Representatives "run-off" that installed Adams as president. Jackson spent four years making sure that wrong was righted on Inauguration Day 1829″ [Larry Sabato]. And many, many other examples. So, please forget this "not normal ZOMG!!!!" foo-frah Democrat hysterics are pushing.

"President-elect Donald Trump's nominee to lead the Treasury Department initially failed to disclose his interests in a Cayman Islands corporation, as well as more than $100 million in personal assets, according to a memo by Democratic staffers on the Senate Finance Committee that was obtained by The Washington Post" [WaPo]. "Republicans raised similar concerns about outgoing Treasury Secretary Jack Lew during his confirmation in 2013, pointing to his own ties to entities in the Cayman Islands and bonuses received while at Citigroup. Lew was confirmed by the Senate by a wide margin of 71-26 votes." And Timmy Geithner didn't pay his taxes. Can't the Democrat staffers do better than this nothingburger?

"In a feisty exchange with Sen. Bernie Sanders at his confirmation hearing on Wednesday, HHS nominee Rep. Tom Price said he hadn't had "extensive discussions" with Trump on issues like Medicaid and Medicare but he expected they'd remain in place" [MarketWatch]. Hmm.

"'With notable exceptions, we've had a political culture in which presidents largely respect a series of unwritten rules that help democracy and the rule of law flourish,' said Brendan Nyhan, a professor of government at Dartmouth College. 'What's striking about Trump is he flouts norms that have previously been respected by both parties on a daily basis. He calls things into question that have never been questioned before" [Associated Press]. I don't think I even heard the word "norms" until maybe six weeks ago. I'm suspicious of words that just pop into the discourse, and suddenly "everybody" is using it. Is it possible the "norms" could be problematic?

"Rather than focus their energy on sinking one or two Trump nominees, to make a statement about their potential power even in the minority, Senate Democrats have used a scattershot approach that involves going deep into briefing books on virtually all of his picks. At Education, Justice, the EPA, Health and Human Services – point by point, the focus has been on how nominees would stray policy from the mainstream…. Yet with only 48 Senate votes, Democrats are unlikely to block any nominee unless questions of ethics or financial irregularities make confirmation untenable. That makes this a battle for the long haul [or general cluelessness], going at the ideological underpinnings of the incoming administration. It may pay off. But it may also misunderstand the source of Trump's power: His base gravitated to him despite his ideology, not because of it" [Rick Klein, ABC]. "[T]he mainstream."

"Staffers for the Trump transition team have been meeting with career staff at the White House ahead of Friday's presidential inauguration to outline their plans for shrinking the federal bureaucracy" [The Hill]. "Overall, the blueprint being used by Trump's team would reduce federal spending by $10.5 trillion over 10 years. The proposed cuts hew closely to a blueprint published last year by the conservative Heritage Foundation, a think tank that has helped staff the Trump transition…. It's not clear whether Trump's first budget will include reforms to Social Security or Medicare, two major drivers of the federal deficit."

"At 12:01 p.m. Friday, Donald Trump's aides will deploy a team of temporary political appointees into federal agencies to begin laying the groundwork for the president-elect's agenda while his nominees await Senate confirmation, sources familiar with the plan told POLITICO" [Politico]. "While the transition team has been building the so-called beachhead teams for months, they are taking on outsize importance because few of Trump's nominees will be confirmed by the time he's sworn in…. Beachhead members will get badges just like any other federal employee and begin to take over the agencies, said Max Stier, president and CEO of the nonpartisan Partnership for Public Service, which advises incoming administrations on transitions. The goal is to ensure a smooth transfer of power not just at the White House, but at crucial federal agencies as well. 'The beachhead team is a newish structure, built by the [Mitt] Romney transition,' Stier said. 'The basic concept is a recognition that incoming administrations do not have the full confirmed team in place. How do you put people in to keep the agencies running?'" The Romney transition? Huh?
2016 Post Mortem
"How Trump Won: The Midwest" [RealClearPolitics]. "Donald Trump picked up a whopping 50 more electoral votes from this region than Mitt Romney did, and very nearly added 10 more. Moreover, these pickups largely surprised analysts. It is therefore useful to spend some time looking at how it happened." Well, we all know why that is. It's because Putin prevented Clinton from campaigning in Wisconsin. Well worth a read for the maps, which tell the story vividly. And then there's this at the county level:

We'll look at Minnesota, Ohio, Michigan, and Wisconsin in some detail, but outside of those states, we can see that the Democratic coalition has been reduced to: two counties with Indian reservations in North Dakota; four such counties in South Dakota, plus Vermillion County (home to University of South Dakota); one in Nebraska (Douglas County, which includes Omaha); two in Kansas (Douglas County, which included the University of Kansas and Wyandotte); three in Missouri (Boone, including the University of Missouri; St. Louis City, and Jackson, which includes Kansas City); and three in Indiana (Lake, including Gary; Marion, including Indianapolis; and Monroe, which includes Indiana University). In Illinois, the counties are more numerous, but follow the same basic pattern; the only difference is Chicago – a massive metropolitan area – along with a few blue-collar towns where Democrats maintain residual strength.

Yikes.
Realignment and Legitimacy
"Voter Registration, The Democrats' Sleeping Giant" [Alice Marshall, Down with Tyranny]. "I am told that it isn't worth the effort to mobilize marginal voters, that it is too expensive. But Republicans don't think so. Republicans spend millions of dollars on voter suppression. For some reason Democrats have never drawn the obvious conclusion, that they can win elections by pushing back against voter suppression. Somehow Democrats think they can win elections even when much of their base stays home." That's what the establishment Democrats think…. Read the whole thing.

"What's clear from interviews with several dozen top Democratic politicians and operatives at all levels, however, is that there is no comeback strategy—just a collection of half-formed ideas, all of them challenged by reality. And for whatever scheme they come up with, Democrats don't even have a flag-carrier. Barack Obama? He doesn't want the job. Hillary Clinton? Too damaged. Bernie Sanders? Too socialist. Joe Biden? Too tied to Obama. Nancy Pelosi and Chuck Schumer? Too Washington. Elizabeth Warren? Maybe. And all of them old, old, old" [Politico]. This is an interesting article that's worth a read, especially for what it leaves out. Notice the illustration at the top: Warren, Schumer, Pelosi. Can you think of anyone missing? I searched the article for "Sanders," and found two (2) hits. One I just quoted: "Bernie Sanders? Too socialist." The second: "'A lot of Democrats laughed at Bernie Sanders when he proposed free college. First of all, that's not impossible,' [Connecticut's Chris] Murphy says, but more to the point, "it's a way to communicate a really important issue in terms that people will understand.'" Maybe the Democrats should use Politico for bird-cage liner and stop at that?

"When the candidates met for a forum Wednesday night sponsored by the Huffington Post at George Washington University, they sought to downplay their divisions and play up party unity. There was so little dissent among the seven participants that at one point, when asked whether they thought the DNC tipped the scale for a candidate (Hillary Clinton) in the 2016 primary — a criticism lodged frequently and vociferously by Sanders' supporters — none of the participants raised their hands" [RealClearPolitics]. Dear Lord.

"Sanders supporters all over California were mobilized by emails and text messages to participate in recent Delegate Assembly District elections. Turnout for these caucuses was twice what it has been in recent years all over California. There were also twice as many people running for the seats. " [Monterey Herald]. "Along with increased participation, most districts around the state report a level of enthusiasm not seen in years — and younger, more diverse faces."

"The weekend before the Phoenix forum, Sanders supporters – organized in part by his post-election campaign group, Our Revolution – flooded the usually-sleepy meetings at which California Democrats elect their delegates. The result, according to Sanders, is that more than half of the party's ground-level leadership comes from the movement, in a state he famously lost to Hillary Clinton. Our Revolution has been working the states where Sanders did even better, like Colorado, Nebraska and Washington, to put progressives in charge. The problem for Ellison is that the DNC vote will come before this is reflected in the states' DNC membership" [WaPo].

"Jones' campaign, in both subtle and overt ways, has attacked the notion of black vs. white, north vs. south. She lives in the West End, just north of Delmar, but her campaign hashtag of #onestlouis suggests that the only path to victory spans both sides of the street. To that end, she intends to win votes not only from her north city base, but also from the young white progressives who've begun to shake up the city's status quo. So far, the enthusiastic support she's finding from many white, south-city Berniecrats suggests the plan is no fool's errand" [RiverFront Times].

"To aid in [the California] effort, Our Revolution launched several tools to help promote the delegate elections and the progressive candidates, including sending over 110,000 emails and 40,000 text messages to inform and mobilize voters" [Independent Voter Network].
Stats Watch
Housing Starts, December 2016: "Housing starts extended their wild ride of volatility in December, up 11.3 percent in the month to a 1.226 million annualized rate which beats the Econoday consensus for 1.200 million. But the rise is confined to multi-unit starts which jumped 57 percent to a 431,000 rate, a contrast to the 4.0 percent decline to 795,000 for single-family starts" [Econoday]. "Single-family homes, which pack the most cost and price punch, are the focus of the housing market and today's results are mixed, with permits a positive but starts a tangible negative. In sum, lack of available supply remains an obstacle to sales acceleration for housing." But: "The nature of this industry normally has large variations from month to month so the rolling averages are the best way to view this series – and it shows permits collapsing, and even completions decelerating – not good as it is showing a contracting sector" [Econintersect]. The bottom line is that permits for 2016 is statistically unchanged from 2015, but construction completions are up 10%. Looking at residential construction employment, the year-over-year growth of employment is slightly BELOW the growth of housing starts. This is easily explained with the poor growth in housing starts."
Bloomberg Consumer Comfort Index, week of January 15, 2016: Strong, but "failed to push higher" [Econoday].
Jobless Claims, week of January 14, 2017: "In a solid signal of strength for the January employment report, initial jobless claims fell a very sharp 15,000 to a much lower-than-expected level of 234,000" [Econoday]. And: "This was below the consensus forecast. This is the lowest level for the four week average since 1973 (with a much larger population)" [Calculated Risk]. And: "Claim levels are at 40 year lows (with the normal range around 350,000 weekly initial unemployment claims of levels seen historically during times of economic expansion" [Econintersect].
Philadelphia Fed Business Outlook Survey, January 2017: "Standout is a modest word to describe the strength of the Philly Fed report for January which is signaling major factory acceleration across readings" [Econoday]. "Special superlatives belong to prices with input costs up nearly 4-1/2 points to 32.5 and the highest reading since February 2012 and selling prices up nearly 19 points to 26.8 to signal the best price traction of the entire economic cycle, since July 2008." And: "The data overall will maintain confidence in the underlying manufacturing trend and the prices component will also be an important focus, especially as there was also a stronger inflation reading in the New York Empire State index reported earlier in the week" [Economic Calendar].
Industrial Production (yesterday): "There are Trumped up expectations and undesired auto inventory building, and then there's the reality of a very weak economy" [Mosler Economics].
Commodities: "Fourth-quarter total revenue carloads slipped 3% compared with 2015. Freight revenue for coal retreated 6% in the fourth-quarter to $699 million, compared with 25% for the year. Revenue for the industrial products segment fell 2% compared with 12% annually. The Intermodal business, which moves freight using a combination of trains and trucks, were nearly flat at $969 million, an improvement to the 9% slide tallied for the year" [Wall Street Journal, "Union Pacific Boosted by Easing Commodities Slump"].
Shipping: "December Cass Freight Index report shows continued signs of improvement" [Logistics Management]. "On the freight shipments side, Cass reported that December shipments were up 3.5 percent annually at 1.074, following a slight 0.3 percent decline in November, and October's 2.7 percent gain, which marked the first time it headed up in the previous 20 months…. "If the winter of the over all freight recession we've been in for more than a year and a half in the U.S. is not over yet, it is certainly showing promising signs of thawing," wrote Donald Broughton, the report's author and transportation analyst at Avondale Partners." And: "'Repeatedly we have watched in a host of different markets, volume goes up before pricing starts to improve and volume goes down before pricing starts to weaken,' [Broughton] wrote. 'Even in markets as basic as the weather, the number of hours of sunshine (start to decline) falls long before the temperature starts to fall.'" I dunno if the weather is a market. But still…
Shipping: "'Americans today live much differently than previous generations,' [Fran Inman, senior vice president of Majestic Realty Co.] said. 'We are consuming far more – whereas in 2010, the U.S. Department of Transportation estimated that each American required the movement of 40 tons of freight annually, that number has jumped to 63 tons annually." The report is a report rather transparently designed as input to Trump's (proposed) infrastructure program, but that jump from 40 to 63 tons of freight per person, and in the space of seven years, strikes me as extraordinary (if true). That's a lot of "stuff"!
Shipping: "Yang Ming labelled the new Hanjin by Drewry" [Splash 247]. "Drewry Financial Research Services has described Taiwan's second largest containerline as the next Hanjin while slapping its stock as unattractive in a new report. … Drewry said Yang Ming 'now takes the slot left vacant by Hanjin Shipping, as it has the most leveraged balance sheet in the industry'… Yang Ming's net gearing stood at 437% at the end of the third quarter last year, well above the industry average of 124% and nearly five times its closest regional peer, Evergreen Marine, and 12 times that of Wan Hai."
Retail: "YouTube has started to contribute significantly to Alphabet's revenue. Based on earnings reports, this is nearly all video advertising" [247 Wall Street]. It's not doing well in streaming video, unlike Netflix and Amazon Prime, but who goes to YouTube for that?
The Bezzle: "Good model goes bad as court finds Swift's drivers are employees, not contractors" [DC Velocity]. "Good" model? Why? "The plaintiffs had alleged that the language in the IEL leases, combined with "at will" termination agreements written into the contractor agreements, meant that drivers could be released at any time and still be on the hook for the remaining lease payments because they would be considered in default. They also argued that they could only drive for Swift, and that any attempt to leave would subject them to a crushing debt burden. The arrangement amounted to "forced labor" for drivers during the lease period, which could extend for four years, according to the plaintiffs."
The Bezzle: "Google's parent company Alphabet (GOOG) is scaling back its support for money-losing "moonshot" ventures that had little to do with its core search advertising business, as the company's chief financial officer, Ruth Porat, reins in costs" [CBS].
Political Risk: "I suggest that the large public company has had its day. Public listing is not needed to raise essential capital, as was the case in its 19th and early 20th-century heyday. The stock markets today are for speculation, for games by competing algorithms and profit-taking for insiders. We should discourage "public" ownership in favour of private ownership and partnerships. Then, more people with the power to control will also have an incentive to think long term and to contain risk" [The Conversation]. Hmm…
Today's Fear & Greed Index: 55 Neutral (previous close: 55, Neutral) [CNN]. One week ago: 55 (Neutral). (0 is Extreme Fear; 100 is Extreme Greed). Last updated Jan 19 at 11:50am. Into the grey area of neutrality. "What instruments we have agree…."
Gaia
"What really happened during the supposed climate change 'hiatus'?" [Christian Science Monitor]. "Researchers have independently replicated NOAA's recalibration of sea surface temperature data to uncover what really happened from 1998 to 2012."
"What comes after Standing Rock?" [Vice]. "In the upcoming years, there should be a lot written about why the tens of thousands traveled to Standing Rock and why so many stayed, despite its remoteness, freezing temperatures, and what felt, for months, like a hopeless mission…. What we can't project yet is what it meant that they actually won, even if winning only meant a temporary end to the drilling of the pipeline." Good thoughtful piece from a writer who was there long enough to develope the Standing Rock hacking cough.
"New technique predicts frequency of heavy precipitation with global warming" [Phys.org].
Black Injustice Tipping Point
"'Still a city of slaves' – Selma, in the words of those who live there" [Chris Arnade, Guardian]. "Tomorrow media & dignitaries will go to Selma & walk across a bridge. Then leave without reporting ON Selma now." The lead:
en figures clambered over piles of rubble from the old cotton warehouse, picking up bricks. It was a cold day for Selma, Alabama, close to freezing, and as the sun disappeared they gathered to warm their hands over makeshift fires. For 10 hours they removed bricks from piles mixed with wood and metal, chipping each recovered brick free of mortar, and then stacked them. The bricks were handmade in the 1870s, and a foreman was paying them between $10 and $20 in cash for a pile of 500.
"The results show that as many as half of today's work activities could be automated by 2055. But while the findings suggests that 60 percent of all jobs may have 30 percent of their constituent tasks taken over by robots, they also show that only 5 percent of jobs will become fully automated. In other words, the analysis suggests that in the next 40 years most jobs will change, or in the worst case shrink, rather than being devoured" [MIT Technology Review]. Perhaps I should have filed this under The Bezzle…
News of the Wired
"Japanese toilet industry agrees to standardize complex bidet controls" [The Verge].
"Too much sitting, too little exercise may accelerate biological aging" [Science Bulletin]. Listen up, bloggers!
* * *
Readers, feel free to contact me with (a) links, and even better (b) sources I should curate regularly, and (c) to find out how to send me images of plants. Vegetables are fine! Fungi are deemed to be honorary plants! See the previous Water Cooler (with plant) here. And here's today's plant ():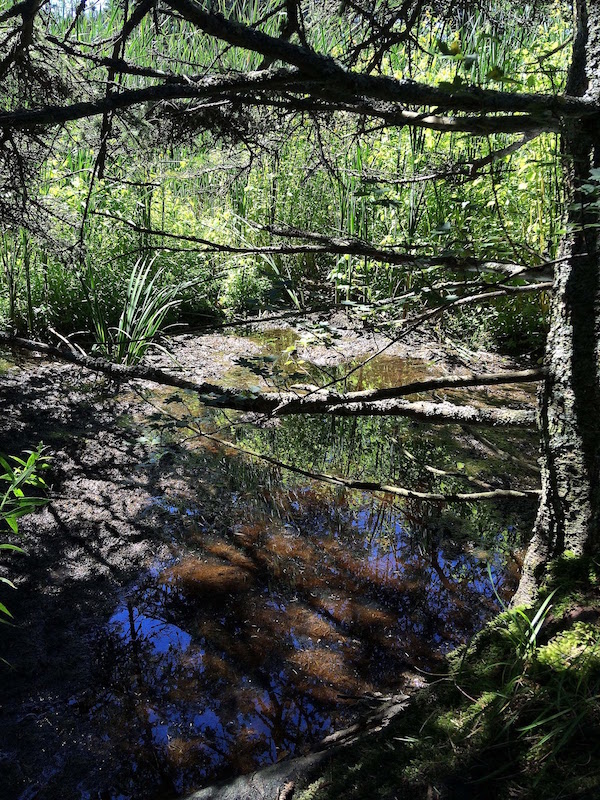 RH comments: "Shallow pond in the woods. Look for the trail thru the cattails across
the way."
Readers, Water Cooler is a standalone entity, not supported by the very successful Naked Capitalism fundraiser just past. Now, I understand you may feel tapped out, but when and if you are able, please use the dropdown to choose your contribution, and then click the hat! Your tip will be welcome today, and indeed any day. Water Cooler will not exist without your continued help.