By Lambert Strether of Corrente
Politics
Martin Luther King Day
Watch @ninaturner's speech in front of the MLK Memorial today.

We must lift as we climb. pic.twitter.com/lckQ3TpsoY

— Our Revolution (@OurRevolution) January 14, 2017
Our Famously Free Press
"Con­sider the sa­la­cious, over-the-top al­leg­a­tions in a 35-page dossier pre­pared by a former MI6 Brit­ish in­tel­li­gence op­er­at­ive for a Wash­ing­ton-based polit­ic­al-re­search firm that CNN de­scribed and BuzzFeed pub­lished. In­ter­twined with plaus­ible, but un­veri­fi­able, ac­cus­a­tions were items that were clearly in­ac­cur­ate or even laugh­able. The ef­fect of the doc­u­ment is to in­ocu­late Trump against po­ten­tially more com­prom­ising in­form­a­tion that Rus­si­an in­tel­li­gence or oth­ers may try to use to un­der­mine the le­git­im­acy of our polit­ic­al pro­cess and elec­tions. It even gives him a meas­ure of pro­tec­tion against any derog­at­ory in­form­a­tion, re­gard­less of wheth­er it's true" [Cook Political Report]. Either "fake news" as a partisan device has jumped the shark, or it's become a generic term. The latter might — he said cautiously — end up helping critical thinking; after all, any concept of "fake news" that doesn't include Judy Miller's WMD "reporting" for the [genuflects] New York Times is just "any stick to beat a dog" material.

"A hellscape of lies and distorted reality awaits journalists covering President Trump" [WaPo]. As opposed to?
Trump Transition
"Sometime early last fall, John Dean says he began having nightmares about a Trump presidency. He would wake in the middle of the night, agitated and alarmed, struggling to calm his nerves. 'I'm not somebody who remembers the details of dreams,' he told me in a recent phone call from his home in Los Angeles. 'I just know that they were so bad that I'd force myself awake and out of bed just to get away from them'" [The Atlantic]. I've heard other examples of this phenomenon from the Beltway.

"President-elect Donald Trump has tapped two fellow New York-area real estate developers and partners, Richard LeFrak and Steve Roth, to lead a council of 15 to 20 builders and engineers that will oversee his $1 trillion infrastructure proposal" [The Week]. "LeFrak, like Trump the wealthy scion of a New York real estate dynasty, has known Trump for decades and the two men socialize together. Roth is chairman and CEO of Vornado Realty Trust, which controls two of Trump's most valuable assets — the president-elect earned some $22.7 million pretax last year from the two projects, office buildings at 1290 Sixth Ave. in New York City and 555 California Street in San Francisco." Well, it's an oligarchy. We'll see who benefits from the infrastructure spending performed in this mode; my guess is that it won't be voters, of either party.

"John Lewis, Donald Trump, and the Meaning of Legitimacy" [David Remnick, The New Yorker]. David Remnick has lost his mind. He — and Lewis — lead the effort to delegitimize Trump with the discredited Russian hacking story much beloved of Clintonites. Heaven forfend that Lewis or Remnick should delegitimize Trump by pointing to millions of voters disenfranchized by CrossCheck, , and a straight replay of how Jebbie helped steal election 2000 for W in Florida! I mean, that sounds like the sort of civil rights issue that [genuflects] the John Lewis of old would have taken seriously. Not fairy tales about Vlad the Impaler!

"Trump vows 'insurance for everybody' in Obamacare replacement plan" [WaPo]. "President-elect Donald Trump said in a weekend interview that he is nearing completion of a plan to replace President Obama's signature health-care law with the goal of "insurance for everybody," while also vowing to force drug companies to negotiate directly with the government on prices in Medicare and Medicaid."

"Trump's right about drug prices: Our view" [USA Today]. "Donald Trump has certainly gotten the pharmaceutical industry's attention with his ruminations about drug prices. Within 20 minutes of last Wednesday's news conference, in which the president-elect called for the government to negotiate directly with pharmaceutical companies, the industry shed roughly $25 billion in stock value. Trump is nothing if not blunt, and in this case, he happens to be right. Drug companies are, he says, 'getting away with murder. We're the largest buyer of drugs in the world, and yet we don't bid properly, and we're going to save billions of dollars.'" Could be that jawboning big pharma is Trump's ace-in-the-hole on health care reform?
2016 Post Mortem
"David Brock Wants To Build His Own Koch Donor Network" [Buzzfeed]. "The Brock retreat will offer donors a lineup of closed-door meetings focused almost entirely on ways for Democrats to claw back political power and oppose the next president: Clinton pollster John Anzalone on "Tactics To Win"; Chicago Mayor Rahm Emanuel and veteran strategist Ron Klain on Donald Trump's first 100 days; former U.S. attorney general Eric Holder, by videoconference, on redistricting; and three sitting attorneys general on strategic role of Democratic states in the first term. Next week's retreat, according to Brock, has drawn interest from new donors. Of the 120 who are confirmed to attend, about one third, he said, have never given to one of his organizations, including a 'new contingent' from the Silicon Valley community." Well, there's plenty of stupid money in Silicon Valley, so I'm sure Brock's new grift will be a success.

"It is our claim today that, in retrospect, the original series identified a contagion at the heart of the Obama Coalition: the weakness with rural and small-town voters. We believe that this contagion was (a) consequential and (b) spread throughout Barack Obama's two terms" [RealClearPolitics]. "We'll discuss (b) throughout the series, but we wanted to offer a few notes on (a). The spread of this contagion was consequential for two reasons. First, as we described in the previous piece, rural and small-town America still casts a lot of votes. In some of these geographical divisions, rural and small-town America casts a majority of the votes; winning less than a third of those votes in the region would therefore doom a Democratic campaign. Second, rural and small-town America is, generally speaking, efficiently spread throughout the United States."

"CNN/ORC Poll: Most say Russian hacking didn't change election outcome" [CNN]. "But there is less agreement on whether the intelligence community's conclusions are correct. About 43% say it is extremely or very likely that the intelligence community's assessment is correct, with another 32% saying that is somewhat likely. About one-quarter, 24%, say it's unlikely to be true. Democrats are more likely to think the intelligence community's assessment is correct: 74% of Democrats see that as very or extremely likely, compared with 17% of Republicans."

When you've lost Bob Woodward:

Bob Woodward on Trump/Russia dossier: "That is a garbage document." … "Trump's right to be upset about that." — on @FoxNewsSunday

— Jonathan Allen (@jonallendc) January 15, 2017

"Can the DNC be saved?" [CNN]. Yes. Fire all the Clintonites.
Realignment and Legitimacy
"Political agnostics who are skeptical about Big Government "solutions," left or right, view the current hullabaloo about the Trump presidency with some detachment. What's remarkable to us is the extremism, not just of those bitter about Clinton's loss, but by insiders who are threatened by the possibility Trump may upset their insider skims and scams" [Of Two Minds].
Obama Hagiography
"BARACK OBAMA BELONGS TO THE AGES" [Todd S. Purdum, The Atlantic]. "Now he belongs to the ages" is, of course, Stanton's famous remark at Lincoln's deathbed. Lincoln. Dear Lord.

"The Most Successful Democrat Since F.D.R." [David Leonhardt, New York Times]. "[Jonathon Chait's] book is a brave one, because journalists are usually loath to call a politician successful, for fear of being branded naïve or partisan." Chait. Eeeeeew. Remember that Spy Magazine feature, "Logrolling In Our Time"?
Stats Watch
Empire State Manufacturing Survey, January 2017: Respectable [Econoday]. But: "This month new orders are barely positive whilst backlog remained in contraction (but less so). This is far from an excellent survey" [Econintersect]. But: "Although there was an improvement in the employment index it remained in negative territory at -1.7 and the average workweek index was -4.2 from -7.0 previously" [Economic Calendar].
Shipping: "Container traffic gives us an idea about the volume of goods being exported and imported – and usually some hints about the trade report since LA area ports handle about 40% of the nation's container port traffic" [Calculated Risk]. "On a rolling 12 month basis, inbound traffic was up 0.6% compared to the rolling 12 months ending in November. Outbound traffic was up 0.9% compared to 12 months ending in November. The downturn in exports in 2015 was probably due to the slowdown in China and the stronger dollar. Now exports are picking up a little – but the stronger dollar might impact exports once again."
Construction: "Hotel developers looking to speed up a project's time to market are increasingly turning to new-breed modular hotel designs, which have evolved to the point where customized, fully finished guestrooms are now factory assembled and shipped to the job site. And as evidenced by the variety of modular hotel projects now underway nationwide, it's a product that's not nearly as cookie-cutter as one might expect" [Hotel News Notes]. Could modularity be an alternative to "stick built"? Or is it already?
Retail: "American consumers splurged to close out 2016, but the spending wasn't evenly spread around. New figures from the government showed strong gains in car sales and in online shopping, with overall sales surging 4.4% in the fourth quarter, but little other good news for the retail world" [Wall Street Journal]. " In all of 2016, spending rose 11% at online retailers and fell almost 6% at department stores. The figures show the retail economy is getting stronger but that companies still are scrambling to change their supply chains as fast as consumers are changing buying patterns."
Retail: "An unprecedented volume of online sales drove another record year for returns, with holiday shoppers projected to return more than 5.8 million packages via UPS during the first full week of January 2017, including 1.3 million packages on Jan. 5 alone, the Atlanta-based transport and logistics giant predicted" [DC Velocity].
Retail: "Retailers are converting empty mall space into makeshift distribution centers used for package pickup and returns of goods bought online. At the same time, online merchants are opening physical stores to reach more customers, either via short-term leases in pop-up stores or long-term tenancies like Amazon.com" [Wall Street Journal, "Mall Owners Find Relief From Unlikely Source: Online Retailers"]
Shipping: "Strong global air freight growth in recent months looks set to continue into 2017, with the International Air Transport Association (IATA) reporting 'encouraging signs' of the high peak season demand continuing into 2017, particularly from consumer electronics and their component parts" [Lloyd's Loading List].
Political Risk: "After a lackluster outturn in 2016, economic activity is projected to pick up pace in 2017 and 2018, especially in emerging market and developing economies. However, there is a wide dispersion of possible outcomes around the projections, given uncertainty surrounding the policy stance of the incoming U.S. administration and its global ramifications. The assumptions underpinning the forecast should be more specific by the time of the April 2017 World Economic Outlook, as more clarity emerges on U.S. policies and their implications for the global economy" [International Monetary Fund].
Political Risk: "Trump: Dollar Is 'Too Strong' And 'It's Killing Us'" [Barron's]. Great headline, from this story: [Wall Street Journal, "Donald Trump Warns on House Republican Tax Plan"]. Where the lead is: "President-elect Donald Trump criticized a cornerstone of House Republicans' corporate-tax plan, which they had pitched as an alternative to his proposed import tariffs, creating another point of contention between the incoming president and congressional allies."
Political Risk: "The investment community, like Americans themselves, is grappling with how literal [sic] to take the seemingly visceral remarks. Some of the strident positions taken during the campaign have been softened, including the nomination of at least five men from Goldman Sachs, not pushing for criminal charges against Clinton, and citing China as a currency market manipulator on Day 1 (which, in any event, is now said to be not the day after inauguration but Monday January 23). It is the uncertainty that is weighing on the greenback today" [Brown Brothers Harriman, Across the Curve].
Political Risk: "'Textbook short squeeze' for the pound — analysts assess May's Brexit plans" [MarketWatch].
The Fed: "New York Fed President William Dudley on Tuesday encouraged homeowners to find "prudent" ways to tap into the equity that has built up in the homes, saying the boost in consumption would be a welcome shot-in-the-arm to the economy" [MarketWatch]. What could go wrong?
Rapture Index: Closes up 1 on liberalism ("The libs have just gone mad. It is to be seen if Trump can keep them at bay") [Rapture Ready]. Record High, October 10, 2016: 189. Current: 184
Today's Fear & Greed Index: 59 Greed (previous close: 57, Greed) [CNN]. One week ago: 62 (Greed). (0 is Extreme Fear; 100 is Extreme Greed). Last updated Jan 17 at 11:59am. Mr. Market is hiding under his desk until Friday?
Health Care
"Get Health Insurance Through Your Employer? ACA Repeal Will Affect You, Too" [Health Affairs]. "Less noticed, but no less important, the ACA also brought critical new protections to people in large employer plans."
Gaia
"Behind New Zealand's wild plan to purge all pests" [Nature]. "The country is gearing up to get rid of rats, possums, stoats and other invasive predators by 2050. Is it a pipe dream?"
"The United States endured 15 weather-related billion-dollar disasters in 2016, the second most to occur in a given year dating to 1980, according to NOAA. Only 2011 had more with 16 weather-related disasters costing that much" [Weather.com (PT)]. "Near-record warm temperatures blanketed the United States from coast to coast in 2016, propelling the Lower 48 to its second warmest year on record."
Black Injustice Tipping Point
"Evanston releases video of police stopping man suspected of stealing his own car" [Chicago Tribune (TG)].
Class Warfare
"The Davos Disconnect" [Bloomberg]. "One thing that's up: revenue for the WEF itself. Payments from partnerships – the corporations and consulting firms that take center stage at Davos – was up 25 percent over the previous year. Memberships and participation income was flat but the organization enjoyed an overall increase of 14 percent." Everything is fine.
"Illinois legislators OK corporate tax giveaway amid budget crisis" [Chicago Reporter (TG)]. It's bipartisan!
"Workers in their 20s are more likely to get free food than health insurance" [Quartz]. "But what the young adults lack in stability, they make up with free food. That's the top job perk reported by those between 18 and 29, according to a survey Jobvite released today (March 23) that polled 2,035 adults in the US. Thirty-five percent of them say their companies provide them with free snacks and meals—a benefit that's become more common than health and dental insurance for this demographic."
"The World's Favorite New Tax Haven Is the United States" [Bloomberg].
News of the Wired
"Google's goals with the AMP Project are laudable, but there are major security and UX concerns that need to be addressed. In its current form, AMP is bad for the open web and should be changed or eliminated" [80×24]. But: "Make no mistake. AMP is about lock-in for Google. AMP is meant to keep publishers tied to Google." That is "laudable" how?
"Aldous Huxley, Dying of Cancer, Left This World Tripping on LSD (1963)" [Open Culture].
"Unlike tech companies such as Apple and Snapchat, which keep employees in the dark about projects and ambitions, Facebook routinely shares all kinds of secrets with all of its workers at Friday afternoon Q&A sessions that Zuckerberg has been running for a decade" [ReCode]. "What's most surprising: Almost none of it leaks out…. We spoke with more than a half-dozen current and former employees, and almost all of them mentioned peer pressure as a key motivator for keeping secrets secret. … 'People would be pissed if someone else leaked something,' explained one former employee. 'You don't betray the family.'" That's called omerta. What could go wrong? Especially if Zuckerberg runs for President in 2020….
* * *
Readers, feel free to contact me with (a) links, and even better (b) sources I should curate regularly, and (c) to find out how to send me images of plants. Vegetables are fine! Fungi are deemed to be honorary plants! See the previous Water Cooler (with plant) here. And here's today's plant (Isolato):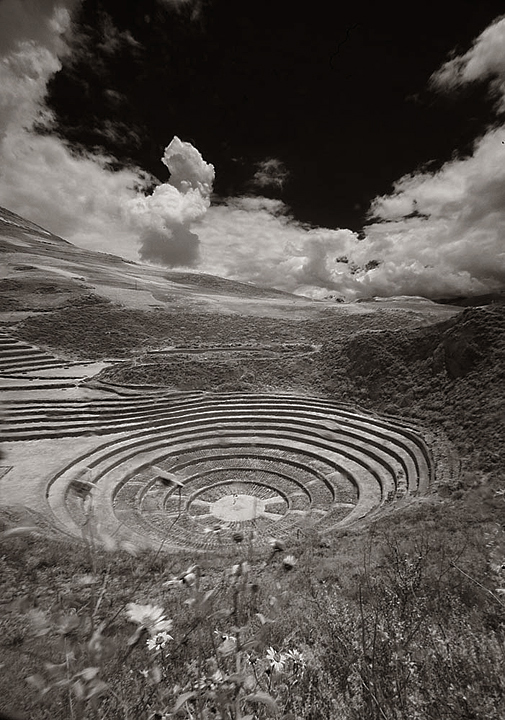 Isolato writes: "These mysterious remnants to Incan culture are located in the Sacred Valley and, it is theorized, were agricultural research stations as each level had its own microclime…..that I'm not so sure! B/W infrared."
Readers, I've gotten more plant images, but I can always use just a few more; having enough Plantidotes is a great angst deflator. Plants with snow and/or ice are fine!
Readers, Water Cooler is a standalone entity, not supported by the very successful Naked Capitalism fundraiser just past. Now, I understand you may feel tapped out, but when and if you are able, please use the dropdown to choose your contribution, and then click the hat! Your tip will be welcome today, and indeed any day. Water Cooler will not exist without your continued help.