By Lambert Strether of Corrente
TPP
"President Trump's Executive Orders Formally Bury TPP's Corpse, but What About TTIP, TISA, China BIT?" [Lori Wallach, Public Citizen]. "If President Trump intends to replace our failed trade policy, a first step must be to end negotiations now underway for more deals based on the damaging NAFTA/TPP model so its notable that today's announcement did not end talks to establish the Transatlantic Trade and Investment Partnership, the Trade in Services Agreement and the U.S.-China Bilateral Investment Treaty – all of which would replicate and expand the TPP/NAFTA model Trump says he is ending." Important!
And just as a reminder:
"NO TPP" was probably the #1 most popular sign at the Dem convention. The election of Trump caused the goal to be realized. Worth pondering. pic.twitter.com/S5MjIBuOep

— Michael Tracey (@mtracey) January 24, 2017
Hilarity ensues as all the Clintonites start backtracking from the anti-TPP positions they took in 2016.
Politics
Trump Transition
On "Russian hacking": "Under the Constitution's Speech and Debate clause, [members of Congress] have a complete legal shield to go to the House floor and disclose, in lurid detail, exactly how Putin and his minions tried to subvert our democratic process" [The Hill]. "It has worked before. It was the Speech and Debate clause that gave then-Sen. Mike Gravel (D-Alaska) the standing—and the duty—to read the Pentagon Papers into the record so the public would know that RAND analyst-turned-whistleblower Daniel Ellsberg was telling a huge truth about the big lie that was the Vietnam War… Perhaps instead of boycotting Trump's inauguration, House and Senate members with knowledge of the Russian attack should've been on the floors of their respective chambers informing the public of the facts as they know them. Back in the day, we called such things 'Congressional oversight.'" As the headline says: "Put up or shut up." Maybe John R. Lewis could do it?

"Andrew Puzder's 16-Year Record of Discrimination Lawsuits" [Capital & Main]. "Today, 10 days before Andrew Puzder's Senate confirmation hearing on his nomination for U.S. Secretary of Labor, Capital & Main releases the results of its investigations into the corporation he has led since 2000. Our stories show that CKE Restaurants, Inc., the parent company of Carl's Jr. and Hardee's fast-food chains, has been the target of an unusually high number of employee lawsuits, including complaints alleging racial and age discrimination, and sexual harassment. We present our findings in three stories" here, here, and here. Hoo boy. Actual reporting. What's wrong with these people?

"Trump seeks to revive Dakota Access, Keystone XL oil pipelines" [WaPo]. Did I miss the WaPo editorial thanking the #NoDAPL effort for a job well done? Anyhow: "He also signed an executive order to expedite environmental reviews of other infrastructure projects, lamenting the existing 'incredibly cumbersome, long, horrible permitting process.'" Which, if our landfill experience is any guide, is heavily weighted in favor of doing the project, no matter the impact. I would trade a more streamlined process for greatly relaxed standing requirements and much more testimony under oath, sooner. If business craves certainty, we can give it to them by turning down bad projects.

"Republican lawmakers have quietly laid the foundation to give away Americans' birthright: 640m acres of national land. In a single line of changes to the rules for the House of Representatives, Republicans have overwritten the value of federal lands, easing the path to disposing of federal property even if doing so loses money for the government and provides no demonstrable compensation to American citizens" [Guardian].

"President Trump is naming Ajit Pai chairman of the Federal Communications Commission. Pai, who is a favorite of industry groups, opposed many of [Chairman Tom] Wheeler's initiatives since first being appointed to the FCC in 2012. That includes staunch opposition to Wheeler's net neutrality rules" [The Hill].

"14 Senate Democrats Fall in Line Behind Trump CIA Pick Who Left Door Open to Torture" [The Intercept]. But, you know, fascism, #resistance, yadda, yadda, yadda.

"Senate Democrats on Tuesday will propose spending $1 trillion on transportation and other infrastructure projects over 10 years in an attempt to engage President Donald Trump on an issue where they hope to find common ground" [Talking Points Memo]. But, you know, fascism, #resistance, yadda, yadda, yadda.
Women's March
"Top Democrats Missed Women's Marches to Attend Luxury Donor Retreat Thrown by Clinton Henchman [Slate]. Odd headline from Slate, not known for savaging the Democrat establishment…

"People are in the streets protesting Donald Trump. But when does protest actually work?" [Erica Chenoweth, WaPo]. (Long-time NC readers will remember this post on Chenoweth from 2012.) Worth a read: " The average nonviolent campaign takes about three years to run its course (that's more than three times as short as the average violent campaign, by the way). These things do not unfold overnight." So, 2020….

"The Exhausting Work of Tallying America's Largest Protest" [The Atlantic]. Chenoweth once more, and Jeremey Pressman of UConn. "The Women's March has some of the hallmarks of the beginning of a successful movement, Chenoweth said. The ability to mobilize large numbers of people is often associated with the creation of an effective campaign. The fact that the march was inclusive and broad rather than tied to a specific policy goal helped draw big numbers, Chenoweth said, and the explicitly non-violent nature of the protests helped attract even more. The level of organization on display at events large to small bodes well for the social movement, as does the proportion of march participants who aren't usually politically engaged."

"One in 45 California residents attended Women's March" [Sacramento Bee]. And Chenoweth once more…
Realignment and Legitimacy
"Social Media-Powered Berniecrats Try to Move the Party Left" [Wired]. "Though the group has largely disappeared from the headlines, the Tea Party's success in driving the GOP to power—and to the right—is manifest. The Justice Democrats, a hodgepodge of Sanders-campaign veterans and liberal media types, hope to have the same effect. Right now the group numbers just 12 people, but they claim the digital platform experience of The Young Turk Network (with a YouTube channel that has over 3 billion views), the Sanders campaign, and the popular streaming and YouTubing Secular Talk Radio. That digital-first approach might confer a few advantages…" Thinking back to Tahrir Square, no. The social media stuff came after the organizing. I'm a bit old-fashioned on this, and I'm a bit like Vince Lombardi in winning: "On-the-ground organizing isn't everything. It's the only thing."
Stats Watch
Purchasing Managers' Manufacturing Index Flash, January 2017: "Production is also as strong as it's been since March 2015 while growth in new orders is the best since November 2014. Purchasing activity is up, inventories are rising, employment is improving, and selling prices are showing traction. One note of caution is that order growth is centered in the domestic economy as export orders remain flat" [Econoday]. "The Philly Fed report at mid-month reads much like this report, both pointing to a significant pop higher for a factory sector that slogged through 2016."
Richmond Fed Manufacturing Index, January 2017: "Manufacturing activity in the Fifth district expanded for the third consecutive month in January" [Econoday]. "But it was expectations that registered the strongest readings, as manufacturers were optimistic about their business prospects in the next six months, with the index for planned capital spending rising…." And: "For the third month, the regional Fed surveys seem to be saying uniformly that growth is expanding. The Richmond Fed subcategories were strong" [Econintersect]. Trump gets a tailwind if this continues into 2018.
Existing Home Sales, December 2016: "Lack of homes on the market is increasingly the salient feature of the housing sector, one that is holding down sales. Existing home sales fell 2.8 percent in December to a lower-than-expected 5.490 million annualized rate" [Econoday]. "Supply is the lowest it's been since at least 1999 according to the National Association of Realtors… Yet the lack of supply isn't making for new price increases as the median, at $232,000, is down 0.9 percent on the month for a year-on-year rate of only plus 4.0 percent. This is down from 6.5 percent in November and is now back to multi-year lows." And: "Last month's home sales were elevated by anticipation of higher mortgage interest rates – and this month's sales reversed last months surge. Still it was a good year, but lack of inventory is going to continue to drive home prices higher and constrain real growth in this sector" [Econintersect]. And: "Two of the key reasons inventory is low: 1) A large number of single family home and condos were converted to rental units…. Many of these houses were purchased by investors, and rents have increased substantially, and the investors are not selling (even though prices have increased too). Most of these rental conversions were at the lower end, and that is limiting the supply for first time buyers. 2) Baby boomers are aging in place (people tend to downsize when they are 75 or 80, in another 10 to 20 years for the boomers). Instead we are seeing a surge in home improvement spending, and this is also limiting supply" [Calculated Risk].
Commodities: "Bullishness about the impact of Trump's $500 billion infrastructure plans has cooled down considerably since then, but at $2.6430 per pound ($5,872 a tonne) in New York on Monday the bellwether metal [copper] is up by more than a third in value since hitting near-six year lows this time last year" [Mining.com].
Commodities: "Sources said the new Egypt gold concessions are being offered under production sharing contracts with Egypt's government. An arrangement very common in the global oil and gas industry — but exceptionally rare in mining (one of the only other nations holding onto production sharing in mining, Myanmar, recently scrapped that requirement as part of its 2015 mining law overhaul)" [ETF Daily News].
Supply Chain: "E-commerce giant Amazon.com Inc. said it plans to build a highly automated warehouse in Texas that will become the 21st facility in its "Amazon Robotics fulfillment network," a cluster of high-speed, high-density warehouses that can each hold 50 percent more inventory than a DC staffed by humans alone, the company said Wednesday" [DC Velocity].
Shipping: "The average freight rates earned by container shipping lines operating on Shanghai Containerised Freight Index routes in 2016 were 7%, or $42, lower versus 2015 as dismal market fundamentals continued to drag" [Lloyd's List].
Shipping: "Brace yourselves, 2016 might just be the beginning of the bloodbath for shipyards. For the first 10 months, only 96 yards managed to win new orders versus 246 throughout 2015 and 331 in 2014, according to Clarksons" [Lloyd's List].
Shipping: "British robotics startup Starship Technologies is using a $17.2 million venture capital injection to expand the U.S. trials of its self-driving parcel-delivery robots to new cities, the firm said Wednesday" [DC Velocity]. "Each robot, which has a maximum capacity of 20 pounds and a top speed of 4 mph, relies on suites of sensors to scoot along sidewalks and cross crosswalks. To date, Starship robots have covered over 16,000 miles during trials in 16 countries and 59 cities as the company continues to refine its technology, Martinson said." On sidewalks? Are these people demented? And 16,000 miles is nothing.
The Bezzle: "As far as its contribution to the body of supply chain knowledge, I do not see much. Amazon obviously employs some very sharp minds, but some of its innovations seem to be solutions looking for a problem. Drones are certainly a part of our future, but I do not see delivering pizzas or shoes as their highest and best use. As for its latest innovation—a plan to use blimps as airborne warehouses equipped with drones to make speedy deliveries—the notion of a DC in the sky is pretty exciting stuff and has Star Trek fans salivating as they await Captain Kirk's assumption of command. But a practical contribution to the supply chain field? I don't think so" [DC Velocity]. Interesting comparison from a veteran analyst on innovation (really!) at Walmart vs. Amazon. Walmart wins.
Political Risk: "Trump's First 100 Days: Key Economic Calendar Events to Follow" [Economic Calendar]. "Growth trends will be important and the first reading for US first-quarter GDP is scheduled to be released right at the end of the first 100 days on April 28th. This will be a very important data releases as it will provide insights into the first-quarter performance and shape Trump's on-going policy agenda."
Concentration: ""When There Isn't Enough Churning of Big Corporations, the Economy Stagnates": Q&A with Bernard Yeung" [ProMarket].
Fiscal Policy: "Federal deficits are expected to rise for the first time in nearly a decade, driving up the federal debt to almost unprecedented levels, according to an analysis from the non-partisan Congressional Budget Office. While the federal deficit is projected to drop in 2017 and 2018, CBO projects it will rise to $601 billion in 2019 thanks to rising Social Security and Medicare costs" [The Hill (Re Silc)]. Gives whoever's President in 2020 an economic tailwind…
Today's Fear & Greed Index: 52 Neutral (previous close: 50, Neutral) [CNN]. One week ago: 58 (Greed). (0 is Extreme Fear; 100 is Extreme Greed). Last updated Jan 23 at 1:11pm. Not only dull, but the cause of dullness in others.
The 420
"Here's the science behind why weed relaxes us — or, at least, what we know so far" [Tech.Mic]. For example: "A Southern California legend for decades, the sometimes elusive King Louis XIII is indeed fit for a monarch. Its dominant notes are of a pine forest, and even at over 20% THC, reviewers say it provides balance between dreamy chill and basic functionality. Others describe a combination head rush and body high that causes any pent-up worries to simply melt away. But whatever your reason for smoking this strain, it's certainly meant to be savored." When is there going to be a Robert Parker of weed?
Health Care
"Executive actions Trump could take to change the ACA" [The Incidental Economist]. This is very long list, and if you are on Medicaid or in the individual insurance market, you should read it:
Medicaid

Allow work requirements, premiums, and more cost-sharing under 1115 waivers.
Allow states to limit how long beneficiaries can be continuously enrolled in the program under 1115 waivers.
Permit more states to use Medicaid dollars to subsidize private exchange coverage.
This post also shows the defects of the Clintonite's vaunted incrementalism; small changes are just as easy to undo as to do. If Obama had rammed through Medicare for All in 2009, it wouild be much harder to undo than this stuff; Medicare Part B proves the same point.
"Coverage and Access for Americans With Chronic Disease Under the Affordable Care Act: A Quasi-Experimental Study" [Annals of Internal Medicine, January 24, 2017 (republished by PNHP)]. From the article:
Overall, after the ACA took effect, 14.9% of persons with chronic disease nationally continued to lack insurance, 22.8% had to forgo a physician visit, 18.1% did not have a personal physician, and 27.6% did not have a checkup. In addition, we found , despite the greater gains as a result of the ACA. Approximately one fifth of blacks had persistent post-ACA gaps, ranging from 17.5% lacking coverage to 26.8% forgoing a physician visit. Approximately one third of Hispanics had persistence post-ACA gaps, ranging from 29.7% lacking coverage to 32.9% forgoing a physician visit.
Wait, what? Minorities unfairly treated by a Democrat program?
Imperial Collapse Watch
"A Great Place to Have a War: America in Laos and the Birth of a Military CIA" [Council on Foreign Relations]. "Joshua Kurlantzick, a Council on Foreign Relations senior fellow for Southeast Asia, mines extensive interviews and recently declassified Central Intelligence Agency (CIA) records to give a definitive account of the secret war in the tiny Southeast Asian nation of Laos, which lasted from 1961 to 1973, and was the largest covert operation in U.S. history. The conflict forever changed the CIA from a relatively small spying agency into an organization with vast paramilitary powers."
Guillotine Watch
"Hawaiians call Mark Zuckerberg 'the face of neocolonialism' over land lawsuits" [Guardian]. "Before westerners came to Hawaii, stewardship of the land, or 'āina, was a collective responsibility, characterized by [a] familial relationship to the land… Privatization came in 1848 with the Māhele, which began the process of divvying up parcels between the king, the government and the people. The Kuleana Act of 1850 was intended to allow Native Hawaiians to claim title to lands they were cultivating, but ultimately less than 1% of Hawaii's land area was granted to indigenous people."
"Conflicts of interest in medicine: pervasive, worrisome, and detrimental to healthcare" [Health News Watch]. Must-read. This is just horrible stuff.
Class Warfare
"Why the U.S. Has a Monopoly on Jobless Recoveries" [Bloomberg]. "[T]he U.S. is different. When bad times hit, American companies try to replace people with machines, while foreign companies hire back workers. Why this difference exists is a mystery."
"FORCING an End to DC Homelessness Through Housing-Wage Employment" [Eric Jonathan Sheptock, Google.docs]. "It's also worth noting that a failure to comprehensively address the employment issues of people at CCNV, at other shelters or who are tenuously housed fits snuggly into the framework of gentrification — whether by intent or ignorance. Taken together, these considerations begin to paint a very bleak picture in terms of the culture that runs across multiple admins — a culture that includes but is not limited to aiding gentrification, failing to give answers to those who deserve them and targeting any person who points out these systemic flaws in an effort to discredit them or dissuade them from advocating effectively." I'd be interested to hear from others knowledgeable in the field.
"Entrepreneurs don't have a special gene for risk—they come from families with money" [Quartz]. "But what often gets lost in these conversations is that the most common shared trait among entrepreneurs is access to financial capital—family money, an inheritance, or a pedigree and connections that allow for access to financial stability. While it seems that entrepreneurs tend to have an admirable penchant for risk, it's usually that access to money which allows them to take risks.
And this is a key advantage: When basic needs are met, it's easier to be creative; when you know you have a safety net, you are more willing to take risks."
News of the Wired
"Case Studies" [Calling Bullshit (Re Silc)]. I have the feeling that the two professors running this site may shortly be overwhelmed….
"10 Times Mauhaus Cat Cafe Was the Cutest Thing on the Internet" [Riverfront Times]. Paging King Louis XIII…
* * *
Readers, feel free to contact me with (a) links, and even better (b) sources I should curate regularly, and (c) to find out how to send me images of plants. Vegetables are fine! Fungi are deemed to be honorary plants! See the previous Water Cooler (with plant) here. And here's today's plant (HR):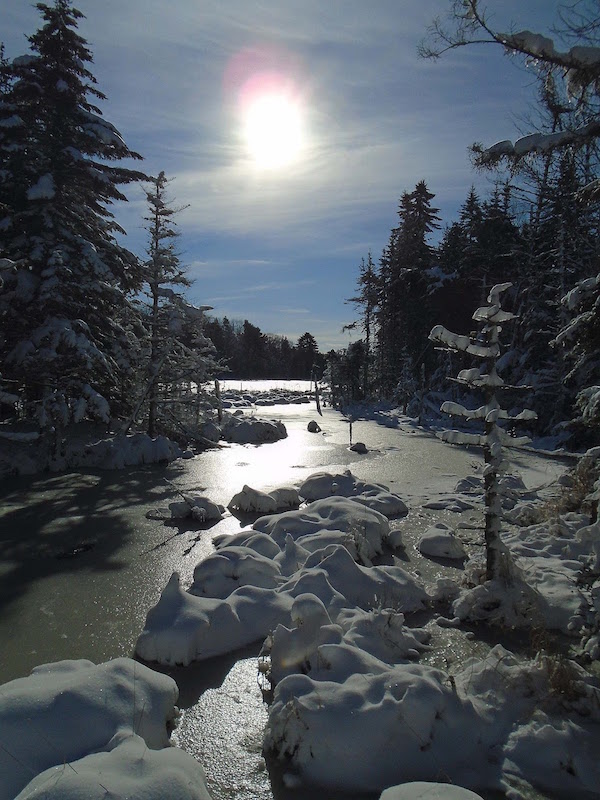 From atop a beaver dam in Vinalhaven, ME. Brrrr!
Readers, Water Cooler is a standalone entity, not supported by the very successful Naked Capitalism fundraiser just past. Now, I understand you may feel tapped out, but when and if you are able, please use the dropdown to choose your contribution, and then click the hat! Your tip will be welcome today, and indeed any day. Water Cooler will not exist without your continued help.