By Lambert Strether of Corrente
Trade
"Schumer also downplayed Monday's executive order to withdraw from the TPP, arguing that the deal was never in force in the first place" [Politico]. Nice try. "Trump also got called out by Sen. Bernie Sanders for paying workers 'starvation wages' to produce Trump-branded goods at factories in China, Mexico and Bangladesh. 'What a statement it would make to corporate America if he said, 'I am bringing those jobs back to the United States,' Sanders said at the press conference." Much better.
"US Is Officially Out Of The TPP, Though Not For Any Of The (Many) Good Reasons" [TechDirt]. Not ISDS, not IP. "So, yes, it's good that the TPP is dead. It was a bad agreement put together in secrecy with lots of bad elements. But, we need to watch quite carefully what comes next, with the recognition that it very well could be worse."
"'I believe President Trump understands the importance of free and fair trade, so I'd like to pursue his understanding on the strategic and economic importance of the TPP (Trans-Pacific Partnership) trade pact," Abe told a session of parliament's lower house" [Reuters]. "Abe also said he wanted to strengthen the U.S.-Japan security alliance, based on mutual trust with Trump. 'When we met last time, I believed him to be trustworthy, this belief has not changed today,' Abe added, referring to his November meeting with then-president-elect Trump." Caveating that I have no idea how a Japanese audience hears a direct statement that Person A is trustworthy. I mean, if you have to say it…
"WHAT THE DEATH OF THE T.P.P. MEANS FOR AMERICA" [Adam Davidson, The New Yorker] (Parenthetically, one of the, er, national conversations we're having right now is why New Yorker writers like Davidson assume they are entitled to speak "for America.") Amazingly, Davidson doesn't mention ISDS. The AFL-CIO, for example, puts "Eliminate the private justice system for foreign investors" #1 on its list of "6 Ways We Could Improve NAFTA for Working People." Davidson is an idiot.
Politics
Trump Transition
"Secret Service looking at agent who suggested she wouldn't defend Trump from bullet" [CNN].

"Column: Does Stephen Bannon live in Sarasota County? Because he's registered to vote here" [Sarasota Herald Tribune]. "There is only problem: Bannon is also registered to vote in New York City, listing a home address on West 40th Street, and according to a spokesman for the New York State Board of Elections, he voted there in November by absentee ballot. That means he voted in New York while still registered in Sarasota County, where he did not vote." Heh. Whaddaya know? Actual reporting, and from a local paper, not the hysterical Beltway scorps ("press corpse")

"Trump Poised to Lift Ban on C.I.A. 'Black Site' Prisons" [Charles Savage, New York Times]. Well, why not? Nobody was ever punished for creating them, or for "torturing folks." Rather, Obama had (to quote his own words, reported by Savage in 2009) "a belief that we need to look forward as opposed to looking backwards." Well, now we are living in that "forward," and how's that working out? Here again we see the debacle that is liberal incrementalism: Exactly as Obama's executive orders on ObamaCare could be undone when (and not if) Democrats lost control of the executive branch, so Obama's flaccidity on torture enabled his successor to "lift" the "ban" and do it again. Suppose we'd put some of the torturers in jail. Heck, suppose we'd had a war crimes tribunal, or even handed some of the torturers over to The Hague? Trump would find those facts on the ground much harder to deal with, exactly as he would find seven years of Medicare for All harder to roll back, if the Democrats had rammed it through.

"President Donald Trump is being pulled in different directions by forces within the Republican Party and conservative circles seeking to mold his plans for government spending" [Wall Street Journal,"Conservatives Try to Shape Donald Trump's Budget Priorities"].

"Trump's team floats tax cuts that aren't paid for" [Politico]. Finally some sanity on fiscal policy. As readers know, even if Politico does not, Federal taxes do not "pay for" Federal spending.
Women's March
"Women's March National Committee member and Illinois Co-Coordinator Mrinalini Chakraborty told RealClearPolitics that while the initial goal was to inspire a new generation of activism, "people are hungry for next steps, so we need to keep them on their toes'" [RealClearPolitics]. "Going forward, however, Women's March organizers plan to 'break each principle down into a specific action item,' [said Chakraborty]. "They will take their advocacy of LGBTQ equality, for instance, and translate that into a pathway for fighting anti-LGBTQ legislation in supporters' communities. The Women's March movement also does not wish to focus solely on the new president. The overarching goal of Saturday's event, Chakraborty said, was to march for basic human rights. The group will not shy away from saying that march was born out of 'a troubling, populist political climate' fueled by Trump's rise, but it 'sees no value in making it about a single person. … Trump can be replaced; the ideology that he represents is much more insidious.'" Here's one section of the Principles:

We believe in an economy powered by transparency, accountability, security and equity. All women should be paid equitably, with access to affordable childcare, sick days, healthcare, paid family leave, and healthy work environments. All workers – including domestic and farm workers, undocumented and migrant workers – must have the right to organize and fight for a living minimum wage

Leaving the decidely non-intersectional siloing of "Workers" aside, will "healthcare" be Medicare for All? Will the "living minimum wage" be #FightFor15? And "migration is a human right" sounds great, but has globalist consequences. Even mainstream macro-economists are coming round to the idea that redistribution should compensate the "losers" from globalization. Will redistribution be a "specific action item"? And while we're at it, how about a Jobs Guarantee? Say, one that covers uncompensated domestic labor?
New Cold War
"Seymour Hersh Blasts Media for Uncritically Promoting Russian Hacking Story" [The Intercept]. On Steele's dodgy dossier:

The declassified version of the report, which was released January 7 and dominated the news for days, charged that Putin "ordered an influence campaign in 2016 aimed at the U.S. presidential election" and "aspired to help President-elect Trump's election chances when possible by discrediting Secretary Clinton and publicly contrasting her unfavorably to him." According to the report, the NSA was said to have had a lower confidence level than James Clapper and the CIA about the conclusion that Russia intended to influence the election. Hersh characterized the report as full of assertions and thin on evidence.

"It's high camp stuff," Hersh told The Intercept. "What does an assessment mean? It's not a national intelligence estimate. If you had a real estimate, you would have five or six dissents. One time they said 17 agencies all agreed. Oh really? The Coast Guard and the Air Force — they all agreed on it? And it was outrageous and nobody did that story. An assessment is simply an opinion. If they had a fact, they'd give it to you. An assessment is just that. It's a belief. And they've done it many times."

"A top manager for Russia's largest cybersecurity firm and a senior Russian intelligence officer have been arrested on possible treason charges, the newspaper Kommersant reported Wednesday" [USA Today]. "Kaspersky Lab's confirmed the arrest of Ruslan Stoyanov, head of its computer incidents investigation unit…." Hmmm.
Hall of Mirrors
Readers, I thought about calling this section "Down the Rabbit Hole," because the political class really does seem to have entered Alice in Wonderland's world, but "Hall of Mirrors" suggests Versailles. –lambert

Starting here: "Ex-Badlands National Park Employee Hijacked Account to Tweet Climate Data: Official" [NBC].

Here are the tweets in question:

For later, after those Badlands National Park tweets get deleted, here's what happened. ht @migold pic.twitter.com/b5vnKjwDnn

— Patrick LaForge (@palafo) January 24, 2017

Here is the instant (and very funny) parody site:

Fun Fact: Prairie dogs live in colonies that can comprise thousands of individuals. As such they are collectivists and will be eradicated. pic.twitter.com/oz927m2mH3

— BadlandsNPS (@BadIandsNPS) January 25, 2017

An instant (and apparently genuine) support site from the worker bees:

This is the National Park Service's Cultural Resources Climate Change Strategy. Pls download before it is removed. https://t.co/oO3ZMVxxwN

— AltUSNatParkService (@AltNatParkSer) January 25, 2017

This, alas, is not a parody site:

That was fast— DNC out with statement on the deletion of the Badlands tweets: "Vladimir Putin would be proud." pic.twitter.com/xx0PdNd7gp

— Kyle Griffin (@kylegriffin1) January 24, 2017

So, we begin with epistemic closure from establishment conservatives on climate, and end with epistemic closure (see Hersh above) from establishment liberals on a new cold war. Of course, you can argue that climate policy is much more important that trollish statements by stupid and corrupt election riggers, until you remember that DNC personnel affect policy too. Meanwhile, how is the common reader supposed to sort epistemic emissions from the news from the parodies from the volunteer freelancers? By reading alternative, small, independent blogs, I suppose…
2016
"Hillary Clinton plots her next move" [Politico]. We've linked to this, but I'd like to highlight this quote:

"[Hillary Clinton] understands that a forensic exam of the campaign is necessary, not only for her, but for the party and other electeds, and for the ," said a close Hillary Clinton friend in Washington who, like several others, declined to speak on the record because their conversations with one or both Clintons were private. ", but that their mistakes wouldn't be repeated."

If you ever had any doubts about what the Clintons are, that quotation should lay them to rest. And "elected" is no more a noun than "illegal." What's wrong with these people?
Realignment and Legitimacy
"But regardless of what the Democrats wind up running against, they will need to present what they are for — and frame it as a response to the needs of this moment. If they don't know what those needs are, then the first item of business is to go where they lost ground (or failed to gain enough ground) in 2016 and find out. And those who think they already know can start making their case, out loud" [The Week]. You can translate "resistance" right into "You can't beat something with nothing." Which is what Clinton tried in the 2016 debacle.

"DAYS OF RAGE pt. 5, finale: 'What does it portend?'" [David Hines]. Interesting on the capabilities for violence on left and right.

"'I feel like this is the last shot': A Kentucky family greets the Trump era" [WaPo].
Stats Watch
Chemical Activity Baramoter: "[S]tarted the year on a strong note, posting a monthly gain of 0.4 percent in January. This follows a 0.3 percent gain in December, November and October" [Econintersect]. And: "This appears to be a leading indicator for industrial production" [Calculated Risk]. "CAB has increased solidly over the last several months, and this suggests an increase in Industrial Production over the next year."
Trucking: "I tend to believe the CASS index which shows a moderate improvement year-over-year. The ATA data continues to wander all over the map – and is likely a result of seasonal adjustment issues" [Econintersect]. "It is also interesting that the current trucking employment pattern remains showing little growth."
Real Estate: "Based on CBRE's 'Industrial Availability Index,' which was issued this month, industrial real estate availability has now fallen for 27 straight quarters, decreasing 8.2 percent in the fourth quarter, a decline of five basis points from the third quarter's rate of 8.7 percent" [Logistics Management].
Real Estate: "The big warehouse squeeze may be ending. Prologis, Inc., the world's biggest provider of commercial distribution space, says a logistics market that's long seen warehouse demand outstripping new supply is getting closer to balance. That will come as relief to shippers and logistics companies that have seen leasing prices soar, particularly near the big population centers that fueling big growth in e-commerce sales. Prologis Chairman Hamid Moghadam tells WSJ Logistics Report's Jennifer Smith the market is reaching "the more mature part of the cycle" [Wall Street Journal].
Federal Housing Finance Agency House Price Index, November 2016: "Home price growth was firm in November" [Econoday]. But: "Overall confidence in the market should remain relatively firm in the short term with sentiment boosted by rising incomes and hopes for a stronger growth performance under the new Administration. There will, however, be concerns surrounding affordability and any further sharp increase in bond yields, allied with a more aggressive Fed stance towards monetary tightening, would have a potentially serious impact in undermining sentiment later in the year" [Economic Calendar]. Yes, if J-Yel takes the punch bowl away, that's going to create big problems for The Donald. Not that the Fed would ever act for partisan purposes. In normal times.
Mortgage Bankers' Association Mortgage Applications, week of January 20, 2017: "Seasonally adjusted purchase applications for home mortgages rose 6.0 percent in the January 20 week to the highest level since June" [Econoday]. And: "Even with the increase in mortgage rates, purchase activity is still holding up – this is the highest level for the index since June 2016" [Calculated Risk]. "However refinance activity has declined significantly."
Commodities: "The future is finally brightening up for diamond giant De Beers, as the Anglo American's unit registered its biggest sale of rough stones in at least a year thanks mainly to Asian consumers stocking up during their holidays celebrations" [Mining.com].
Commodities: "Ivory Coast's cocoa regulator said late rains and inadequate port equipment are responsible for the piling up of cocoa at the West African nation's harbors" [Bloomberg]. "The world's biggest cocoa producer has experienced shipment backlogs since December after some smaller exporters stopped purchasing and their larger peers started to run out of space, leaving an estimated 125,000 tons of beans without a buyer, people familiar with the matter said last month. Reports that the regulator [Le Conseil du Cafe-Cacao (CCC)] experienced financial difficulties were 'lies' while the farmgate price of 1,100 CFA franc ($1.79) per kilogram will be respected, the CCC said in its statement."
Shipping: "Shipowners are in the default condition of the shipowning trade – no money" [Splash 247]. "Basically, we react to running out of cash by telling people to write on both sides of the paper and use the stubs of their pencils, whilst de-motivating them as thoroughly as possible. I suggest that one reason for this is that people don't look carefully enough at where their costs arise. Oddly, this is particularly true of East Asian shipowners, who one might think would be the most alert to accounting issues." On "management accounting" as opposed to "financial accounting."
Shipping: "Last year that beautiful steel box turned 60 years old and it has indeed grown up since its introduction to global trade in 1956. In 2016, world container trade was projected to surpass 180 million twenty-foot equivalent units (TEUs) or containers. You would think that with 60 years under its belt the art of container shipping and logistics would constitute a systematic and standard-based way of setting, monitoring and getting visibility into these freight prices. Nope. It's a "he said and she said" game and relationship-based pricing, but not everyone really always knows what the "real" market prices are – what are others paying" [Splash 247].
The Bezzle: "Samsung still hasn't determined the definitive "root cause" of the [Galaxy Note 7 battery fire debacle], but the focus on the supply chain highlights the challenges in pulling together highly complicated distribution channels for precision components in modern devices. In this case, battery casings from one supplier weren't big enough, Samsung says, and new flaws crept in as the company tried to quickly ramp up replacements. One of the three independent investigators that Samsung hired found no issues with the company's supply chain, but the two other firms say there's plenty of room for concern" [Wall Street Journal]. Makes you wonder if it's really "precision components" that's the issue. How about adulteration and corruption generally?
The Bezzle: "Elon Musk is getting serious about digging a tunnel under Los Angeles" [Business Insider]. "Musk has met with President Donald Trump, who plans to spend $1 trillion on infrastructure projects, on two separate occasions — once in New York with other tech CEOs and, more recently, in the White House for a discussion on US manufacturing with other company executives." Ever alert to the nearest trough, Musk is.
Fodder for the Bulls:
Today's Fear & Greed Index: 60 Greed (previous close: 52, Neutral) [CNN]. One week ago: 55 (Neutral). (0 is Extreme Fear; 100 is Extreme Greed). Last updated Jan 25 at 11:16am. Dowgasm?
Health Care
"Doctors hail reintroduction of Medicare-for-all bill" [PNHP]. This is John Conyers' HR 676. So, if the Women's March National Committee believes in a universal benefit like Medicare for All, this would be an excellent policy to support.
And:
so did you secure #MedicareForAll https://t.co/SfwmkvtFLu

— RoseAnn DeMoro (@RoseAnnDeMoro) January 13, 2017
You'd think Mrinalini Chakraborty and RoseAnn DeMoro would be on the same page…
"Call your state legislators and local city council members and tell them to establish state- or city-based healthcare exchanges or universal coverage models, as has been done in Massachusetts[42] and San Francisco" [Stay Woke, Resistance Manual]. Woke liberals, I think… Massachusetts? Not Canada?
Class Warfare
"Living in Switzerland ruined me for America and its lousy work culture" [Vox]. It's not "work culture." It's, well, class warfare.
News of the Wired
SPY-DESIGNED SOFTWARE CAN PROFILE BUSINESS TEAMS TO SHORTEN SALES TIME" [Popular Science]. Swell.
* * *
Readers, feel free to contact me with (a) links, and even better (b) sources I should curate regularly, and (c) to find out how to send me images of plants. Vegetables are fine! Fungi are deemed to be honorary plants! See the previous Water Cooler (with plant) here. And here's today's plant (TheCatSaid):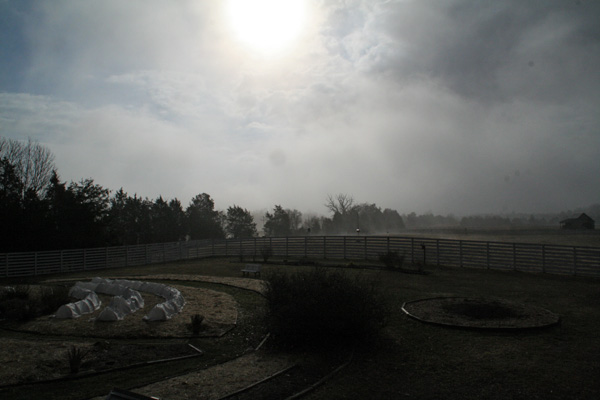 Nice hoop houses. From Perelandra Center for Nature Research.
Readers, Water Cooler is a standalone entity, not supported by the very successful Naked Capitalism fundraiser just past. Now, I understand you may feel tapped out, but when and if you are able, please use the dropdown to choose your contribution, and then click the hat! Your tip will be welcome today, and indeed any day. Water Cooler will not exist without your continued help.