Yves here. Uber's continuing losses, with no near-term prospect of reversal, seem to be denting the Silicon Valley darling's carefully cultivated image of invincibility. For instance, in Uber and Airbnb business models come under scrutiny, the Financial Times described how both companies are facing more and more effective opposition to their cavalier rule-breaking. In a Slate story, Why It's Getting Harder for Uber to Break the Law, which tellingly was reprinted by Business Insider, Henry Grabar flagged an issue that Hubert Horan has stressed in his Uber series: that Uber is not a software company, but an urban transportation company. And as the company moves more and more in the direction of owning assets, like driverless cars and autos it leases to drivers, the more it becomes subject to real word regulations.
By Hubert Horan, who has 40 years of experience in the management and regulation of transportation companies (primarily airlines). Horan has no financial links with any urban car service industry competitors, investors or regulators, or any firms that work on behalf of industry participants
Latest Leaks Provide Further Confirmation of Uber's Bleak Financial Performance
Part One of Naked Capitalism's Uber series laid out all of publically reported data about Uber's Operating P&L results between 2012 and the first half of 2016. Only EBIDTAR contribution data was available for this entire time period; true GAAP profitability data was only available for the year ending September 2015 when Uber lost $2.0 billion with a profit margin of negative 143%. Through the end of 2015 Uber's EBIDTAR contribution margin was consistently a bit worse than negative 100%. While this margin improved to negative 62% in the first half of 2016, all of the improvements were explained by Uber's cuts in driver pay.
Uber EBIDTAR contribution numbers for the third quarter of 2016, leaked to the press on December 19th[1], show yet more bleak results. Third quarter EBIDTAR was worse than negative $800 million (no exact result was disclosed). Media sources said that Uber expected fourth quarter EBIDTAR contribution again to be negative $800 million. This would produce a full year 2016 EBIDTAR contribution in the range of negative $2.8-3.0 billion, meaning that true GAAP losses for the year would easily exceed $3 billion.
As with the first half 2016 data, a small improvement in the EBIDTAR contribution margin was entirely explained by further cuts in driver compensation; there was no evidence Uber had improved operational efficiency or was getting passengers to pay higher fares.
These third quarter results (and the fourth quarter projection) reaffirm the major conclusions of Part One of the Uber series – Uber's operations and growth has depended on unsustainable, multi-billion dollar investor subsidies, and in Uber's seventh year of operations there is still no evidence of the strong, steady P&L margin gains needed to show a clear path to breakeven, much less the roughly $5 billion in annual P&L improvements needed to generate meaningful investor returns.
One of the two reporters that published the leaked data (Efrati) argued that "Uber's departure from China in the middle of the quarter helped slow the growth rate of its losses" and that the losses "reflects its increased investment in areas like self-driving car technology and mapping." Neither of those claims is credible. Both impacts of the sale of Uber's shareholding in the failed Uber China venture (which include a multi-billion dollar gain from Uber's new shareholding in Didi Chuxing) and investments in speculative future ventures like driverless cars would impact cash flow and balance sheet statements, but not 2012-16 quarterly operating P&L statements, and it is not clear that the reporter understands the difference.
Stephen Levitt's Bogus Claim that Uber Creates Massive Consumer Welfare Benefits
The first four parts of Naked Capitalism's Uber series (Part One, Part Two, Part Three, Part Four) focused on the question of whether the growth and eventual industry dominance of Uber has (or could in the near future) create sustainable improvements in overall economic welfare. Neither the bleak P&L results of any other single piece of evidence is isolation could answer this question, but the range of evidence presented consistently supported the conclusion that Uber had, and would continue to reduce welfare.
Uber is a substantially less efficient producer of urban car services than the incumbents they have been driving out, so its growth reduces overall industry efficiency. All of Uber's apparent price and service advantages depend on unsustainable investor subsidies. Uber has not introduced any significant efficiency or product breakthroughs and lacks the scale economies that could quickly generate billions in P&L improvements, and all of Uber's behavior suggests it fully understands that it could not provide returns to investors without achieving exploiting significant levels of welfare reducing anti-competitive market power.
In isolation, the lower taxi fares some consumers may have received thanks to Uber's multi-billion dollar subsidies do not constitute a consumer welfare gain because those subsidies are unsustainable and are explicitly designed to drive more efficient producers out of business and create artificial market power, which would massively offset any short term welfare gains. Subsidies supporting the pursuit of industry dominance can only enhance long-term economic welfare if the dominant company can produce service at significantly lower cost/higher quality than the displaced incumbents, and if the dominant company continues to pass a significant share of those efficiency gains on to consumers. At this point there is absolutely no public evidence that Uber will ever be able to offer consumers lower prices and increased service on a sustainably profitable basis.
Stephen Levitt, a senior economics professor at the University of Chicago, and co-owner of the "Freakonomics" media venture vehemently disagrees. He co-authored an article (further publicized through his various blogs and radio programs)[2] claiming that Uber generated $6.8 billion in consumer surplus in 2015.
Given hard evidence of Uber's inferior efficiency, disastrous financial performance and aggressive pursuit of quasi-monopoly industry dominance, how could an economist find evidence that the entry of Uber into the market has not only made consumers better off versus an industry dominated by traditional operators but found consumer gains of such an enormous magnitude?
The first clue is that Levitt is an unabashed Uber supporter who admits he "loves Uber" and describes them as "a phenomenally successful company" even though they had a negative 149% operating margin during the period he studied (the first half of 2015). Levitt claims "Uber embodies what economists believe should happen with the labor market," is openly rooting for Uber "to destroy the old-school taxicab and private-car industries" and thinks the finding of the paper will be "the hammer with which I could smash all government resistance to Uber." The second clue is that the analysis was financed by Uber, and two of his co-authors are senior Uber officials. This was not the result of unbiased research by an independent academic.
The third and most important clue is that there is no data or analysis in the papers that compares how consumers fared since Uber's entry with how they fared before Uber entry (or compared consumer prices and service between markets that does and does not serve or made any other type of comparison). Nor is there any data on any of the issues discussed in the Naked Capitalism series that are critical to an understanding of whether post-Uber marketplace changes have (or could eventually) improve consumer welfare, such as evidence of major efficiency advantages or scale economies that would allow it to produce service at lower costs than existing competitors, or evidence that it could profitably offer lower prices and better service than incumbents in competitive markets.
So there is absolutely nothing in the paper that would allow anyone to conclude that consumers are better off with an Uber dominated industry than they had been with an industry dominated by the old-school taxicab and private-car industries, and there is nothing in the paper that justifies the conclusion that the headline "$6.8 million annual" number represents a consumer gain of any kind.
The $6.8 billion estimate had been derived from Uber moment-of-sale data from Uber's four largest markets during the first half of 2015 that showed when customers who wanted immediate cab service were given surged prices (which could be 10 to 500% higher than baseline fares), and whether or not service at the surged prices was accepted or refused. Levitt then estimated a continuous curve across the full range of surged price options and calculated customer price elasticity from that curve. Levitt calculated the "consumer surplus" gap between accepted prices and the higher prices they would have been willing to accept as a consumer benefit that Uber had uniquely created, and the total $6.8 billion was estimated by extrapolating the "surplus" from his half-year 4 city sample to full year 2015 traffic in all US markets.
Unfortunately estimates of the consumer surplus of Uber users in isolation does not and cannot measure incremental changes to consumer welfare across the entire market. It does not measure how consumers fared before and after Uber's entry, and only looks at an artificial subset of consumers. Consumer welfare can only improve if a marketplace change provides consumers with sustainably lower prices and/or superior service. Uber has higher average prices (21% of all trips in the study sample had surged prices, while traditional operators have no price surges), so Levitt and Uber are making the absurd claim that the company with higher average prices benefits consumers more. And the paper makes no effort to explain why its "consumer surplus" approach that apparently had never been used before in published academic economic studies would provide superior measures of changes to consumer welfare than traditional approaches.
Consumer surplus exists in every market, because even with variable pricing systems controlled by fancy software, companies like Uber offer a single price in each selling situation (Uber offers the same surged price to anyone requesting a car at a given time in a given geographic zone) and almost all of the people who purchase at that price would have also purchased at a slightly higher price. Consumer surplus would only disappear if companies read the minds of each individual consumer and then block them from accessing prices available to other, more price sensitive consumers. The fact that the Levitt/Uber consumer surplus estimate is a really big number is strictly a function of their calculation that demand is highly inelastic. Highly inelastic demand means people will often be willing to pay more than published prices (ergo much more "consumer surplus"); elastic demand means traffic falls faster when prices rise (so much less "consumer surplus" potential).
But all of the Levitt/Uber data massively overstates demand inelasticity by measuring "moment of sale" consumer decisions, instead of medium/long-term responses to price changes. The Levitt/Uber data are measuring people who are already committed to travel as soon as possible, and have started the ordering process — people who will always be highly price inelastic. But data showing many will accept a 25% price surge at that moment tells you nothing about how they would respond to longer term price changes. If all fares (peak and off-peak) went up 25% you would see a much bigger reduction in taxi usage (e.g. much higher elasticity) than the "moment-of-sale" response to a 25% surge would suggest.
The analysis is further biased because 75% of all the data reflects the behavior of people who are frequent Uber users in four of the wealthiest cities in America (NY, SF, LA, Chicago). These are the people least likely to consider alternatives when faced with surged prices, and it is highly unlikely that their willingness to pay higher prices reflects the price sensitivity of the total, nationwide market for urban car services. Large results from Levitt's methodology cannot support conclusions about changes to efficiency or welfare gains because they are primarily measuring changes in customer price elasticity. Walmart's growth was driven in large part by its efficiency/productivity advantages over traditional department stores. But if you applied Levitt's approach to Walmart it would tell you consumers were significantly harmed, because Walmart's customers are more price sensitive than typical department store customers (since Walmart's customers include many more people with lower income, the gap between prices and the demand curve would be smaller). Long-term demand of the total market is much more elastic than "moment-of-sale" demand from frequent Uber users in wealthy cities. The Levitt/Uber paper cherrypicks data from the segment of the urban car service market with the least sensitivity to price, in order to artificially generate the huge "consumer surplus" number highlighted in their conclusion.
Why Would a "Serious" Academic Produce an Indefensible Analysis Like This?
Why would a prominent economic professor from a prominent university actively publicize that his research had identified "the impact that Uber's introduction has had on consumer welfare" when there is absolutely nothing in the data or analysis that even attempts to measure consumer welfare impacts? Presumably the answer involves some combination of personal ideological affinity (his personal preference that all legal regulatory obstacles to Uber's success be smashed, along with all existing "old-school" industry participants) and financial incentives provided by Uber for attaching his name to what was largely an internal Uber study. Note that none of the reasons Levitt gives for loving Uber and rooting for its eventual industry dominance have anything to do with increased consumer welfare; Levitt participated in the study because he was hoping to find a welfare justification for his enthusiasm. Levitt's description of a company that lost $2 billion in 2015 as "a phenomenally successful company" demonstrates Levitt's willingness to ignore compelling evidence inconsistent with that enthusiasm.
Levitt would have also had reasonable grounds to assume that there was little risk that the poor quality of his work would have ever been attacked by fellow academics (many of whom undertake private consulting projects like this, where results are not subject to any type of academic peer review) or journalists (who had never examined these issues independently and in any event would be highly reluctant to openly challenge a famous academic).
Levitt took some steps to protect himself in case knowledgeable people read his paper carefully and pointed out some of the serious flaws. His radio discussion emphasized that his role on the Uber project focused on the methodological issues involved in translating raw Uber data into the demand curve and elasticity estimates.and claimed he was the first person to ever actually develop a demand curve from industry data.[3]
Levitt actually acknowledges that the analysis does not meet academic standards. Both the academic paper and the supporting Freakomics publicity acknowledge that the questions being addressed require long-term elasticity measures, and that the "moment-of-sale" elasticity measures actually used are inappropriate[4]. Including this admission in a peer-reviewed academic paper would have been tantamount to saying "stop reading here and ignore all conclusions presented because the data doesn't support them." The ethical/professional problem is that even if Levitt buried qualifying statements about the elasticity measures deep in the article text, he failed to ensure that the highlighted primary conclusions based on those elasticity measures (creation of $6.8 billion in annual consumer benefits) were qualified in any way.
Despite these questions about Levitt's intellectual integrity, it is more important to understand why Uber hired him to serve as a paid advocate, and the larger process by which Uber sought to publicize an "Uber creates billions in annual consumer benefits" meme without actually having any legitimate evidence that it did. Had this paper been produced entirely (instead of largely) by internal Uber staff, it would have been impossible to get the claims published in mainstream media outlets. By paying Levitt to put his name on the study (and publicize it through his blogs and radio programs) Uber could create the appearance that the $6.8 billion benefit claim resulted from independent analysis that met academic standards, and knew that no one in the media would scrutinize (much less challenge) work endorsed by a famous U of Chicago professor. Regardless of any nuances or qualifications buried in the paper (that no one would read) the paper created a valuable soundbite (famous U of Chicago economist says Uber creates $6.8 billion in annual consumer benefits) that Uber could circulate widely.
Uber did this by getting a series of pro-Uber columnists to publicize the highlight benefit claim through uncritical articles about the Levitt/Uber paper in a range of respected media outlets including the Wall Street Journal, Forbes, Bloomberg and the New York Times.[5] Each article falsely portrayed the $6.8 billion claim as "consumer welfare" benefits as if the paper had compared the welfare impacts of Uber versus traditional operators. Tyler Cowen, a well-known libertarian blogger (and active Uber supporter) who writes columns for Bloomberg and the New York Times, misrepresented the $6.8 billion number from the paper was the "social value" of Uber, and reflected the economic loss society would suffer "if Uber simply went away." Cowen highlighted how the finding illustrated how "consumers gain from lower prices from a new service" even though neither he or the Levitt study had any evidence that Uber passengers currently pay lower average prices, or would in the absence of massive subsidies. Cowen claimed that this evidence of huge consumer benefits justified his view that current industry competition was "a fight between progress and protection."
A Wall Street Journal columnist claimed the study proved that Uber had created net economic welfare gains because "U.S. consumers alone are reaping billions of dollars a year in benefits, far greater than the losses borne by taxi owners" even though there was nothing in the study that purported to analyze those tradeoffs. That columnist highlighted the accomplishment of estimating a "demand curve" while ignoring the caveat that the demand curve estimated was totally inappropriate for the conclusions drawn. He also insisted that Uber illustrated how "[t]he free-market system has long ensured goods providing very high consumer surplus are cheap" without explaining how a company that lost $5 billion in the last two years could serve as an exemplar of the free-market system. A Forbes columnist falsely claimed that the result showed "that Uber is indeed making us all richer." He highlighted the huge gap between price and willingness to pay, and facetiously attacked Uber for not raising prices more aggressively, but ignored the long-run versus moment-of-sale elasticity issues that the paper had pointed out. The New York Times published a nationally syndicated columnist who claimed the $6.8 billion estimate was based on demonstrated "economic theory" without bothering to explain what that theory was, or noting that Levitt's methodology had never been used in any prior academic analysis of consumer welfare impacts. He tried to argue that these benefits somehow offset the growing public evidence of huge Uber losses, and failed to disclose Levitt's "analysis" had been paid for and co-authored by Uber.
Thus the original Uber sponsored study produced a big number it could publicize ($6.8 billion in annual consumer benefits) and a famous academic name it could attach to the study to create the false impression the number resulted from rigorous, independent analysis. The secondary sources increased awareness of the headline claim, and generated new pro-Uber claims (huge social of value of Uber thanks to lower prices, victory of progress over protection, Uber making us all richer, victory for the free market) that were not based on any data or analysis.
Uber's Use of False Consumer Benefit Claims Is Not New – Consumers Did Not Benefit When Taxi Medallion Values Collapsed
The Stephen Levitt endorsed $6.8 billion consumer benefit claim was not the first time Uber attempted to manufacture pro-consumer propaganda claims out of thin air. One of the first themes in pro-Uber propaganda is how consumers had been directly harmed by high taxi medallion values, and that by destroying that value Uber has generated huge benefits for consumers. Travis Kalanick has often claimed in 2012-13 that Uber was fighting "the taxi medallion evil empire" and in late 2016 Levitt was still claiming the only people harmed by Uber have been taxi medallion holders. To quote just one of many possible examples, an unabashedly pro-Uber article by a Washington Post writer claimed that "In exchange for all of this regulation, taxis have for decades held a government-backed monopoly. At the center of that bargain — and the debate over what form of transportation best serves the public — is the medallion…Uber counters that medallions have created a cartel that operates for its own benefit — and not in the best interests of the public."[6]
Allowing tradeable medallions is bad regulatory policy and will not be defended here, but the Uber claim that medallion trading values represents wealth extracted from consumers, and that consumers recaptured that wealth when Uber destroyed those trading values[7] is utter nonsense, and none of the many people making that claim ever provide any supporting evidence.
The Uber claims conflate two entirely separate issues – should city governments be allowed to limit the total number of taxi operating licenses issued, and should that public license to operate a car service on city streets be transformed into a tradeable private property right, as has happened with broadcast licenses, water rights, landing slots at congested airports and other private uses of limited public resources?
The first question is debatable; the historical justification for limiting market entry via license caps was that the taxi market is limited, faces a severe peaking problem and marginal peak capacity costs much more than highly-utilized average capacity. Entry limits mean all drivers get a somewhat fair share of peak and off-peak hours, and reduce the risk that higher-cost cream-skimming marginal entrants make it impossible for anyone to make any money. There is also evidence that some cities loosened or eliminated license caps without undermining industry viability, so a simple "entry limits always good/bad" conclusion probably can't be drawn.
But the tradeable medallions that are the central focus of the Uber claims only had significant value in three cities — New York, Chicago and Boston.[8] There was never any significant difference in taxi fares, service levels or driver wages between those three cities and any other large US cities, and there is absolutely no evidence of any adverse consumer impacts concurrent with the recent run-up in medallion values. Just as fluctuations in broadcast license values had no impact on advertising rates, and airline fares did not fluctuate with slot values at LaGuardia or O'Hare, medallion values did not represent wealth transferred from taxi consumers.[9]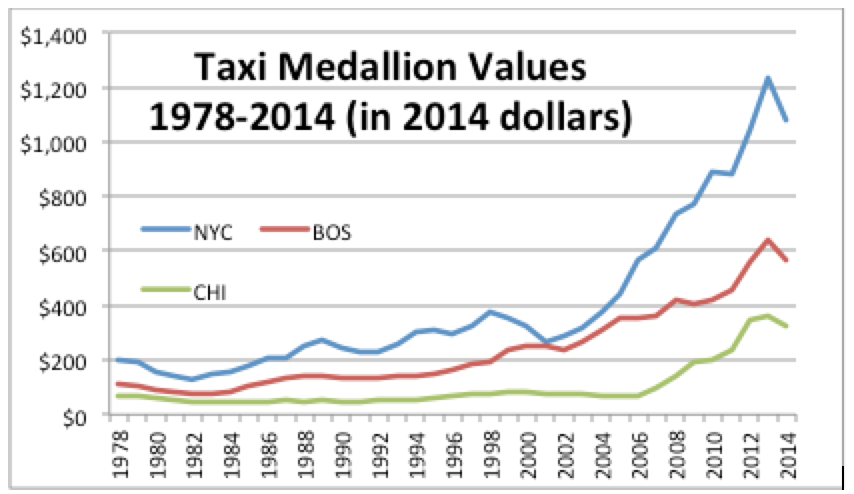 The "medallions extract wealth from consumers" argument is based on the false claim that trading values are a direct function of the stream of future profits a medallion holder might earn. If the claim was true, one would see long-term medallion value fluctuations in line with industry profitability and supply/demand conditions, and would see major adverse consumer impacts in cities with high medallion values, compared to cities with lower values and cities that did not have medallions. In reality, these three cities established medallions in the 1930s, but values did not begin growing until the 1960s.[10]
The huge recent inflation in medallion values is totally explained by changes in speculative financial markets. When returns in most classes of low-risk investment fell in the early 2000s (and fell dramatically after 2008) investor demand for medallions soared.[11] This created massive windfall profits for people who happened to have acquired medallions in the past, but neither the initial rise nor the subsequent collapse of these values had any direct impact on consumers.
Why would Washington Post reporters falsely claim that Uber's destruction of medallion values had created huge benefits for consumers? For the same reason that University of Chicago economics professors would falsely claim that the response of frequent Uber users to surge pricing proves that Uber has created massive consumer benefits. Both were willing participants in well-designed Uber PR propaganda programs, and were more interested in helping promulgate Uber's desired narratives than they were in presenting analysis based on legitimate data.
In both cases Uber had developed a narrative about wonderful benefits Uber had created, featuring large dollar impacts that would get attention, and structured in ways that would ensure the business press would not seriously scrutinize the legitimacy of the claims. The false surge pricing/consumer surplus claim was protected from scrutiny by the use of a famous "brand-name" economist. The "medallion value stolen from consumers" claim handed the media an appealing narrative pitting the heroic, cutting edge innovators from Uber against a clearly defined enemy (the corrupt "taxi medallion cartel") that provided terrible service and that no one in the press liked. Like any good propaganda campaign shifting the discussion to a simplistic good vs evil narrative meant the media did not have to investigate any of the actual competitive industry questions – did Uber actually have any powerful, efficiency enhancing innovations, could its business model actually solve any of the service problems Manhattan Yellow Cab users faced, or did it have any advantages in the 95% of taxi markets that are totally unlike Manhattan and never had tradable medallions, or could Uber actually make money in a competitive environment. Once Uber can get sympathetic columnists at other mainstream outlets to repeat the claims, they gain broader credibility and acceptance, and that fact that the original analysis was intellectually indefensible and had never been vetted by any independent experts is forgotten.
_____________
[1] Efrati, Amir, Uber's Loss Decelerates, Reflecting China Exit, The Information, 19 Dec 2016; Newcomer, Eric, Uber's Loss Exceeds $800 Million in Third Quarter on $1.7 Billion in Net Revenue, Bloomberg, 19 Dec 2016. Efrati claimed the P&L data was driven by Uber's exit from China, but Newcomer did not.
[2] Cohen, Peter, Hahn, Robert, Hall,Jonathan, Levitt, Steven and Metcalfe,Robert Using big data to estimate consumer surplus: The case of Uber. National Bureau of Economic Research, 2016. Dubner, Stephen J., Why Uber Is an Economist's Dream, transcript of Freakonomics Radio discussion between Dubner, Steven Levitt and Jonathan Hall 7 Sep 2016 http://freakonomics.com/podcast/uber-economists-dream/
[3] This claim might come as a surprise to Sveriges Riksbank, who awarded the 2015 economics Nobel Prize to Angus Deaton for work that prominently featured demand curve estimation. Or to the thousands of industry analysts whose estimation of demand curve slopes and elasticities are critical to decisions about pricing and capacity.
[4] [What's in the paper]"..is actually not the demand curve I wanted to estimate at all. It's the only one I could estimate but not the one I really wanted. So for public policy, like in deciding how to regulate Uber, for instance, the demand curve you'd love to have is what we call a long-term demand curve."
[5] Cowen, Tyler, Computing the Social Value of Uber. (It's High.), Bloomberg 8 Sep 2016.; Creighton, Adam, Uber's Pricing Formula Has Allowed Economists to Map Out a Real Demand Curve, The Wall Street Journal, 19 Sep 2016; Worstall, Tim, Freakonomics' Steven Levitt On How Inefficient Uber Really Is, Forbes, 20 Sep 2016 (the "inefficiency" was the higher prices Uber could have charged, but out of the goodness of their hearts, did not); Beales, Richard, Uber's Value to Riders Is Clear. To Investors, It May Prove More Elusive, The New York Times, 22 Dec 2016. Beales' piece was nationally syndicated by Reuters' "Breakingviews."
[6] Badger, Emily, Taxi medallions have been the best investment in America for years. Now Uber may be changing that, Washington Post Wonkblog, 27 Nov 2014.
[7] "As [Kalanick] notes, in New York there are 13,000 taxis with medallions that trade for close to $1 million, implying a very profitable cash flow from fares." Kesler, Andy, Travis Kalanick: The Transportation Trustbuster, Wall Street Journal, 25 Jan 2013. "Doesn't the high-value of medallions (over $1mm in some markets) implicitly prove that the market is undersupplied and that prices are above true market clearing prices?" Gurley, Bill, How to Miss By a Mile: An Alternative Look at Uber's Potential Market Size, Above The Crowd, 11 Jul 2014. Gurley is a major Uber investor.
[8] In New York, only street hail (Yellow) taxis have tradeable medallions; "for hire" dispatch cars and limousines do not. Miami, Philadelphia and Atlanta sanctioned medallion trading markets in the 90s but prices were always below $100,000; San Francisco reclaimed medallions as city property in 1978. Some other cities appear to turn a blind eye to small scale black market medallion trades, but true exchange markets never developed.
[9] A study of taxi regulatory practices in the U.S. commissioned by the San Francisco Mayor's Office found no relationship between license tradeability and price or service levels, but rejected any proposal to increase license tradeability unless new regulations ensured that any rents created were shared with drivers. Lam, D. Leung, K., Lyman, J. The San Francisco Taxicab Industry: An Equity Analysis. Richard & Rhoda Goldman School of Public Policy, University of California, Berkeley, (2006) 10-15.
[10] Historical medallion values compiled from multiple sources including New York Taxi and Limousine Commission data; Boston Mayor's Office of Transportation, Boston Taxi Study, 4 (1978); monthly reports of medallion sale prices in Chicago Dispatcher Magazine; Barlett, A. & Yilmaz, Y., Taxicab Medallions—A Review Of Experiences In Other Cities, prepared for the Government of the District of Columbia (2011); San Francisco Municipal Transportation Agency, Managing Taxi Supply, prepared by Hara Associates (Apr 2013); Badger, supra.
[11] Prior to 2004 medallion prices closely tracked general financial market indices such as the S&P 500. Dhar, Rohin, The Tyranny of the Taxi Medallions, Priceonomics, 10 Apr 2013.. The post-2004 increase was heavily influenced by the specialist financial firms that had long provided medallion-collateralized loans to cab drivers. Malik, N. A Bet on the Rising Value of Yellow Cabs, Barrons, Jun 2007; Mead, C., Taxi Licenses as 'Cash Cows' Bolster Medallion Financial Shares, Bloomberg Financial News, 16 Nov 2011.