By Lambert Strether of Corrente.
Angus Deaton, co-author with Anne Case of the important study on excess white working class mortality, has been much in the news lately. Yves posted on Deaton's remarks at the recent Allied Social Sciences Associations meeting, but now Deaton has presented at Davos — good luck to him getting their attention! — and here's the key portion of his interview with Business Insider:
He told Business Insider in an interview at the World Economics Forum in Davos that there is a 0.4 correlation between US counties with elevated mortality rates for white people and counties that voted for Trump.

"If you take county by county in the US, and you look at what we call deaths of despair — suicides, opioids and liver disease — that it correlates by .4 with votes for Trump. That's a big correlation. There are 3,000 counties in the US. .4 with these things is a very strong relationship," Deaton told us.

In stats, 1 is a perfect correlation and 0 is no correlation at all; 0.4 is a fairly strong relationship in a dataset that size.[1] The stats suggest that Trump somehow tapped into white despair among voters.

There are caveats, of course.

"You can put almost anything in that picture, smoking, lack of exercise … but I do think there is a lot of malaise going on here. Whatever it is these people are unhappy, they're left behind, some of their jobs have gone away, they're worse off than their parents were, they're worried about opportunities for their kids."

"Causality in these things is always hard."
Deaton's caveats are, of course, becoming in a scholar.[2] But I think the anecdotal evidence is quite clear. "Deaths from despair" are Chris Arnade[3] territory; see his tweetstorm starting here:
1. Writing piece on 3 counties that swung Trump: Dubuque IA, Battle Creek MI, & Lewiston ME.

Unifying feature: lost manufacturing jobs.

— Chris Arnade (@Chris_arnade) January 18, 2017
And including:
12. A morning coffee group is dedicated to figuring out a medical facility within x miles offering detox for a nephew without health care

— Chris Arnade (@Chris_arnade) January 18, 2017
And much else; despair is Arnade's beat, you might say.
But back to the county data. There's another correlation at play, presented well by RealClearPolitics in its "How Trump Won" on the 2016 election, and perhaps best presented visually to begin with. This is the Democrats' normalized vote share in 1996, 2004, 2012, and 2016 (reading left to right, by row) in Iowa, where Democrats are blue and Republicans are red: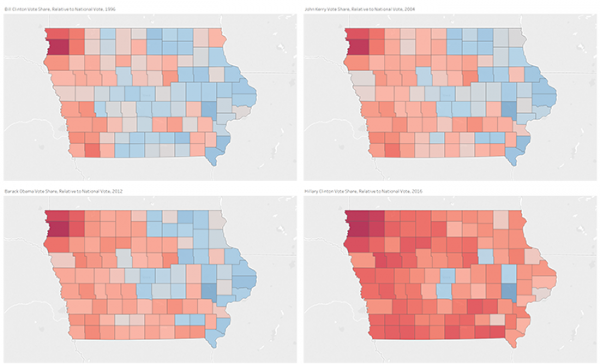 And RCP summarizes:
The result is a creeping "redness" across the map, as the Democratic coalition is pushed gradually eastward, before retreating almost entirely to a few small cities and college towns.
(RCP presents similar maps for Minnesota, Michigan, and Ohio, and the same trend appears there as well.)
Now, I freely admit that it's a stretch to identity RCP's "red shift" county data with Deaton's county data, showing "despair," and identifying both with counties that voted for Trump (by "knocking over the checkers board,"as Arnade puts it). So let's just say that I'm creating a narrative, analysis to come.
That said, can we think of any reasons beyond despair why rural voters might vote red (and not blue)? I think we can, if we look at the role that urban credentialed professionals and institutions play. In "Credentialism and Corruption: The Opioid Epidemic and 'the Looting Professional Class'" I wrote:
CEOs, marketing executives, database developers, marketing collateral designers, the sales force, middle managers of all kinds, and doctor: All these professions are highly credentialed. And all have, or should have, different levels of responsibility for the mortality rates from the opoid epidemic; executives have fiduciary responsibility; doctors take the Hippocratic Oath; those highly commissioned sales people knew or should have known what they were selling. Farther down the line, to a database designer, OXYCONTIN_DEATH_RATE might be just another field. Or not! And due to information asymmetries in corporate structures, the different professions once had different levels of knowledge. For some it can be said they did not know. But now they know; the story is out there. As reader Clive wrote:

Increasingly, if you want to get and hang on to a middle class job, that job will involve dishonesty or exploitation of others in some way.

And you've got to admit that serving as a transmission vector for an epidemic falls into the category of "exploitation of others."
And I don't think it's too much of a stretch to think that red-shift voters would identify Clinton's base in the urban, professional classes with the very same people responsible for the opioid epidemic that was killing their families. Consciously? I don't know. Viscerally? I'd bet on it.
* * *
Oh, I did say "What Does 'Rural' Mean?" I'll just toss this idea out as another layer of narrative, but I think it woud be an interesting mental exercise to replace "rural" with "colonized" in our thinking; a famous example of the metropolis colonizing the periphery is the Opium Wars. A splendid example of rental extraction, opium was; until the reaction came.
NOTES
[1] Statistics geeks please correct "very strong" if necessary (even if that's the sort of thing Deaton shouldn't get wrong).
[2] In a perfect world, I'd look at "deaths of despair" in the counties that flipped from Obama in 2008 and 2012 — that is, the counties that in the last analysis cost Clinton the election. Perhaps in a later post!
[3] Arnade recently participated in a panel at Bard titled ""Beyond Despair: Articulating a Bold, Progressive Vision for the 21st Century Economy" — with MMTer Pavlina Tcherneva!