The Strange Case of the Minnesota Iceman Scientific American
Deputies mistake kitty litter for meth; after 3 days in jail, suspect cleared ArkLaTex.com (Re Silc).
Summers Warns of Financial-Crisis Risk From Trump Economic Plans Bloomberg
FBI Arrests Volkswagen Executive in Emissions Scandal WSJ
Global carmakers navigate a tricky road to new Trump reality FT
Why Uber lost $2.2 billion in 9 months Vox. Nice shout-out to Hubert's five-part series at NC (start here), but there are issues… which I'll let readers weigh in on. This caught my eye: "An obvious objection here is that Uber's investors are not idiots." Plenty of investors are idiots. It's not at all obvious that Uber's investors are not.
Waymo unplugs self-driving cars to deny hackers access FT
Facebook is going to start showing ads in the middle of its videos and sharing the money with publishers ReCode. "Its"?
Why Facebook should hire a chief ethicist: Column USA Today
Apple's desensitisation of the human race to fundamental security practices Troy Hunt (DK). To be read on conjunction with Apple Store photo ring scandal in Brisbane: Privacy commissioner weighs in Brisbane Times
Why 2017 is Blockchain's Make or Break Year CoinDesk (RS).
Bring on the Bots American Banker
Syraqistan
Pakistan fires 'first submarine-launched nuclear-capable missile' Reuters

U.S. Pilots See Close Calls With Russian Jets Over Syria WSJ

Syria and the Left Jacobin
Concluso il voto online: il M5S sceglie di passare nel gruppo di Alde al Parlamento Ue La Stampa (DG); the Google translation. DG comments:
So the Five Stars leave behind the fringe-y-ish euroskeptic contingent to link up with the likes of Mario Monti, the U.K. Lib Dems, the German Free Democrats, the Basque Nationalist Party, filling a place that Di Pietro and Italia dei Valori tried to hold.

Hmmmm. At least, Five Stars is good on civil rights, civil liberties, and parliamentary procedure, except when Grillo is having a tantrum.

So: I am skeptical. They may now be stuck where the Lib Dems are–minor partners in government, permanently. That may be where Grillo likes to make his stand, but it makes them about as relevant as the Lib Dems. As many Italians have pointed out, the Five Stars like being dissidents, but they have little interest in governing. One of the more notorious recent cases was when they did so well in the last parliamentary elections, yet when they showed up in parliament, none of them had started drafting bills to present for debate. So they lost control of the debate.
China?
Real estate all over the world could tank as China curbs capital outflow Business Insider

Alibaba's Ma meets Trump, promises to bring one million jobs to U.S. Reuters
The Cost of India's Man-Made Currency Crisis Editorial Board, NYT
Our Famously Free Press
It's time to retire the tainted term 'fake news' Margaret Sullivan, WaPo. That was fast,

Trump Is Letting Go the People in Charge of Maintaining Our Nuclear Arsenal [Updated] Gizmodo. Scroll down for "[UPDATED]." The game is hard enough without the constant own-goals (as in WaPo's debunked Vermont power story, and the Times getting the wrong Russian compound slated by Obama for closing, on page A1).
2016 Post Mortem
Obama retools his political operation for post-Trump Politico. "Though OFA has been mostly quiet over the past two months and made no formal announcements, its Chicago headquarters has been filling up with new hires, including several old campaign aides, who are planning to focus on the mechanics of campaigns, from running Obama-style persuasion programs, integrating data and running paid canvassing operations. Though the first goal is designing the program for what they'll aim to make hundreds of workshops nationwide, there's already talk about moving toward endorsing candidates." In other words, Obama plans to suck away any oxygen that Our Revolution and Brand New Congress have been able to get.

Pity the sad legacy of Barack Obama Cornel West, Guardian (GF).

Future Crimes Counterpunch. Well worth a read on Obama's legacy, being manufactured even as we speak, despite the unhelpful headline.

Repealing the ACA without a Replacement — The Risks to American Health Care Barack H. Obama, J.D., NEJM. A trifecta — see the next two links — as Obama performs an amazing dominance display over the credentialed classes that form the Democrat base.

The President's Role in Advancing Criminal Justice Reform Barack Obama, Harvard Law Review

The irreversible momentum of clean energy Barack Obama, Science

Obama Says Americans' Skepticism Gave Campaign Hacks a Boost Bloomberg. "Very engaging and gregarious."

Russia wanted payback, not a President Trump Globe and Mail
Trump Transition
Republicans Want Revenge for Obamacare and It's Making Them Do Stupid Things Brian Beutler, The New Republic

The political downsides to [ObamaCare's] approach were fairly obvious at the time, and have become more clear as the law's been implemented. It's complex and inequitable; it doesn't cover everyone; it turns people into customers in an amoral and unpopular market, rather than into users of a simple public utility. But the upside was that it could be slowly blended into the existing fabric of the health system without rending the whole thing and starting over. It's not a single patch in a strange patchwork. Removing the stitching won't just re-create a hole, but leave the rest of the quilt more tattered than it was before.

I'm not sure "quilt" is the right metaphor. I think what Beutler is saying is that we can't kill the (neoliberal) metastatic tumor without killing the (neoliberal) primary tumor, which would kill the patient. It is what it is. We are where we are.

Most memorable lines from CNN's Bernie Sanders town hall CNN

How to Understand the Trump Brand in 2017 Advertising Age

Donald Trump will win his battle with the spies FT

Trump's son-in-law, Jared Kushner, expected to join White House as a senior adviser McClatchy. Like RFK, I suppose.

Jared Kushner to transfer Observer interest to family trust CNN

Exxon's Rex Tillerson and the rise of Big Oil in American politics Informed Comment

Inside Rex Tillerson's Negotiating Style: Cozy With Power, Unbending and Theatrical WSJ

Steven Mnuchin is About to Get Eviscerated by Senate Democrats Vanity Fair. The mills of God grind slowly…

16 Celebrities React to Meryl Streep's Moving Golden Globes Speech Elle

Brown Is the First Senator to Say 'No' to Jeff Sessions The Nation

Women's March on Washington Opens Contentious Dialogues About Race NYT

After Trump's inauguration, Republicans are set for historic success if only… McClatchy
Imperial Collapse Watch
Pentagon successfully tests micro-drone swarm France24

Untangling the Web: A Blueprint for Reforming American Security Sector Assistance Open Society Foundation (PDF of the report). Sentence one of the Introduction: "The United States needs a new framework for partnering with security forces overseas. Since 9/11, it has spent more than $250 billion building up foreign military and police. But that hasn't always left the United States safer or its partners more stable and capable. From attempts to build whole armies in Iraq and Afghanistan, to efforts to help Yemen or Nigeria fight terrorism, the overall return on investment has been poor."

"Poor" for whom?
Class Warfare
Florida restaurant wants employees to pay out of pocket for doing a bad job Orlando Weekly

10 YEARS LATER: What Happened To The Former Employees Of Enron? AP. Some of the executives went to jail. Fancy that!
Quantum computers ready to leap out of the lab in 2017 Nature
Antidote du jour (via):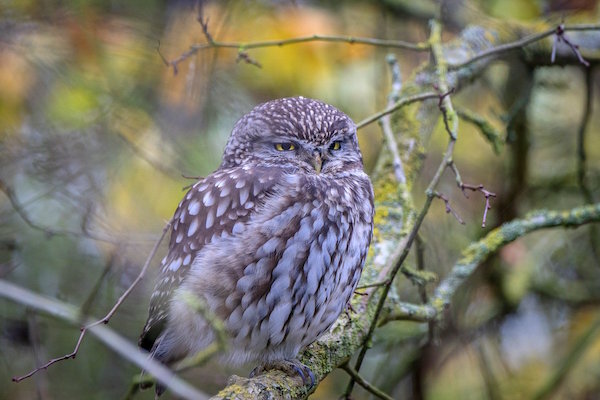 See yesterday's Links and Antidote du Jour here.