Do you speak virus? Phages caught sending chemical messages Nature
Confirmed: 2016 the Warmest Year in History of Global Recordkeeping Weather Underground
Toxic chemicals found at Tokyo's new fish market site South China Morning Post
The Global Risks Report 2017 World Economic Forum
How Deutsche Bank Made −€367 Million Disappear Bloomberg
Student Loan Collector Cheated Millions, Lawsuits Say NYT. Sounds just like mortage servicers in the foreclosure crisis.
Jet, mansions figure in $232 million foreign trust case to be heard in Auckland court New Zealand Herald (RS). This is about 1MDB and "controversial Malaysian financier Jho Low," and the mansion is in Los Angeles. (The penthouses, however, are in Manhattan.)
Inside the luxury world's commission culture FT. "Commissions."
Banks face talent crisis amid mounting costs of employee turnover: report Reuters
The Need for Different Classes of Macroeconomic Models Olivier Blanchard, Petersen Institute for International Relations. Shorter: Theoretical DSGE models = string theory. Unfair?
Brexit
Emmanuel Macron's rise electrifies French election race FT
China?
China's Xi Jinping Seizes Role as Leader on Globalization WSJ

Growing Up in Rising China The Diplomat
India Demonetization Trainwreck
You should not reply to that query, Manmohan Singh saves Urjit Patel from grilling by House panel Scroll (J-LS).
What Gives Money Its Distinctive Smell? One Chemist Tried to Find Out WSJ
New Cold War
Trump Transition
* * *
2016 Post Mortem
Cory Booker's Conscience Jacobin. Assumes facts not in evidence.
Health Care
Tired of "no-show" patients? Use predictive overbooking. Advisory Board (GP). GP: "New ways for your medical history to be used against you."
Class Warfare
How to avert catastrophe FT. "Listen to older people who have experienced catastrophes." Readers, Naked Capitalism is here for you….
Antidote du jour (via):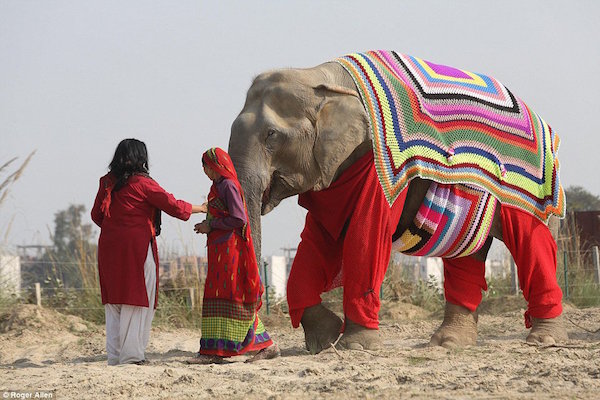 Daily Mail: "Huge jumpers knitted by villagers in India to keep elephants warm."
See yesterday's Links and Antidote du Jour here.