Yves here. I'm a bit thin at launch time. Please tune in later for a fuller ration.
Squirrel 'threat' to critical infrastructure BBC (David L). I can attest to this second-hand. Squirrels took a car out temporarily by chewing on the wiring. Mothballs under the car have proven to be effective.
Calculating the perfect jump Tastefully Offensive
Game Of Thrones' Character's Shocking Return May Confirm Huge Leak Huffington Post (furzy). I must be the only person dumb enough to have read the books and avoided following what has happened on the show out of the belief that Martin will get around to finishing the books. And separately, it was getting tired to see how many characters Martin brought back from apparently being dead.
This electric car is the first zero-emissions vehicle to finish the Dakar Rally TreeHugger (resilc)
The Heroism of Incremental Care New Yorker (furzy). Horrible title. The doctors are not heroic. The patients are for not having given up, particularly given the propensity of doctors to be overconfident re their ability to cure a chronic ailment, and then worse, that some blame the patient when their interventions fail (either by suggesting they were non-compliant or that the problem must be in their head if they didn't get better).
China?
China's housing boom ends as prices fall in top cities Financial Times
Brexit. I know I should post on the May speech, and hope to soon, but the 50,000 version is she has thrown the steering wheel out the window when the EU is bigger and has made clear it is not going to swerve. She incoherently says she will exit the single market yet expects a deal that will preserve access and let the UK limit immigration. The EU has said repeatedly that is na ga happen and that any new arrangement has to fit in the framework of existing trade pacts, and these features alone don't. In other words, the Brits are accomplishing the difficult feat of making the Germans look reasonable. But the UK press is just as deluded as the Tories are, and that seems to be influencing US coverage. These dynamics are so much like Greece v. the Trokia, in terms of the misreading of the power dynamics and the downside that it is freaky. But the Greeks really were badly downtrodden, the new leaders could be forgiven for naivete and desperation, Varoufakis had the correct economic analysis even if the Eurozone was not going to undo its hopelessly destructive budget rules to end austerity and was therefore invested in the fallacy of punishing borrowers when the bad structure of the Eurozone guaranteed that you'd have chronic trade imbalances and Germany was unwilling to do anything to change that. The Greeks in other words were right in a ton of respects but were destined to lose, and their misplaying of the negotiations resulted in Trokia getting punitive and the harm to them thus being even worse than it would have been. The Brits are vastly less sympathetic actors, since the EU knows well that the Brexit vote was the result of a Conservative intra-party power play that spun out of control, and the collateral damage for this stunt will be colossal. They are being obtusely reckless, as opposed to reckless out of desperation and misplaced hope.
Mays Brexit-Pläne: Ich will, ich will, ich will Speigel (Jean-Louis). Google translate here. Spiegel is actually pretty restrained. Key sentence: "The disadvantage of her speech is that it has now convinced the rest of Europe definitively that the British government is not only ugly, but also blind to reality."

Theresa May's blurred Brexit lines Politico

UK ministers warn EU against 'punitive' Brexit deal Financial Times
Russian sex workers are world's best, boasts Putin The Times (Dr. Kevin). So he has an extensive enough sample to make a personal recommendation>?
Key NATO Commander Agrees With Trump, NATO Is Obsolete Antiwar (resilc)
Syrqistan
Over Two Million Yemenis Displaced by Conflict International Organization for Migration. Resilc: "Nice job, Obomba."
New Cold War
Four Looming Flashpoints Facing President Trump TomDispatch. I was going to cross post this, but it goes overboard on the "Putin is an aggressor" image the MSM and Beltway have been selling hard (not that Putin does not have interests that are opposed to ours, and that he has been trying to advance Russia's interests). For instance, it depicts Putin as having superpower ambitions, when we were the ones who destabilized Ukraine, which is on his doorstep, and supported (arguably helped install) a Russia-hostile government which included about 15% neo-Nazis in key positions who started threatening Ukrainians of Russian descent (one YouTube video has a senior defense official urging ethnic cleansing and saying soldiers should keep what they take). It was no accident that a country where people of European and Russian ancestry had gotten on peacefully suddenly fractured on ethnic lines. I'd like to get reader input, but this exaggeration of Russian bad-ness appears designed to justify having the Baltics on the list of flashpoints (as in we are justified in exerting influence there). And pray tell, how would the US react if Montreal succeeded and started making US-hostile noises? Would we sit pat? The piece also weirdly fails to mention that the Chinese have built artificial islands on atolls that were previously submerged part of the day to justify their maritime claims.
Big Brother is Watching You Watch
AMBULANCES IN SWEDEN WILL BE ABLE TO HIJACK CAR RADIOS DURING EMERGENCIES Digital Trends
Imperial Collapse Watch
Americans Lose When America 'Runs' World Order National Interest (resilc)

How NATO grew fat and Russia took advantage The Week. Resilc: "It's about military jobs, budgets for toys and nice living including retirements."

Key NATO Commander Agrees With Trump, NATO Is Obsolete Antiwar
Trump Transition
About Half of Americans Think Russia Interfered With Election Through Hacking, WSJ/NBC Poll Finds Wall Street Journal

Veteran U.S. Intelligence Officials Call for Russian 'Hacking' Proof George Washington

Nearly 60 Democratic lawmakers now skipping Trump's inauguration Washington Post (furzy)

Immersion Therapy in the Trump Archive New Yorker (furzy). With all due respect, I see no evidence that anyone has gone through what Trump said about himself on multiple appearances on the Howard Stern show.

Trump accuses civil rights leader Lewis of lying about inauguration Reuters. Even on those occasions when Trump is correct, he loses by being so obsessed with winning these fights.

Terror and the Mexico border: How big a threat? Christian Science Monitor (furzy)

Donald Trump faces lawsuit over sexual assault claims Financial Times. Aiee, I hate sounding like a Trump defender, but some relevant facts the story omits: Defamation cases are hard to win. Now admittedly it is likely that the plaintiff does not expect to win but hopes to embarrass Trump in discovery. But to get a judge to take a case seriously, the plaintiff has to be able to prove significant monetary damages. The underlying conduct allegedly took place in 2007 so memories from so long ago are suspect. And New York has anti-SLAPP law, not the toughest considerably how quickly the cases moves forward. Delay is bad for plaintiffs in litigation.

What I found behind Trump's showy façade The Times (furzy). Important in the sense that it gives a more nuanced picture of Trump than most.

Rex Tillerson got burned in Venezuela. Then he got revenge. Washington Post (Sid S)

F-35's 'Grotesque Overruns' Now Past, Says Pentagon Chief Bloomberg. If you believe that, I have a bridge I'd like to sell you, although he probably has a Clintonian definition of "grotesque".

Commerce Pick Wilbur Ross to Divest at Least 80 Holdings New York Times

Betsy DeVos says guns in schools may be necessary to protect students from grizzly bears ThinkProgress (Scott)

Betsy DeVos Wants to Use America's Schools to Build "God's Kingdom" Mother Jones (resilc)

Unlike Trump, Americans want strong environmental regulator Reuters (EM)(
When a Foreign Government Interfered in a U.S. Election — to Reelect FDR Politico
2016 Post Mortem
Matt Taibbi's New Book: 'Insane Clown President' Rolling Stone (Bill C)

Trump's Counter-Punch: A Persuasion Tactic and Clinton's (Terrible) Tweets: A Persuasion Analysis ExtraNewfeed
Obama's Unnecessary Wars and 'Humanitarian' Interventionism American Conservative (resilc)
Resignation and divisions at exclusive Maryland golf club over Barack Obama membership – and his Israel policies Telegraph (furzy)
Clintons Shutter Global Initiative as Donations Dry Up New American (Timotheus)
Mark Zuckerberg Spent Martin Luther King Day Building a Community Garden in Oak Cliff Dallas Observer (Joe H). In case you doubted it, Zuckerberg sure looks like he is running for President.
Our First Stand Rally With Bernie Sanders, Chuck Schumer, Debbie Stabenow and Gary Peters YouTube (Kevin C). Chuck Schumer….kill me now.
Obama commutes sentence of Chelsea Manning CNN. Obama occasionally does the right thing, so good for him.
Obamacare
On Health Care, We'll Have What Congress Is Having New Yorker (furzy)
The Deportees Taking Our Calls New Yorker (resilc)
Second Theranos Lab Failed U.S. Inspection Wall Street Journal
Trump's Options for Weakening Dollar Extend Beyond Tweets Bloomberg. This is important. The strong dollar policy was integrally linked to promoting the US financial services industry, which was inaugurated by none other than ex Goldman Treasury Secretary Bob Rubin, who has maintained a stranglehold on the Democratic party through allies and acolytes at Goldman and Citigroup. A strong or at least not weak currency is essential to being a major financial center.
Bank margins to be boosted by labour-saving automation but long term challenges loom Financial Times
Class Warfare
Lagarde Urges Greater Wealth Distribution After Populist Surge Bloomberg. Awfully late to take the other side on this issue, but barbarians at the ramparts do focus the mind.
Antidote du jour. Lambert and I noticed how we've had a big run of beautiful bird pix for months, so I am going to rebalance to mammals for a bit. From Mountain Woman: "Young cow elk born Spring 2016 feed on weeds peeking through the snow."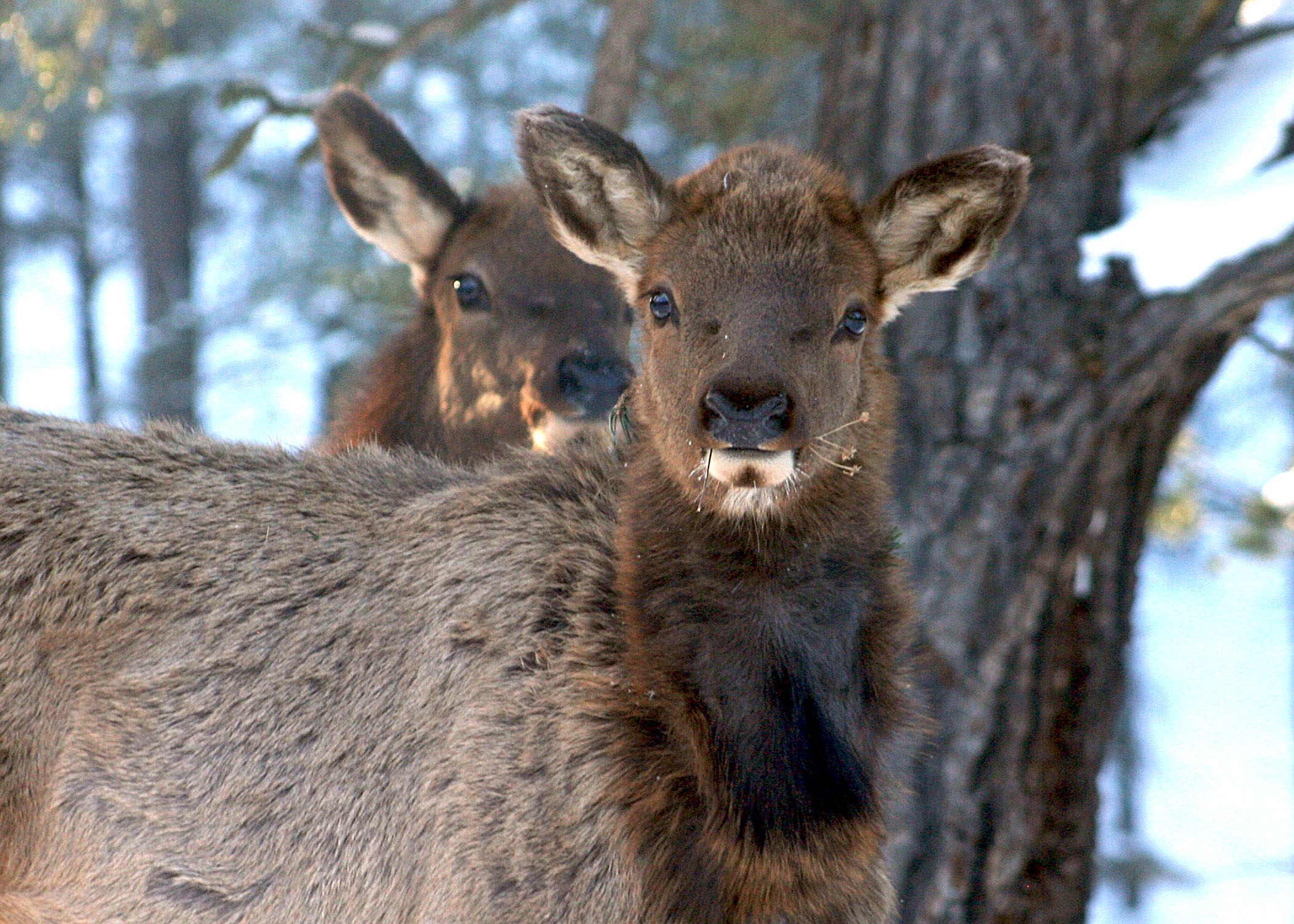 See yesterday's Links and Antidote du Jour here.