Readers, my commentary for Links is just a wee bit crankier than usual. Sorry. –lambert
Archaeology: Ancient cultures used food to domesticate wild animals Columbus Dispatch. Well worth a read, and best of all, not pulled off the wire, but original to the Dispatch.
US farmers have been caught feeding red Skittles to their cattle Science Alert
97% of Endangered Species Threatened by Two Common Pesticides EcoWatch (Furzy Mouse).
Everything Is Awesome! MishTalk (Furzy Mouse).
Global Uncertainty Gets Brushed Off in the U.S. and Europe WSJ
Angola Banks Appeal for Bailout as Oil Slump Cuts Liquidity Bloomberg
Brexit
Brexit Bulletin: It's Going to Be a Long Week Bloomberg

May's vision of post-Brexit trade puzzles experts FT

UK PM May promises frank talk with Trump after women protest Reuters. "Prime Minister, you're no Maggie Thatcher."
As it happened: Underdog Hamon wins first round of France's left-wing primary France24
Syraqistan
Russia takes power-broking role as Syria peace talks begin in Astana Guardian

Syrian opposition will only discuss ceasefire at Kazakhstan talks, spokesman says Reuters

75 people killed in renewed fighting and drone strikes in Yemen International Business Times
China?
Diplomat says China would assume world leadership if needed Reuters
From Statues to Doormats, Here's What Annoys Asian Nations AP
Political Crisis Engulfs Samsung, a Firm Tied to South Korea's Success NYT
CIA files: Despite keeping tabs, US was unaware of Indira Gandhi's Emergency plans Hindustan Times. Working through the CIA's CREST records.
Women's March
After mass turnout, can protests turn into political impact? AP (MR). "Now, the question is whether that can be sustained and turned into political impact." Whenever you read an agency-free sentence like this — in the lead, no less! — you can be sure the analysis is at best vacuous. Whose energy? Sustained by whom? And what the heck does "energy" even mean? And so forth. Although "energy" is a tip-off, to my suspicious mind, that a process of resource extraction will most definitely take place…

What Happens After the Women's March Crowds Go Home? Roll Call. "Democratic members of Congress — and the groups that support them — are ready to harness that . 'There is a sleeping giant that Donald Trump and his cronies have awakened,' Florida Rep. Debbie Wasserman Schultz said Saturday before the march." Of course, the marchers have agency, and because the Democrat establishment wants to exploit them doesn't mean that's why they marched, or that those Democrats will succeed. But the dynamic is easy to see, and reinforced by the avalanche of treacle emitted by our famously free press.

Crowd Scientists Say Women's March in Washington Had 3 Times More People Than Trump's Inauguration NYT. "It is likely that the timing and location of the march — on a weekend, in a Democratic city in a Democratic region — helped drive the significant turnout." No sh*t, Sherlock. Couldn't the "crowd scientists" have factored in ease of transport? And income?

Bernie Sanders Full Speech At Women's March 1/21/2017 YouTube (MR). I think Sanders needs to go on the offensive more and stop adopting Democrat framing, and in particular rights-based framing. Concrete, material, and universal benefits like Medicare for All, a Jobs Guarantee, and a Post Office Bank would do more for women, and in particular working class women, than any number of "principles."

Canadians traveling to Women's March denied US entry after sharing plans Guardian
YASHA LEVINE RELEASED FROM JAIL, EXPOSES LAPD'S APPALLING TREATMENT OF DETAINED OCCUPY LA PROTESTERS… The Exiled. Just as a contrast…
Analysis: One new presidency gives rise to two divergent grass-roots movements Susan Page, USA Today. The headline is problematic, but I want to give a shout-out to USA Today. It's reassuring to think that relatively sane coverage is being dropped in front of every hotel room door in America…
Trump Transition
Donald Trump meant everything he said Christopher Caldwell, FT. On Trump's inaugural speech. Key paragraph:

If you pay attention to the speech, it sounds less like a rant and far more like a serious governing programme. One phrase — "This American carnage stops right here and stops right now"— has struck [some!] people as a reference to slum violence, and indeed that is what it would have meant had a president used it a generation ago.

But its position in the speech makes it likely that Mr Trump is alluding to the wave of overdoses, mostly involving heroin and other opioids, in suburbs and small towns. This is the deadliest US drug crisis ever. It is killing 50,000 Americans a year, more than guns or motor vehicles do. In the 1970s, Curtis Mayfield sang about drugs and crime in the ghetto. In the 1980s, two presidents waged a "war on drugs".

Today's overdoses are beneath the notice of either the government or the culture. Mr Trump ran a strong campaign in New Hampshire and West Virginia, the two hardest-hit states.

50,000 deaths is an AIDS-level epidemic. The contrast between liberal Democrat reaction to the AIDS crisis (gays as a protected class) and this crisis (working class heaved over the side) couldn't be more clear. Clinton in Keene, NH August 2015: "I have to confess, I was surprised. I did not expect that I would hear about drug abuse and substance abuse and other such challenges, everywhere I went." The Clinton campaign then emitted some bullet points, which promptly dropped from sight; I suppose they didn't appeal to suburban professional Republican women. (And one more reason we need Medicare for All, if we frame "challenges" "death from despair" as a medical issue.) Democratic norms….

Pope Francis says 'wait and see' on Trump Reuters. I guess he's a Russian stooge….

Trump makes it official: He will renegotiate NAFTA USA Today

President Donald Trump Makes Revised Trade Deals an Early Priority WSJ

Republican Plan To Replace Obamacare Would Turn Medicaid Over To States NPR (Furzy Mouse). But do let's focus on piss jokes, crowd size, and Tweets!

Trump's ACA executive order heightens insurance market jitters Modern Health Care. Naturally, since developing insurance policies has a long runway.

Executive Order On Unwinding Obamacare Largely Symbolic Health Affairs. So the hysterical coverage was all wrong. That's not to say Trump's ultimate goals aren't inimical. However, there's a difference between setting your own hair on fire and screaming "The [insert demon figure here]s are coming!" and working out the enemy's order of battle. Either the liberals with flaming hair don't know this, or they're gaslighting. I'm not sure which is worse.

So wait. The coverage of Trump's first executive order was hysterical, too?

Regarding Trump's regulatory freeze, here's the virtually identical order the Obama admin issued on its first day: https://t.co/ZMnxNCJcAj

— Binyamin Appelbaum (@BCAppelbaum) January 21, 2017

National Park Service faces new rules, new leadership amid growing pains Federal Radio. Voice of the worker bee… Nothing on drilling. I had to dig and do an advanced search to find even this, since the News Feeds were clogged with hysterical stories about a Twitter fight between NPS and Trump. See how that works?

Trump to oversee 'fiscal bloodbath' instead of prosperity, says Reagan OMB director CNBC. Like deficit spending is a bad thing….

Rex Tillerson, ExxonMobil and the separation of oil and state FT

U.S. Eyes Michael Flynn's Links to Russia WSJ. I hate to be foily, but after the JAR and dodgy dossier debacles, I'm beginning to question the quality of the intelligence community's work product, especially when leaked anonymously.

Rocky First Weekend for Trump Troubles Even His Top Aides NYT. Contrast the lead to the links listed above.
City devastated by OxyContin use sues Purdue Pharma, claims drugmaker put profits over citizens Los Angeles Times (MR).
Worried about Facebook's coziness with Trump? Watch what Alex Stamos does next Pando. Important.
Our Famously Free Press
White House vows to fight media 'tooth and nail' over Trump coverage Reuters. I figured the legitmacy crisis would come when Republicans impeached Clinton….

Clickbait culture and groupthink mentality have led to the collapse of journalism — and the rise of Donald Trump Salon

As Cold War turns to Information War, a new fake news police combats disinformation WaPo. Version 2.0…
Class Warfare
From Brexit to Trump Foreign Affairs. "When it seems that nothing at all can get through to the elites, pushing the emergency button becomes not only a legitimate but also possibly the only responsible thing to do."

Behind Closed Doors At Davos: "Make Elites Great Again" Buzzfeed. Jamie Dimon's little joke.
When mainstream economists jump the shark and lose it completely Bill Mitchell. Fun stuff, if prolix.
Antidote du jour (via):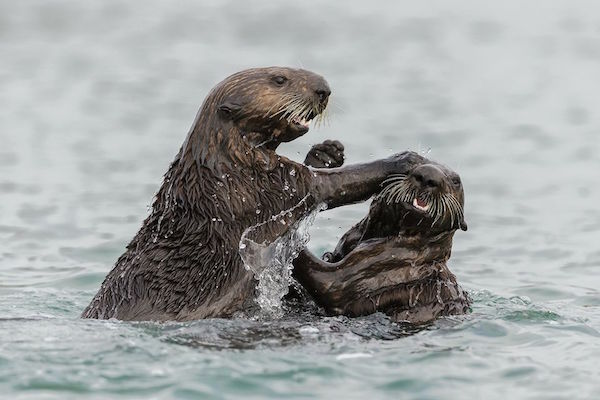 See yesterday's Links and Antidote du Jour here.