By Lambert Strether of Corrente
Politics
Trump Transition
"At the time ― only about a month ago ― Obama administration officials thought the move was a swell idea; good for national security and a subtle way to twist the knife in the president-elect on the topic of Russian election hacking" [HuffPo]. "But it may have been the riskiest decision of the Obama years, in the name of national security, and to a new president who decries millions of (phantom) 'fraudulent' votes he claims were illegally cast against him." Holy moley. The framing "stupid and/or evil" covers pretty much everything in the Beltway, but this… Well, it's orthogonal, shall we say (so we can avoid the hair-on-fire adjectives currently in vogue).

"The fourth possibility [to 'get rid of' Trump] is one that until recently I would have said was unthinkable in the United States of America: a military coup, or at least a refusal by military leaders to obey certain orders" [Rosa Brooks, Foreign Policy]. Hoo boy. As I keep saying, this is a podcast I listen to — "Live! From the Heart of The Blob!" — and these people are bughouse (as in wanting war with Russia bughouse. Lovely people, very mellow voices, a lot of laughter).

"No matter what you call it, Trump's immigration order will be tough to overturn, legal analysts say" [WaPo]. "Analysts across the political spectrum say that the president has vast authority to bar the entry of people to the United States, and to do so without the consent of other branches of government."

"Polling data collected by Morning Consult among more than 85,000 registered voters since the election (but before the travel executive order) demonstrates why Republicans are likely to stick with the president even if others turn against him. Over all, 47 percent of registered voters had a very or somewhat favorable view of Mr. Trump, while 48 percent had a very or somewhat unfavorable view" [NYT]. The thing is, it's extremely unlikely that Trump can fulfill the version of "hope and change" that he presented to his voters — as long as he sticks to Republican orthodoxy, especially fiscal discipline. So it's only a matter of time for his weakness to become apparent. And what happens then? Will a return to "the good times" under Obama be enough to make Democrats stronger than even a weakened Trump? I'm guessing no.
2016 Post Mortem
"Every single Democrat is going to need to play a role in building a Democratic Party we can all be proud of. Before the DNC members vote on who will lead us through that process, let them know what you think is important in a party chair" [Democrats.org]. "We'll share your feedback with party leaders from your state." Not the DNC, ha ha.
Revolt of the Worker Bees
"At the EPA, a small group of career employees — numbering less than a dozen so far — are using an encrypted messaging app to discuss what to do if Trump's political appointees undermine their agency's mission to protect public health and the environment, flout the law, or delete valuable scientific data that the agency has been collecting for years, sources told Politico" [Politico]. I hope there's a sysadmin in that group…. For more technical details, see here.
Realignment and Legitimacy
"Says [Paul Sracic, political science professor at Youngstown State University], "Trump issues an executive order beginning the process of dismantling the ACA [Affordable Care Act], and Democrats respond by saying he is trying to 'Make America Sick Again.' People think, however, that the ACA needs to be improved. Where is the Democratic alternative?" [New York Post]. A lot of confusion about the internal dynamics of the Democrat Party, but on this point, the New York Post (!) is spot on. Again, what are Democrats for? Because you can't beat something with nothing. As the Clinton debacle proved.

And speaking of being for something:

Millennials: Recommit to the most basic New Deal era safety nets and you'll have a voting base for life.

Democrats: lol no

— Crank Scorpio (@StephenCurley) February 1, 2017

Nancy Pelosi explains it all to you (and Trevor Hill):

Nancy Pelosi: "We're capitalists, and that's just the way it is" https://t.co/LaK6293AbY #PelosiTownHall https://t.co/5CZHOqbod4

— CNN (@CNN) February 1, 2017
Trevor Hill's reponds to Pelosi [HuffPo]. Worth quoting in full:
"I was actually surprised that she was so open about a lot of the flaws that she sees in the capitalist system ― at least, in her eyes a capitalist system that has arisen from an older, better system," he said. "I didn't expect that."

But Hill said he was also "kind of disappointed" that Pelosi did not address whether the Democratic Party should adopt a more populist platform. "She just completely ignored that question."

Hill, who is registered to vote in California, identifies as an "leftist independent" rather than a Democrat. He voted for Sanders in the primary and then Green Party nominee Jill Stein in the general election.

"," Hill said.

Although his recent voting pattern might make it tempting to dismiss someone like Hill as a lost cause, his personal story is not that different from many disaffected working-class voters whose support Democrats are so eager to win back. Hill used to be an enthusiastic Democrat and supporter of President Barack Obama. But he grew "disillusioned" with Democrats, he said, when their rosy rhetoric clashed with the economic misery his family was experiencing.

His parents declared bankruptcy three years ago after a drop in his father's income as a construction contractor made it impossible for them to pay their bills. He can attend NYU thanks to a full scholarship he receives.

The bankruptcy "was during the best years of the recovery when everyone was singing [Obama's] praises and saying 'everything's doing so well, America's back on track.' Meanwhile my parents were choosing between having the lights on and putting food on the table," Hill recalled.
That crunching noise you heard last summer was the Clinton juggernaut rolling over Hill's prostrate body on its way into the ditch.
"Democrats are more fired up than Republicans: The [new poll of 18-29 year-olds by the Harvard Institute of Politics] found that among young Democrats, 33% say they are more motivated to get politically involved, compared to 19% of young Republicans and 20% of independents" [Wall Street Journal].
* * *
"These Are the Groups Behind Those 'Spontaneous' Anti-Trump-Ban Protests" [Daily Beast]. "Make the Road New York was just one of many groups, virtually unknown and unheard of nationally, leading the anti-Trump mass resistance and airport demonstrations that erupted all across the United States over the weekend." I don't think that "local groups," "unknown and unheard of nationally," merit the shudder quotes round "'spontaneous'," and I'm very glad to have the names. It's really shudder-quoted "spontaneous" groups — funded by Brock or some squillionaire — that I'm worried about (making Neera Tanden's horrid little "Resist" icon come true). So this article makes a prima facie case for good news. Not that the Democrat establishment won't try to decapitate the movement's leaders and exploit the movements' energy. But you can't blame them for being what they are, I suppose. Just clean house and get rid of them. (Oh, and the Women's March isn't mentioned.)
"Democrats are moving urgently to harness the wave of grass-roots protests that have greeted President Trump in his first weeks in office to reclaim the House majority in next year's midterm elections" [WaPo]. "The DCCC's organizing push is aimed at turning that activism into votes come November 2018. The new field operatives, Luján said, will be hired in most cases from within the targeted districts and who have previously worked on House campaigns there." Well, good. They're not hiring the actual activists, then. Had me worried there for a moment!
"Republicans are in control of Congress, but the House New Democrat Coalition does not plan to sit by and let the GOP generate all the policy ideas on issues like taxes, infrastructure and cybersecurity" [Roll Call]. "In continuing with their effort to be leaders on policy issues and find potential areas of bipartisan compromise, the New Democrats are launching new task forces designed to generate policy solutions for issues on the GOP's congressional agenda." Say, how about Medicare for All?
"House Democrats are rallying behind a plan to make President Trump's first speech to Congress as uncomfortable as possible by inviting guests they say will suffer under new White House policies" [The Hill]. "The strategy means Trump will likely face a crowd including ethnic minorities, LGBT people, undocumented immigrants, the disabled and others when he addresses a joint session on Feb. 28" (musical interlude, for diversity of visuals). Oddly, or not, Americans who work for wages aren't on that list of protected classes. Strange, considering that's where the numbers are.
"'[Fundraising] started on Nov. 9,' said Democratic fundraising consultant Mike Fraioli. 'They may not have scheduled an event, but if they won, they slept 24 hours and put together a program'" [Roll Call]. "A strong first quarter helps members achieve what's known in consultant-speak as 'winning in the off-year.' A hefty haul helps deter challenges and gives incumbents a head start." Ka-ching.
"Why We Support Keith Ellison for DNC Chair" [Editorial, The Nation]. " Even as Americans fill the streets demanding resistance to the extremist agenda of Donald Trump, congressional Democrats often lack the numbers for the pushback." The numbers? That's the problem?
What Chris Arnade said. Conclusion of a good tweetstorm:
18. I can only hope, and stay focused, on the basic decency of everyone I have met all over the US. And hope that wins out. pic.twitter.com/VlJ1BwdfgW

— Chris Arnade (@Chris_arnade) February 2, 2017
Stats Watch
Productivity and Costs, Q4 2016: "It took more hours to produce at a slower rate, that's an unfavorable mix for productivity" [Econoday]. "Low productivity is a stubborn weakness of the economy, the result in part of a shrinking pool of available workers but also reflecting lack of investment in new equipment." So, a capital strike? And: "The year-over-year analysis is consistent with costs growing faster than productivity" [Econintersect].
Challenger Job-Cut Report, January 2017: "January is often a heavy month for layoff announcements as it was this year," although it's better than last year [Econoday]. And: "The top four job cuts announced during the month occurred in the retail sector, with Macy's leading the pack by reporting plans to close 68 stores and decrease its headcount by 10,000 workers" [Econintersect].
Gallup U.S. Job Creation Index, January 2017: "remained strong" [Econoday]. "The reading indicates that many more workers believe their employer is bringing on new employees than letting people go."
Gallup Good Jobs Rate, January 2017: "not a statistically significant increase" [Econoday]. "Gallup's measure of underemployment in January was 14.1 percent, up from 13.7 percent in December, and 1.4 points higher than the low point measured in October 2016…. Gallup's U.S. underemployment rate combines the percentage of adults in the workforce who are unemployed (5.8 percent) with those who are working part time but desire full-time work (8.3 percent)."
Jobless Claims, week of January 28, 2017: "Initial claims continue to dig out a new plateau of lows so far this year" [Econoday].
Bloomberg Consumer Comfort Index, week of January 29: "[B]ack near its post-election high" [Econoday]. "Strength in consumer confidence readings ultimately reflects strength in the jobs outlook."
Chain Store Sales, January 2017: "Chain stores are reporting mostly lower sales rates in January than December" [Econoday]. "Looking at the total retail sales report, unit auto sales proved very soft compared to December (data released yesterday) though gasoline stations likely got a January lift from a moderate increase in prices. Yet gasoline makes up only a small part of retail sales which on net, and despite very strong readings for consumer confidence, look to have underperformed during January." And: "January Same-Store Sales as Cold as the Weather" [247 Wall Street].
Shipping: "'It may seem a big surprise for a country whose industry is proud of green technology and engineering solutions, but Germany is responsible for the worst shipbreaking practices amongst all shipping nations when one compares the size of its fleet to the number of ships broken irresponsibly,' the [Shipbreaking Platform Germany] NGO reported. German owners, banks and ship funds had 98 ships rammed up on the beaches of South Asia out of a total of 100 vessels sold for demolition last year, the organisation reported. Moreover, 40% of these were broken in Bangladesh, where the NGO says conditions are known to be the worst" [Splash 247].
Shipping: "Tanker owners have been hit with a deluge of new deliveries in the first month of the year on a scale never seen before, heaping further pressure on an already weak freight rate environment" [Splash 247].
Shipping: "Seoul Central District Court will pull the plug on Hanjin Shipping, almost six months after the container carrier filed for court receivership.The court will grant a two-week period for appeals before declaring the company bankrupt, with the most likely bankruptcy date being February 17" [Lloyd's List].
Shipping: "Demolitions of chemical tankers could accelerate towards 2020, but it is questionable whether this will have a major impact on market fundamentals because scrap candidates are in the smaller size categories, warns shipping consultancy Drewry" [Lloyd's List].
The Bezzle: "Facebook's virtual-reality subsidiary and two of its founders are facing a sobering reality after a jury hit them with a $500 million bill for violating the intellectual property rights of video-game maker ZeniMax Media" [AP]. "The verdict reached Wednesday in a Dallas federal court represents about one-fourth of the $2 billion that Facebook paid two years ago to buy Oculus, a developer of virtual-reality gear and software. The jury concluded that Oculus and co-founders Palmer Luckey and Brendan Iribe infringed on ZeniMax Media's copyrights and trademarks as they built their products. Oculus vowed to appeal the decision."
The Bezzle: "Massive Price Hike for Life-Saving Opioid Overdose Antidote" [Scientific American]. "Called Evzio, it is used to deliver naloxone, a life-saving antidote to overdoses of opioids. More than 33,000 people are believed to have died from such overdoses in 2015. And as demand for Kaleo's product has grown, the privately held firm has raised its twin-pack price to $4,500, from $690 in 2014."
Today's Fear & Greed Index: 49 Neutral (previous close: 52, Neutral) [CNN]. One week ago: 58 (Greed). (0 is Extreme Fear; 100 is Extreme Greed). Last updated Feb 1 at 11:27am. That fluttery feeling…
Gaia
"Depressed Groundhog Sees Shadow Of Rodent He Once Was" [The Onion].
Big Brother Is Watching You Watch
"When Electronic Witnesses Are Everywhere, No Secret's Safe" [Singularlity Hub]. "I think Amazon is great, and we have no reason to doubt them. That said, they say Echo is only recording when you say the word "Alexa," but that means that it has to be constantly listening for the word Alexa. For people who believe in privacy and don't want to have all of their conversations recorded, they believe Amazon that that is actually the case. But how many people have actually examined the code? The code hasn't been put out there for vetting by a third party, so we don't actually know what is going on."
Class Warfare
"For-Profit Colleges: Rough Times Ahead for Working-Class Students" [Working Class Perspectives]. "It appears that for-profit higher education programs will flourish again under the Trump administration, likely to the detriment of working-class students and taxpayers."
The sharing economy in Mexico: "Apli's business model is relatively straightforward. Job seekers register with the app. When businesses — mostly restaurants in gentrifying areas looking to reduce their costs and minimize their social and labor obligations — request a temp worker, the app offers the shift to one of its registered partners. When the partner agrees, her 'service provision contract' begins. The contract, as the Apli receptionist reminded us, grants no labor rights or social security, only the payment of wages" [Jacobin].
"Life Is Hell for Tenants of Giant D.C. Slumlord Sanford Capital" [Washington City Paper]. "Sanford Capital has been buying apartment complexes that are home to the city's working poor for more than a decade. In extensive reporting on the company's practices, City Paper found that Sanford employs a systematic strategy for allowing buildings to become so squalid that residents are forced to leave. The company also files for evictions in bulk." We'll always have Paris… If we have sans culottes. Eh?
News of the Wired
"Spam Accounts for Two-Thirds of Total Email Volume" [MarketWatch]. "Cisco attributes the rise in spam primarily to the rise of large spam-sending botnets, and that between 8% and 10% of global spam 'could be categorized as malicious.'"
"The "wisdom of the crowd" is a simple approach that can be surprisingly effective at finding the correct answer to certain problems" [Ars Technica]. "This process has some pretty obvious limits, but a team of researchers at MIT and Princeton published a paper in Nature this week suggesting a way to make it more reliable: look for an answer that comes up more often than people think it will, and it's likely to be correct." I'm trying to think of a contemporary example…
"Physics: The wave catchers" [Nature]. "In an age of strongman politicians and outright despotism, this impassioned call for a 'beacon of values' is more important than ever. 'We desperately need science to rescue democracy from greed,' [sociologist of science Harry Collins] writes. "We need that even more than we need gravitational wave astronomy.'"
"The psychological benefits of giving up on cleaning and embracing the mess" [Quartz]. Filers vs. pilers. I am most definitely a piler. If you keep everything in one pile, you never lose anything. You just rotate the stack 'til what you want comes to the top.
News you can use:
PUBLIC RELATIONS is an anagram of 'crap built on lies'.

— Haggard Hawks Words (@HaggardHawks) January 31, 2017
* * *
Readers, feel free to contact me with (a) links, and even better (b) sources I should curate regularly, and (c) to find out how to send me images of plants. Vegetables are fine! Fungi are deemed to be honorary plants! See the previous Water Cooler (with plant) here. And here's today's plant (JM):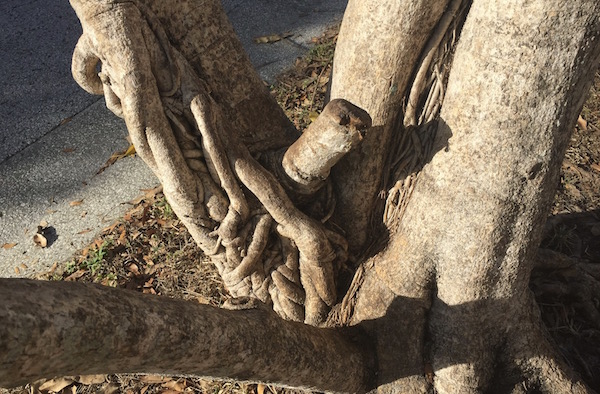 Readers, Water Cooler is a standalone entity, not supported by the very successful Naked Capitalism fundraiser just past. Now, I understand you may feel tapped out, but when and if you are able, please use the dropdown to choose your contribution, and then click the hat! Your tip will be welcome today, and indeed any day. Water Cooler will not exist without your continued help.