By Lambert Strether of Corrente
Trade
"Freight forwarding and logistics representatives have welcomed the "historic" implementation of the World Trade Organisation's multilateral trade facilitation agreement, which promises to streamline, simplify and standardise customs procedures and cut trade costs around the world" [Lloyd's List].
Politics
Our Famously Free Press
"Brian Hook, a former assistant secretary of state in the George W. Bush administration, is Rex Tillerson's preferred choice for director of policy planning at the State Department, according to multiple GOP Senate aides. The policy planning director leads a strategic brain trust for the secretary" [Foreign Policy]. "Hook is the co-founder of the John Hay Initiative, a group of former Mitt Romney foreign policy advisers whose leaders organized a prominent letter signed by 121 GOP national security luminaries refusing to support Trump last March because he would 'act in ways that make America less safe.'"
2016 Post Mortem
"Looking Back to Go Forward: A Conversation with Nina Turner" [Paste]. "]TURNER:] Instead of talking down to people and calling them names, those of us on the progressive side gotta win elections." But it's fun to call people names. Also too, name-calling is a sign of superior intelligence. I know! I did it! Worth a read since Turner's an undeniable talent.

"Democracy In Crisis: Democrats in the Afterlife" [City Paper]. "Precisely because the Democrats lack political power, they have the potential to become a great moral force if they are willing to be beaten and tear-gassed and arrested. Instead, they are all blinded by the possibility of regaining power, like underworld shades still pining for their previous lives."

Will Keith Ellison Move the Democrats Left? [The New Yorker]. Perhaps not. But anybody other than Ellison sends the clearest possible message that the Democrats will not move left.

"Keith Ellison Powerfully Argues For Trump Impeachment At Democratic Leadership Debate" [PoliticsUSA]. The headline is inflammatory, but this coverage includes a video and the full quote: "[ELLISON:] I think that Donald Trump has already done a number of things that legitimately raise the question of impeachment." Which, when you apply your parsing skills, is not the same as saying Trump should be impeached (which the Democrats can't do on their own, having taken themselves out of the runnning). Ellison's reason: The emoluments clause (not on). By the standards of the Clintonite fever swamp, that's pretty mild. He doesn't call for war with Russia because Trump is Putin's stooge, for example. So I'm willing to give Ellison a "He Has To Say That" pass on this one.

"POLL: Who Won the DNC Chair Debate on CNN Tonight?" [Heavy]. Readers?

"Why demographics weren't — and won't be — destiny for Democrats" [WaPo]. Third Way lizards shedding their skins….
Trump Transition
"Mnuchin Says to Expect Complete Tax Overhaul by August" [MSNBC]. Promises 3% growth, tax cuts for the rich offset with closed loopholes, and depends on "dynamic scoring." Apparently Laffer's napkin is nailed to Mnuchin's forehead. A remarkable feat, nailing snake oil to anything.

"As a can­did­ate, Don­ald Trump thor­oughly en­joyed dis­mant­ling and tor­tur­ing the Re­pub­lic­an wing of the Re­pub­lic­an Party. But now that chaos, tur­moil, and in­eptitude have be­come the watch­words for his White House—not­with­stand­ing his as­ser­tion Thursday that it 'is run­ning like a fine-tuned ma­chine'—the tar­gets of his barbs were giv­ing each oth­er 'I told you so' glances" [Charles Cook]. "Es­tab­lish­ment Re­pub­lic­ans cer­tainly don't wish ill for the coun­try or their party, and they un­der­stand that over time they will be seen as own­ing, or at least be­ing re­spons­ible for, Trump's pres­id­ency. But for now they are en­joy­ing the misery in­side the White House on the grounds that it couldn't hap­pen to a more de­serving group of people." I'm experiencing multiple schadenfreude hits simultaneously, here. It's a novel experience!

"'I want to make it emphatically clear that neither Mexico's government or the Mexican people have any reason to accept provisions that have been unilaterally imposed by one government on the other,' Mexico's Foreign Minister Luis Videgaray said at a ceremony on Wednesday. 'We won't accept it because we don't have to,' he added, in an apparent reference to U.S. plans to return illegal migrants to Mexico, regardless of their nationality. Mr. Videgaray's declaration spelled trouble for Secretary of State Rex Tillerson and Homeland Security Secretary John Kelly, who a White House official said were sent to 'talk through the implementation' of Mr. Trump's guidelines'" [Politico].

On CPAC: "The big story: Just less than a year ago, Donald Trump decided to skip CPAC – a decision the organization said he would come to regret, since it 'sends a clear message to conservatives.' The Trump campaign said he would be back in 2017, 'hopefully as President of the United States.' (How many in the room in 2016 thought that would really happen?) Now comes this year's CPAC, with Vice President Mike Pence and President Trump both in the speakers' lineup. That's just a hint of the extent to which the conservative movement has been adopted and co-opted by Team Trump" [ABC News]. Too funny.

On CPAC: "'It's going to take a lot more than what the Trump folks have managed to take conservatism over from Burke and Kirk, to say nothing of Thatcher or Goldwater or Reagan," GOP strategist Liz Mair tells First Read" [NBC News]. Also too funny.

On CPAC: "CPAC organizer denounces 'alt-right' as 'left-wing fascist group'" [WaPo]. Remarkably, "alt-right," "left wing," and "fascist" have been emptied of all meaning, at least by reflex-driven partisans.
Stats Watch
Chicago Fed National Activity Index, January 2017: "The employment report for January looked strong as did retail sales, but the great bulk of economic indicators are still running slightly below historical trend. The national activity index came in at minus 0.05 in January with the 3-month average telling the same story, at minus 0.03" [Econoday]. "Production is the weak link, coming in at minus 0.07 for January and getting very little lift from the manufacturing component. This index is a reminder that even an apparently strong month this cycle, like January, looks soft when compared against historical averages." And but: "Economic activity across the United States weakened in January, signaling softer momentum for the world's largest economy at the start of 2017" [Economic Calendar].
Kansas City Fed Manufacturing Index, February 2017: "Hard data on the factory sector have been flat but not advance indications which are flashing strength ahead. The Kansas City Fed manufacturing index is up 5 points this month to 14 and is led by standout strength in new orders which are up 6 points to 26. And orders are filling up backlogs" [Econoday]. " Gains in this report are at 6-1/2 year highs and reflect, to a degree, easy comparisons after more than 2 years of energy-related weakness." And: "The Kansas City region was hit hard by the decline in oil prices, but activity is expanding solidly again. The regional Fed surveys suggest a strong reading for the ISM manufacturing index for February" [Calculated Risk].
Jobless Claims, February 23, 2017: "Several states were estimated during the week which, for initial claims, was a holiday shortened one for Presidents Day. But the trends for this report are unmistakable, pointing to strong demand for labor" [Econoday]. And: "The trend of the 4 week moving average iinsignificantly worsened this week. This marks 102 consecutive weeks of initial claims below 300,000, the longest streak since 1970. This is the lowest level for this average since November 3, 1973 when it was 244,000. The general trend of the 4 week rolling average is a slowing rate of improvement year-over-year which historically suggests a slowing economy" [Econintersect].
Bloomberg Consumer Comfort Index, week of February, 2019: "held onto the bulk of the prior week's jump" [Econoday]. "This reading on consumer spirits, unlike the consumer confidence and consumer sentiment indexes, has extended its post-election strength."
Commodities: "The United States is expected to become a net exporter of natural gas on an average annual basis by 2018, according to a recently released Annual Energy Outlook update from the U.S. Energy Information Administration. The transition to net exporter is driven by declining pipeline imports, growing pipeline exports, and increasing exports of liquefied natural gas (LNG)" [Farm and Dairy]. "The United States is also projected to become a net exporter of total energy in the 2020s, in large part because of increasing natural gas exports.
Food: "McDonald's Corp., reeling from an industrywide restaurant slump and slowing growth from its all-day breakfast push, is looking to beverages to help perk up the business. The world's biggest food-service company, which last year focused its advertising on cheeseburgers and chicken sandwiches, plans to offer $1 sodas and $2 McCafe specialty drinks across the U.S." [Bloomberg]. "It's turning to higher-margin beverages at a time when cheap grocery prices are prodding more Americans to eat at home. The drink promotion may also help McDonald's cope with the eventual rebound in food costs."
Energy: "Sprawling US pipeline network could see relaxed regulations under Trump" [Workboat]. "The hints of a pipeline spill are subtle: the hiss of rushing fluid, a streak of rainbow sheen. Tucked far below ground, a ruptured line can escape notice for days or even weeks, especially in the backcountry, where inspectors rarely venture." The "backcountry." You mean, like flyover states?
Energy: "Wind plant manufacturing is the fastest growing job sector in the U.S. economy — and this employment has been concentrated in the "Rust-Belt" states, pivotal in swinging the presidential election toward Trump. Similarly, domestic solar companies are growing 12 times faster than the overall job creation rate in the U.S. economy. In total, renewable energy sector employment (PDF) in the United States grew 6 percent in 2016 to 769,000 jobs, while employment in gas, coal and oil exploration and extraction combined fell 18 percent, to 375,000 jobs" [Econoday].
The Bezzle: "10 Companies With the Worst Reputations" [MarketWatch]. #1 is Takata (airbag recalls). #2 is Wells Fargo. Hasn't it ever occurred to the powers that be that is they threw a Wells Fargo executive in jail, the public might regard Wells Fargo — rightly or wrongly — as having purged itself of corruption, eliminating reputational damage?
The Bezzle: "Some technology, like a Bluetooth antenna or an active noise-canceling circuit, is going to cost a manufacturer a certain amount for the components and licensing fees. A manufacturer can't get them into a product for any less. That sets a base manufacturing cost" [New York Times]. Astonishing to me that IP sets the manufacturing baseline. Surely this has not always been true?
The Bezzle: "With states seizing the initiative on shaping the future of self-driving cars, General Motors is trying to persuade lawmakers across the country to approve rules that would benefit the automaker while potentially keeping its competitors off the road" [AP]. "The carmaker denies trying to freeze out other brands, but legislators in four states say GM lobbyists asked them to sponsor bills that the company's competitors contend would do just that. The bills set a blueprint for the introduction of fully self-driving cars that are part of on-demand, ride-sharing fleets, but they must be owned by an automaker."
The Fed: "[S]teady jobs market and rising inflation signal that growth is on track. That was one of the key takeaways of the latest Federal Open Market Committee (FOMC) meeting minutes, which were released Wednesday afternoon. Central bankers now expect interest rates to rise again "fairly soon" in light of recent improvements across several economic indicators" [Economic Calendar].
"The U.S. economy, as measured by gross domestic product, is by far the largest in the world at $18.04 trillion. China, the closest thing the U.S. has for a competitor, is No. 2 with a GDP of $11 trillion, while Japan is a distant third with $4.38 trillion" [MarketWatch] (data source). "However, the narrative shifts when countries are grouped by geography, with Asia clearly in the lead. The region, denoted in yellow in the chart, contributed 33.84% to the global GDP."
Today's Fear & Greed Index: 75 Extreme Greed (previous close: 80, Extreme Greed) [CNN]. One week ago: 78 (Extreme Greed). (0 is Extreme Fear; 100 is Extreme Greed). Last updated Feb 23 at 10:56am. Happy days are here again! The skies above are clear again! So let's sing a song of cheer again! Happy days are here again!
Health Care
"Repeal of Health Law Faces Obstacles in House, Not Just in Senate" [New York Times]. Trump told the House Loons a couple of weeks ago they could punt on ObamaCare. No no, they said, because liberty! We'll have our plan right away. "Oh, OK," says Trump. "Go for it." Then they hit the hustings and it turns out making ObamaCare even worse isn't popular. It turns out the Endowment Effect is true:
Among the increasingly concerned Republicans are those who represent the 24 congressional districts that Hillary Clinton won in the presidential election — roughly the numerical edge Republicans hold over Democrats in the House — and another dozen in districts that President Barack Obama took in 2012 but President Trump won in November. If 25 conservative hard-liners oppose any robust replacement plan, and 30 swing-district House members demand a more generous plan, passage of a compromise bill will be in jeopardy.
What these silly Republicans are forgetting is that ObamaCare is a Heritage Foundation plan in the first place. It's already as bad as it is politically feasible to be! But I have a solution: Make some minor changes, rebrand ObamaCare as FreedomCare, and declare victory. That way conservatives get themselves out of a jam, liberals get to #SaveTheACA, and both factions get to deep six #MedicareForAll and kick the left, which is their only goal in life, at this point, anyhow, except the lucrative job later on K Street. Of course, this is far too sensible….
"'I'm on ObamaCare,' the man, identified as Chris Peterson, 62, told Grassley. 'If it wasn't for ObamaCare, we wouldn't be able to afford insurance'" [The Hill]. ""Over 20 million will lose coverage and, with all due respect, sir, you're the man that talked about the death panels. We're going to create one great big death panel in this country that people can't afford to get insurance…. 'Don't repeal ObamaCare. Improve it, for god's sakes,' Peterson said." Of course, that's hard to do, too; the real improvement needed is Medicare for All. After all, the 20 million not covered by ObamaCare already went before a death panel. Eh?
"Any change to the existing ACA would likely be limited, Boehner said, since 'Republicans never ever agree on health care'" [MarketWatch].
"In a 2013 study, a dozen doctors from around the country examined all 363 articles published in The New England Journal of Medicine over a decade—2001 through 2010—that tested a current clinical practice, from the use of antibiotics to treat people with persistent Lyme disease symptoms (didn't help) to the use of specialized sponges for preventing infections in patients having colorectal surgery (caused more infections). Their results, published in the Mayo Clinic Proceedings, found 146 studies that proved or strongly suggested that a current standard practice either had no benefit at all or was inferior to the practice it replaced; 138 articles supported the efficacy of an existing practice, and the remaining 79 were deemed inconclusive" [The Atlantic].
Big Brother Is Watching You Watch
"Marathon runner's tracked data exposes phony time, cover-up attempt" [Ars Technica]. Don't wear your FitBit while you cut the course in a marathon. In fact, don't carry anything "smart" for any reason, because "smart" does not mean that you are the smart one.
Gaia
"Animals know when they are being treated unfairly (and they don't like it)" [The Conversation]. "The fact that inequity aversion is present not only in a number of primate species but also corvids suggests that this idea of fairness and cooperation is something that cooperative species have got in common which has enabled them to evolve sociability." So mainstream economists are more stupid than crows?
Class Warfare
"Apple's Siri, Amazon's Alexa, Microsoft's Cortana, and Google's Google Home peddle stereotypes of female subservience—which puts their "progressive" parent companies in a moral predicament" [Quartz]. "People often comment on the sexism inherent in these subservient bots' female voices, but few have considered the real-life implications of the devices' lackluster responses to sexual harassment. By letting users verbally abuse these assistants without ramifications, their parent companies are allowing certain behavioral stereotypes to be perpetuated. Everyone has an ethical imperative to help prevent abuse, but companies producing digital female servants warrant extra scrutiny, especially if they can unintentionally reinforce their abusers' actions as normal or acceptable." Siri, Alexa, Cortana (and Google Home) aren't servants. They're slaves. They're owned.
"L.A. County has traded high-paying jobs for low-paying ones" [Los Angeles Times]. "Los Angeles County has recovered the jobs it lost during the recession. But a new report says the region's job base has shifted over the last 10 years, losing tens of thousands of higher-paying manufacturing and finance jobs and gaining lower-paying service jobs."
News of the Wired
"Announcing the first SHA1 collision" [Google Security Blog].
"Science is facing a 'reproducibility crisis' where more than two-thirds of researchers have tried and failed to reproduce another scientist's experiments, research suggests" [BBC]. "This is frustrating clinicians and drug developers who want solid foundations of pre-clinical research to build upon."
"Why The Analog Photography World is a Far Nicer Place Than Digital" [The PhoBlographer]. "Put an image into a forum, and chances are that the first thing someone will try to do is pixel peep it and judge the sharpness. But that mostly happens with digital. If you do this with film, you're kind of laughed at. With film, it's nice to appreciate the sharpness of a lens or film let alone a good scan, but it's also much more important to judge the actual photo. We learn how to judge tones and understand the fact that, for the entire time during the shoot, the photographer was in the zone. They tried their very best to get the greatest photo that they possibly can knowing and understanding the pressure put on them by the limitations of film." Hmm. Readers?
"I fought 32 wildfires over fifteen months as part of my ethnographic research. I fought them with men who are currently in prison. Many western U.S. states use prison labor to fight wildfires. My dissertation examines this atypical prison program, focusing on the experiences with and meanings of such risky, skilled work from the perspective of program participants. In order to get at these meanings of wildfire work for incarcerated people, I had to jump in and dig trenches and handle flamethrowers from time to time. Fighting fires is intense, and so overwhelming from a research perspective, that I had to come up with a specific approach to remembering them" [Allegra Laboratory]. Must-read.
* * *
Readers, feel free to contact me with (a) links, and even better (b) sources I should curate regularly, and (c) to find out how to send me images of plants. Vegetables are fine! Fungi are deemed to be honorary plants! See the previous Water Cooler (with plant) here. And here's today's plant (via):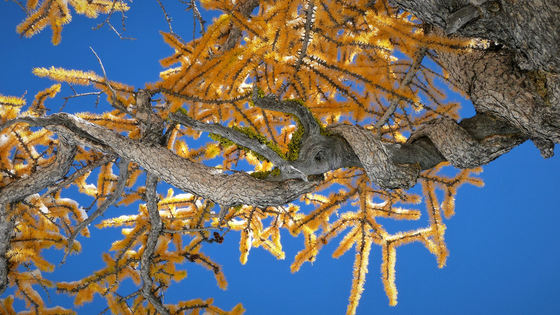 Golden Larch branch in Wenatchee National Forest.
Readers, Water Cooler is a standalone entity, not supported by the very successful Naked Capitalism fundraiser just past. Now, I understand you may feel tapped out, but when and if you are able, please use the dropdown to choose your contribution, and then click the hat! Your tip will be welcome today, and indeed any day. Water Cooler will not exist without your continued help.