By Lambert Strether of Corrente.
Last week was quite a week for single payer advocacy; I haven't been this encouraged for some time. Volatility, as I keep saying, creates opportunity. I'm not going to speculate on what Trump's replacement plan might be — apparently he's decided against punting after all[1] — except to point out that ObamaCare is already a Republican plan, and that the most the Republicans can do is send more people to Pain City instead of HappyVille than are already headed there; the effects of any replacement, that is to say, will be marginal (which isn't the same as insignificant) because that's what shifting from the mandate to a continuous coverage requirement, for example, is: Tinkering with the Rube Goldberg device at the margins. Now, I personally don't see how Republicans do even that without losing voters they need in counties in swing states in 2020, but then four years is a long time in politics. And maybe they can gerrymander the coverage so their own constituents skin by.
What encouraged me? Two things: First, Jessi Bohon's advocacy of Medicaid for All from a Christian perspective at a Tennessee town hall; and California's introduction of a single payer bill, with the support of National Nurses United. I'll look at those two topics, and then turn to consideration of how the Women's March and the Resistance Manual's prioritize single payer as a policy issue.
But first, a word on the politics of single payer. As as is well-known, single payer is very popular. Pew Research in January, 2017 gives the trendlines: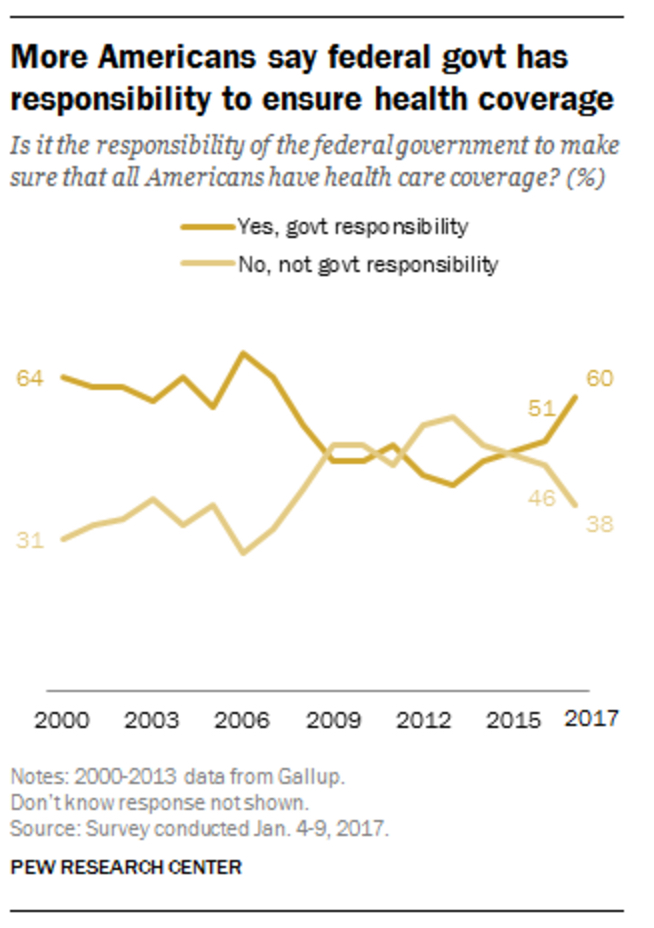 You'll notice that support for "government responsibility" — presumably this means single payer, as opposed to a national health service, not on offer anywhere — peaks in 2006 at 64%+, gradually diminishes to a trough of roughly 50% from 2009-2015, and then rises steadily back to 60% in 2017. It's not too far-fetched, I think, to attribute the 2006 peak to the Democrat takeover of the House and Senate, with people believing the Democrats couldn't possibly screw up a no-brainer like Medicare for All — that was one reason I felt OK going to Maine and "going naked" without health insurance what I thought would be a year or so, until the Democrats replaced MaineCare with a Medicare for All; can you believe I was really that stupid? — with the subsequent decline happening as people became disillusioned by the various betrayals involved in ObamaCare's passage, and then by how crappy it was. Then along came 2016, and — nobody could have predicted this — Sanders' energetic advocacy lifted single payer's support right back up to normal. So who are those supporters? Pew once more:
More than eight-in-ten Democrats and Democratic-leaning independents (85%) say the federal government should be responsible for health care coverage, compared with just 32% of Republicans and Republican leaners…. The belief that the government has a responsibility to ensure health coverage has increased across many groups over the past year, but the rise has been particularly striking among lower- and middle-income Republicans.

The survey also finds continued differences on this question by race and ethnicity as well as income. A large majority of blacks and Hispanics (85% and 84%, respectively) say the government should be responsible for coverage, while non-Hispanic whites are split on the issue (49% agree, 49% disagree). And while about three-quarters of those with family incomes of less than $30,000 per year (74%) say the government should ensure coverage, only about half (53%) of those with incomes of $75,000 or higher say the same.
So, if you squint hard and envision the Democrat Party as it used to be, instead of the party dominated by smug squilllionare-servicing professionals it is today, you can see that not only is the Democrat base for single payer, but Republicans are there for the taking as well (and remember how tight 2016 was; the Democrats wouldn't need to pick up very many).
Jesse Bohon and the Christian Case for Single Payer
A word about "the Christian case": In the steam-powered era of blogging, 2003-2006, I, and many many other "progressive" bloggers, did a good deal of mocking and shaming of Christianity and Christians; that was one aspect of snark. And the Pharisees of the Bush administration richly deserved it! But deserved or not, the bottom line is that the mocking and shaming — a precursor, or even an earlier brand, of today's "callout culture" — simply didn't work politically; Bush, after all, won two terms, started (with Democrats' help) the Iraq War, and laid the foundations (with Democrats' help) for the surveillance state that Obama consolidated and normalized. I don't know what the opportunity cost of the immense mental and verbal effort sunk into snark was, but it's certainly possibly the cost was connecting with voters. So today, I don't much care what route people take to supporting universal programs that provision concrete material benefits for everyone, especially the working class. If their path lies through faith, then so be it. That said, here's the video (which I ran in Water Cooler as soon as it crossed by Twitter feed). Jesse Bohon at a Tennessee town hall:
Seriously urge everyone to watch this entire question from a woman at GOP #Obamacare townhall in Tennessee: pic.twitter.com/8mBGE1z6Rj

— MJ Lee (@mj_lee) February 10, 2017
Here's the transcript. Marie Claire:
My name is Jessi Bohon and I'm in your district. It's from my understanding the ACA mandate requires everybody to have insurance because the healthy people pull up the sick people, right? And as a Christian, my whole philosophy on life is pull up the unfortunate. So the individual mandate, that's what it does. The healthy people pull up the sick. If we take those people and put them in high-risk insurance pools, they're costlier and there's less coverage for them. That's the way it's been in the past, and that's the way it will be again. So we are effectively punishing our sickest people. And I want to know why not, instead of fix what's wrong with Obamacare, make companies like Aetna that pulled out and lied to their consumers about why they pulled out, and said they pulled out because Obamacare was too expensive, but they really pulled out because of a merger.
Bohon's question went viral. CNN, amazingly, or not, proved that they are owned by the looting professional classes by simply erasing the key part of Bohon's question, helpfully underlined above). The Atlantic, however, used the video as a story hook to highlight the political opportunity:
A Political Opening for Universal Health Care?

The political appeal of a single-payer, universal health-care system is perhaps best outlined by Jessi Bohon, a high-school teacher who attended a raucous and often angry town hall with Republican Representative Diane Black in Murfreesboro, Tennessee, last week.

[I]n the turmoil over the fate of Obamacare, the idea of universal health care has emerged as a third way among voters in both parties. The health system the mainstream GOP opposes most is now one some of its voters support—potentially making Price's task of replacing Obamacare all the more complicated.

Were they to take the plunge, Democratic candidates could run as challengers in upcoming elections on a third way of health reform: neither extending unpopular pieces of a program nor rolling back coverage, but giving everyone Medicare. And if the Democratic Party were to support universal health care, that might put pressure on Republicans, who wouldn't want to lose voters who fear loss of coverage or doctors under a massive repeal.

Thus the precariousness of the Republicans' position.
Slate inadvertantly gives the cultural reasons, if I may so dignify them, why Democrats might find this hard to do. But first the headline:
Meet the Teacher Whose Powerful, Christian Defense of Obamacare Made a GOP Town Hall Go Viral
Note that the editor who presumably wrote the headline was just as dishonest as CNN; the headline, too, erases the key part of Bohon's question. To be fair, the reporter doesn't erase it, and draws Bohon out as follows:
Yet when I ask Bohon what she hopes people get out of her burst of viral celebrity, she doesn't mention religion or health insurance. She returns to her childhood, to the stereotypes Americans have of Appalachia and the South. 'There are people in Tennessee, there are people from these little rural areas, that are different than they are categorized to be.' And what might that be? 'Hillbilly dumb.' That's wrong, she says. 'I learned everything about taking care of your community growing up there.'

If the Democrats really want to use single payer as the road back to poltical power, therefore, they are also going to have to give up the snarky insults about how stupid everybody else is. That will be hard for them. It will be especially hard for them if the Clintonites maintain their death-grip on the party leadership positions, since insulting non-Clintonites is their stock in trade. Bohon, for example, could be said to "cling to" her religion. Eh?
Finally, here's Bohon's Op-Ed in the Washington Post, where she reflects on the town hall and advocates for single payer directly:
As a Christian, I defended Obamacare. But I really support single-payer

But the truth is that I do not actually believe that the ACA is the best way to insure people. In fact, I am ashamed and afraid that this video might have done more harm than good. In my view, Christians shouldn't be satisfied with health-care policy that leaves anyone out, especially those who need care most but can afford it least. Christians should support a universal, single-payer system.

If I had a chance to address our leaders directly again, I would say this: Christianity demands that we make sure all people have health coverage. In other words, I would have focused instead on the Christian case for universal, single-payer health insurance, which would protect all Americans. And if Republicans want to campaign as Christians, they should lead the way.

In my view, it is immoral for health care to be a for-profit enterprise. Insurance companies are making enormous sums of money off the sick while people are struggling to pay their medical bills. Patients even die sooner when nonprofit hospitals switch to making money.
Preach! As we say.
California Introduces Single Payer Legislation
From the San Jose Mercury News:
SACRAMENTO — In a surprise move made in response to President Donald Trump's push to repeal and replace the Affordable Care Act, two California lawmakers Friday introduced legislation to replace private medical insurance with a government health care system covering all 38 million Californians — including its undocumented residents.

"We've reached this pivotal moment and I thought to myself: 'Look, now more than ever is the time to talk about universal health care,'" one of Senate Bill 562's authors, Sen. Ricardo Lara, D-Bell Gardens, said in an interview Friday.

The Healthy California Act, co-authored by Sen. Toni Atkins, D-San Diego, was submitted just before the deadline for new legislation. It doesn't yet offer many specifics other than the lawmakers' intent: to create a so-called single-payer system that would pay for coverage for everyone.
In other words, the best defense against Trump is a good offense. (I view including illegal immigrants in the program pragmatically; if that's what's needed to secure passage, then so be it. If it's a dealbreaker, dump it. Separately, it makes sense to get illegal immigrants into the system for vaccination, transmissible diseases, and to manage epidemics.) Of course we're going to need to see the details, but California's GDP is about the size of France's, so there's absolutely no question of scale, as there was with Vermont (and possibly Colorado).
Happily, National Nurses United is strongly in favor of the bill:
RoseAnn DeMoro, executive director of National Nurses United, the largest U.S. organization of registered nurses, said the union would mount a "major mobilization" to try to enact a single-payer system in California.

She said she believed it had a better chance than in years past because of President Trump's efforts to overturn the Affordable Care Act, a more active political base, and a new crop of state legislators who are younger and more open-minded."It is one of the most salient issues of our time," she said.
At this point, it's important to remember that establishment Democrats — hold on to your hats, here, folks — worked to prevent single payer from passing in Colorado. Democrats also sabotaged previous efforts in California. Health Care Now:
Though it's passed the legislature twice before, a bill to establish a single-payer universal health insurance system in California failed in the state senate in January.

Not surprisingly, the bill received no Republican votes, but it fell just two votes short of passage when , despite intense lobbying efforts by community and some labor health care activists.

Angry activists pointed to the fact that five of the six errant Democrats had received money from the insurance industry and Big Pharma, ranging from $100,000 to over $250,000. Three of the six senators had been endorsed by the California Labor Federation which, along with unions such as the Service Employees and AFSCME, was on record supporting the single-payer bill. The California Democratic Party was also on record supporting it.

But when Congress passed federal health reform in 2010, defending that bill, as well as President Obama, became paramount for many Democrats. It became more difficult for legislators to vote for a single-payer bill that might be interpreted as deserting the president, and the Democratic leadership refused to put the bill up for a final vote in the Assembly.
In other words, ObamaCare did exactly what Heritage Foundation designed programs like it to do: Obstruct single payer, because markets. But that was 2010. This is 2016. In 2010, we had no experience with ObamaCare. Now we know all about it.
I'm really starting to take a "Silence = Death" view of single payer. #SaveTheACA is not enough, not nearly enough. In fact, merely saving the ACA is not only political malpractice, it's a failure to act in solidarity with the (predominately female, and female-led) National Nurses United, it's a failure to stop throwing hundreds of billions of dollars yearly down the open maw of the health insurance industry, and it's a failure to prevent tens of thousands of excess deaths yearly (Blacks being especially hard hit by the absence of universal coverage).
Bringing me to the #TheResistance. They've been contacting a lot of Congress Critters, and making a lot of calls. What are they saying about Medicare for All?
Where's the #TheResistance on Single Payer?
Let me caveat that when I say the #TheResistance, I mean the national leadership; #TheResistance to which Neera Tanden proudly belongs. I would be very, very happy to hear about local resistance efforts on behalf of single payer. So, first let's look at the Women's March. There's no action that has anything to do with single payer, so we'll have to rely on their miserably inadequate and mealy-mouthed Principles:
WORKER'S RIGHTS

We believe in an economy powered by transparency, accountability, security and equity. All women should be paid equitably, with affordable childcare, sick days, , paid family leave, and healthy work environments. All workers – including domestic and farm workers, undocumented and migrant workers – must have the right to organize and fight for a living minimum wage.
What does "access to" "health care" even mean? (In my reading, "affordable" applies only to "childcare," and isn't distributed over all the programs advocated, because "[affordable] sick days" makes no sense.) Apparently, therefore, a program even worse than the "Affordable Care Act" would comply with the Principles. And then:
LGBTQIA RIGHTS

We firmly declare that LGBTQIA Rights are Human Rights and that it is our obligation to uplift, expand and protect the rights of our gay, lesbian, bi, queer, trans or gender non-conforming brothers, sisters and siblings. We must have the power to and be free from gender norms, expectations and stereotypes.
An LGBTQIA with a $10,000 deductible who can't afford care can hardly be said to have control over her own body, surely? Were I inclined to adopt the language of identity politics, I'd go so far as to claim these Principles are coming from a place of privilege!
And now the Resistance Manual. To be fair, they mention HR 676:

And they mention PNHP on their health care organizations page:

But when it comes to action… Well, here's the original:

Since the Resistance Manual is a wiki, I set up an account and made some changes, helpfully highlighted: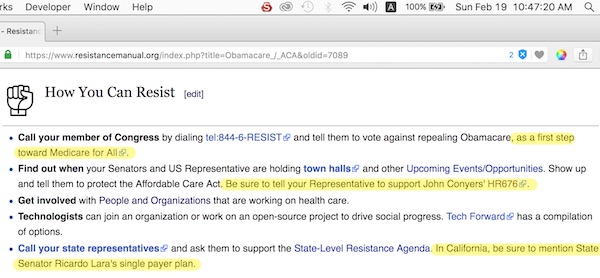 The changes are now awaiting approval. It will be interesting to see what happens! Readers, if you can, would you monitor the page?
Conclusion
This #SaveTheACA bushwa has to stop. It may be necessary, but it's not sufficient. #TheResistance at all levels should stand in solidarity with National Nurses United and support Medicare for All, and demand it in their calls and contacts. The Neera Tandens of this world should swallow hard and do the right thing. The opportunity is there, as the Sanders campaign proved. As do viral videos like Jesse Bohon's.
NOTES
[1] One might speculate that Trump is pandering to the market fundamentalists in the Republican establishment, whose votes he will need in case of impeachment.