By Lambert Strether of Corrente
Trade
Fed Governor James Bullard: "I can appreciate that President Trump has a trade agenda and he wants to change things, but from a macroeconomic perspective, I see that as a slow-moving policy. There are armies of lawyers, and they meet for years and years and years and the final result is probably not all that different than what you have now. It's possible that there are other ways that this could move faster, but rules are rules and agreements are agreements, so they take a long time to change" [Politico].
Politics
2016 Post Mortem
"In the DNC Race, the Democratic Establishment Seems to Have Successfully Preempted the Left" [Ed Kilgore, New York Magazine]. "Democrats today, left and center, are in a very different position from the Republicans of the recent past. Party divisions over policy are a lot less numerous, and Democrats are united in wanting to use government for positive purposes in a way Republicans haven't exhibited in 40 years. But the age-old challenge remains for partisans of every variety: keeping eyes on the prize of general-election victories instead of the fool's gold of dominating one's own party. That's as true for the Democratic Establishment types who keep frustrating left insurgents as it is for the insurgents themselves." What on earth does "united in wanting to use government for positive purposes" mean? Did Clinton come out of the woods and sign on to #MedicareForAll?
SOTU
"Six critical reactions to keep an eye on during President Trump's first address to Congress" [WaPo]. We need a drinking game; mine would be to open a bottle and imbibe steadily and systematically. But then that's my solution for most anything these days (kidding!).

"What the G.O.P. Wants Trump to Say Tonight" [New York Times]. Media critique: Notice the extremely classy black-and-white photo of Trump. The Flynn defenestration really changed the tone. The writer, a Republican Congressman: "However, President Trump will need to do more than merely wait upon a Republican Congress to produce the legislation he has championed. He must become an active participant in the legislative process." Hoo boy.

"Trump is not focusing his first major address as president on repealing and replacing Affordable Care Act" [Politico]. Trump may be crazy, but he's not dumb. Too bad for him he got rolled on Flynn; pour encourager les autres works both ways…
Trump Transition
"A day after House conservatives panned a leaked GOP draft ObamaCare replacement plan, a top Republican leader on Tuesday described the proposed legislation as 'no longer even a viable draft that we're working off of'" [The Hill]. The Freedom Caucus is going bughouse again. Maybe Mitch can have Elaine cross those guys off the infrastructure goodies list? If Trump ever gets round to that?

"The campaign to let 20 million Americans keep their health insurance is working" [David Leonhardt, New York Times]. I love liberals. Let me add the sentence Leonhardt left out: "But the fight to get health care to the 20 million who don't have health insurance must 'never, ever' begin." Fixed it for ya.

"President Donald Trump said he believes the extra $54 billion dollars he has proposed spending on the U.S. military will be offset by a stronger economy as well as cuts in other areas" [Reuters]. "'I think the money is going to come from a revved up economy,' Trump said in a Fox News interview broadcast on Tuesday, hours before he was to address a joint session of Congress." Military Keynsianism is the best Keynsianism. Indeed, the only Keynsianism.

Trump, February 27, 2017: "I have to tell you, it's an unbelievably complex subject. Nobody knew that health care could be so complicated" [New York Times]. "Trump and Obama say health care is complicated" (clip compilation) [Politico]. Thanks to Politico for ratcheting down the hysteria on this one.

Trump: ""I think in terms of effort, which means something, but I give myself an A-plus, OK, effort, but results are more important. In terms of messaging, I would give myself a C or a C-plus. … In terms of achievement, I think I'd give myself an A because I think I've done great things, but I and my people I don't think we've explained it well enough to the American public" [Time]. So, just like Obama, Trump thinks any problem can be solved with public relations?

"President Donald Trump finally got the leading member of his trade team after Wilbur Ross won Senate approval Monday night to be Commerce secretary in a 72-27 vote. Twenty Democrats joined 51 Republicans and one independent, Sen. Angus King, to approve Ross, who is expected to be the architect of Trump's tougher approach to trade" [Politico]. So can #TheResistance please abandon the Trump-as-fascist talking point or start actively pillorying the Democrats who vote for the guy? Or is America exceptional because even a modicum of consistency is no longer necessary in political discourse? More: "Other Democrats, like Sen. Sherrod Brown, looked ahead. "I look forward to working with him in his new role as Commerce secretary to address the urgent need to reduce China's steel overcapacity, which has devastated the U.S. steel industry and its workers," Brown said."

"Of 549 key administration positions that require Senate confirmation, just 15 of Trump's picks have been confirmed, while an additional 18 await confirmation. For 516 of the positions — or 94% of the total — the White House hasn't yet nominated a candidate, according to the Partnership for Public Service, a nonprofit group that works with the White House and campaigns to professionalize the transfer of power between administrations" [Wall Street Journal, "Trump Slow to Submit Nominations for Top Administration Posts"]. "
Realignment and Legitimacy
"Bernie Sanders tells Jake Tapper that he won't share his email list with the full DNC, but rather use it to help candidates he chooses" [CNN]. Good. After the Democrat Establishment's screw job on Ellison, no reason to give them anything but a poisoned chalice (which Bernie is probably too nice to do, sadly).

"READ IN FULL: Bernie Sanders' Speech on Israel, Trump and anti-Semitism at J Street Conference" [Haaretz]. "As the United Nations Security Council reaffirmed on December 23, the settlements also constitute a flagrant violation of international law. I applaud the Obama administration's decision to abstain from vetoing UN Security Council Resolution 2334. Those of us who really support Israel have got to tell the truth about policies are hurting chances of reaching a peaceful resolution." Haim, thoughts?

"Our Revolution, the successor to Bernie Sanders' campaign, is endorsing and supporting candidates from the local level up, and the new group Justice Democrats is aiming to "replace every establishment politician in 2018." Even inside the structure itself, The Wall Street Journal reported last week, progressives from the Sanders camp are taking over local Democratic committees and state parties from Hawaii to Nebraska. Call it reforming the party or entryism; whatever it is, it's starting to work." [The Week].

"Is There More to the Flynn Story?" [Philip Giraldi, The American Conservative]. On the sudden resignation of "Robert Hannigan, the head of Britain's highly secretive Government Communications Headquarters (GCHQ), which is the codebreaking equivalent of the U.S. National Security Agency (NSA)," who decided to "spend more time with his family" (!!!). "[F]ormer colleagues and I have come to suspect something does not smell right with the Hannigan resignation and would seem to be quite plausibly related to Flynn… Aggrieved senior officials [the nine ringwraiths current and former officials anonymously sourced by WaPo] closely tied to the outgoing White House might have surreptitiously sought assistance from a 'special relationship friend' in a foreign government to make a case that would humiliate and ultimately bring down an unlovable and abrasive incoming national-security advisor. Of course, one still needs to learn who those senior officials were and consider whether they should be allowed to walk away from what they have done. As for Hannigan, did the Trump White House discover what had occurred and did it back channel to British Prime Minister Theresa May demanding that someone's head roll?"

"It's difficult to determine how many people decide not to pay federal taxes as a form of protest, and how many the IRS fines for that, Hedemann said. The National War Tax Resistance Coordinating Committee estimates there are several thousand each year who refuse to pay some or all federal income taxes, or refuse to pay federal excise tax for local service or landlines because they oppose war. The number has varied over the years and was likely at its peak during the early 1970s when an estimated 20,000 refused at least some of their income tax and 500,000 refused their telephone taxes, he said. Hedemann predicts the number will grow this year, and in the next several years, but "it's way too early to tell'" [MarketWatch].
Stats Watch
GDP, Q4 2016 (second estimate): "little change, actually no change at the headline level" [Econoday]. "Inventories show little change in the revision, rising what may prove an unwanted $46.2 billion and contributing 9 tenths of a percentage point or nearly half of the quarter's total growth. Net exports are unchanged, subtracting 1.7 percentage points as exports fell sharply and imports rose even more sharply. Government purchases get a downgrade, contributing only a small fraction to the quarter's GDP." But and: "Relatively, the consumer went limp, and GDP is gamed with inventory hocus-pocus and export-import adjustments. I am not a fan of quarter-over-quarter method of measuring GDP (as it exaggerates error) – but my year-over-year preferred method showed improvement from last quarter" [Econintersect]. And: "Real GDP in Q4 was slightly weaker than expected, coming in unrevised at 1.9%. The shortfall relative to my expectations reflects the old saying "a few billion here and a few billion there, and pretty soon it adds up to real money." There were not any big surprises, but a handful of categories came in a few billion dollars lower than I had anticipated. Business spending on equipment, intellectual property, state and local government outlays, and inventories were all a little lower than expected. Meanwhile, the main category that was revised higher was consumer spending, which was boosted from a 2.5% growth rate to a 3.0% annualized rise, in line with the robust average recorded since the beginning of 2014″ [Amherst Pierpong Securities, Across the Curve].
Richmond Fed Manufacturing Index, February 2017: "Manufacturing activity in the Fifth District expanded for the fourth consecutive month in February, with the Richmond Fed Manufacturing Index rising a strong 5 points to 17. Strength was broad based" [Econoday]. "Employment components also contributed to strength, with the number of employees index rising 2 to 10, the average workweek index up 11 to 16, and wages up 4 to 15." And: "For the fourth month, the regional Fed surveys seem to be saying uniformly that growth is expanding. The Richmond Fed subcategories were strong – especially new orders" [Econintersect].
Chicago PMI, February 2017: "Big swings are not uncommon at all for the Chicago PMI which surged to 57.4 in February vs a January reading that was barely in the plus-50 expansion column" [Econoday]. "New orders are the strength of the report as is production." And: "The Chicago Business Barometer which recently has spent more time in contraction than expansion, improved and remained in expansion. This survey came in well above expectations" [Econintersect]. "The results of this survey continue to agree with district Federal Reserve manufacturing surveys – and aligns with the overall trend of the ISM manufacturing survey."
State Street Investor Confidence Index, Februart 2017: "The decline in global sentiment was again driven by a strong decline in the European component" [Econoday]. "State street noted that global institutional investors continued to shy away from risk despite ongoing uptrends in risky asset prices, with a striking disparity in the risk tolerance of North American institutional investors and those in other regions."
Consumer Confidence, February 2017: "The consumer sentiment index may have lost a little steam but not the consumer confidence index which continues to make new post-election highs and new cycle highs" [Econoday]. "Expectations for future jobs are also strengthening with more, 20.4 percent, seeing more opening up and fewer, at 13.6 percent, seeing less jobs ahead. Strength in jobs sentiment makes for strength in income expectations where the spread between optimists and pessimists (18.3 vs 8.2 percent) is a very healthy 10.1 percentage points."
International Trade in Goods, Janurary 2017: "The nation's goods gap widened sharply in January" [Econoday]. "Imports of consumer goods and also vehicles are once again the source of the trade mismatch, surging 4.8 percent and 2.9 percent respectively and helping to lift total imports by 2.3 percent. Exports fell 0.3 percent with weakness in capital goods."
S&P Corelogic Case-Shiller Housing Price Index, December 2016: "Lack of resales on the market is driving up prices" [Econoday]. "The Case-Shiller 20-city index has settled into a steady and moderate climb." And: "Many pundits believe home prices are back in a bubble. Maybe, but the falling inventory of homes for sale keeps home prices relatively high. I continue to see this a situation of supply and demand. It is the affordability of the homes which is becoming an issue for the lower segments of consumers" [Econintersect].
Durable Goods (yesterday): "[C]ore capital goods orders were a touch softer than projected in January, falling by 0.4% (partially offset by a four-tenths upward revision to December). The modest decline in January breaks a string of three straight monthly advances (and 6 out of 7), but the setback is modest. Similarly, core capital goods shipments slid by 0.6% in January, but December's level was revised higher by six tenths of a percentage point. My view on business investment remains that there is a good deal of pent-up energy that had been held back by an adverse and uncertain policy environment. The surge in business sentiment in recent months suggests that some of that energy is leaking out already, but my guess is that a full-on strengthening in investment will probably have to wait until there is greater resolution on some of the outstanding policy questions, particularly corporate tax reform" [Amhert Pierpont Securities, Across the Curve].
Pending Home Sales, Durable Goods Orders, Dallas Fed (yesterday): "Same story, expectations trumped up but actual numbers not so good" [Mosler Economics]. Also, Japan's monetary policy debacle. Who could have known?
Commodities: "De Beers, the world's No.1 diamond miner by value, reported Tuesday a drop in this year's second sale of rough gems, as it fetched $545 million, down from the $617 million it sold in the same period last year" [Mining.com].
Today's Fear & Greed Index: 68 Greed (previous close: 70, Greed) [CNN]. One week ago: 83 (Extreme Greed). (0 is Extreme Fear; 100 is Extreme Greed). Last updated Feb 28 at 12:01pm. Still sedate.
Health Care
"Does Trump really know how to fix Americans' health care?" [Brent Arends, MarketWatch]. "'Great meeting with CEOs of leading U.S. health insurance companies who provide great healthcare to the American people,' Trump tweeted after his big summit with health insurance honchos. Wrong again, Mr. President. The CEOs of leading health insurance companies do not 'provide great healthcare to the American people.' The CEOs of the leading health insurance companies do just three things: They collect our money. They give some of it back to us, grudgingly, when we need it. And they slip $1 of every $8 — or more — into their own pockets. That's about it. They don't do any providing whatsoever. How ironic that Trump should invite these grossly overpaid paper shufflers, parasites, and middlemen to the White House to discuss soaring medical insurance premiums and declining choice…. Either we let people suffer and die from treatable illnesses because they can't pay for treatment — or we don't. If we don't leave them to suffer and die, then we must have some form of universal coverage, a.k.a. socialized medicine. There is no third option. The main reason Obamacare and the entire U.S. health-care system is too expensive to run is because we keep lying to ourselves. We are trying to have a socialized medicine system that pretends it isn't one." I'm rather amazed to see prose taking this tone in MarketWatch, and from Romney's biographer, of all people. It does seem that the tide is slowly turning. It would help if the Democrats would get out of the way.
Black Injustice Tipping Point
"The executive order, the development of which many advocates say has been among the most progressive partnerships between the White House and HBCUs in decades, could reveal new standards of funding and federal support for black colleges, including moving the White House Initiative on HBCUs under the purview of White House administration and mandatory funding benchmarks from federal agencies for grants and contracts" [HBCU Digest]. Oh, and: "First Black President Cuts Funds For Black Higher Education" [Black Agenda Report]. And: "Tensions spilled over after a recent Congressional Black Caucus meeting with Obama and Vice President Biden in which the president said that historically black schools, also known as HBCUs, needed to do a better job graduating students and not saddling them with debt, according to several people at the meeting. Some Black Caucus members bristled at those remarks since they say the president didn't acknowledge that his own administration was also pursuing policies that advocates say are hurting the schools" [WaPo]. Plus the usual Obama finger-wagging.
There was a good deal of liberal harrumphing and pearl-clutching about this photo:
Kellyanne Conway checks her phone after taking a photo of President Donald Trump and leaders of black universities, colleges in Oval Office pic.twitter.com/MgVhCoJFuC

— AFP news agency (@AFP) February 28, 2017
But…
Also, I literally sit like this on the ground in every presser. Lots to question here, but wear a dress & heels & tell me how you sit first. https://t.co/MrY0kZ2VLb

— Nomiki Konst (@NomikiKonst) February 28, 2017
More importantly, DeVos really is a blinkered idiot [Forbes]. "What most rattled HBCU advocate was Secretary DeVos' equation of the establishment of HBCUs with her longstanding philosophy of school choice, the ability of families to select what public or private schools they wish for their children. This philosophy includes state-funded vouchers that would pay for students to attend private schools that meet minimum educational standards. DeVos has been criticized for this stance because it would support religious schooling, some of which is anti-science. Instead, HBCUs were first established to provide higher education to emancipated African-Americans–often by Whites who were abolitionists and/or from the Quaker and Methodist churches–specifically because they were unwelcome at majority institutions as part of Jim Crow laws." Wowsers.
Class Warfare
"Former president Jimmy Carter said Tuesday on the nationally syndicated radio show the Thom Hartmann Program that the United States is now an 'oligarchy' in which 'unlimited political bribery; has created 'a complete subversion of our political system as a payoff to major contributors.' Both Democrats and Republicans, Carter said, 'look upon this unlimited money as a great benefit to themselves'" [The Intercept]. Nice to see Tom Perez come out so strongly for the Sanders funding model. Oh, wait…
News of the Wired
Cell phone extravaganza:
"The combined revenues from mobile hardware, software and services sales in 2017 is forecast to total $1.57 trillion, a 2.6% year-over-year increase. Through 2020, products and services purchases are expected to rise at a compound annual growth rate of 2.1% and post revenues of $1.67 trillion in 2020" [247 Wall Street]. That's real money!
"Nokia 3310 won't work in many countries across the world, including the US and Canada" [Independent]. "[T]he new version of the handset still communicates with networks using the same old frequencies: 900 MHz and 1800 MHz, used for the kind of 2G communications that sent calls and texts before mobile internet caught on. But those frequencies have already been turned off in much of the world – including in the US and Canada – and they are gradually being switched off in many of the countries that still use them, too."
The Amazon reviews for a phone designed for rectal smuggling are pretty interesting reading" [Boing Boing].
"Report: Next-gen iPhone could dump the Lightning port in favor of USB-C" [Ars Technica]. Sure. I'll buy new equipment because Apple changed cables again.
"The Minneapolis Police Department likely disabled the cell phones of the two protesters rappelling from the ceiling of U.S. Bank Stadium on January 1" [Fox 9] "Unconfirmed scanner reports mentioned police disabling the protesters' phones so they would only take calls from negotiators. While the Minneapolis Police Department would not confirm the disabling, the officials sent a statement to Fox 9 on Monday saying: "This technique was used twice in the past three years. This involved extreme circumstances where a person's safety was in immediate danger.""
"The smartphone revolution is poised to go onto the next level — with "superphones" equipped with artificial intelligence now on the horizon" [Agence France Presse]. "By learning their owners' habits, these new phones will be able to carry out tasks even when they're offline." What could go wrong?
"Research shows that smartphone addiction increases stress levels and, in students, negatively affects academic performance. That likely goes for work performance as well. And whatever I have gained by clicking on another link, I have lost in uninterrupted thinking or quality time with my family" [Bloomberg]. "I'm not alone in feeling that using a smartphone is making my life more fragmented and thus possibly poorer."
* * *
Readers, feel free to contact me with (a) links, and even better (b) sources I should curate regularly, and (c) to find out how to send me images of plants. Vegetables are fine! Fungi are deemed to be honorary plants! See the previous Water Cooler (with plant) here. And here's today's plant (RH):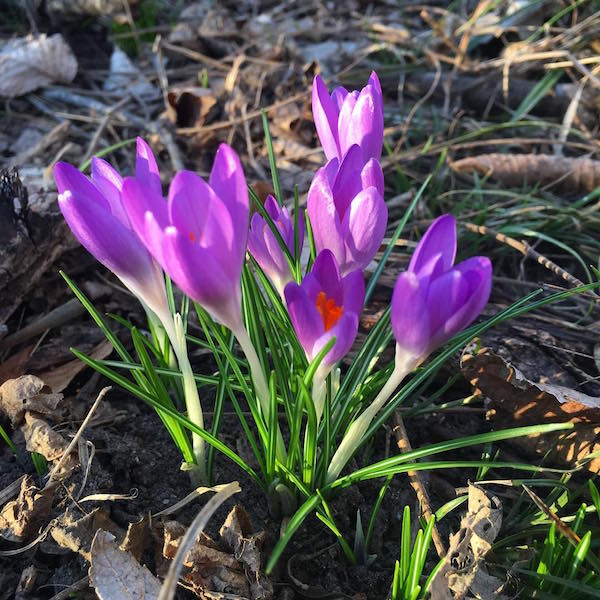 At last!
Readers, Water Cooler is a standalone entity, not supported by the very successful Naked Capitalism fundraiser just past. Now, I understand you may feel tapped out, but when and if you are able, please use the dropdown to choose your contribution, and then click the hat! Your tip will be welcome today, and indeed any day. Water Cooler will not exist without your continued help.