By Lambert Strether of Corrente
Politics
Trump Transition
RIght now, Trump is the only top-ranking politician in power — and this will "never, ever" happen, I'm doing counterfactual future history here — who I can even imagine totally reversing course and coming out for Medicare for All ("Only Trump can go to…"). This anecdote, from Barbara Tuchman's The Guns of August, explains why:

Trump strikes me as very much a "We simply march the whole of our Army to the East" kind of guy. Whereas the Beltway Republicans, ideologically bound (and funded) as they are, are very much Moltkes: "Once settled it cannot be altered!" (So, the Schlieffen Ryan Plan — "Remember: keep the right wing very strong" — because, dammit, our staffers already made the PDFs and besides, because markets.) I think, also, that people who are looking, in good faith, for historical figures to compare to Trump, they could do worse than look to Kaiser Wilhelm II (as opposed to Hitler. I know that the Kaiser isn't a demon figure, but I did say good faith. And Kaiser Wilhelm isn't exactly re-assuring, if you look at the record….)

The Trump team has advance game, when they want it. Watch the video:

Boy, this is solid marketing. Camera filter, good staging & doggie treats on hand. cc: @AdvanceGuyNotes https://t.co/pXqTxK4i30

— mcbc (@mcbc) February 4, 2017

Find out how did that and promote them!
Realignment and Legitimacy
"Democrats in disarray" is an old, old narrative. I prefer to think of it as volatility creating opportunity — as it always does!

"Democrats Are Desperate for Bernie Sanders' Email List" [Mother Jones]. Hilarity ensues.

But former Sanders staffers and consultants scoff at the demand for the list. The way they see it, clamoring for access misses the point. The list wasn't the campaign's secret weapon; Sanders was.

"They keep thinking it's the list," says Becky Bond, who as a senior adviser to Sanders helped build the candidate's national organizing operation. "It's so crazy. It's like someone who buys a $12,000 bicycle and thinks they can win the Tour de France."

If the Democrats came out for Medicare for All and free college, they'd have no problem at all building their own list. Idea: Democrats! Stop sucking!

DNC chair candidate Sam Ronan "holding our members accountable" (to whoops and applause). The real story, however is Keith Ellison's body language (on the right). Must watch and listen:

DNC chair candidate Sam Ronan says Dems have to own the rigging of primary presidential election to get Berniecrats back. #DNCforum pic.twitter.com/CTX57BLw5r

— Andre (@SubvertingPower) February 5, 2017

I'm not all that comfortable with "I've been in the military, so I know what leadership looks like" (Kos loves that kind of stuff), and I'm very uncomfortable at a lack of policy specifics (perhaps elsewhere, and DNC chair is a nuts and bolts job), but Ronan has said something that must be said.

And Sanders:

.@BernieSanders: Democrats must abandon 'failed status quo.' #CNNsotuhttps://t.co/4uz27OZnT5

— Jake Tapper (@jaketapper) February 5, 2017

* * *

Some data on "the resistance" (quotes deliberate) came together for me. First, I've been wondering where the term, "resistance," which is all over my Twitter feed like kudzu — Hi, Neera! [waves] — came from. Here's the origin story:

The declarations began early on, with one key word echoing across them. "We are going to resist, we are going to oppose," the filmmaker Michael Moore announced on the Friday after Trump's election. "This is going to be a massive resistance." The following week, the former MSNBC host Keith Olbermann began a new video series titled "The Resistance." In December, a group of former Democratic congressional staff members published a much-discussed pamphlet titled "Indivisible: A Practical Guide for Resisting the Trump Agenda," calling on liberals and leftists to emulate the most effective tactics of the Tea Party. On Twitter, hashtags like #ResistTrump, #NewAmericanResistance and #TheResistance document the range of concerns and movements now assembling under one banner: climate change, net neutrality, Black Lives Matter, reproductive and immigrant and disability rights.

So, the origin of the "term" resistance lies in the Democratic nomenklatura. And the program listed under "one banner" is full of worthy causes, but do you see any universal programs that bring concrete material benefits, especially to the working class? Me neither. Why? The simplest answer is because the party faction that ignited the movement actively opposes such policies.

Second, I've been wondering about the demographic and ideological composition of the demonstrators. One good way to understand that is to look at signage. WaPo summarizes the talking points in this fawning piece:

Protesters turned Trump's own words against him, with their "Nasty Woman" banners and flaunting signs that declared "This p—- grabs back." They scorned his seemingly cozy relationship with Russia: "Tinkle tinkle little czar, Putin made you what you are." They mocked his appearance: "We Shall Overcomb" and "Hands too small to build a wall." They found many different ways to reject his authority:

Not my President

Not my Führer

Not my Comrade

Not my Cheeto

With a pithy mix of humor and combativeness, this is protest art for the social-media era. While many kept their messages serious and straightforward — "Refugees Welcome," "Keep Abortion Safe and Legal" — it was the new breed of signage that went viral long after the crowds dispersed. Gaining wide circulation on Twitter, Facebook, Instagram or various "best protest signs" listicles, they reached a vast audience that never went near a march or rally.

Digital triumphalism. Yawn. To be fair, this Katie Halper podcast summarizes the signage as half Clintoninte, with the remaining half divided between Sanders messaging and random humor. Now, throwing away the snark is at best useless, the first three talking points are all Clintonite tropes, and "Putin made you what you are" is as egregiously false as any Dolchstoßlegende. Not encouraging.

Third, I've been wondering about funding….

Fourth, even taking into account the tight focus of protest images, there's obviously a lot protest going on, on the ground, in a lot of places. I think that's good, because it's better to be moving than not. So none of this slightly jaundiced commentary should be taken as a knock on your normal marcher. There are two questions I have. First, how is the energy to be integrated and by whom? If the outcome of Resistance is Restoration ("Booker 2020!") count me out. If the outcome is Revolution (the sort that Sanders proposed) count me in! Leading to my second question: What are their demands? If the "movement" coalesces around the demand that Trump step down (or be impeached, whatever) that's identical to the demand that the Tahrir Square protesters made of Mubarak: Arhal! (Leave!) But that movie ended badly, since when power was lying in the street, those protestors didn't know what to do with it. (There is also the darker aspect of a coup, as we saw entertainer Sarah Silverman openly suggest last week, and Foreign Policy passive-aggressively advocate simply by raising the idea. Do these people really think that having seized power, the military will hand it over to them? That's not how these things work.)

* * *

Question to and answer from Mike Duncan of the History of Rome and Revolutions podcast. "What would Trump have to do for you to support a revolution against his regime?"

That is one hell of a pandora's box I do not want to open but they don't seem to care so I guess we'll find out. https://t.co/TRUYoDAPni

— Mike Duncan (@mikeduncan) February 6, 2017
Stats Watch
Gallup US Consumer Spending Measure, January 2017: "However, it is the highest daily consumer spending average for the month of January since 2008," although it dropped post-Xmas [Econintersect].
Labor Market Conditions Index, January 2017: "[T]he readings for this indicator, a wide composite of 19 separate indicators, have been soft and point to still ample slack in the labor market and perhaps no increasing risk of wage inflation" [Econintersect]. J-Yel's experimental indicator.
Conference Board's Employment Trends Index: " [J]ob growth will remain solid and perhaps even accelerate in early 2017″ [Econintersect].
Today's Fear & Greed Index: 59 Greed (previous close: 59, Neutral) [CNN]. One week ago: 55 (Neutral). (0 is Extreme Fear; 100 is Extreme Greed). Last updated Feb 6 at 12:49pm. Still holding at greed…
News of the Wired
"Anatomy of a miracle: How the Patriots came back from the dead" [ESPN]. More on the Superbowl because I like the writing. The explanation of the role faithless electors play in the nickel defense is terrific.
* * *
Readers, feel free to contact me with (a) links, and even better (b) sources I should curate regularly, and (c) to find out how to send me images of plants. Vegetables are fine! Fungi are deemed to be honorary plants! See the previous Water Cooler (with plant) here. And here's today's plant (EU):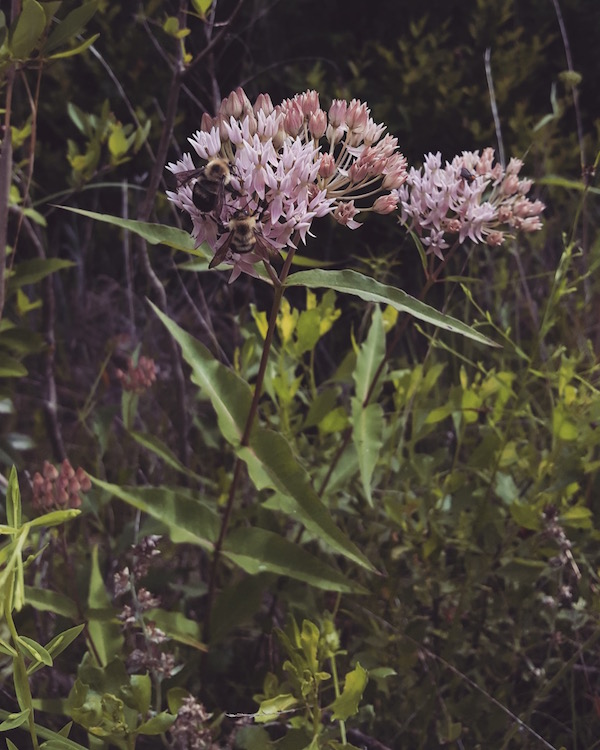 EU writes: "Some randoms from the Southeast," in this case Asclepias Rubra Bog Milkweed_BW Wells Savanna, North Carolina. I have some milkweed, which I thought would help out the Monarch butterlflies, but perhaps it does not. Are there Monarchs in bogs?
Readers, Water Cooler is a standalone entity, not supported by the very successful Naked Capitalism fundraiser just past. Now, I understand you may feel tapped out, but when and if you are able, please use the dropdown to choose your contribution, and then click the hat! Your tip will be welcome today, and indeed any day. Water Cooler will not exist without your continued help.