"A Ballerina's Tale" Documentary about Misty Copeland PBS (Judy B)
CIA files reveal how US used psychics to spy on Iran South China Morning Post (J-LS)
Feds delay endangered bumblebee's protection engadget
New Zealand whales: Hundreds refloat on high tide at Farewell Spit BBC
Man dissolved after fall into Yellowstone hot spring Edmonton Sun (frosty zoom). :-( but also a Darwin Award candidate
Experiment Reaffirms Quantum Weirdness Quanta (David L)
Could a £400bn plan to refreeze the Arctic before the ice melts really work? Guardian (J-LS)
Boundary Waters visitors spent $57 million in nearby communities last summer Quetico Superior Foundation. Chuck L: "This study will be critical to us opponents of the proposals now being floated to allow the mining of sulfide ores of copper and precious metals on the edge of and upstream from the Boundary Waters Canoe Area Wilderness. As noted at the link, this is the first such study ever for the BWCA and the first one for any USA wilderness area since 20 years years ago. Shameful! The area also gets considerable winter visitors for XC skiing and snow shoeing. And there's pretty good downhill skiing not far away in the hills on the north shore of Lake Superior."
As sea levels rise, vital salt marshes are disappearing Associated Press (David L)
Should we just stop shaking hands already? Treehugger (J-LS). I dunno. Clinton and Trump not shaking hands at the top of the final Presidential debate conveyed information.
North Korea conducts ballistic missile test BBC
A Look At Why 'Crime Pays' In Indian Politics NPR (Dan K)
Brexit
Trump U.K. Visit Delayed to Avoid Snub in Parliament Bloomberg. Bloomberg reports this tidbit more prominently than the Guardian, which broke the story.
Refugee Crisis
Women and children 'endure rape, beatings and abuse' inside Dunkirk's refugee camp Guardian

'Get out of France': Paris police tear gassing refugees and stealing blankets in freezing conditions, report reveals Independent (J-LS)
Germany Picks Anti-Trump President as Trans-Atlantic Bonds Fray Bloomberg
Greece
The European Central Bank is about to do something very stupid The Week

Tsipras warns IMF and Germany over bailout talks Financial Times

Outrageous Malevolence Ilargi (Chuck L)
10 years later, Putin's 'Munich Warning' has proved frighteningly true Fort Russ (Chuck L)
CHAOS IN BRAZIL: MORE TO COME? New Yorker (Ryan R)
Syraqistan
CIA honors Saudi Crown Prince for efforts against terrorism Al Arabya (Micael)
Trade Traitors
TPP is Not Dead: It's Now Called the Trade In Services Agreement Counterpunch (Robert H). As regular readers know, this headline is totally misleading. TISA is an independent deal with far more prospective signatories than the TPP had. But despite that, better that someone call attention to it than not.
Trump Transition
The Vulnerabilities in the Ninth Circuit's Executive-Order Decision New Yorker

Democrats, advocates question ICE enforcement raids after hundreds of arrests CNN (David L)

If you thought Trump's travel ban was bad, what he has planned next for American Muslims could be devastating Independent. Note that this is Cruz's bill…

Mexican Migrants Signal They Prefer Detention to Deportation Wall Street Journal

Being desi in Trumpland The Hindu (J-LS). Note this mentions body shops in passing. Many of those are illegal and abused workers.

Trump Team Leery of Having Too Many 'Goldman Guys' in Top Posts Bloomberg

Trump Nixes Plan to Appoint War Criminal to State Department New York Magazine (resilc)

Does it matter if Trump doesn't like economists? The Conversation. FWIW, Soros doesn't like economists either.

Trump's Budget Bluff New Yorker (resilc)

Elizabeth Warren probes Goldman Sachs' ties to Trump White House CNN (David L)

Scientists across the US are scrambling to save government research in 'Data Rescue' events Business Insider (David L)
Americans Aren't as Attached to Democracy as You Might Think Guardian
State G.O.P. Leaders Move Swiftly Under One-Party Rule New York Times
How one political outsider picked a cabinet The Conversation. J-LS: "From December but interesting nonetheless…."
Sears, Kmart Dump Ivanka Trump Products From Online Stores New York Magazine
8 retailers that are shrinking across America Business Insider
The Watchdog Protecting Consumers May Be Too Effective Gretchen Morgenson, New York Times
QUANTITY OF CARE: A SPECIAL INVESTIGATION Seattle Times. A must read. Martha r: "Great investigative piece. Neoliberalism chews through hospital care–in detail. Maybe the horror of this will compel the majority who want single payer to insist on it–no more excuses."
Class Warfare
Union Workers Continue to Disappear in Most States Governing (UserFriendly)

What story will we tell our grandchildren? Will it be this one? Stories made us human.

The Coming Class Wars Charles Hugh Smith (Lawrence R)

Inside the Uber Side Hustle The Ringer. Who on Uber's PR team is pushing this line? As least no one in a mainstream pub has dignified this exercise in porcine maquillage.

Mercedes A-Class Production line YouTube. John L: "Jobs for the robots."

"CONSIDERATIONS ON COST DISEASE" Slate Star Codex (Brant). More interesting than the title. Plus I didn't realize that Tyler Cowen was trying to rebrand the word "inflation" for price increases driven by things like oligopoly behavior and other forms of rent-seeking.
Antidote du jour (Robert H). An albino cardinal: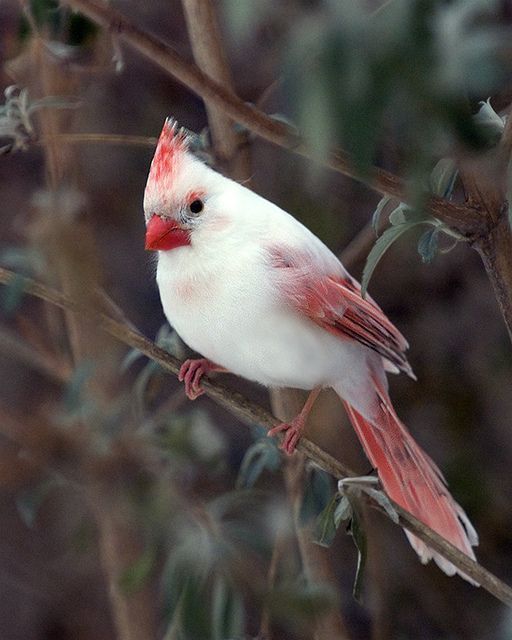 See yesterday's Links and Antidote du Jour here.