By Lambert Strether of Corrente
Trade
Commerce Secretary Wilbur Ross and Mexican Economy Minister Ildefonso Guajardo Villarreal will hold a joint press conference this morning where they'll likely discuss, among other things, NAFTA. …. The officials' meeting on Thursday came on the same day that Luis Videgaray, Mexico's secretary of foreign affairs, met in Washington with National Economic Council Director Gary Cohn and senior adviser Jared Kushner, among others. …. Earlier this week, Treasury Secretary Steven Mnuchin also met with his counterpart, Mexican Secretary of Finance José Antonio Meade — further adding to the list of administration officials who have touched base with top-ranking officials south of the border even as President Donald Trump and Mexican President Enrique Pena Nieto have yet to meet or reschedule the meeting that was canceled earlier this year [Politico]. Apparently, the State Department didn't know Mexico's Foreign Minister was in town…
Politics
2016 Post Mortem
"Even some Democrats on the Intelligence Committee now quietly admit, after several briefings and preliminary inquiries, they don't expect to find evidence of active, informed collusion between the Trump campaign and known Russian intelligence operatives, though investigators have only just begun reviewing raw intelligence. Among the Intelligence Committee's rank and file, there's a tangible frustration over what one official called "wildly inflated" expectations surrounding the panel's fledgling investigation" [Buzzfeed]. That's precious. Democrats are "frustrated" by their own gaslighting, hysteria, and strategic hate management.

"But even someone as icily competent as Putin, with his alleged record of serving polonium-210-laced tea to overseas enemies, could not have engineered Trump's near-sweep in the primaries, or the 85 percent approval rating he now has among Republicans, or the flipping from blue to red by states that hadn't gone Republican in over 30 years. The victory of Trump caused something approaching trauma in the psyches of millions of Americans, and that's understandable, because old truths were overturned and suddenly everything was in the air. But let's not pretend it was a coup d'état or a subversion of democracy" [T. A. Frank, Vanity Fair (Re Silc)].

"'The truth is, and I think anyone who objectively assesses the situation has to appreciate, that the model the Democrats have followed for the last 10 to 20 years has been an ultimate failure,' Sanders said in an interview with The Huffington Post from his Senate office in Washington. "That's just the objective evidence. We are taking on a right-wing extremist party whose agenda is opposed time after time and on issue after issue by the vast majority of the American people. Yet we have lost the White House, the U.S. House, the U.S. Senate, almost two-thirds of the governors' chairs and close to 900 legislative seats across this country. ?" [HuffPo]. Well, let's be fair. If the Democrats are paid to lose, their approach has been a rip-roaring success! More: "'I think from a moral perspective as well as good politics that you cannot just be defensive,' [Sanders] said. 'You need a proactive agenda that brings people together to fight for a new America.'" But Russia!
Health Care
Lambert here: Lots of moving parts on health care right now!

"Obamacare vs. the Republican plan — for those thinking of skipping health insurance" [MarketWatch]. "Here's the apples-to-apples of skipping 10 months insurance (and for argument sake, we're skipping the grace periods in both). Under Obamacare, it's $1,845 (10 months of fine, two months of insurance) and under the Republican plan, it's $1,960. But skipping, say, 22 months of coverage, is where the Republican plan pays off — $3,220 in fines plus cost of coverage for Obamacare, vs. $1,960 under the GOP plan." Hoo boy.

"The White House says it's still in listening mode, publicly and privately. 'We're welcoming ideas and thoughts,' White House press secretary Sean Spicer said. 'I didn't hear anything that said it's a binary choice at the White House today,' said Rep. Mark Meadows, chairman of the Freedom Caucus. But that's not the message from Ryan and company: 'This is the closest we will ever get to repealing and replacing Obamacare,' the speaker said Thursday. For now, there's disagreement on whether this is a real negotiation, not to mention what a compromise from here would even look like" [ABC].

"Top vote-counters in the House say they think the health-care replacement legislation will get through their chamber. It won't be easy — and it won't be pretty — but they believe they'll squeeze it through. But there's increasing skepticism that it can get through the Senate. During his newsy Playbook Interview Thursday, Senate Majority Leader Mitch McConnell (R-Ky.) reminded us that the legislation will be subject to unlimited amendments when it hits the Senate as part of the reconciliation process, practically ensuring it will be changed. If this bill blows up, Trump has signaled he'll blame Democrats, who are expected to stand in unified opposition to the legislation. But that might not work. " [Politico]. As for "Republicans say…" Surely the Rice-Davies Rule applies?

"There are East Room meetings, evening dinners and sumptuous lunches — even a White House bowling soiree. Mr. Trump is deploying the salesman tactics he sharpened over several decades in New York real estate. His pitch: He is fully behind the bill to scotch President Barack Obama's signature domestic achievement, but he is open to negotiations on the details" [New York Times]. "In so doing, Mr. Trump is plunging personally into his first major legislative fight, getting behind a bill that has been denounced by many health care providers and scorned by his base on the right. If it fails, Mr. Trump will find it difficult not to shoulder some of the blame." I'm not so sure. Trump's seen as an insurgent; the Establishment will be a good deal easier to blame and Trump could slide out from under (but see Chris Arnade's tweet below)

"House Republican leaders narrowly tailored their Obamacare repeal bill to avoid violating Senate rules, but conservatives are pushing back with advice of their own: tear up the rulebook" [Politico]. "A growing number of conservative lawmakers on Thursday urged GOP leaders to push the limits of how much of the health law they can reshape under a powerful procedural maneuver known as budget reconciliation — and to overrule the Senate parliamentarian if she doesn't decide in their favor." If the Democrats had been this feral in 2009, and rammed through single payer, 2010 wouldn't have been the debacle it was (though throwing some banksters in jail would have helped, too).

UPDATE An anecdote (read the whole thread):

1. I have met my first "regret voted for Trump" voter. He has an intense very personal reason.

— Chris Arnade (@Chris_arnade) March 9, 2017

These voters won't be happy if the ObamaCare replacement bill screws them over. And if they perceive, as this voter does, that Trump didn't deliver, they will be eager to share their unhappiness with him.

"The presence of expensive tax cuts in a bill purportedly about health-care reform is not a side effect; it's the entire point. They make it easier for Republicans' (much bigger) individual and corporate tax cuts to sail through the Senate with minimal Democratic obstruction in a few months' time" [Catherine Rampell, WaPo]. "Why? Under normal circumstances, Democrats would almost certainly filibuster the coming tax overhaul, preventing it from ever getting to a vote. But Republicans can take the filibuster option away by using the "reconciliation" process, which is an option if, and only if, the tax bill doesn't increase government deficits in the long term, relative to existing law."

"What they came up with instead was a dog's breakfast that conservatives are, with some justice, calling Obamacare 2.0. But a better designation would be Obamacare 0.5, because it's a half-baked plan that accepts the logic and broad outline of the Affordable Care Act while catastrophically weakening key provisions" [Paul Krugman, New York Times]. Yesterday I linked to some lunatic Birchers, so it's only fair that today I link to Operative K. But it's a Red Letter Day when Krugman says that the Republicans took a Republican plan and made it worse.

"With House Speaker Paul Ryan's vision for the American health care system being rejected by the left, the center and the right, Democrats should offer their own plan to bring relief to those who are paying more or getting less under President Barack Obama's signature law" [Roll Call]. How about HR676?

"So the country lurches between two health care crises — on one side lies the Affordable Care Act's 'free market' of half-baked, overpriced insurance schemes; on the other side Congress faces an insurance cliff, hurtling toward a repeal that could shove millions out of essential coverage and plunge countless families and medical providers into social turmoil. At the same time, the political havoc clears the way for a radical cure: why not "socialized medicine"? [Alternet]. Given what Alternet's front page has become, I'm surprised this made it through without a headline line: "Better Sex with Single Payer."

A little-noticed bill [HR 1313 ] moving through Congress would allow companies to require employees to undergo genetic testing or risk paying a penalty of thousands of dollars, and would let employers see that genetic and other health information" [Stat]. "Giving employers such power is now prohibited by legislation including the 2008 genetic privacy and nondiscrimination law known as GINA. The new bill gets around that landmark law by stating explicitly that GINA and other protections do not apply when genetic tests are part of a 'workplace wellness' program." Workplace "Wellness" programs are covered by ObamaCare, despite (IICR from the debate at the time) the absence of any proven health benefit
Trump Transition
David Frum has lost his mind:

"Work with Putin to cut health care coverage" doesn't feel like a winning 2018 message to me, but what do I know about politics.

— David Frum (@davidfrum) March 9, 2017

UPDATE And it's not just Frum; it's a talking point!

If u were Putin & wanted to kill as many Americans as possible—wouldn't taking away their healthcare do the trick? #trumprussia #russiagate

— Scott Dworkin (@funder) March 9, 2017

Personally, I think it was Putin who got Obama to deep-six single payer in 2009, but wev.

"Number of immigrants caught at Mexican border plunges 40% under Trump" [Los Angeles Times]. "However, [Faye Hipsman, a policy analyst at the Migration Policy Institute, a nonpartisan think tank based in Washington, D.C.] cautioned, typically each time the government adopts new immigration enforcement measures — for example, building detention centers to accommodate the surge of Central American women and children — the numbers fall, only to rebound, in some cases higher than before."

"Trump's business pragmatism may be the best hope for a coherent foreign policy that avoids Bannon's self-proclaimed goal of 'deconstruction' of the established order. A telling example was when Tillerson and Kushner advised him last month that Chinese President Xi Jinping wouldn't talk on the phone until Trump clarified that he supported the longstanding 'one China' policy. Trump is said to have responded: "So clarify'" [David Ignatius, WaPo]. "Tillerson and Mattis can be the nexus for sound international strategy, working with Lt. Gen. H.R. McMaster, the new national security adviser. As was said of Hillary Clinton and Bob Gates when they were secretaries of state and defense, respectively, this would be the 'Adult Swim' group, checking a noisy, chaotic, ideological White House." Of course, Clinton was an incompetent loon who fomented war in Libya, Honduras, Syria, and Ukraine (not to mention Iraq) but never mind that. Since Ignatius carries water for the intelligence community, they're sending Trump a message…
Realignment and Legitimacy
"The British-American coup that ended Australian independence" [Guardian (1975)]. This is a bit closer to home than Pinochet, since Australia is part of the AngloSphere and one of the Five Eyes. Here's the climax of the article:

On 10 November 1975, [Prime Minister of Australia Gough] Whitlam was shown a top-secret telex message sourced to Theodore Shackley, the notorious head of the CIA's East Asia division, who had helped run the coup against Salvador Allende in Chile two years earlier.

Shackley's message was read to Whitlam. It said that the prime minister of Australia was a security risk in his own country. The day before, Kerr had visited the headquarters of the Defence Signals Directorate, Australia's NSA, where he was briefed on the "security crisis".

On 11 November – the day Whitlam was to inform parliament about the secret CIA presence in Australia – he was summoned by [Governor-General of Australia and CIA asset] Sir John Kerr. Invoking archaic vice-regal 'reserve powers', Kerr sacked the democratically elected prime minister. The 'Whitlam problem' was solved, and Australian politics never recovered, nor the nation its true independence.

This sounds remarkably like the play the intelligence community ran against Trump with the JAR report and then Steele's dodgy dossier. Of course, the United States doesn't have the colonial relation with a monarch that produced an office like the Governor-General that the intelligence community could exploit; our institutions are stronger. Even the Electoral College was stronger! Nevertheless… Oh, and you need an example of the United States "meddling" or "tampering" with the democratic process, I'd say overthrowing the Prime Minister of Australia is a pretty good example.

UPDATE Hoo boy:

It's time for the Trump administration to purge the deep state saboteurs from the government… hear more at 10pm #Hannity

— Sean Hannity (@seanhannity) March 10, 2017

"The Dems gave us Trump, too, not merely because they nominated a candidate who seemed so emblematic of everything that was wrong with the status quo but also because even with two talented politicians like Bill Clinton and Barack Obama, they have presided over a dwindling party apparatus in the states, massive and widening inequality, almost sociopathic indifference to that widening gap (just go back to Jonathan Chait's "liberalism is working" meme or Clinton's "America is already great", not to mention the absolute refusal since the election to confront the social rot that produced Trump), and the resulting social degradation and cruelty that we see all around us" [Corey Robin]. "We need to make a realignment, and that means taking on and overturning not only the Republican Party but also the Democratic Party. That's the way every realignment has worked: it's not just one party that goes, but both parties that go in some way, shape, or form."

"The progressive left should not apply ideological purity tests to Democratic senators who face tough re-election campaigns in 2018 in states President Donald Trump won handily last year, says Sen. Kamala Harris" [CNN]. "'We need those numbers,' the California Democrat told David Axelrod on 'The Axe Files,' a podcast from the University of Chicago Institute of Politics and CNN." But "The people who can destroy a thing, they control it" (Frank Herbert, Dune).

UPDATE "KING: The Democratic Party seems to have no earthly idea why it is so damn unpopular" [New York Daily News]. Important!

$15 minimum wage, fighting back against fossil fuels and the Dakota Access Pipeline, fighting to end fracking, fighting to remove lobbyist money from politics, fighting to end senseless wars and international violence, fighting for universal healthcare, fighting for the legalization of marijuana, fighting for free college tuition, fighting against systems of mass incarceration, and so much more. But mainstream Democrats aren't really a central part of any of those battles, and, to be clear, each of those issues have deep networks, energized volunteers, and serious donors, but corporate Democrats virtually ignore them.

In the past two months, I've spoken in a dozen states around the country and thousands of people show up. Wednesday night, in the freezing rain, lines were wrapped around multiple city blocks to attend an event I was hosting at a local Seattle high school. We literally formed the event a few days ago on Facebook and didn't spend a single penny putting it together.

When I see these crowds, I don't see them and think "Wow, I'm so popular." I see them and think "Wow, people are hungry for change, and insight, and direction." When I see those crowds, those polls showing how outrageously unpopular the Democratic Party is frustrate me even more. It just doesn't have to be this way.
Stats Watch
Employment Situation, February 2017: "A rate hike at next week's FOMC is a lock based on the February employment report where strength came in at the very outside of expectations. Nonfarm payrolls rose 235,000 vs Econoday expectations for 200,000 which, after Wednesday's ADP report, were rising going into today's results" [Econoday]. "There is also an upward revision to January which now stands at 238,000 for an 11,000 gain…. The burst of optimism that followed the election may be manifesting itself in rising employment, at least that's a safe bet given the outstanding strength of both the February and January job reports." Donald Trump as the Confidence Fairy is about the most unlikely outcome of the 2016 election I failed to imagine. And: "This was a clean report with the cuffs and collars matching. Consider this an excellent jobs report" [Econintersect]. And: "The headline jobs number was above expectations, and there were combined slight upward revisions to the previous two months. In addition wage growth picked up. This was a solid report" [Calculated Report]. "The warm weather was a factor in the solid February employment report and there may be some payback in March." And: "Manufacturing employment rose 28,000 for the month with an increase in construction jobs of 58,000 which will have been supported by warmer than usual weather conditions. There were solid gains in most categories, although with a 26,000 decline in retail jobs on the month" [Economic Calendar].
Rail: "Week 9 of 2017 shows same week total rail traffic (from same week one year ago) marginally improved according to the Association of American Railroads (AAR) traffic data" [Econintersect]. "This week was again relatively soft."
Supply Chain: "German retailer Takko Holding GmbH and its investors are facing tough questions over a report that it used a garment factory in Myanmar that employed underage workers" [Wall Street Journal]. "The fallout from the report is hitting Apax Partners, one of Europe's largest private-equity firms and Takko's owner, highlighting the difficulty that institutional investors have in enforcing ethical business practices across far-flung supply chains."
Labor Power: "US west coast labour leaders are still considering whether to support an extension to the current contract covering longshore workers after another round of talks with employers" [Lloyd's List].
The Fed: "Steady U.S. Job Growth Sets Stage for Fed to Raise Interest Rates" [New York Times]. ""They're ready to go," said Diane Swonk, founder and chief executive of DS Economics, referring to the central bank's expected vote next week to raise rates from their historically low levels…. Although the economic anxiety that helped put President Trump into the White House remains, the official jobless rate is near what the central bank considers full employment — a threshold where, in theory at least, everyone who wants a job at the going rate can find one." Economic anxiety… As if a crap job after you lost your house after losing your good job was a psychological condition…
Today's Fear & Greed Index: 67 Greed (previous close: 61, Greed) [CNN]. One week ago: 74 (Extreme Greed). (0 is Extreme Fear; 100 is Extreme Greed). Last updated Mar 10 at 11:48am. Snooze-fest…
Water
"Just before the Oroville Dam became daily front page news, during what turned out to be a brief lull in this winter's storms, one of my neighbors asked if I thought the drought was over. 'Nope, just an interlude,' I said. Then, within the week, more rain came – rain and snow, depending on where you reside in this great state. But as far as I can tell, we still live in a continuing drought. These storms are just a brief interruption" [Capital and Main]. "After so much rain, and massive, record-setting snow, why do I say that? According to climate experts, California has so depleted its water supply that it would require several years of regular, above-normal precipitation to take the state out of its long-term drought condition. Southern California in particular is desert and near desert, surviving primarily on imported water."
Class Warfare
"Historically, the liberal-left has noticed that capitalism's system of property and contracts often facilitates outcomes that we would prefer to avoid. The left, definitionally, understands this as a problem with the system itself, and advocates subordinating property and contract to democratic sovereignty. If, that is, the violence of contracts and property rights becomes unacceptable to society, leftists reserve the right to nullify them through democratic referendum." [Carl Beijer]. "Liberals, in contrast, reject democratic sovereignty, and insist that capitalism's system of violent threats must ultimately be honored. Liberals believe that we can mitigate or nullify capitalism's adverse outcomes while still playing by capitalism's rules. This is the logic of conscientious consumption, employment selectivity, boycotts, and blacklists; in all of these cases, activists are still respecting contract law and property rights, and in fact what they hope to do is leverage the violence of those institutions towards positive outcomes."
Angus Deaton: "What is not OK is for rent-seekers to get rich. All that talent is devoted to stealing things, instead of making things….I, who do not believe in socialized health-care, would advocate a single-payment system… because it will get this monster that we've created out of the economy and allow the rest of capitalism to flourish without the awful things that healthcare is doing to us…. The key is to somehow find a way of tackling rent-seeking, crony capitalism, and corruption legal and illegal and build fairer, more equal society without compromising innovation or entrepreneurship" [MarketWatch].
News of the Wired
"In this paper, we present the first wide-scale study of MAC address randomization in the wild, including a detailed breakdown of different randomization techniques by operating system, manufacturer, and model of device. We then identify multiple flaws in these implementations which can be exploited to defeat randomization as performed by existing devices" [Arxiv.org]. Damn…
"Children prefer to read books on paper rather than screens" [The Conversation]. "In a study of children in Year 4 and 6, those who had regular access to devices with eReading capability (such as Kindles, iPads and mobile phones) did not tend to use their devices for reading – and this was the case even when they were daily book readers. Research also found that the more devices a child had access to, the less they read in general. It suggests that providing children with eReading devices can actually inhibit their reading, and that paper books are often still preferred by young people."
"Why hot chillies might be good for us" [BBC] (original study). "In a recent study done by researchers from the University of Vermont they looked at data from more than 16,000 Americans who had filled in food questionnaires over an average of 18.9 years. During that time nearly 5,000 of them had died. What they found was that those who ate a lot of red hot chillies were 13% less likely to die during that period than those who did not." This totally reinforces my priors, but I don't have the chops to assess the study. Readers?
* * *
Readers, feel free to contact me with (a) links, and even better (b) sources I should curate regularly, and (c) to find out how to send me images of plants. Vegetables are fine! Fungi are deemed to be honorary plants! See the previous Water Cooler (with plant) here. And here's today's plant: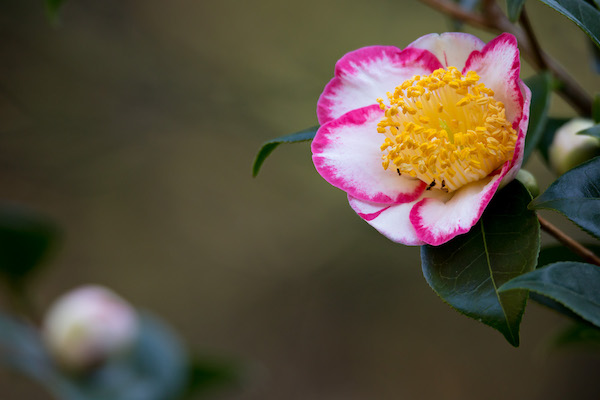 Camellia japonica… Can't wait! Though of Memorial Day, when we plant in Maine, is more than two months away. Sigh.
Readers, Water Cooler is a standalone entity, not supported by the very successful Naked Capitalism fundraiser just past. Now, I understand you may feel tapped out, but when and if you are able, please use the dropdown to choose your contribution, and then click the hat! Your tip will be welcome today, and indeed any day. Water Cooler will not exist without your continued help.