By Lambert Strether of Corrente.
We've been hearing the term, or rather phrase, "deep state" rather a lot lately, so I thought I'd look into it. Here's a usage example from the Jerusalem Post:
Sisi regime shows confidence as 'deep state' returns to Egypt's political landscape

The acquittal of former president Hosni Mubarak, his sons, and other close aides demonstrates that Egyptian President Abdel Fattah al-Sisi has settled comfortably in power and marks the return of the deep state.

The term "deep state" refers to a group of powerful nondemocratic leaders who, though they may be concealed under layers of bureaucracy, are actually in control of the country.

To be sure, Sisi has smartly led the important Arab state from the depth of riots, terrorist attacks, economic crisis and outside pressures, but the style and makeup, if not the policies, of the government are reminiscent of Mubarak's regime.

The fact of the matter is that the Mubarak trial was bound to be based not on a strict reading of the evidence but on the wishes of the regime in power.
(It's interesting that the writer's definition is at odds with the definition of the originator of the phrase, Peter Dale Scott, as provided in his Glossary of Open Politics, which I quote in part and annotate in the figures below.)
So, yes, I'm in the market on a quest for a theory of the state, because the state we've got doesn't seem responsive in any way to the voters, except when they want to do what "it" (?) wants to do, and that means the state isn't working for my values or my interests.  As part of that quest, I bought Scott's The Road to 9/11, but I don't retain much from it; I spent too much time flipping from the text to the glossary and back to try to make sense of what I was reading.
In this post, I'll do another manaically close reading to explain why I've crossed the "deep state" off my list of candidate theories. If your response is, "Well, Mr. Smarty Pants, what's your theory?" I'd respond, first, that I don't like work, so I'd rather somebody else had a more well-defined and supple theory I was happier with, and I would just adopt it, and second, with the little girl from The New Yorker, "I say it's spinach and I say the hell with it,"  and it would be spinach whether brocolli had been proposed or not. In other words, I don't have to provide an alternative. (Readers, however, should feel free to chime in with recommended readings.)
To explain the reasons for my rejection of Scott's theory of the state, I'm doing to play "the dictionary game" with his "Glossary of Open Politics" [PDF]: I'm going to start with one entry ("deep state, " Figure 1, below) and then go to the entries mentioned in that entry, and so on. I should also say that I'm not assaulting Scott's integrity, or saying he's a pawn in this or that game, or that I hate his political views (what little I know of them); and that I think that Scott and I would like to improve the world in more or less the same ways. The scope of this post is solely Scott's theory of the state. That said, let's look at Scott's definition of "deep state."
Figure 1: Deep State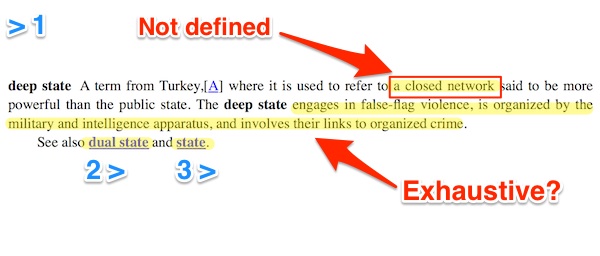 Legend: Each entry is numbered with an incoming number at top left like ">1." Mentioned entries have outgoing numbers like "2>." So, "2>" means, "read Figure 2 next," and that entry will have ">2" at its top left. Needlessly complex, perhaps, but I wanted to number the hops in the dictionary game.
So let's start playing. It's said that the deep state is a "closed network," but that's not defined and is only "said to be" so let's skip it. (If the metaphor is computer networking, a closed network requires permission to join. So far as I can tell, that would make democracy a closed network. If the metaphor is graph theory, that would make the network heavily interconnected. Big difference, and yes, I'm going to treat the glossary as self-contained, except for explicit references to external sources. I don't know what that "[A]" is; it's not in the print version.)
I think we have to assume that Scott's definition is exhaustive, if only because it would be ridiculous to keep adding on (4), (5), (6), and so on. So let's look at each of the characteristics in turn.
First, presumably Scott's oeuvre justifies privileging one type of covert operation, the false flag[1], over the many other types of covert operation, and also justifies restricting false flag operations to violent ones. That is, if Costa Rica, which has abolished its military, allowed its Fuerza Pública to engage in false flag operations, but not violent ones, it could not have a deep state, by definition. That seems oddly restrictive.
Second, "military and intelligence apparatus" also seems a bit restrictive; I'll have more to say about this when we look at Figure 2.
Finally, "involves their links to organized crime" seems restrictive as well, in two ways. First, what about "links" to the media? For example, we know that in the run-up to the Iraq War, the White House Iraq Group planted over 50 stories in our famously free press, as part of a secret disinformation campaign. Intuitively, this would be a deep state operation? But wait — the objection comes — just because it's not part of the definition of the deep state doesn't mean it can't be a characteristic of the deep state! To which I would respond: But surely all states from time immemorial have tried to control "the narrative" using the media of their day? What is "linked" and what is not seems arbitrary. Second, what about states in past time? WikiPedia claims that "organized crime" appears only in the 19th Century. Therefore, states before that time — say, the Ming Dynasty — could not be or have "deep states," by definition. That just seems odd. I mean, surely the Chinese emperors had a military and had intelligence services?
Summarizing, I don't see why one covert operation is privileged over others, I don't see why the military and intelligence agencies are privileged over others, and although apparently there can be no such thing as a "deep state" prior to the inception of "organized crime," that restriction, too, seems completely unmotivated. The whole definition seems simultaneously oddly restrictive and unmotivated, almost as if (to be momentarily unkind) it had been reverse engineered out of current political concerns and hot topics, rather than being based on historical or comparative work.
Again — I hear you say — "Read the whole book and you will understand," but I think it's a fair request that a Glossary be a standalone document that answers obvious questions — that's why readers turn to it in the first place! — that provides a consistent and reasonably complete guide to the important concepts of its subject, with references to what it does not explain. Otherwise, after all, a glossary becomes nothing more than a random list of words with partial and gappy definitions! Perhaps as we move further through the Glossary matters will improve.
Figure 2: Dual State

So, from "deep state" we are told to go to "dual state," and here we are. I'm a little iffy on that "one can distinguish" as a litmus test, since it would be nice to have way of resolving disagreements between those who can "distinguish" and those who cannot; but let that pass. (I suppose the odd locution "one can distinguish," instead of the more straightforward "has," or "comprises," is put there to handle the limit case where the deep state is so powerful and so covert that it completely absorbs the public state, and so cannot be "distinguished" from it? Or vice versa![2]
But I said I'd return to "military and intelligence apparatus." Let's consider the case of Occupy: We know that there was a 17-state paramilitary operation, coordinated by the DHS, and involving state governors and local police forces. We know there's a similar Ferguson right now. But "deep state" is defined so as to exclude local police forces, because they are not part of the intelligence apparatus. (In Figure 3: "By the deep state I mean agencies like CIA, with little or no significant public constituency outside of government." The police are agencies that do have a "significant constituency outside of government.") So either the Occupy and Ferguson occupations are not deep state operations, which is an odd result, given that these are movements you'd intuitively expect a thing called the "deep state" to suppress, or we have, again, a definition that's so arbitrary and unmotivated that it excludes obvious actors like the police.
Figure 3: State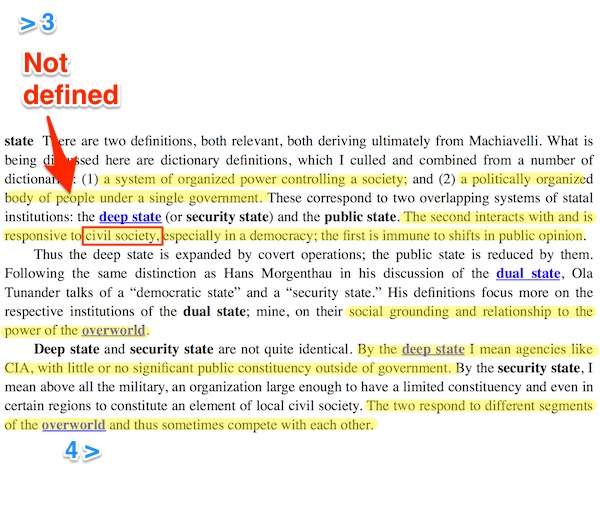 From "deep state" and "dual state," we are told to go to "state," and so here we are. I won't quarrel at this point with the dictionary definitions. I will note, however, that in sense two, the state is contrasted to "civil society," to which the public state is said to be responsive; and civil society is nowhere defined; it seems to produce "shifts in public opinion" to which the public state responds, but the origin and nature of these shifts remains a mystery.
The deep state, by contrast, responds to the "overworld," to which we will turn after noting that the "deep state" is really not "immune" (whatever that means) to "shifts in public opinion" (whatever they mean). The Nazis, for example, systematically gathered domestic intelligence on "public opinion" and Goebbels adjusted his propaganda campaigns accordingly; the Nazis were by no means "immune."  One reason the KGB was one of the few functional organizations in the old Soviet Union was precisely that it gathered intelligence on "shifts in public opinion"; it was not "immune" either. (Returning to Figure 1 for a moment, the Nazi state seems to meet all the criteria for deep state-hood but the presence of organized crime, and you could view the Nazi Party as organized crime. Anyhow, if the United States in 2014 has a deep state, and Germany in 1933 – 1945 did not, I give up. Dittoez the USSR.)
Note also that in Figure 2 ("dual state") one "can distinguish," within the state, between a deep state and a public state; but here in Figure 3 ("state") deep state and public state are to be treated as "overlapping systems of statal institutions."[3] I don't wish to seem churlish, but those relationships are not the same. We might draw ourselves a Venn Diagram and say that the State is 100%, 30% is pure public, 30% is pure deep, and 40% is overlap. Fine, but how is the actual sorting to be done? What are the criteria, especially in that overlapping area? Especially given neither the media nor the police seem to fit into the model?
Figure 4: Overworld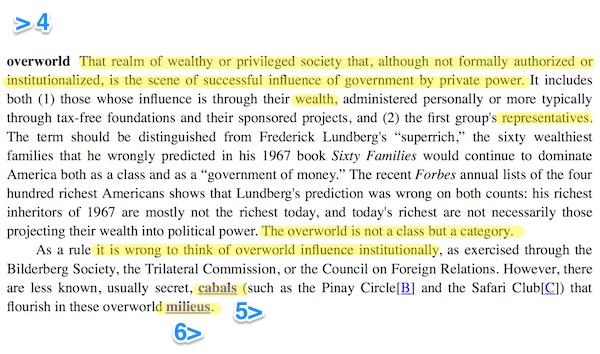 And so, from "deep state," we come to the  "overworld" (a name almost as evocative as "deep state" itself). As "shifts in public opinion" are the unmotivated driver of the public state, so the overworld "influences" the deep state, apparently its members are also members of cliques and cabals.
We learn first that the overworld is a "realm," by which apparently is meant a "scene," of "successful influence of government by private power." Trivially, why on earth the weird restriction to "successful" influence? Suppose some executive at Comcast tries to buy a council member in Philly and fails, incredibly. Is that attempt not take place in the overworld? Less trivially, what is meant by "private power"? If "civil society" is meant, then why is the term not used? And what about private individuals? Suppose I call my Congress critter and have them shake loose my ObamaCare form. Does that take place in the overworld?
Second, "the overworld is not a class but a category." Never mind that "category" of what — influencers, one guesses — goes unstated. Get a load of this, as the most amazing example of wilful refusal to discuss class that I, and quite possibly you, have ever encountered. Quoting again:
The term [overworld] should be distinguished from Frederick Lundberg's "superrich," the sixty wealthiest families that he wrongly predicted in his 1967 book Sixty Families would continue to dominate America both as a class and as a "government of money." The recent Forbes annual lists of the four hundred richest Americans shows that Lundberg's prediction was wrong on both counts: his richest inheritors of 1967 are mostly not the richest today, and today's richest are not necessarily those projecting their wealth into political power. .
The argument, or assertion, is, if I understand it, that for the wealthy to be considered a class, as opposed to a category: (1) all the wealthy must "project their wealth into political power,"  (2)  proportionately to their wealth, and that (3) that yesterday's wealthy must be both yesterday's and tomorrow's. But here again we have oddly restrictive and seemingly unmotivated constraints. If one regards "wealth" as a type social relation between a person and some types of property — an unexceptionable proposition, surely — then the only thing that matters is that the social relation persists over time, as the definition shows it does. Wealth is wealth, whether held by these 60 families or that, and whether held for five years or fifty. Further, only some members of the class of the wealthy need "influence" government for all to benefit, and in any case politics is an art not all do well or choose to practive; it's again restrictive and unmotivated to imply a direct relation between any one "richest" and their "projection" of "political power." Now, I'm not sure I'd accept "overworld" as a term anyhow, but I just can't see any reason to think of overworld players as not a class, if the litmus test for membership in the class is a social relation to wealth.
Finally, the operation of influence is not carried on through "institutions," at least not "as a rule" (although it would be nice to know what motivates the exceptions). That leaves open the question of what the Bildberg Society, the Trilateral Commission, and the Council on Foreign Relations are for, if not to serve as channels for influence, another oddly restrictive and seemingly unmotivated constraint, but put that aside. Influence in the overworld is apparently to be carried on through "cabals" and "cliques" — what is this, high school? — to which we now turn.
Figures 5 and 7: Cabal and Clique
So we arrive at "cabal" from "overworld," and then "cabal" sends us to "clique."

(I'm not even going to ask what "interventions from the overworld" means.) And now clique:

And so we are back at "network," still undefined! (A good dictionary game is always circular). One wonders if there are limits to the size, shape, and complexity of the network, given that its "social or bureaucratic base" can be "broad." Could the entire Democratic Party be a cabal? Certainly the Democrats "sustain top-down rule" and facilitate "interventions from the overworld," if by that is meant campaign contributions. Is the Democratic agenda "widely known or shared"? Well, that depends, doesn't it? However, it's this from "clique" that's really interesting:
Before the Iraq war the neocons in the Bush administration represented a clique; the faction preparing secretly for war (which included both neocons and veterans of the international petroleum industry, like Dick Cheney and Condoleezza Rice) represented a larger and more widespread cabal.
Let's not worry about how a "faction" is different from a cabal or a clique. We have a clique of neocons inside a cabal of warmongers who, in the "overworld" (by definition), have "successfully influenced" (by definition), but not "institutionally" (by definition), "government" on behalf of "private power" (by definition); we have a canonical example of how the deep state is said to work. (Never mind that the media was critical to getting the war on, but can't be accomodated with the definitions given).
Remember, however, from our discussion of "overworld," that entry into the "scene" is granted not because Cheney(for example) is a member of a class, but because he exhibits a category. And what is that category? "[V]eteran of the international petroleum industry." But doesn't it make for sense to think of Cheney as having "influence" because he's a representative of a certain economic interest, than because of his job description? I really don't want to be reductionist here, but surely Cheney had the influence he did not merely because he was a "veteran," but because he was wealthy in his own right (a social relation) and because he spoke for those who owned the means to drill for and process petrolem (more social relations)? What is "private power" but class?
Figure 6: Milieu

From "overworld" we are directed to "milieu," the venue where the deal gets done. A classic example of a milieu would be a golf course. And so:
A location (not necessarily geographical) where private deals can be made. Relatively unimportant to proceedings and institutions of the public state
This is probably true. Although Obama, with Eisenhower, does do deals on the golf course, they are "unimportant" put beside the routine processes of governance.
Conclusion
As the programmer said to the documentation specialist: "That code was hard to write. It should be hard to understand!" So for those of you who got this far, but aren't close reading enthusiasts, I apologize.
Summarizing why I'm crossing "the deep state" off my list of candidate theories of the state, despite the incredible resonance and power of the term itself:
1. The definitions of the key terms that define the concept of the deep state are restricted in ways that seem unmotivated; why  are "violent false flag" operations a litmus test, instead of covert operations as such? Can it really be true that no "deep state" existed before the 19th century?
2. When I test the deep state concept against real life examples that I would, intuitively, expect it to illuminate, it comes up short. Example: Suppressing Occupy.
3. When I test the deep state concept against real life institutions that I would, intuitively, expect it to include, it comes up short. Example: The media, the police.
4. The architecture of a "public state" that responds to public opinion, and a "deep state" that responds only to influence through the overworld seems brittle. Surely it's possibly that the same forces, however named, that shift public opinion can also influence the overworld? If they do, I can't see a way for the architecture to give an account of it.
5. I don't buy that it's more useful and interesting to view the 1% (let's call them) acting vertically through a myriad of cabals and cliques, as opposed to horizontally in their common or shared interests as a class.
6. Finally, I am unpersuaded that the narratives prominent in deep state permathreads are important or interesting. The biggest story of our age is surely not long-ago elite assassination plots, but the greatest upward transfer of wealth in world history, which happened after the bailouts. However, the deep state concept has nothing to say of this, even though the bailouts were largely done in secret, which you'd think would be catnip for a deep state analyst (though, to be fair, I'm working from a glossary, and there may be a new book out).
In short, I want a theory of the state that helps me to distinguish friend or ally from enemy or neutral, and helps me to pursue the values and interests I share with others like me. "Deep state" analytics focuses shallowly on cabals and cliques. "Deep state" and "overworld" have deep resonance as poetic phrases. But analytical tools must cut as well as gleam. A deeper focus is needed to sharpen our vision.
Readers correct me, or, better yet, propose alternatives. Leave The State for Dummies out of this, though; I've already ordered it!
NOTES
[1] Here's WikiPedia's definition; I'd supply one from a subject matter expert if Google weren't totally crapified:
False flag (or black flag) describes covert military or paramilitary operations designed to deceive in such a way that the operations appear as though they are being carried out by entities, groups, or nations other than those who actually planned and executed them. Operations carried out during peace-time by civilian organizations, as well as covert government agencies, may by extension be called false flag operations if they seek to hide the real organization behind an operation. Geraint Hughes uses the term to refer to those acts carried out by "military or security force personnel, which are then blamed on terrorists."

In its most modern usage, the term may also refer to those events which governments are cognizant of and able to stop but choose to allow to happen (or "stand down"), as a strategy to entangle or prepare the nation for war. Furthermore, the term "false flag terrorism" may even be used in those instances when violence is carried out by groups or organizations which, whether they know it or not, are being supported or controlled by the "victim" nation. deHaven-Smith argues that the terminology has become looser in recent years due to the increasingly complex levels of "duplicity" and "international intrigue" between states.
Personally, I think the farther away we get from the original naval operation, where Jack Aubrey would "amuse the enemy" by flying the flag of a neutral, and then unfurl the Union Jack only when the enemy was in range of his cannon, the worse. When "false flag" is used for any form of deception, public or private, it becomes so broad a term is to be meaningless. That doesn't mean it lacks utility, of course.
[2] Indeed, how would we know?
[3] Statal means "of or relating to a national government" (Merriam-Webster). I think "relating to" means "concerning," as opposed to "related to," in the sense that a corporation regulated by a government could be said to be related to it, in a highly technical, "closed network" kind of way.