By Lambert Strether of Corrente
Sorry for the delay in tinkering; there was a CloudFlare outage. –Lambert
Trade
"Robert Lighthizer, President Donald Trump's nominee to be U.S. trade representative, will finally get a confirmation hearing before the Senate Finance Committee on Tuesday — but he's not much closer to getting sworn in as action and timing on his waiver to serve in the role is still up in the air" [Politico]. "Democrats have been hoping to attach legislation renewing a package of health care and pension benefits for miners to that waiver."
"The TPP: What's Next for America and the Other 11 Countries" [Teen Vogue (!)]. Mostly quotes from Tyler Cowen, which is odd considering Teen Vogue's Twitter reputation for bringing up the next generation of "progressives," and doesn't mention ISDS, even more oddly.
"The new Trump administration released today its version for 2017 [of the Congressionally mandated "trade policy agenda."] If this does indeed provide a blueprint for the administration's coming approaches to trade policy, there may be less to fear and more to cheer than would be thought from the president's own statements to date. There is no lambasting of NAFTA as "the worst trade deal ever negotiated," no empty promises to restore millions of lost manufacturing jobs, no threats to slap large tariffs on imports. Instead there is a sober critique of the limitations of some of the current trade arrangements, problems that many critics – myself included – have long identified as serious challenges for U.S. trade policy" [Council on Foreign Relations].
Politics
Trump Transition
UPDATE "Just weeks before, Trump had sent drug stock prices plummeting after accusing the companies of "getting away with murder" by charging too much for medicines" [Reuters]. "But the Trump who greeted chief executives of Johnson & Johnson, Novartis, Merck, Eli Lilly, Celgene and Amgen on Jan. 31 was a surprisingly genial host who even gave them a personal tour of the Oval Office, according to several participants in the breakfast. 'There is no question that it was better than it could have been or we thought it could be," said one industry insider familiar with the meeting.'" That's nice. Trump will stand between them and the pitchforks!

"Ex-CIA director on Trump's possible ties to Russia: 'There's a lot of smoke'" [Yahoo News]. Further down in the story, a totally unrelated matter:

During the wide-ranging interview, [Michael] Hayden suggested the sanctions placed on Russia by the U.S. in response to Moscow's meddling in the U.S. presidential election were too narrow — and too soft.

"Don't think of this as a cyber-problem," Hayden said. "Don't even think of it as an election problem. I think you need to think of it as a Russia problem."

"I think our response to this shouldn't be narrowly confined to … [expelling] some Russian diplomats or denying them some vacation spots on the Eastern Shore," he continued. "I think we should look at the broad sweep of American relations."

Hayden suggested three possible actions the Trump administration could take against Moscow: provide defensive arms to Ukraine, give oil to European allies to reduce their dependence on Russian energy, and unleash a U.S. cyberattack on the Kremlin.

So this is what would be happening now if — as the Intelligence Community clearly wished — Clinton had been elected President. Good to know.

"When the people asked [Republican Rep. John Katko, who came out to meet with them after they staged a protest,] about how Trump has accused former President Barack Obama of wire taping Trump Tower telephones during last year's election, Katko told them the House and Senate intelligence committees are looking into it. Katko described the committees as 'very bipartisan' and said he would support the committees if they request a special prosecutor during the investigation" [Syracuse.com (Bob)] "'You got to let them do their job and find out what's there,' Katko said. 'I did wiretaps for 20 years as a federal prosecutor. There's always a paper trail. If there was a wire tap done, they can easily prove it. If there are none, we should know that too. If there wasn't any, they shouldn't be making comments like that.'" First sign I've seen that the Rooski madness is getting an traction outside the Beltway, though I would dearly love to know who "the people" who "asked" actually were.
Health Care
"What to watch for in healthcare bill markups" [Modern Health Care]. "The newly proposed bill eliminates the ACA's individual mandate [as Obama advocated in in 2008], ends funding for Medicaid expansion after 2020, converts Medicaid to a per capita cap program and provides health savings account tax credits to help people purchase insurance." On the one hand, the loons in the "Freedom Caucus" (40 members) hate the bill's tax credits. On the other, four Republican Senators want to put off ending Medicaid expansion.

UPDATE "Examining The House Republican ACA Repeal And Replace Legislation" [Timothy Jost, Health Affairs]. Jost's summary:

More specifically, the legislation does not repeal the ACA's insurance reforms, such as the ACA's requirements that health plans

cover preexisting conditions;
guarantee availability and renewability of coverage;
cover adult children up to age 26; and
cap out-of-pocket expenditures,

and the ACA's prohibitions against

health status underwriting;
lifetime and annual limits; and
discrimination on the basis of race, nationality, disability, age, or sex.

Unlike the leaked version, the final bills do not eliminate the essential health benefits provisions (except with respect to Medicaid plans). They do repeal the ACA's actuarial value requirements and replace the ACA's three to one age ratio limit with a five-to-one ratio.

Much of the E&C bill is devoted to changes in the Medicaid program. Indeed, . Most importantly, it transitions federal Medicaid funding to a per-capita cap basis by 2020, transforming the nature of the Medicaid program.

"Under the House Republicans' proposed per-capita grant model, starting in 2020 states would receive a fixed amount of federal money for each of five beneficiary groups. Then they'd have to decide who to cover, what benefits to offer, and how much to pay providers" [Modern Health Care]. "The American Hospital Association, the Catholic Health Association, America's Essential Hospitals, and the Association for Community-Affiliated Plans all have come out against the House GOP bill in its current form, citing concerns about the Medicaid changes." I would imagine the Republicans are hearing about this from the district. And: "Experts fear that under the GOP's per-capita formula, states would not be in a financial position to handle unanticipated higher costs due to epidemics, natural disasters, medical advances such as the new hepatitis C drugs, or demographic changes such as the growth of the frail elderly population." Well, we have Health Savings Accounts for things like epidemics, right?

"'Phasing out Medicaid coverage without a viable alternative is counterproductive and unnecessarily puts at risk our ability to treat the drug-addicted, mentally ill and working poor who now have access to a stable source of care,' said Ohio Gov. John Kasich, who defended his decision to expand Medicaid while running for president'" [Roll Call]. "But Wisconsin Gov. Scott Walker, who is chairman of the Republican Governors' Association, called the bill 'an important first step.'"

"Governors, especially those from political battleground states, were generally cool to the bill put forth in the Republican-controlled U.S. House. Some signaled that they would continue working on their own legislation to compete with the measure introduced Monday" [AP]. On those battleground states, see here.

"They rarely agree on much, but health care experts on the left, right and center of the political spectrum have found consensus on the House GOP's Obamacare replacement: It won't work" [NBC News]. That's understandable. Nothing inside the Overton Window on health care works. And: "The bill, experts said, falls far short of the goals President Donald Trump laid out: Affordable coverage for everyone; lower deductibles and health care costs; better care; and zero cuts to Medicaid. Instead, the bill is almost certain to reduce overall coverage, result in deductibles increasing, and will phase out Obamacare's Medicaid expansion."

"AMA policy also supports increased flexibility in the Medicaid program so that states may pursue innovations that improve coverage for patients with low incomes. We are concerned, however, with the proposed rollback of the Medicaid expansion under the ACA. Medicaid expansion has proven highly successful in providing coverage for lower income individuals. Beyond the expansion, the underlying structure of Medicaid financing ensures that states are able to react to economically driven changes in enrollment and increased health care needs driven by external factors. The Medicaid program, for example, has been critical in helping many states cope with the increased demand for mental health and substance abuse treatment as a result of the ongoing crisis of opioid abuse and addiction. Changes to the program, therefore, that limit the ability of states to respond to changes in demand for services threaten to force states to limit coverage and increase the number of uninsured" [American Medical Assocation]. Notice this is the second time opioid addiction has crept into the discourse — medicalized, naturally, shorn of economic context.

UPDATE "Monday's release of the legislation follows weeks of negotiations among Republican lawmakers and senior Trump administration officials. President Trump gave the bill a boost on Twitter, but the White House notably declined to explicitly endorse it. "Today marks an important step toward restoring health-care choices and affordability back to the American people," Press Secretary Sean Spicer said. "President Trump looks forward to working with both chambers of Congress to repeal and replace Obamacare." The president leaned in a bit more enthusiastically on Tuesday morning: "Our wonderful new healthcare bill is now out for review and negotiation'" [The Atlantic]. "Wonderful," as in "indeed, a thing of wonder." And "out for review and negotiation" as in "To the bare walls! Everything must go!" (including, one can only hope, gormless and beardless Paul Ryan).

Yeah, basically:

Obamacare vs GOP replacement pic.twitter.com/QVbtap4JYM

— Pixelated Boat (@pixelatedboat) March 7, 2017

UPDATE "The non-partisan Committee on Taxation found that the biggest tax cut in the so-called "health care" bill is the repeal of a 3.8 percent tax on investment income in the upper wealth bracket. The measure would give America's long-suffering rich people a whopping $158 billion over 10 years, with 90 percent of that going to the top 1 Percent — people making over $700,000 a year" [Will Bunch, Philadelphia Daily News].
2016 Post Mortem
"Study: Hillary Clinton's TV ads were almost entirely policy-free" [Vox] (press release; original). Another pathway to misfortune!

UPDATE Nice fillip for Democrat IT contractor CrowdStrike:

BREAKING AND URGENT
INITIAL WITNESS LIST FOR TRUMP RUSSIA HEARING MARCH 20TH pic.twitter.com/JPnwoOzyeP

— NotMyPresident (@MarcusC22973194) March 8, 2017
Realignment and Legitimacy
On insufferable liberal trends, it's a crowded field:

The most insufferable recent liberal trend; denying the link Wall Street and Corporate America has with the material problems in the US. pic.twitter.com/2zU1JOuN6D

— Hussain (@Chemzes) March 5, 2017

"Of the nation's 3,113 counties (or county equivalents), just 303 were decided by single-digit margins — less than 10 percent. In contrast, 1,096 counties fit that description in 1992, even though that election featured a wider national spread.1 During the same period, the number of extreme landslide counties — those decided by margins exceeding 50 percentage points — exploded from 93 to 1,196, or over a third of the nation's counties" [FiveThirtyEight (DK)]. "The electorate's move toward single-party geographic enclaves has been particularly pronounced at the extremes. Between 1992 and 2016, the share of voters living in extreme landslide counties quintupled from 4 percent to 21 percent."
Stats Watch
ADP Employment Report, February 2017: "The February employment report looks to be a blockbuster based on ADP's estimate for giant growth of 298,000 in private payrolls" [Econoday]. And but: "This is the second month of improving year-over-year employment gains. This report is very good with growth in almost every sector" [Econintersect]. "ADP employment has not been a good predictor of BLS non-farm private job growth." And: "There is always the potential for erratic monthly data, but the ADP data suggests that there is very little chance that the employment data will disrupt Fed pans to raise interest rates. If Friday's employment data is close to the ADP figure, there is also likely to be increased speculation that the Fed will have to accelerate tightening plans over the next few months" [Economic Calendar]. And: "The release noted that net hiring was strong practically across the board, with some part of the spurt reflecting unusually mild weather during the period. I hope it is well known by all at this point that I am not a big believer in the ADP's predictive powers, but, as with consumer confidence surveys, sometimes the proxies for labor market conditions are all picking up the same shift in underlying conditions. I noticed this morning that LinkedIn has also begun to release a monthly employment report, and they too noted considerable strength in the first two months of the year. Their explanation rings true in my view: they believe that the post-election surge in business confidence has led to a significant boost in hiring. This jump in payrolls may not be sustainable over a longer period, but for now, it seems pretty real" [Amherst Pierpont Securities, Across the Curve]. Donald Trump, Confidence Fairy!
Productivity and Costs, Q4 2016 (second estimate): "Productivity held at a 1.3 percent annualized rate and below unit labor costs at 1.7 percent in the second estimate for the fourth quarter" [Econoday]. "Output growth slowed sharply in the quarter to a 2.4 percent rate from 4.2 percent while hours worked, instead of falling, rose 1.0 percent. But compensation did slow, to a 3.0 percent rate of growth from 4.1 percent. Taking more hours to produce at a slower rate is not a healthy, sustainable economic mix." Healthy for whom? And: "the year-over-year data is saying that costs are rising faster than productivity" [Econintersect]. And: "The data will maintain underlying concerns surrounding a lack of productivity growth in the economy and will also increase concerns that a significant fiscal stimulus will put upward pressure on costs and inflation rather than boost GDP growth" [Economic Calendar].
Wholesale Trade, January 2017: "Wholesale inventories fell 0.2 percent in January while sales declined 0.1 percent, a comparison that keeps stock-to-sales at a healthy 1.29 ratio" [Econoday].
MBA Mortgage Applications, week of March 3, 2017: "Purchase applications for home mortgages rose a seasonally adjusted 2 percent in the March 3 week, while refinancing applications increased by 5 percent to the highest level since December" [Econoday]. And: "There has been further evidence that a shortage of homes to buy gas undermined market activity. There has also been evidence of a switch to adjustable-rate mortgages (ARMs) which currently offer lower rates and the ARM share has increased to the highest level since 2014. Borrowers will, however, be extremely exposed if there is a sharp increase in short-term interest rates" [Economic Calendar]. And: "Mortgage rates have reacted to a high probability for an interest rate hike at next week's meeting of the Federal Open Market Committee (FOMC)." [247 Wall Street].
Labor Power: "A host of societal and economic trends—growing trade barriers, volatile exchange rates, and the erosion of labor-cost benefits in places like China—are pushing more companies to move their overseas manufacturing plants and production closer to large end-user markets. But obstacles to this general movement, known as "nearshoring," remain. Among the most significant: a lack of skilled labor" [DC Velocity]. Could it be that the obstacle is a lack of skilled management? Management to stupid to entertain the idea of training the workforce?
Labor Power: "Steve Viscelli believes the trucking industry's claims that there's a shortage of drivers, but he says they're not placing the blame in the right place. The Ivy League sociologist says the driver deficit is largely the industry's own doing… thanks to an industry labor model that relies heavily on inexperienced drivers and independent contractors" [Wall Street Journal]. "[U]pward of 25% of long-haul truck drivers are owner-operators. They are drawn by promises of being their own bosses, but the arrangements that include training at company-owned schools and tough lease-to-own deals for trucks with the same companies often saddle them with unsustainable debt and high expenses. The formula chases drivers from the field, says Mr. Viscelli, and leaves companies constantly coping with a high turnover rate."
Political Risk: "Dow 30 CEOs' Stock Value Gained $400 Million Since Election Day" [The Harvard Law School Forum on Corporate Governance and Financial Regulation]. So some people are very happy with Trump indeed.
Today's Fear & Greed Index: 65 Greed (previous close: 70, Greed) [CNN]. One week ago: 80 (Extreme Greed). (0 is Extreme Fear; 100 is Extreme Greed). Last updated Mar 8 at 11:58am. Yawn.
Health Care
"Jury Awards $115 Million in False Claims Case Against Nursing Home Facility" [Corporate Crime Reporter]. Better yet, the whistleblower was a nurse, and she found her lawyer by googling for "Medicare fraud."
Water
"China is reportedly considering plans to build a 1,000km (620 mile) pipeline to pump water all the way from Siberia to its drought-stricken northwest" [Guardian]. Las Vegas might end up considering the same option. And cue the Chinatown jokes!
Women's Strike
"More than 50 countries around the globe have events scheduled in Hong Kong, Bosnia, Senegal, Cambodia, Pakistan, Guatemala, and more, according to a Facebook event page for the International Women's Strike. On a local level, nearly 400 separate rallies and marches are planned in cities and towns around the world" [NBC].
"Members of Domestic Workers United marched alongside thousands at the Women's March on Washington in January. Now they are asking themselves if, and how, they will take part in the march's follow-up, "A Day Without A Woman." Organizers of the March 8 strike have asked women to participate by taking the day off (from both paid and unpaid labor), avoiding shopping, or wearing red as a show of support" [Quartz]. "Some people have worried that the strike may inadvertently exclude women of color—especially domestic workers of color—as well as millions of other low-income workers who cannot safely take the day off." An easy worry to address. Is there a strike fund?
"The purpose of striking is two-fold. The first purpose, which is largely symbolic (though material as well), is to make the value of one's labor felt through its absence. The second, and more important one, is to have one's demands addressed. In the case of the 2017 Women's Strike, these demands include universal childcare, free abortion, free paid leave, and legislation protecting women against violence" [Common Dreams]. "Taking these purposes together, some valid criticisms of the Women's Strike emerge: Without the participation of immigrant and working-class women, how will the value of their labor be seen? And more importantly, will their demands be addressed?"
"In 1909, garment industry workers in lower Manhattan's shirtwaist factories, who were primarily young, immigrant women, went on strike for higher wages and better working conditions. This fight exemplified solidarity among women of different classes and ethnicities. A group of wealthy socialites were sympathetic to the cause of the striking seamstresses. Known as the 'Mink Brigade,' they put up bail when the strikers were arrested and jailed. The support of affluent women together with the courage of poor women ultimately made the effort a success, changing industry practices to favor workers in most factories" [New York Daily News]. Hmm. I wonder what a labor historian would have to say about that…
"The Statue of Liberty went dark overnight and the timing was just 'too perfect'" [WaPo]. I'm surprised WaPo didn't work the word "adorable" into that headline….
"'Women's strike' to shut down part of elite prep school" [New York Post]. OK, OK. I couldn't resist….
"On Tuesday in New York City, Hillary Clinton wore a red pantsuit while accepting the Champion for Girls award from Girls Inc. Her choice was significant because it took place one day before the 'Day Without A Woman' protest — a demonstration that asks women to take March 8 (International Women's Day) off of work, or wear red to show support for 'equality, justice, and the human rights of women and all gender-oppressed people'" [Cosmopolitian].
Class Warfare
"The state of West Virginia has paid for so many burials for indigent people who have died from drug overdoses that the funding has run out five months before the end of the current fiscal year on June 30" [The Intelligencer]. America Is Already Great.
"The Teamsters union, looking to rebuild its membership rolls, has expanded its organizing efforts to reach workers at logistics companies outside the union's traditional niches of trucking, parcel, and airlines" [DC Velocity]. "[Jeff Farmer, the union's director of organizing,] acknowledged the difficulties his organizing team faces in overcoming the legal challenges, as well as capturing a worker universe that is as geographically dispersed and market fragmented as supply chain workers. For those reasons, he said, the Teamsters are especially focused on supporting workers who claim they've been misclassified as contractors even though they operate in a de facto manner as employees. Workers allege that companies illegally engage in worker misclassification to avoid paying market wages and benefits, and to push all of the operating costs onto the workers.]
News of the Wired
"Such men [as the missionaries who followed the conquistadors] needed books, and the Spanish Crown concurred, exempting virtually all printed matter from the taxes imposed on other goods—and the flow of books, substantial from the start, quickly grew to meet demand. Books were so highly valued that their prices often doubled upon reaching American ports, prompting illiterate sailors to tuck volumes into their gear for use as currency upon arrival" [The American Scholar]. Om the library of the Convent of the Recoleta, in Peru.
UPDATE "WikiLeaks Dumps Docs on CIA's Hacking Tools" [Krebs on Security]. "WikiLeaks is promising a series of these document caches; this first one includes more than 8,700 files allegedly taken from a high-security network inside CIA's Center for Cyber Intelligence in Langley, Va." That's nice.
UPDATE "Commentary: Wikileaks' CIA dump looks like a dud for now" [Leonid Bershidsky, Chicago Tribune]. All the way to the end: "Revealing more evidence of Russian interference in the 2016 election campaign would probably help the intelligence agencies to redeem themselves. It's time for them to go beyond innuendo and anonymous leaks — they can't beat Julian Assange at that game." "Revealing more evidence" is awfully equivocal, isn't it?
* * *
Readers, feel free to contact me with (a) links, and even better (b) sources I should curate regularly, and (c) to find out how to send me images of plants. Vegetables are fine! Fungi are deemed to be honorary plants! See the previous Water Cooler (with plant) here. And here's today's plant (PS):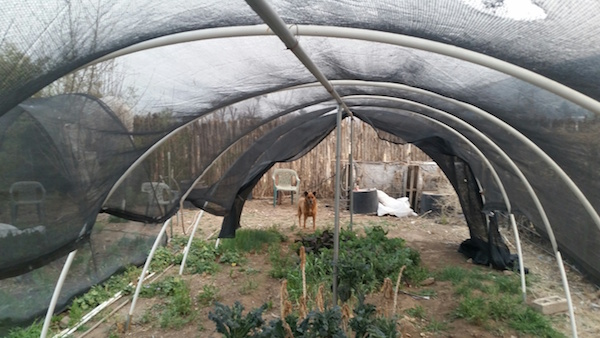 Yesterday, I mentioned that I'd like to construct a shelter of some sort so I can sit out and work on my laptop in the garden even if it rains, and PS kindly sent along this photo. A hoophouse! Now, why didn't I think of that? And it does look like the sort of thing a lazy person might construct. I have to think about whether the design is fit for purpose, though. My picture was more a lean-to sort of structure. I wonder if I grew honeysuckle over the top it would be thick enough to act like a roof? One thing you end up with in a hoop-house is flapping plastic.
Readers, Water Cooler is a standalone entity, not supported by the very successful Naked Capitalism fundraiser just past. Now, I understand you may feel tapped out, but when and if you are able, please use the dropdown to choose your contribution, and then click the hat! Your tip will be welcome today, and indeed any day. Water Cooler will not exist without your continued help.