By Lambert Strether of Corrente
Readers, I apologize for being late; working up that piece on Frank Rich took me more time than I budgeted for. I knew it was horrid, but I hadn't realized how sloppy and bad it was. Sometimes it's harder to argue against a poorly constructed case than a well-made one! –lambert
I'll be back in an hour or so with more. In the meantime, talk amongst yourselves!
Oh, and I have a friend who's buying a microwave. His last one lasted 18 years. Apparently, all it had was an off- and on-switch. Are there any products microwaves these days that haven't been crapified? WiFi operation, a la the Internet of Shit, is most definitely not a requirement!
UPDATE, 3:23PM. Here ya go–
Politics
New Cold War
"Democrats step up calls that Russian hack was act of war" [The Hill]. This is madness. Quote after quote from Democrat office-holders. We're going to war based on anonymous sources from the intelligence community? Or we're not going to war, in response to an act of war?

The Army's top officer, Mark Milley, also cautioned individuals about using the term "war" to refer to the cyberattacks, saying at a conference on Tuesday, "If it's an act of war, then you've got to start thinking of your response to that sort of thing."

"The Clinton campaign warned you about Russia. But nobody listened to us." [Jennifer Palmieri, WaPo]. Giving credence to the idea that if Clinton were President, we'd be at war with Russia already.

"'Russia is a threat': Estonia frets about its neighbor" [Lally Weymouth, WaPo]. Palmieri is just a Democrat hack, but this is serious: Lally Weymouth is Beltway aristocracy; she's former WaPo publisher Katherine Graham's daughter.
Health Care
"There is one way to ensure Democrats fully own Obamacare: have Price resign and replace him with a Democrat. Price would probably love to be off the hook from administering a program he dreamed of vaporizing. And for Trump: this could be a win-win scenario. If Obamacare does explode under Democratic management, he was completely right. If Obamacare hums along, he's a political genius for crossing the aisle to pick the right person for the job" [RealClearPolitics].

And then there's this:

Democrats are smiling in D.C. that the Freedom Caucus, with the help of Club For Growth and Heritage, have saved Planned Parenthood & Ocare!

— Donald J. Trump (@realDonaldTrump) March 26, 2017
Trump Transition
"Trump taps Kushner to lead a SWAT team to fix government with business ideas" [WaPo]. Hopefully this doesn't mean Trump will crank up Obama's anti-whistleblowing campaign.

"The Art of the Possible in an Age of Recrimination" [American Greatness]. "No, the 'Trump = Incompetent' meme is not going to last very long. But [Scott] Adams is right: what it replaces was, though hallucinatory, extremely toxic. Here and abroad the hallucination 'Trump-is-Hitler' made the usual business of politics very difficult. A crisis of legitimacy loomed. But all that is suddenly behind us now. In other words, We just went from an extraordinary risk (Trump=Hitler) to ordinary politics (The other side=incompetent). Ordinary politics won't spark a revolution or make you punch a coworker.'" Well, maybe on the coworker-punching part. And I think our legitimacy crisis is on-going and long-term.

And then there's this:

Most of Trump's 'scandals' are actually helping him among his base https://t.co/tfSvakuFme pic.twitter.com/dlSC0a4g5T

— Morning Consult (@MorningConsult) March 24, 2017
Realignment and Legitimacy
"[T]he election results show that the Democrats' conscious effort to woo the rich wasn't entirely for naught. Clinton ran nine points ahead of Obama's 2012 tally among voters earning more than $100,000. Further up the income ladder, among voters making more than $250,000 annually, she bested Obama's margin by a full eleven points" [Jacobin]. "And although overall Democratic turnout declined substantially from 2012, it is wrong to say that nobody was excited to vote for Clinton. In the wealthy and well-educated suburbs of cities like Boston, Chicago, and Minneapolis — as in the effectively suburbanized enclaves of Manhattan and Washington, DC — Clinton's vote total far surpassed Obama's mark four years ago."

"Hawaii lawmaker resigns from Republican Party to join Democrats" [Reuters].

"Perez, Ellison start multistate 'turnaround tour' for Dems" [The Hill]. Let me know how that works out. This paragraph caught my eye:

Some local officials are already heartened by news that the DNC won't stop distributing the $7,500 monthly grant it gives to each state, which became delayed for months after the 2008 elections.

$7,500? That's where we are? That's, like, one plate at a Clinton fund-raising dinner. It's almost like the state parties aren't a priority…

"Southern Conservatives Are America's Third Party" [Forbes]. "All the while, an unacknowledged and unofficial third party has survived inside these alignments. A party of Southern conservatives, aligned originally with Democrats, has remained a distinct political entity, complete with their own institutions, practices and values. Elsewhere in America, Democrats and Republicans dueled their way through a two-party democracy. By contrast, Southern states never tolerated partisan competition. Southern states have always been governed by a single, distinct local party, an arrangement that continues today." Hmm. I'd be interested to know what readers think of this, especially those south of the Mason-Dixon line.
Stats Watch
Dallas Fed Manufacturing Survey, March 2017: "The energy sector continues to come alive based on the Dallas Fed report where the general activity index came in at a very strong 16.9 in March" [Econoday]. "But strength in regional reports really hasn't translated yet to similar strength in actual factory data out of Washington." And: "Overall confidence in the manufacturing sector should remain strong in the short term and capital spending plans in the energy sector will remain robust in the short term, especially with expectations of more favourable regulatory environment" [Economic Calendar]. "There will, however, be significant concerns if oil prices continue to decline with the risk that investment plans and wider economic activity in the area will come under pressure." And: "Of the four Federal Reserve districts which have released their March manufacturing surveys – all are in expansion" [Econintersect].
Debt: "Hard to say the credit collapse is over. And as the causation is "bank loans create bank deposits" that component of the 'money supply' is decelerating as well" [Mosler Economics].
Shipping: "U.S.-NAFTA freight up again in January, reports [the Bureau of Transportation Statistics]" [Logistics Management]. "This marks the fourth increase in the last six months and the third straight month there has been an annual increase, as well as the largest annual increase going back to September 2014."
The Bezzle: "A federal judge's ruling that United Parcel Service Inc. failed to properly flag tobacco shipments from Indian reservations into New York opens the carrier up to millions of dollars in damages and penalties… over claims that it deprived the state and New York City of tax revenues" [Wall Street Journal]. "The judge said UPS hadn't complied with a 2005 agreement to fix a problem that arose from schemes to avoid high local taxes on cigarette sales. A similar suit is pending against FedEx with potentially big monetary claims. In each case, local authorities say package carriers should be doing more to police the contents of their shipments. FedEx has said enforcement must be balanced against the privacy of its shipping customers. But the judge's ruling in the UPS case says the parcel networks can't be used to sidestep taxes."
The Bezzle: "Which brings me to the question folks all over have been asking for a while now: 'Pete, what will these new tractors be worth in 30 years and who will buy them?' The not-so-subtle implication is all the electronics in today's modern tractor will not wear well over the decades. Time will tell. I sure hope I'm around in 30 years so we can talk about auction prices" [Machinery Pete, Farm Journal].
The Bezzle: "'Don't think you're special,' she says. 'It's a courtesy refund we give to people in your position'" [Corporate Crime Reporter]. Filing a FOIA request yields a $6.00 refund…
Rapture Index: Closes up 1 on Liberalism: "The left has become fanatical in its opposition to Trump" [Rapture Ready]. Record High: 189, October 10, 2016. Current: 183.
Today's Fear & Greed Index: 33 Fear (previous close: 30, Fear) [CNN]. One week ago: 45 (Neutral). (0 is Extreme Fear; 100 is Extreme Greed). Last updated Mar 23 at 11:50am. Last updated Mar 24 at 11:47am. Rolled over and went back to bed…
Health Care
""Thunderous Applause" Welcomes Sanders' Call for Medicare-for-All" [Common Dreams]. However, deeper in the story we get a mixed message:
Sanders reiterated his plan on CNN's "State of the Union" on Sunday, telling anchor Dana Bash: "Ideally, where we should be going is to join the rest of the industrialized the world and guarantee healthcare to all people as a right. And that's why I'm going to introduce a Medicare-for-All, single-payer program."

Sanders also spoke of shorter-term goals in his interview on CNN: "Let us do, among other things, a public option. Let us give people in every state in this country a public option from which they can choose. Let's talk about lowering the age of Medicare eligibility from 65 to 55. Let's deal with the greed of the pharmaceutical industry."
I'm going to be anxious to see the bill that Sanders actually introduces. Let me caveat that I want Sanders to be an effective professional poltiician. I believe in an inside/outside strategy — "You must do it whether it can be done or not" — and therefore, I want somebody on the inside! That said, the so-called "public option" is a Beltway concoction deliberately designed as a bait-and-switch from Medicare for All, and has never, not once, not ever, been offered in good faith. Sanders is playing with fire, and I hope he was asbestos gloves.
"Despite the inherent limitations of a self-described democratic socialist who eschews the norms of Beltway fundraising, the Democratic presidential candidate from Vermont has won legislative victory after victory on an issue that has been dear to him since his days as Burlington's mayor" [The Intercept]. "That issue is the simultaneously benign and revolutionary expansion of federally qualified community health clinics. Over the years, Sanders has tucked away funding for health centers in appropriation bills signed by George W. Bush, into Barack Obama's stimulus program, and through the earmarking process. But his biggest achievement came in 2010 through the Affordable Care Act. In a series of high-stakes legislative maneuvers, Sanders struck a deal to include $11 billion for health clinics in the law. The result has made an indelible mark on American health care, extending the number of people served by clinics from 18 million before the ACA to an expected 28 million next year."
Class Warfare
"The US added 400,000 millionaire households in 2016" [Business Insider]. "To characterize the current period as being "an economic malaise" or "a total disaster" is in direct contradiction of the actual facts. Hardworking families are being rewarded for the money they're saving and investing. Not all of them – which is a different topic – but most of them."
"The VA overpaid tens of thousands of veterans, and now it says they have to give the money back" [Vice]. "Some veterans… are disputing the VA's overpayment claims. They say the agency has failed to provide a clear accounting of the debts and that the labyrinthine appeals process amounts to a "one-sided conversation" resulting in few answers. One veteran said he received a notice of the hearing date for his appeal more than a month after the meeting had already been held. Without more information, veterans can't know if they're really at fault in these cases, or if the overpayment resulted from an error on the VA's part. The VA declined to comment on any of the concerns veterans have raised about the debt collection process.?
"Ithaca College Contingent Faculty Get Great Contract!!" [Tompkins County Workers Center]. Yay!
"Auditors investigating claims that Bath Iron Works union funds are missing" [Bangor Daily News]. Hmm.
News of the Wired
"Science is embattled in a raging replication crisis, in which researchers are unable to reproduce a number of key findings. On the front lines of this conflict is psychology. In a 2015 review of 98 original psychology papers, just 36 percent of attempted replications returned significant results, whereas 97 percent of the original studies did" [RealClearScience].
"This Sous Vide Bag Is Made To Be Cooked In Your Laundry" [Fast Company]. Fortunately, it's only an art school project. You can tell because the sous vide bag isn't part of the Internet of Things.
"Facebook activated my dormant account and it won't let me deactivate it" [SmashCompany]. Very ugly.
* * *
Readers, feel free to contact me with (a) links, and even better (b) sources I should curate regularly, and (c) to find out how to send me images of plants. Vegetables are fine! Fungi are deemed to be honorary plants! See the previous Water Cooler (with plant) here. And here's today's plant (CW):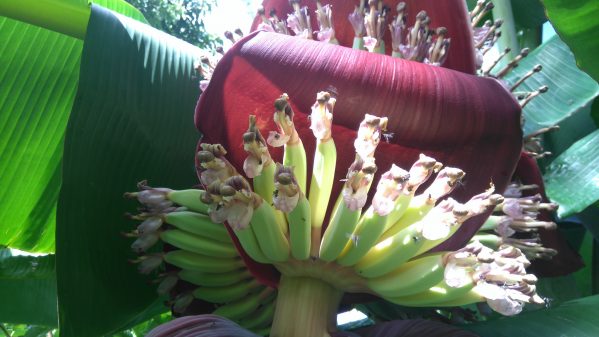 CW has some very nice things to say, which I will include tomorrow. Meanwhile, have a banana!
Readers, Water Cooler is a standalone entity, not supported by the very successful Naked Capitalism fundraiser just past. Now, I understand you may feel tapped out, but when and if you are able, please use the dropdown to choose your contribution, and then click the hat! Your tip will be welcome today, and indeed any day. Water Cooler will not exist without your continued help.