By Lambert Strether of Corrente
Politics
New Cold War
On incidental collection: "Things begin to get a little frightening when we learn that this inadvertent collection of Trump staff conversations was followed up with transcriptions of those conversations and the disclosure (or unmasking) of the persons involved in the conversation. These transcripts would be considered raw intelligence reports" [Pete Hoekstra, Wall Street Journal]. "When I was chairman of the House Intelligence Committee, I was routinely involved in briefings as a member of the "Gang of Eight"—both parties' leaders in the House and Senate and on the intelligence committees. I cannot recall how many times I asked to see raw intelligence reporting and was refused because that stuff is just not made available to policy makers…. The raw transcripts of masked persons—or unmasked persons, or U.S. persons who can be easily identified—making their way to the White House is very likely unprecedented. One can only imagine who, at that point, might be reading these reports. Valerie Jarrett? Susan Rice? Ben Rhodes? The president himself? We don't know, and the people who do aren't talking at the moment." Hoekstra was a Tea Party member and a WMD nutter. But non-nutters are pretty thin on the ground these days, and this is one of those process arguments insiders nod their heads when they read….

UPDATE "The media pounced [on Trump's "wiretap" tweet] and rightfully demanded proof to support such a charge. When it was clear that no evidence would be produced, the media (again rightfully) pummeled the White House for failing to support one of the most alarming claims ever made by a president against a former president. However, that is when the media seemed to switch roles and fell into a loop of repeating the same accusation over and over again like Jack Torrence endlessly typing 'all work and no play makes Jack a dull boy.' The media seemed so delighted by the quagmire created by Trump's tweet that it refused to acknowledge reasonable interpretations of the tweet or the possibility that there might have been surveillance" [Jonathan Turley, The Hill]. "One of the most telling examples of media mania was the insistence that Trump was referring only to wiretapping and no other form of surveillance. From the earliest days of the scandal, I balked at that narrow reading. As someone who has written and litigated in the surveillance field for over three decades, the narrow reading is absurd." Turley is not only seen as a liberal, he's listened to, so this is significant. Oh, and the headline? "Trump was right after all about the Obama administration wiretaps." Oopsie, Democrats. Hey, Neera! How much would you pay me for an article titled "Turley's Russian Paymasters"?

"The Moscow Project" [Center for American Progress]. No doubt Neera paid to have this focus-grouped.
Health Care
2:00PM: As of now, we don't know whether it will have been possible for the Republicans to make a bad Republican bill even worse. Exciting!

"One theme [Trump] kept coming back to [in The Art of The Deal] is that you've got to be willing to walk away or, more precisely, convince the people you're negotiating with that you are" [WaPo]. Hence Trump's ultimatum.

"Paul Ryan Rushes to White House to Tell Trump Votes Are Lacking to Repeal Obamacare" [New York Times]. Suddenly Ryan is a subordinate who can't get the job done! "Privately, White House officials conceded that competing Republican factions were each demanding changes that could doom the effort, placing the measure in peril and Mr. Trump's chances of succeeding at a high-stakes legislative deal in jeopardy." "Conceded." Ha. I'll go out on a limb here, and say I'd be very surprised if Trump didn't come out of this smelling like a rose, at least with voters (even if liberal Democrats go nuts in their echo chamber). If the bill passes, Trump got it done by setting a deadline and knocking Republican heads together. If it doesn't, he was an insurgent anyhow; it's the establishment that couldn't get the job done (after having had eight years to get their act together, too). And last I checked (things may have changed) the pain won't really start 'til after the midterms. The new pain, I mean, if the bill passes.

And then there's this:

One problem for Rs: There are no district-by-district breakdowns of benefits in AHCA that leaders can pass out. There are talking points.

— Steven Dennis (@StevenTDennis) March 24, 2017

If true, the Republicans — and especially the Freedom Caucus, who are driving the process — are as clueless and inept as the Democrats. Amazing but true!

"The president's move effectively forces the hand of recalcitrant members of Congress. The moderates seem unlikely to budge, so it all comes down to the libertarian-leaning Freedom Caucus conservatives. Is half a repeal loaf better than no loaf at all?" [BBC]. "Looming over all of this is the stark reality that the proposed legislation is woefully unpopular with the public at large – garnering just 17% approval in one recent poll. Conservative interest groups are sharply divided over whether to support the bill or not. What should have been a moment of triumph for Republicans in Congress has turned into an exercise in political pain minimalisation." So best get the pain over with fast, right?

"Trump, who has branded himself a dealmaker without parallel, gave this whole health-care process 18 days — including weekends and days Congress was out of session! Let us be abundantly clear: We were in the Capitol yesterday and talking to our vote-counting sources until late last night, and the situation is extremely fluid. Nobody knows how this is going to play out. But in Congress, 18 days is nothing" [Politico]. Rip off the bandaid and move on!

"The Congressional Budget Office warned senators on Friday that recalculating the rewritten House bill could take a week or more to produce, said several officials familiar with the discussions, who were not authorized to speak publicly about the matter" [WaPo]. "That was expected to upend McConnell's plan to finish their work and send the legislation to the White House for Trump's signature before a two-week Easter recess, according to three people briefed on the matter. Senate budget rules require that party leaders provide an official estimate of how much the legislation would cost and how it would change the deficit before scheduling a vote."

"Want to really blow up the Senate – and fast? A new proposal is emerging that would likely do just that, and it has nothing to do with Senate Democrats' vow to filibuster Supreme Court nominee Neil Gorsuch. A proposal is being pushed by some Senate Republicans that would seek to ensure that a House-passed bill could be passed intact by only a simple majority of senators. How would that work? Well, the vice president, of course, is the president of the Senate. The thinking goes that if the Senate parliamentarian ruled that parts of the bill can't be folded into budget reconciliation, Vice President Mike Pence could simply overrule that. Sen. Rand Paul wants the White House to make that commitment now: 'That alone, I think, would break the logjam,' he told reporters Thursday. Perhaps, but that's not all it would break. This would be the executive branch's changing the rules of the upper legislative body. Filibusters could be broken, perhaps in any circumstance, at the whim of the vice president. In honor of a certain former veep, that would be a BFD" [ABC].

"Don't miss what Sen. John Cornyn (R-TX), the Senate's No. 2 Republican, tweeted last night: 'FYI: The 'Byrd Rule' is actually a law.' Translation for those unfamiliar with Senate arcana: The legislation that House Republicans are trying to pass probably don't meet the rules that can avoid a Senate filibuster. Think about it, Cornyn is warning his House colleagues that this legislation can't pass the Senate. And that's precisely what Sen. Tom Cotton (R-AR) stated earlier this month: 'I would say to my friends in the House of Representatives with whom I serve, 'Do not walk the plank and vote for a bill that cannot pass the Senate and then have to face the consequences of that vote'"[NBC].

UPDATE "Loss Aversion, Trump and the New Opening for Medicare for All" [Robert H. Frank, New York Times]. "If the repeal effort stalls, attention will shift to what comes next. In an earlier column, I suggested that Mr. Trump has the political leverage, which President Obama did not, to jettison the traditional Republican approach in favor of a form of the single-payer health care that most other countries use." As I've been saying for a long time, I don't think this will happen. At the same time, Trump is the only politician I can even imagine reversing course like this. And if Trump wants to (a) cement Republican power for a generation, (b) throw the Democrats into utter disarray, (c) own Paul Ryan like a boss, and (d) cripple those obstructionist weasels in the "Freedom Caucus" and stick it to their higher-on-the-food-chain squillionaire backers, the Koch Brothers, he'd do it. Only Nixon can go to China. Oh, (e) win the thanks of a grateful nation.
Trump Transition
"Obama's science diaspora prepares for a fight" [WaPo]. A diaspora? Really, WaPo? Like the "African diaspora" caused by the slave trade? Or the Jewish diaspora under Hadrian? Really? The self-regard is a little much.
Realignment and Legitimacy
"Trump: The Scramble" [Michael Tomaskey, NYRB]. "One can select a day almost at random and quickly work up a list of four or five developments that defy belief." Yeah, that day Obama renamed his "kill list" the "disposition matrix." That was a good day.

"Honkala to file suit in Federal Court to void election" [Green Party].
Stats Watch
Durable Goods Orders, February 2017: "Aircraft has been giving a significant boost so far this year to durable goods orders which otherwise are soft" [Econoday]. "The weakest part of the report is perhaps the most important part, that is core capital goods (nondefense ex-aircraft) where orders slipped 0.1 percent in February vs expectations for a 0.5 percent jump and following January's revised 0.1 percent gain. This points to continued weakness in business investment and eventual trouble for GDP." You'd think in a capitalist society, investment in core capital goods would be something to watch…. And: "This series has wide swings monthly so our primary metric is the three month rolling average which marginally improved. The real issue here is that inflation is starting to grab in this sector making real growth much less than appears at face value – and this month if we inflation adjust the rolling averages they decline. The trends on this series are not indicating any real economic improvement" [Econintersect]. "What should be concerning to analysts is the continuing contraction of backlog (unfilled orders) which have been contracting year-over-year since mid 2015." And: "The latest data does not suggest a major boost to capital sending and no real evidence that increased business optimism has translated into higher spending, although there will inevitably be lags and the data from the second quarter onwards will be a more important indicator of underlying trends. There will not be any significant short-term monetary policy implications" [Econintersect].
Purchasing Managers' Index Composite Flash, March 2017: "[A] significant moderation in growth is the signal from Markit Economics' U.S. diffusion indexes" [Econoday]. "Respondents are citing customer caution this month and are reporting slowing in employment, especially in the service sector where job creation is at a 3-year low. And in a negative for future hiring, backlog orders are starting to fall. Inventories at manufacturers, in another sign of slowing, are being cut back. Input prices are described as subdued. The weakness in the manufacturing flash is notable, as it contrasts with extraordinary strength in regional factory reports and also the rival ISM where readings have been in the mid-to-high 50s. The weakness for this report, however, does correspond to mixed readings in hard economic data coming out of Washington." And: "There will also be expectations that the Euro-zone economy will outpace the US over the next few months which is likely to dampen support for both the dollar and US equities" [Economic Calendar].
New Home Sales (yesterday): "More than expected but as per the chart it looks like they've peaked and are working their way lower. And as no house is built without a permit, and permits are also soft, I don't see anything good happening. Also, bank lending for real estate has been decelerating and mortgage applications are going sideways" [Mosler Economics]. And: "Note: February 2017 was warmer than normal in most of the country, and since new home sales are counted when the contract is signed, the nice weather might have had a positive impact on sales in February" [Calculated Risk].
Shipping: "United States trade with its North American Free Trade Agreement (NAFTA) partners Canada and Mexico headed up 6.7 percent to $88 billion on an annual basis in January, the most recent month for which data is available, according to the Department of Transportation's Bureau of Transportation Statistics (BTS)" [Logistics Management]. "This marks the fourth increase in the last six months and the third straight month there has been an annual increase, as well as the largest annual increase going back to September 2014."
Shipping: "Rail Week Ending 18 March 2017: Short Term Rate of Growth Slowing" [Econintersect].
Shipping: "Container shipping line share prices declined sharply today after news that US Department of Justice (DoJ) investigators served subpoenas to liner executives at the biannual Box Club meeting last week" [The Loadstar]. "An Investor analyst source said: 'We find that any mention of the word subpoena tends to strike terror into the minds of investors. … [A] subpoena is simply an order to request testimony or production of evidence, with a penalty for failure to do so.' Part of the problem is that Box Club meetings are notoriously secretive – the shipping industry's equivalent to the Bilderberg. They are held behind closed doors and there are no reports of what was discussed, leaving shipping's hoi polloi to simply speculate. However, the analyst suggested there was little suspicion of collusive behaviour. 'Importantly, the [Box Club] room swarms with antitrust lawyers who ensure that no precarious topics – most notably pricing – are discussed,' he said."
Shipping: "[T]he International Council of Containership Operators [the Box Club]. consists of a who's who of top groups, AP Moller-Maersk, CMA CGM, China COSCO Shipping, Crowley Maritime, Evergreen Marine, Hamburg-Süd, Hapag-Lloyd and Hapag-Lloyd USA, HMM, K Line, MSC, MOL, NYK, OOCL, Pacific International Lines, United Arab Shipping Company, Wan Hai Lines, Yang Ming, and Zim Integrated Shipping Services" [Handy Shipping Guide].
Shipping: "The United States is concerned that the proposed alliances of several major companies, covering about 45 percent of all global shipping capacity, could lead to anti-competitive behavior" [Reuters].
Concentration: "Some think that Amazon could become a new kind of utility: one that provides the infrastructure of commerce, from computing power to payments to logistics" [Economist]. "And here lies the real problem with the expectations surrounding Amazon. If it gets anywhere close to fulfilling them, it will attract the attention of regulators. For now, Amazon is unlikely to trigger antitrust action. … But as it grows, so will concerns about its power. Even on standard antitrust grounds, that may pose a problem: if it makes as much money as investors hope, a rough calculation suggests its earnings could be worth the equivalent of 25% of the combined profits of listed Western retail and media firms…. Amazon's business model will also encourage regulators to think differently. Investors value Amazon's growth over profits; that makes predatory pricing more tempting. In future, firms could increasingly depend on tools provided by their biggest rival. If Amazon does become a utility for commerce, the calls will grow for it to be regulated as one." If only Jeff Bezos had a voice in Washington…
Real Estate: "Strong Demand for Data Center Space in Northern Virginia" [Data Center Frontier].
Co-ops: "Every Commune is a Cooperative: Self-organisation and self-sufficiency are progressing in Rojava" [Cooperative Economy (Diptherio)].
Political Risk: "Can "Trumponomics" extend the recovery?" (PDF) [Stephanie Kelton]. Important!
Today's Fear & Greed Index: 33 Fear (previous close: 30, Fear) [CNN]. One week ago: 45 (Neutral). (0 is Extreme Fear; 100 is Extreme Greed). Last updated Mar 23 at 11:50am. Last updated Mar 24 at 11:47am. Rolled over and went back to bed…
Health Care
"Most Cancer Cases Arise from 'Bad Luck'" [Scientfic American] (full text of the original in Science). "In a study published on Thursday in Science, they double down on their original finding but also labor mightily to correct widespread misinterpretations of it. This time, using health records from 69 countries, they conclude that arise from the 'bad luck' of a healthy, dividing cell making a random mistake when it copies its DNA…. Similarly, the cause of many cancers might be environmental factors. But the difference in cancer rates in different tissues can still be the result of different underlying rates of cell division. That's what the Hopkins scientists found." Plenty of controversy here, which Scientific American summarizes.
Gaia
"Sea Ice Extent Sinks to Record Lows at Both Poles" [NASA]. "Arctic sea ice appears to have reached on March 7 a record low wintertime maximum extent, according to scientists at NASA and the NASA-supported National Snow and Ice Data Center (NSIDC) in Boulder, Colorado. And on the opposite side of the planet, on March 3 sea ice around Antarctica hit its lowest extent ever recorded by satellites at the end of summer in the Southern Hemisphere, a surprising turn of events after decades of moderate sea ice expansion."
"7,000 underground gas bubbles poised to 'explode' in Arctic" [Siberian Times]. Must-read. Many pictures.
Guillotine Watch
UPDATE "Just like her mother, Chelsea Clinton never gets a break" [Los Angeles Times]. So a $600K no-show job at NBC ins't "a break"? I don't think "just like her mother" means what the Los Angeles Times thinks it means.
"Lin-Manuel Miranda, creator of "Hamilton," sees a direct connection between his finances and healing the political divisions in America" [MarketWatch]. "The 37-year-old Pulitzer Prize-winning author and actor said one of the greatest lessons he learned about money came from writing about one of the founding fathers of the U.S. 'In writing about Alexander Hamilton, I had to learn a great deal about the birth of our financial system,' he told Morgan Stanley in an interview this month. 'He intuitively understood that if the states are tied together financially, we begin to transcend our colonial mindset and thinking of ourselves as one nation. I'd never thought of money as a unifying or stabilizing force prior to telling his story.'" Making Deray look like a piker.
"Ivanka's lawyer, a Democrat, defends herself" [Politico]. "Attorney Jamie Gorelick had just finished vetting potential Cabinet secretaries for Hillary Clinton — and raising money for the failed 2016 Democratic nominee — when Jared Kushner called her last year, seeking legal counsel." One big happy!
Class Warfare
More on the new Case-Deaton study:
"On Mocking Dying Working Class White People" [Matt Stoller, Medium]. As Stoller says on the Twitter: "Yes, there's open chatter all the time among certain Democrats on how they wish white working class males would die." Also:
If you say "good hope they die faster" to a health crisis in white working class America then the problem isn't with them. It's with you.

— Matt Stoller (@matthewstoller) March 24, 2017
Of course, the elites took out a lot of the black working class too, in Flint, Ferguson, and elsewhere, with different techniques. Use the the tool that comes to hand!
"So the theory comes back to despair. Case and Deaton believe that white Americans may be suffering from a lack of hope. The pain in their bodies might reflect a "spiritual" pain caused by "cumulative distress, and the failure of life to turn out as expected." If they're right, then the problem will be much harder to solve. Politicians can pass laws to keep opioids out of people's hands or require insurers to cover mental health costs, but they can't turn back the clock to 1955″ [WaPo]. Rule #2 of neoliberalism. And if I were one of "these people," I might just decide to take some of "those people" with me. Wouldn't you?
Yglesias weighs in, to the extent a butterfly can be said to weigh in:
The international data, in particular, makes it look like US-specific prescription policies (not, like, "neoliberalism") are the issue. pic.twitter.com/n2orTkSxww

— Matthew Yglesias (@mattyglesias) March 24, 2017
Who on earth said "prescription policies" weren't part and parcel of neoliberalism? At least as practiced in the United States, where the rot has progressed farther than anywhere else? See "Credentialism and Corruption: Deaton on Opioids, Trump (and What Does "Rural" Mean?)" and "Credentialism and Corruption: The Opioid Epidemic and 'the Looting Professional Class.'"
News of the Wired
"How iTunes built, and then broke, my meticulous music-listening system" [CNBC]. We treat these digital platforms as if they were a commons. They aren't.
And then there's this:
alexa, ru connected to the cia? https://t.co/GW0M0V1xpe pic.twitter.com/ADXTZiCX4l

— Internet of Shit (@internetofshit) March 15, 2017
Readers, care to run your own tests on this?
* * *
Readers, feel free to contact me with (a) links, and even better (b) sources I should curate regularly, and (c) to find out how to send me images of plants. Vegetables are fine! Fungi are deemed to be honorary plants! See the previous Water Cooler (with plant) here. And here's today's plant (CB):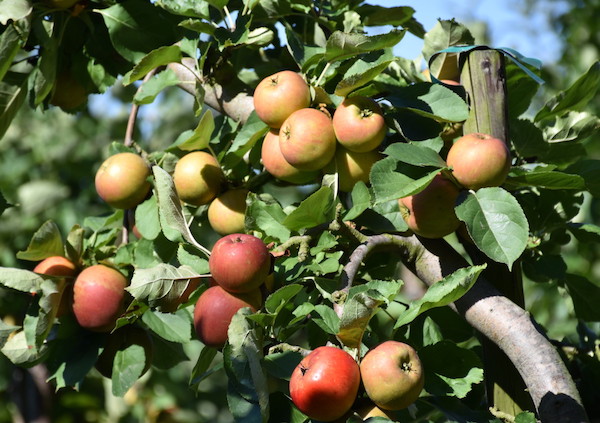 A final point on apples: If you're thinking about starting a garden, now is the time to start thinking about fruit trees. Plant a fruit tree now, and you'll have fruit in two to five years. Don't be like me and say "I wish I'd planted some fruit trees five years ago!"
Readers, Water Cooler is a standalone entity, not supported by the very successful Naked Capitalism fundraiser just past. Now, I understand you may feel tapped out, but when and if you are able, please use the dropdown to choose your contribution, and then click the hat! Your tip will be welcome today, and indeed any day. Water Cooler will not exist without your continued help.