By Lambert Strether of Corrente.
"Love me, love me, love me, I'm a liberal." —Phil Ochs
I hesitate to deploy "spittle-flecked" — who among us, and so forth — but with quondam theatre critic and now wealthy TV producer Frank Rich's latest "feature" in New York Magazine, "No Sympathy for the Hillbilly," I'm left with, well, no place to go. Rich's piece is so ragey, so slipshod, and so politically impotent that even after reading it several more times than I wanted to, I found it hard to know where to begin. So let's begin with the rhetoric.
Liberal Eliminationist Rhetoric
Trump's victory in November 2016 caused an upwelling of liberal hate directed toward Trump supporters; here's a compendium of online commentary from Matt Stoller ("On Mocking Dying Working Class White People"). Not unexpectedly, this from liberal leading light Markos Moulitsas was a classic of the genre:
Be happy for coal miners losing their health insurance. They're getting exactly what they voted for

Don't weep for these coal miners, now abandoned by their GOP patrons. They are getting exactly the government that they voted for. Democrats can no longer offer unrequited love and cover for them. And isn't this what democracy is all about? They won the election! This is what they wanted!
I've certainly done my fair share of calling on the power of imprecatory prayer against my political opponents. But I can't ever recall having hoped that large numbers of working class voters with lung cancer and black lung disease would suffer and die because of their political choices. Markos seems to have normalized this gleefully punitive level of hatred, and Frank Rich, kicking down furiously, piles on:
Let Trump's white working-class base take responsibility for its own votes — or in some cases failure to vote — and live with the election's consequences… [I]f Trump's administration crashes into an iceberg, leaving his base trapped in America's steerage with no lifeboats, may at last be ready to burst out of their own bubble and listen to an alternative.
Death is just one of those life lessons, right, Frank?[1] At any rate, one would think that Rich, after having stated that the death of thousands or even millions of Trump supporters would be a salutary event for the body politic, would have taken a moment to figure out who the targets of his rage really were. Not a chance.
Rich and the Trump Voter
Let's look at those hillbillies, starting with the stock photo that accompanies Frank's article. Here it is: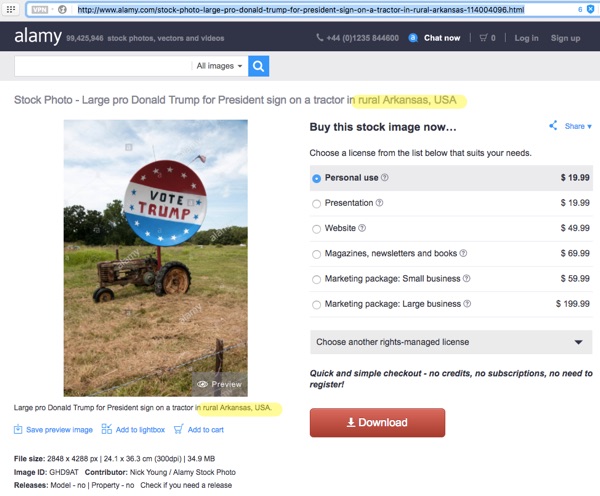 As you can see, the image is from Arkansas; that is, the Trump voters for whose death Rich is calling must also have been subjects of the Clinton Dynasty, their Casterly Rock having been located in the Ozarks, at least before Chappaqua. ("Hillbilly" was, in fact, used as a term of abuse by Obama supporters for Clinton supporters in 2008.) Of course, the Obama voters who flipped to Trump and cost Clinton this election weren't from rural Arkansas or even Appalachia, but Rich seems curiously unwilling to use precise language to identify the targets of his ire:
The dug-in Trump base
Trump voters
Trumpentariat
Trumpist
Trump's electorate
genuine swing voters who voted for Trump
tea-party members who would all end up voting for Trump
the Rust Belt
the Trump base
the white-identity politics of the hard-core, often self-sabotaging Trump voters
these white voters
unreachable voters in the base of Trump's electorate
white blue-collar Trump voters
white voters without a college degree
white working-class voters
working-class whites
There aren't links behind any of these examples, naturally, so it's hard to know whether all Trump voters are self-sabotaging, or in the Rust Belt — the rural tractor seems to vanish after the title page — or are blue collar, or whether blue collar means the same thing as "without a college degree" (adjuncts might disagree). It's also difficult to know how Frank proposes to distinguish "genuine" swing voters from "dug-in" voters.
The one common factor seems to be that Frank's Other — oddly, like Frank himself — is white. So — remembering again that voters in the counties that lost the election for Clinton voted for the black guy twice — let's deal with that. From Matt Bruenig, "Women and people of color make up the majority of the Trump coalition,"[2] we can construct the following table, based on the Edison exit poll that all the major media outlets use: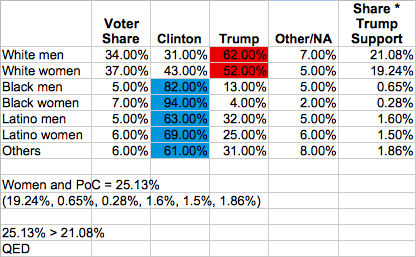 Bruenig explains:
If you multiply each group's share by their percent support for Trump, you can determine how many of Trump's points came from that group. So, for white men, you would multiply 34% by 62% to get 21.08 points, meaning that 21.08 points of Trump's 46.21 points came from white men. The rest, 25.13 points, came from women and people of color (you can check this yourself [as I did] by doing the exact same math as I detailed for white men on every other group in that graphic and adding the points together).

Put more clearly, according to the Edison exit poll, 45.6% of Trump voters were white men, while 54.4% were women and people of color.
Oopsie. Presumably, these women and PoC wheren't all motivated by white identity politics, or a desire for self-sabotage. Bruenig concludes:
At their best, [pieces like Frank's] say we should not care about Trump voters and, at their worst, they say we should actively wish them harm.

But do these authors actually mean this for all Trump voters, most of whom are women and people of color? Should we not care if a black Trump supporter (and there were some) gets harassed by a nationwide stop-and-frisk policy like the one Trump has said he supports? Should we not care if a woman Trump supporter (and there were lots) loses access to maternity care or contraception as seemed to be a definite possibility before the collapse of the AHCA? Is that really the position of these authors?.

The answer of course is "no." The liberal bent of these authors ensures that they would not wish (or be indifferent towards) gender-based oppression on the women who supported Trump. They also would not wish (or be indifferent towards) race-based oppression on the people of color who supported Trump. The only thing they feel comfortable doing is wishing (or being indifferent towards) class-based oppression on rednecks. I wonder why that is.
Let's try to humanize those Trump voters for just one moment. Curiously, Frank gives attention to J.D. Vance of Hillbilly Elegy fame, as well as Nancy Isenberg (White Trash), but none to Chris Arnade, who's been on the road for at least two years photographing and documenting the collapse in the flyover states. (His method is to hang out at McDonalds and — follow me closely, here, Frank — talk to people.) Arnade sums up the election, and the liberal reaction to it, in a tweet storm that starts here. It's all worth reading, but I think this is the heart of it, as far as election 2016 goes:
13. This has all left many workers dangling by thinner & thinner thread, where everything/everyone can be seen as threat to cut the thread pic.twitter.com/BHDDJIb79h

— Chris Arnade (@Chris_arnade) March 26, 2017
"This," being the Democrat version of neoliberalism.
14. And when, after decades of dangling & worrying, many working class voters finally turned on the Democrats. pic.twitter.com/1StDgjY2rM

— Chris Arnade (@Chris_arnade) March 26, 2017
Not to mention the excess deaths.
15. Did the Democrats blame themselves for selling the workers interest out? Nope. It was the workers' fault for being dumb. Or racist. pic.twitter.com/zynDSVn6GF

— Chris Arnade (@Chris_arnade) March 26, 2017
Which is what Rich does. To put it kindly.
Rich's Political Incoherence and Impotence
Frank holds two contradictory views on politics. First, he states the obvious:
The party is a wreck. Post-Obama-Clinton, its most admired national leaders (Biden, Bernie Sanders, Elizabeth Warren) are of Social Security age. It rules no branch of federal government, holds only 16 governorships, and controls only 14 state legislatures. The Democrats must set priorities.
Second, this is Frank's solution for Trump voters:
Perhaps it's a smarter idea to just let the GOP own these intractable voters. Liberals looking for a way to empathize with conservatives should endorse the core conservative belief in the importance of personal responsibility. Let Trump's white working-class base take responsibility for its own votes — or in some cases failure to vote — and live with the election's consequences.
It's not clear to me how it's going to be possible for Democrats to broadcast a conservative message — "the importance of personal responsibility" — to some voters without broadcasting the same message to all voters. In fact, that message is an assault on the very notion of universal benefits, which liberals used to stand for:
In other words, contra Rich, the idea that benefits should be earned through personal merit must die. Such framing enables those in power to be selective about social programs, which ends up hurting workers and poor people of all races.

When it comes to the necessities of life, the Left should insist that virtue has nothing to do with it.

Trump voters deserve health care because everyone deserves health care; Medicare for All is the only way forward.
Exactly. Presumably, Frank would argue against Medicare for All because Trump voters are unworthy of it. After all, why throw those people in steerage a life-jacket when you're trying to teach them a life lesson about dying? But is the destruction of universal benefits really the best party-rebuilding strategy for Democrats?
Conclusion
Frank dishes some typically ugly snark about Lake Charles, Louisiana. That gives me an opportunity to link to "Lake Charles," by Lucinda Williams, from Car Wheels on a Dusty Road. One of my all-time favorite songs:
"Lake Charles" is a song about excess mortality, if you think about it. Frank should listen to it.
APPENDIX
Since "liberal," beyond Democrat tribalism, is a vexed term, let me give my (evolving) rule of thumb. Both liberals and conservatives are neoliberals, in that they put markets first. In implementing the simple rules of neoliberalism, conservatives minimize indirection. Liberals maximize it (hence means-testing, gate-keeping, the roles of professionals, nudge theory, etc.). Conservatives kick you in the ribs. Liberals put a tweedy arm round your shoulder while sticking the shiv in so expertly you don't realize you're bleeding out 'til later. The left puts the working class first, not markets, because they are not neoliberals.