By Lambert Strether of Corrente
Trade
"House Republicans' proposal to create a border-adjustable business tax — a linchpin of the overall reform plan, given the revenue it is expected to bring in — is already on life-support, with Senate Republicans skeptical it could pass their chamber as is, and the White House declining to take a clear stance on the issue. Border-adjustment has also so dominated the tax-reform debate that some say lawmakers have barely begun to consider the myriad other hugely controversial changes the plan would make" [Politico].
Politics
New Cold War
This morning in Links, on the same story, I asked "So will Cheney become a liberal icon now, like Bush?" After lunch, I had my answer!

Never thought I'd find myself agreeing with Dick Cheney. . . https://t.co/cRBisvpTop

— Laurence Tribe (@tribelaw) March 27, 2017

Also, compare the Politico headline, at 03/27/17 04:08 PM:

Cheney: Russian meddling

With WaPo's headline, at March 28 at 12:23 PM

Cheney delivers a statement on Russian meddling:

Planted or not, this is impressive:

Lindsey Graham opened his town hall yesterday with a monologue on Russia, then fielded *nine* Russia-related Qs. from (Dem) constituents.

— Michael Tracey (@mtracey) March 27, 2017

"My hunch is that … the 2016 campaign-collusion story will turn out to be a dead end. Much more interesting is the saga of the formation of Trump's views of Russia over the last twenty-five years" [David Warsh]. Summarizing Warsh's informed speculation, the Trump+Russia story is more likely to be a New York real estate story starting back in the 90s; Warsh aggregates some actual reporting to that effect. Who remembers Geraldine Ferraro?

"The Devin Nunes wiretapping saga, explained" [WaPo]. We seem to have reached the Benghazi hairball stage. Anyhow, here's a timeline.
Health Care
UPDATE "How Democrats Aided in the Demise of the GOP's Health Bill" [Wall Street Journal]. If you're looking for an explanation of why the #SaveTheACA crowd "never, ever" mentioned #MedicareForAll, the roster of Democrat establishment flexians involved in this effort may help.

"With AHCA defeat, some Democrats see chance to push for universal coverage" [WaPo]. This story… [Please allow me a moment to pound my head on my desk. There. Thank you]. Quoting:

At their first town meeting since the Republicans' surprise surrender on the Affordable Care Act, progressives in blue America celebrated — then asked for more. Rhode Island's two Democratic senators, joined by Rep. Jim Langevin, told several hundred happy constituents that the next step in health reform had to mean expanded coverage, provided by the government.

"We have to look harder at a single-payer system," said Langevin (D-R.I.), using a term for universal coverage.

"I'm old enough to have voted for a single-payer system in the House," said Sen. Jack Reed, Rhode Island's senior senator.

"The very best market-based solution is to have a public option," Sen. Sheldon Whitehouse said.

I'm happy that the voters are asking for more after a victory. That's a very good sign. I'm unhappy that the idiot reporter doesn't point out that universal coverage and the so-called "public option" are not the same. I'm extremely unhappy with Whitehouse's "Because markets." Really, who cares? I'm even more unhappy with the effing career "progressives" of 2009-2010, who introduced the so-called "public option" to run interference for Obama by suppressing single payer, and introduced the brand confusion between it, and genuine Medicare for All, a confusion that persists to this day and allows Whitehouse to go all flaccid on policy. And I'm terrified that Sanders is going to screw things up, since the "public option" discourse has polluted everything it ever touched. See here. Since given the givens, we're not going to get either single payer or the so-called "public option" before 2018, why not run on the best possible policy, one that voters support, instead of, like Obama, pre-compromising?
Trump Transition
"Trump's morally repugnant budget must be defeated: Sen. Bernie Sanders" [USA Today]. Sanders: "Far from compassionate, this budget — if enacted — would be one of the cruelest in American history. In the words of former Republican President Dwight D. Eisenhower, the four star general who warned us about the power of the military industrial complex, it, 'signifies, in the final sense, a theft from those who hunger and are not fed, those who are cold and are not clothed.'"

"Talking to a friend at lunch not long ago, he expressed his amazement that the House and Senate leadership didn't have bills "lined up like airplanes on a runway" ready to take off in the new year. I was surprised, too" [Glenn Reynolds, USA Today].

"The continuing infrastructure fiasco" [DC Velocity]. "On March 2, the U.S. Conference of Mayors also weighed in on the subject, pressing the federal government to distribute infrastructure funds directly to cities, bypassing the states. In short, the entire problem has gotten out of control. There still is no sign of an overall plan for the needed improvements. And the funding issue is far from resolved. Many of our needs will not be attractive to investors. And even if private investors step up to finance specific road and bridge projects, they will have to be repaid, which means the costs will ultimately be passed on to users. We could easily find ourselves paying tolls and user fees, plus increased state taxes, leaving us in a worse position than we would have been in if Congress had simply raised fuel taxes in the first place. And as far as the 'new roads, bridges, tunnels, airports, and railways gleaming across our beautiful land,; good luck with that one."

More New York real estate: "Paul Manafort's Puzzling New York Real Estate Purchases" [WYNC]. "Manafort's New York City transactions follow a pattern: Using shell companies, he purchased the homes in all-cash deals, then transferred the properties into his own name for no money and then took out hefty mortgages against them, according to property records."
2016 Post Mortem
"To the extent Democratic turnout was weak, it was mainly among black voters. Even there, the scale of Democratic weakness has been exaggerated" [New York Times]. "Instead, it's clear that large numbers of white, working-class voters shifted from the Democrats to Mr. Trump. Over all, almost one in four of President Obama's 2012 white working-class supporters defected from the Democrats in 2016, either supporting Mr. Trump or voting for a third-party candidate." As usual, I would like to see "white" removed, surgically if necessary, from "working class," to see what new possibilities open up. I would bet that black working class rejection of Democrats is expressed as low turnout (anecdotes from IIRC Milwaukee here), since they couldn't bring themselves to vote for Trump. It sure is puzzling that all those white racists checked their privilege and voted for Obama twice, though. Funny, life!
Realignment and Legitimacy
"A Haunting Debut Looks Ahead to a Second American Civil War" [New York Times]. "Set in the closing decades of the 21st century and the opening ones of the 22nd, El Akkad's novel recounts what happened during the Second American Civil War between the North and South and its catastrophic aftermath. It is a story that extrapolates the deep, partisan divisions that already plague American politics and looks at where those widening splits could lead. A story that maps the palpable consequences for the world of accelerating climate change and an unraveling United States. A story that imagines what might happen if the terrifying realities of today's wars in Iraq and Afghanistan — drone strikes, torture, suicide bombers — were to come home to America." Zeitgeist watch…

"A conversation continued over health care" [Castle Rock News]. Local report on Indivisible group in Colorado. No mention of single payer.

"North Carolina's 'Bathroom Bill' Could Cost the State More Than $3 Billion" [AP].

"Lemons: Gun-Totin' Left-Wingers Demonstrate at the Arizona Capitol: Is Bloodshed on the Horizon?" [Phoenix New Times].

"Calexit: The "Bad Boys of Brexit" throw their weight behind move to split state" [Mercury News].
Stats Watch
Richmond Fed Manufacturing Index, March 2017: "Manufacturing activity in the Fifth District expanded for the fifth consecutive month in March" [Econoday]. "The robust strength in manufacturing reported by the Fifth District is in line with strength seen in other regional reports, but it ."
International Trade in Goods, February 2017: "A sharp 2.1 percent drop in imports helped to narrow a smaller-than-expected $64.8 billion goods deficit in February, masking however another weak showing for exports which edged 0.1 percent lower" [Econoday]. "Also released with this report are advance data on wholesale and retail inventories, both of which rose 0.4 percent in February. These inventory readings may help GDP estimates, where inventory builds are a positive, but not the outlook for production and employment which may suffer if the builds, during this period of slow growth, turn out in fact to be unwanted."
Wholesale Inventories [Advance], February 2017: "Wholesale inventories rose 0.4 percent in February with nondurables up 0.9 percent vs only a 0.1 percent rise for the key durable goods component" [Econoday].
Retail Inventories [Advance], February 2017: "Retail inventories rose 0.4 percent in February which looks heavy following an upward revised 0.9 percent rise in January. Year-on-year, retail inventories are up 3.9 percent and may be heavy given how slow February retail sales proved to be" [Econoday]. "Inventories are especially heavy at auto dealers, up 1.1 percent in the month and 9.5 percent year-on-year reflecting contraction so far in this year's vehicle sales."
Consumer Confidence, March 2017: "It was two cycles ago that the consumer confidence index has been this high" [Econoday]. "At 113.8, the expectations component hasn't been this high since September 2000. The present situation component is at 143.1 for its best reading since August 2001 which was just at the end of the 1991 to 2001 economic cycle…. Consumers are extremely upbeat right now though the lack of inflation expectations doesn't quite fit. ." Yet again…. And: "An important element will be whether increased confidence in the outlook translates into increased spending or whether there is a move to raise precautionary savings despite higher confidence" [Economic Calendar]. And: "Unusual strength in confidence readings has been the standout feature of the post-election economy. The consumer confidence index has yet to slow, pressing to new cycle highs in February as the spread between optimists and pessimists continued to widen" [247 Wall Street].
State Street Investor Confidence Index, March 2017: "The rise in the confidence of global institutional investors was driven by a sharp increase in the European component, which rose 11.9 points to 95. The Asian component also rose, increasing by 5.3 points to 109.6, but the North American sub-index fell by 0.3 points to 91.6" [Econoday]. "State Street said the return of European investor confidence after a sharp decline in February was due to an easing of political tensions following the Dutch elections, as well as as sustained economic momentum on the back of positive economic surprises in the region. The stalling of U.S. investor confidence, on the other hand, shows understandable caution given the strong run-up in stocks and the simultaneous exit from historically low rates, which has not been experienced before."
S&P Corelogic Case-Shiller Home Price Index, January 2017: "are on the climb" [Econoday]. "The geographic widening in strength is a special plus of this report, one that points to a solid, though not spectacular, contribution from housing."
Commodities: "Canada's IC Potash Corp. (TSX:ICP) is creating a new research and development subsidiary called ICP Organics to focus on enhancing yields for cannabis growers and increasing the health impact and effects for consumers" [Mining.com].
Retail: "The much-talked-about 'no cashier convenience store' called Amazon Go to be launched by e-commerce giant Amazon.com, Inc. through its 'Project Como' has got delayed." [Zacks]. "Amazon has been testing the store at its campus in Seattle, with employees serving as beta testers. Reportedly, the store has been functioning well if there are just a few customers and are moving at a slow pace. As it is not feasible to ask customers to keep a check on their pace, the opening of these stores had to be postponed." This sounds to me like another idea that MBAs and techies think is great but is in fact stupid. From my small town perspective: First, I like having a cashier. The human contact is good! Second, if there's no cashier, there's still going to be a human: A cop in a car, to prevent customers from being robbed. In other words, in good Walmart fashion, the social protective function once served by the cashier will now be funded by me, through my property taxes. Go, Jeff!
Manufacturing: "The future of U.S. manufacturing is increasingly being built through automation, and it looks like the robots are coming from abroad" [Wall Street Journal]. "Commerce Department data show the U.S. last year ran a trade deficit of $4.1 billion in advanced "flexible manufacturing" goods with Japan, the European Union and Switzerland, which lead the industry—double the 2003 deficit. The gap poses a big policy problem: As the U.S. tries to increase industrial production, companies probably will have to import the kind of advanced machinery needed to keep American factories competitive. Consolidation in industrial robotics, including big buys by China's Midea Group and Japan's Fanuc Corp., and what one expert says is a "brain drain" in American expertise has left a gap in U.S. domestic production, leaving manufacturers looking for imports for innovation." But we're still #1 in fabulously expensive bespoke weaponry and financial scams. And opioids. So not to worry.
Shipping: "Weak import volumes have left Brazil without the necessary empty containers to fulfil export potential, trapping it in a Catch-22 situation that will hinder long-term economic growth" [The Loadstar]. "This is the view of Antonio Dominguez, [Managing Director] of Maersk Line's east coast South America cluster, who said carriers could no longer be expected to carry the burden of such inefficiencies."
Political Risk: "[Former BLS head Kathleen Utgoff] isn't afraid that the Trump Administration will meddle with statistical methodologies or the numbers they produce; that would require co-opting thousands of career government surveyors, statisticians, and economists in an effort to alter data collected from hundreds of thousands of businesses and citizens. (Even Richard Nixon, who, in 1971, hatched a plan to rid the B.L.S. of what he thought was a "Jewish cabal" out to destroy him, was unable to undercut the bureau's independence.) Nor does anyone object to the reasonable arguments about which unemployment rate (there are six of them) best reflects the true state of the economy. The danger is that a President who disparages the data might convince his followers that bad economic news is political propaganda, and offer numbers that have no statistical rigor behind them" [The New Yorker]. "Good economic statistics benefit the left and the right, government and business. Without reliable data, businesses can't take risks on investments. Boeing, for example, decides how many 787 Dreamliners to build and therefore how many people to employ based on its Current Market Outlook forecast, which is rooted in B.L.S. data and projects aircraft demand for the next twenty years."
The Fed: "We note the contrasting projections by the Atlanta and New York Federal Reserve's GDP trackers. The Atlanta Fed's model has the US economy slowing to a 1.0% annualized pace in Q1. This would be just below the average Q1 pace beginning in 2010. However, the New York Fed's model has the economy tracking 3.0%. The market (Bloomberg median) is smack in between" [Brown Brothers Harriman, Across the Curve]. Heck, what's a mere 2% difference?
The Fed: "Dallas Federal Reserve Bank President Robert Kaplan said on Monday that he will support further interest rate adjustments if the U.S. economy continues to show progress" [Economic Calendar].
Today's Fear & Greed Index: 33 Fear (previous close: 29, Fear) [CNN]. One week ago: 36 (Fear). (0 is Extreme Fear; 100 is Extreme Greed). Last updated Mar 28 at 1:23pm. Still hiding under the desk…
Health Care
"H. R. 676" (PDF).
Life's little ironies:
#Irony: "Jim Messina became the unofficial enforcer for neoliberal elements w/in Obama's admin" https://t.co/Y6sphDOw2Q #resist #SinglePayer pic.twitter.com/5uJ6HlMSEe

— RoseAnn DeMoro (@RoseAnnDeMoro) March 27, 2017
The 420
"South Carolina Rep. Eric Bedingfield once shunned all marijuana use, but when his eldest son's six-year struggle with opioid addiction ended with his overdose a year ago, the conservative Republican co-sponsored medical cannabis legislation" [Post and Courier (DK)]. "'My mindset has changed from somebody who looked down on it as a negative substance to saying, 'This has benefits," Bedingfield said recently. The 50-year-old teetotaler believes marijuana may effectively wean addicts from an opioid dependence. Ultimately, the Marine veteran hopes medical marijuana can be an alternative to people being prescribed OxyContin or other opioid painkillers to begin with, helping curb an epidemic he's seen destroy families of all economic levels."
Water
Michael Burry, courtesy phone please!
"Managers with the Oregon Water Resources Department have handed out rights to pump water while pleading ignorance about how much was actually available. They have approved new pumping for irrigation even as their own scientists warned it could hurt the water table, interviews and state records show" [The Oregonian]. "Some irrigators are so confident their permits will be approved, they sink wells first and file the paperwork later. Andy Root, a Harney County rancher who began pumping without state approval, said it has long been common practice in the area. He's since applied to obtain a water permit years after he began pumping."
"Thousands of farmers in the parched Mexican border city of Mexicali are protesting plans by Constellation Brands to build a $1.4 billion plant there, the WSJ's Robbie Whelan reports, and want President Donald Trump to push for the brewery to move to the U.S. side of the border. The farmers worry that the plant will use too much water, taxing an area where aging irrigation infrastructure and a low water table have already forced farmers to pull tens of thousands of acres out of production" [Wall Street Journal].
"The best estimate is that at present India uses 230-250 cubic kilometres of groundwater each year. This accounts for about one-quarter of the global groundwater use. More than 60% of irrigated agriculture and 85% of domestic water use now depends on groundwater. India now uses more groundwater than China and the United States combined" [Quartz]. "According to official assessments by the Indian ministry of water resources, in 2004, around 29% of the groundwater blocks were critical, semi-critical or over-exploited. It also concluded that the situation was deteriorating rapidly. In 2014, the central groundwater board noted that the number of over-exploited districts increased from 3% in 1995 to 15% in 2011."
Guillotine Watch
"But the deafening din crackled with the spirit of a communal rally. [Hamilton] full-throated affirmation of diversity, inclusion and tolerance has taken on new urgency now that these values have fallen under sharp attack. "Hamilton" has become part of the resistance" [Los Angeles Times]. Read Stoller to innoculate yourself against this bullshit.
Class Warfare
I had to leave this on the cutting room floor for the Frank RIch piece. But:
Best way to empower Nazis is to mock white working class people who are dying because of policies Dems implemented.

— Matt Stoller (@matthewstoller) March 24, 2017
Sharpening the contradictions… And this:
.@BrookingsEcon's widely covered #BPEA conference on travails of white middle class makes the big time – Doonesbury! pic.twitter.com/q1nWTxPlcT

— Strobe Talbott (@strobetalbott) March 25, 2017
"Hijab becomes symbol of resistance, feminism in the age of Trump" [USA Today]. I don't get this at all. What am I missing here?
"Top US coal boss Robert Murray: Trump 'can't bring mining jobs back'" [Guardian].
News of the Wired
"Galactica stellaris: Astronomers Build a Family Tree for the Milky Way's Stars" [Scientific American]. "Classification is never easy. Whether it's monkey species, astronomical objects or elementary particles, there are seemingly endless ways to organize and group things. For centuries biologists have used "family tree" diagrams as their approach of choice for tracing living organisms' lineages. And now astronomers are borrowing from biology to classify stars this way, too."
"Universal adversarial perturbations" [Archiv.org]. "Can we find a single small image perturbation that fools a state-of-the-art deep neural network classifier on all natural images? We show in this paper the existence of such quasi-imperceptible universal perturbation vectors that lead to misclassify natural images with high probability." Hmm.
* * *
Readers, feel free to contact me with (a) links, and even better (b) sources I should curate regularly, and (c) to find out how to send me images of plants. Vegetables are fine! Fungi are deemed to be honorary plants! See the previous Water Cooler (with plant) here. And here's today's plant (CW):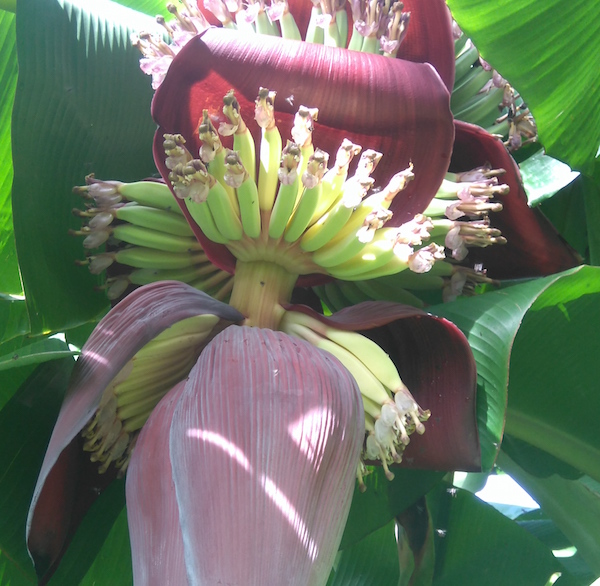 CW wrote: "This morning, I outside when I heard a shriek from partner and thought the worse (dead chicken??) – no she had found that one of the banana shoots she had put in a year ago was flowering. The flowers are on the end of the bananas and the plant is thick with our small native bees (who share my home and live in one of the walls of my 60s era house). I have so many great flowers and plants here, fruiting trees, even persimmon and ylang ylang. Just about anything will grow and my partner is always cutting off plants and bringing the cuttings home, in the ground and away you go. Yes, we are lucky. We see many different bird species and butterflies large and small, and fruit bats fly in every night to feed off a large ficus tree we have on the back boundary. I've been meaning to send in pics of plants etc, but my best camera is my phone, so I have procrastinated. There are two pics I hope you can use attached."
Readers, Water Cooler is a standalone entity, not supported by the very successful Naked Capitalism fundraiser just past. Now, I understand you may feel tapped out, but when and if you are able, please use the dropdown to choose your contribution, and then click the hat! Your tip will be welcome today, and indeed any day. Water Cooler will not exist without your continued help.