By Lambert Strether of Corrente
Trade
"Victories in five major anti-dumping and countervailing duty cases over the past few years have helped stabilize the U.S. steel industry, but more action is needed to stop unfairly traded imports from China, South Korea, Vietnam and other suppliers, Thomas Conway, international vice president at the United Steelworkers union, will tell the House Steel Caucus today" [Politico].
Politics
New Cold War
"Recommended Reading: Giant Russia Theory Edition" [Nina Illingworth Dot Com]. Grab a cup of coffee/ An amazing and essential compendium debunking… Well, I don't even know what to call the warmongering Russophobic red scare the Democrats have managed to create with their Benghazi-style CT hairball.

Here's a suggestion: "Slavghazi" [Christopher Hooks, Medium]. A fun rant.

"Nunes Uproar Sidelines House Intel Panel, Puts Eye on Senate" [RealClearPolitics]. Nunes is a partisan. Film at 11.

"Does Washington Want to Start a New War in the Balkans?" [Counterpunch]. Well, as we saw last week, Lally Weymouth wants to start the war in Estonia. I wish these people would make up their minds.

"If a reality TV experiment continues filming after the show is canceled and no one watches it, did it really happen?" [CNN]. "In the case of the Scottish series "Eden," that's exactly what happened." Filing this here, for obvious reasons.
2016 Post Mortem
"Hillary Clinton Is Back — In Black Leather" [HuffPo]. "[A]ll you have to do is look to the white pantsuit she wore to the inauguration in solidarity with the women's movement to know that she does use fashion to send messages, both to her supporters and opponents." Was the leather purple?
Trump Transition
"More than half the Democrats in the Senate now say they will vote against President Donald Trump's nominee to the Supreme Court, setting up an acrimonious showdown over Judge Neil Gorsuch's bid to fill the seat left vacant by Antonin Scalia's death last year" [Wall Street Journal].

"Mitch McConnell told his leadership team in private this week what's becoming increasingly obvious on Capitol Hill: Supreme Court nominee Neil Gorsuch probably won't get 60 votes to avoid a filibuster" [Politico]. "But the Senate majority leader had an equally pressing message: Republicans should have no compunction about pulling the trigger on the 'nuclear option' — with Democrats resisting a high court nominee as well-pedigreed as Gorsuch."

"5 Reasons Trump's Promised Tax Overhaul Won't Be So Easy" [New York Times]. Can't wait for the Democrat establishment to reinforce austerity politics by yammering about the deficit.

"Consumer Broadband Privacy Protections Are Dead" [TechDirt].

"Maine internet providers blast Senate vote to strip customers' privacy protection" [Portland Press-Herald]. "Fletcher Kittredge, founder and CEO of Biddeford Internet Corp., which does business as GWI, said the vote was 'absolutely appalling' and a threat to everyone who uses the internet. 'This is very, very bad,' he said. 'Your ISP can look at your traffic and discover the most intimate details of your life, and selling that information will ultimately be more valuable than selling the internet connection, which is something libertarians and civil libertarians ought to worry about, especially as the government and hackers will ultimately have access to it.'" Go long VPNs?

"The 265 members of Congress who sold you out to ISPs, and how much it cost to buy them" [The Verge].

"Remember When Trump Said He Saved 1,100 Jobs at a Carrier Plant?" [Bloomberg]. "Layoffs at UTC's Huntington plant began recently. The facility will be closed by early 2018. The Carrier fan-coil lines and related jobs will be gone by the end of this year. 'I wish I could sit here and say the people are going to be all right,' [president of Local 1999] Chuck Jones says. 'That ain't the f—ing case. A lot of these people's lives are going to be ruined.'"
Realignment and Legitimacy
"Dems Could Take House in 2018" [National Journal]. "Demo­crats now have a real­ist­ic shot at re­tak­ing the House in 2018. Each of the past three midterm elec­tions have swung wildly against the party in power—re­flect­ive of the long­stand­ing dis­sat­is­fac­tion of voters to­wards polit­ic­al lead­er­ship, no mat­ter who's in charge. … There are already signs that Trump's sag­ging ap­prov­al rat­ing is rais­ing the pos­sib­il­ity of a stun­ning up­set in an up­com­ing con­gres­sion­al elec­tion in sub­urb­an At­lanta. The race, to fill the va­cant seat held by Health and Hu­man Ser­vices Sec­ret­ary Tom Price, couldn't be more rel­ev­ant to the health care de­bate. One pub­lic poll shows the Demo­crat­ic front-run­ner, Jon Os­soff, nar­rowly lead­ing sev­er­al of his GOP op­pon­ents in a run­off—this in a con­ser­vat­ive dis­trict that has elec­ted Re­pub­lic­ans to Con­gress for over four dec­ades."

"Democrats are on a torrid fundraising pace in the first months of the Donald Trump era, powered by enraged small donors who are plowing millions of dollars worth of online contributions into campaign and committee treasuries" [Politico].

Hilarious indicator of Democrat establishment integrity (start with the placard in the top image at bottom left, which is enlarged in the image at bottom left):

@TheDemocrats why did you photoshop the @pslweb poster? ? pic.twitter.com/1avTTyM8yp

— חאשה (@claritchka) March 26, 2017

There's a message here….
Stats Watch
MBA Mortgage Applications, March 24, 2017: "Purchase applications for home mortgages rose a seasonally adjusted 1 percent in the March 24 week, but refinancing applications fell 3 percent despite a significant drop in interest rates" [Econoday]. And but: "refinance activity has declined significantly since rates increased" [Calculated Risk].
Pending Home Sales Index, February 2017: "Major improvement can be expected for existing home sales in the March to April period based on February's pending home sales index" [Econoday]. And: "This was well above expectations of a 1.8% increase for this index. The warm weather in February might have impacted this index" [Calculated Risk]. But: "The unadjusted data shows the rate of year-over-year growth declined this month – but the more important rolling averages insignificantly improved. Because there is so much noise in the monthly numbers – the rolling averages are the best way to view the data" [Econintersect]. "I continue to see few signs that the residential sales market is improving. – except the words which come from the NAR."
Shipping: "Domestic barge woes mirror global shipping crisis" [WorkBoat]. "While the container lines were building huge, neo-Panamax ships, inland river operators were building new barges to meet the demand from fracking fields, crude oil, grains and coal. The bottom fell out of these business lines last year (with grains being a notable exception), producing a glut of idled barges along the inland river system and a huge dip in barge freight rates."
Today's Fear & Greed Index: 34 Fear (previous close: 34, Fear) [CNN]. One week ago: 32 (Fear). (0 is Extreme Fear; 100 is Extreme Greed). Last updated Mar 29 at 12:42pm. At least we aren't more fearful….
Health Care
"How Trumpcare's Failure Sets the Stage for Single-Payer" [Sarah Jones, The New Republic]. That's why it's so important that Clinton broke her silence by coming out in support of it. Oh, wait….
"Atlanta high school student goes from homeless to valedictorian" [CBS]. But the headline doesn't tell the real story:
For one Atlanta teen, the path to being chosen as high school valedictorian did not come easily.

Rebecca Schmitt and her mother Sandra were evicted from their 4,000-square-foot Port St. Lucie, Florida, home in October 2014.

Five years earlier, Sandra Schmitt was diagnosed with multiple myeloma. In 2012 she received a bone marrow transplant.

Sandra Schmitt, a single mother, told ABC News she went from being a top-earning realtor to being broke, forced to stop working because of her treatment.
I hate it when sh*t that should never happen in a civilized society gets turned into a feel-good story.
Big Brother Is Watching You Watch
"DEA regularly mines Americans' travel records to seize millions in cash" [USA Today]. Holy moley.
Gaia
"Old Weather is a gathering place for more than 4,500 citizen-sleuths who are helping climate scientists map our planet's ancient weather patterns, for free, one [old ship] logbook at a time. These volunteers read and transcribe notes from sailors, hoping to map the mostly unknown history of our planet's weather patterns" [FiveThirtyEight]. Terrific example of citizen science!
"Why Flint Water CRISIS Has Troubling Ties To Rick Snyder's Pro-Fracking Donors" [Medium]. "Do all of these pro-fracking mega-donors to Governor Snyder — who temporarily approved a switch to a toxic water source in order to move to a privatized water pipeline that wouldn't be cheaper than existing supplier Detroit, but would allow for more fracking — prove that the Flint water crisis was really an ungodly ploy on behalf of bought-off state officials to pay back his financial sugar daddies? Since Governor Snyder won't release any emails prior to 2014 — when conversations about the motivations for the pipeline might've been discussed— I guess we'll never know."
Class Warfare
"The labor force participation rate has fallen since 2008, partly due to an aging population and despite a more highly educated one. After accounting for aging, those whose highest educational attainment is a high school diploma, some college or an associate degree have primarily driven the participation decrease" [Federal Reserve Bank of Dallas].
News of the Wired
"Woman finds an amazing way to make $5 from every single Tinder match" [Daily Dot]. It's a phishing equilibrium!s
"Dishwasher has directory traversal bug" [The Register]. "Don't say you weren't warned: Miele went full Internet-of-Things with a network-connected dishwasher, gave it a web server, and now finds itself on the wrong end of a security bug report – and it's accused of ignoring the warning."
Some readers were dubious about tweetstorms the other day, so I thought of them when I saw this:
When the numbered tweets start pic.twitter.com/XoMgmxdHRv

— kobayashi badtz-maru (@HapaxLegoman) March 25, 2017
The meta! It b-u-r-r-r-r-n-n-s-s-s!!!!!
I'll take "That's Not A Category" for $200, Alex.
"That's not a category."
Yes, that's right.
"That's not a category."
I chose that, yes.

— stefan heck (@boring_as_heck) November 4, 2013
* * *
Readers, feel free to contact me with (a) links, and even better (b) sources I should curate regularly, and (c) to find out how to send me images of plants. Vegetables are fine! Fungi are deemed to be honorary plants! See the previous Water Cooler (with plant) here. And here's today's plant (JM):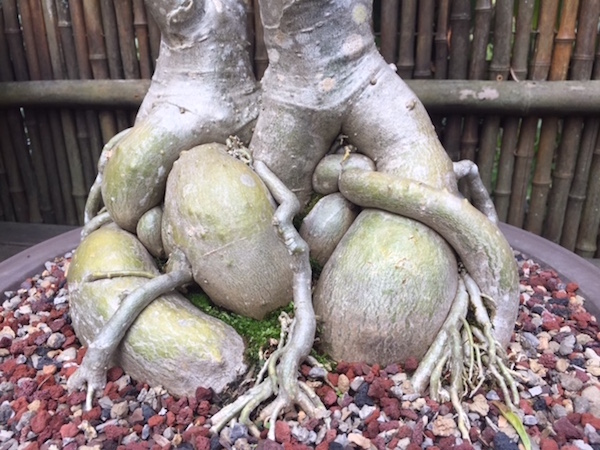 JM: "Gnarly."
Readers, Water Cooler is a standalone entity, not supported by the very successful Naked Capitalism fundraiser just past. Now, I understand you may feel tapped out, but when and if you are able, please use the dropdown to choose your contribution, and then click the hat! Your tip will be welcome today, and indeed any day. Water Cooler will not exist without your continued help.