By Lambert Strether of Corrente
Trade
Trump trade adviser Peter Navarro on Monday: "My point is simply this: Most of those in our profession have chosen to ignore the broader national security risks that stem from large and persistent trade deficits and the concomitant decline of our manufacturing and defense industrial base. Instead, most of our profession, as well as much of the mainstream media, continues to embrace and espouse an antiquated, Ricardian view of the world that has little to do with the events – or risks – of our time" [Politico].
Politics
Trump Transition
"So far, talk is all that's being produced from President Donald J. Trump's promise of a grand $1 trillion investment program for, as he put it in his recent speech before both houses of Congress, 'new roads, bridges, tunnels, airports and railways gleaming across our beautiful land.' But in a recent gathering of top state highway officials in Washington there was considerable skepticism that Trump's plan, like so much of his fledgling presidency, is a lot of talk and very little doing" [Logistics Management]. Ouch!

"Trump's Wiretap Claims: What We Know and What We Don't" [Weekly Standard]. Quoting the Weekly Standard makes me want to claw out my eyeballs, but here we go:

Let me begin with an admission, an observation, and a guess.

The admission: Even after weeks of reporting, with good sources in the national security world, on Capitol Hill, and (believe it or not) among Trump's team, I cannot claim with any real confidence to know the ground truth about Trump and Russia or potential federal investigations or Obama loyalists pushing storylines.

The observation: Neither do most of the people closest to the back-and-forth allegations, including President Trump, or those talking in public about what is unfolding. Most of what we're seeing in the media is the public version of an elaborate game of "telephone" that's taking place behind the scenes.

The guess: March 4, 2017, will end up being a rather consequential day in the presidency of Donald Trump.

Either: the president used thinly sourced media reports to float a conspiracy theory about his predecessor and he was wrong; or, citing thinly sourced media reports, he overstated the details of an actual investigation into his activities or the activities of those around him, alleging presidential involvement without evidence; or, citing thinly sourced media reports, he accurately accused the former president of doing something highly illegal and accidentally uncovered what would surely be one of the biggest scandals in U.S. history. Whatever the case, the events of the last two days will undoubtedly have lasting effects.

The bright side, though: We get to see liberals defending secret courts and secret law, because who on earth wouldn't accept a secret FISA court ruling?

"After seven years of drafting a replacement plan, we get … this?" [Ezra Klein, Vox]. I hate to agree with Young Ezra, but since I'm quoting the Weekly Standard, why not?

"House Republicans released their long-awaited bill dismantling and replacing the core of the Affordable Care Act Monday evening, but will have to overcome major hurdles — erected by members of their own party — getting the legislation to President Trump's desk" [RealClearPolitics]. "One key conservative, Rep. Jim Jordan, said that the legislation 'is not even close to what we told the voters we're going to do."' In other words, it's not horrible enough:

"We put on President Obama's desk a bill that ended Medicaid expansion after a couple years, a bill that ended all the tax increases and a bill that had no new entitlement, but we're going to put a bill on a Republican president's desk a bill that keeps tax increases in place, keeps Medicaid expansion in place for four years and a bill that starts a new entitlement?" said Jordan, a key House conservative. "A Republican Congress is going to put that on a Republican desk? That makes no sense."
Realignment and Legitimacy
"These Bernie Alums Think They've Found the Secret to Reaching Trump Voters" [Mother Jones]. What I am noticing is that the first two organizations actually started by Bernie alums — Our Revolution and Brand New Congress — don't seem to be getting much play in the press at all. Odd. This one seems legit:

Knock Every Door—formed in January by a group of Sanders campaign alums and led by his organizing guru Becky Bond—is an oddity among the hundreds of liberal groups that have popped up in the wake of Trump's election. The name gives away its mission; the group is focused on reaching two groups of voters: people who voted for Obama in 2012 and then flipped to Trump four years later, and the people who simply didn't vote at all.

"Democrats found a reason to celebrate last weekend when they claimed their first competitive electoral victory since President Donald Trump's inauguration" [Vice]. "A 527 nonprofit advocacy group, Flippable's stated goal is to create a nationwide network of progressive activists dedicated to winning down-ballot races. "State legislative elections are the future of the Democratic Party," Flippable co-founder and CEO Catherine Vaughan told VICE News. "They determine the future of policy and the future candidates for higher office." Flippable was launched by Ohio Clinton volunteers.
Stats Watch
International Trade, January 2017: "January's trade deficit came in very deep but at least right on expectations, at $48.5 billion and reflecting a surge in foreign consumer and vehicle imports and higher prices for imported oil" [Econoday]. "Strong demand for foreign goods and light demand for U.S. services and capital goods is not a favorable mix for GDP. This report puts first-quarter GDP on the defensive. " And: "Our monthly analysis using unadjusted data showed surprising growth in both exports and imports. But the data in this series wobbles and the 3 month rolling averages are the best way to look at this series. The 3 month averages are improving. The worsening of the trade balance does not bode well for 1Q2017 GDP" [Econintersect]. But: "The trade deficit with China increased to $31.3 billion in January, from $28.9 billion in January 2016. The increase this year was probably due to the timing of the Chinese New Year (the deficit will probably be smaller in February). In general the deficit with China has generally been declining" [Calculated Risk]. And: "In comments overnight, US National Trade Council head Navarro stated that the trade deficit damages national security and that a lower deficit would boost growth. He also remarked that the US deficit with Germany was one of the most difficult trade issues and that bilateral discussions were needed" [Economic Calendar]. "Any further short-term widening of the trade deficit would increase political pressure and also increase fears that the Administration will push for protectionist policies or look to weaken the dollar in order to support exports."
Gallup US Economic Confidence Index, February 2017: "One-third of U.S. adults described economic conditions as 'excellent' or 'good,' while 20 percent rated them as 'poor'" [Econoday]. "However, opinions about the future trajectory of the economy, however, soured last month. Less than half of U.S. adults (48 percent) said economic conditions were 'getting better,' while nearly as many (45 percent) said they were getting worse."
Factory Orders, January 2017 (Monday): "Strength in aircraft orders is masking what is not a favorable factory orders report where the January headline rose a nearly as-expected 1.2 percent" [Econoday]. "When excluding transportation equipment, orders rose only 0.3 percent. And when looking at core capital goods (nondefense ex-aircraft) the results turn decidedly weak, at a 0.1 percent decline for orders which points to softness ahead for related shipments. And shipments were already in contraction in January, falling 0.4 percent." And: "Back to slow growth from the lower levels" [Mosler Economics]. But: "Recent manufacturing surveys have remained generally firm with the ISM index at the highest level for over 2 years. Although the February Markit PMI survey reported weakness in export orders, there has been no immediate evidence of major deterioration. Overseas demand has improved which has provided support and the energy sector is also in a much healthier position than in early 2016 which will help underpin manufacturing" [Economic Calendar].
Gallup US Consumer Spending Measure, February 2017 (Monday): "Americans' daily self-reports of spending climbed to an average of $101 in February. This is the highest average for the month of February since 2008, when spending averaged $106. The latest monthly average is up $13 from January's figure, but still lower than December's holiday-influenced $105" [Econoday]. "It took eight years for Americans' spending to return to this pre-crisis level, as consumers' "new normal" aversion to spending took hold after the recession and ensuing periods of high unemployment. Their hesitancy began to ease in recent years."
Commodities: "The head of China's second-largest copper refiner is sounding a bearish note on the red metal, even as the country is targetting higher economic growth" [Mining.com].
Commodities: "China iron ore slips on rising inventories; steel supported by cuts" [Reuters].
IT: "Mobile devices [shipped to primary and secondary schools] that run on Apple's iOS and MacOS operating systems have now reached a new low, falling to third place behind both Google-powered laptops and Microsoft Windows devices, according to a report released on Thursday by Futuresource Consulting, a research company" [New York Times].
Rapture Index: Closes up on on Satanism ("Satanism in America Booms under Trump") [Rapture Ready]. Record High: 189; October 10, 2016. Current: 181. Hoo boy.
Debt: "Starting to look seriously ominous" [Mosler Economics]. "When delinquencies start going up, banks tend to start tightening up lending standards a bit to keep them in check, which tends to slow down lending, which causes the economy to soften, resulting in a downward spiral that doesn't end until public sector deficit spending increases sufficiently." Lots of FRED charts.
Today's Fear & Greed Index: 66 Greed (previous close: 69, Greed) [CNN]. One week ago: 64 (Greed). (0 is Extreme Fear; 100 is Extreme Greed). Last updated Mar 7 at 12:44pm. Greed may be good, but more greed is better. What's wrong with these people?
Water
"Ghana may soon import water over galamsey – EPA" [Citi 97.3].
Class Warfare
"Today, mothers and fathers are billed for their children's incarceration — in jails, detention centers, court-ordered treatment facilities, training schools or disciplinary camps — by 19 state juvenile-justice agencies, while in at least 28 other states, individual counties can legally do the same, a survey by The Marshall Project shows" [Marshall Project].
"Rural Colorado hard hit by opioid addiction crisis" [Durango Herald]. "Pueblo, Adams, and Denver Counties experienced the greatest increase in overdose deaths among urban areas." Of course, these deaths aren't part of the narrative: Deaths in flyover states are not important, by definition.
News of the Wired
"A Backyard Evaporator for DIY Maple Sugaring" [Seven Days]. A little late in the season, but maybe for next year!
How to choose and pair typefaces [Zell's Blog].
"Vault 7: CIA Hacking Tools Revealed" [WikiLeaks].
* * *
Readers, feel free to contact me with (a) links, and even better (b) sources I should curate regularly, and (c) to find out how to send me images of plants. Vegetables are fine! Fungi are deemed to be honorary plants! See the previous Water Cooler (with plant) here. And here's today's plant: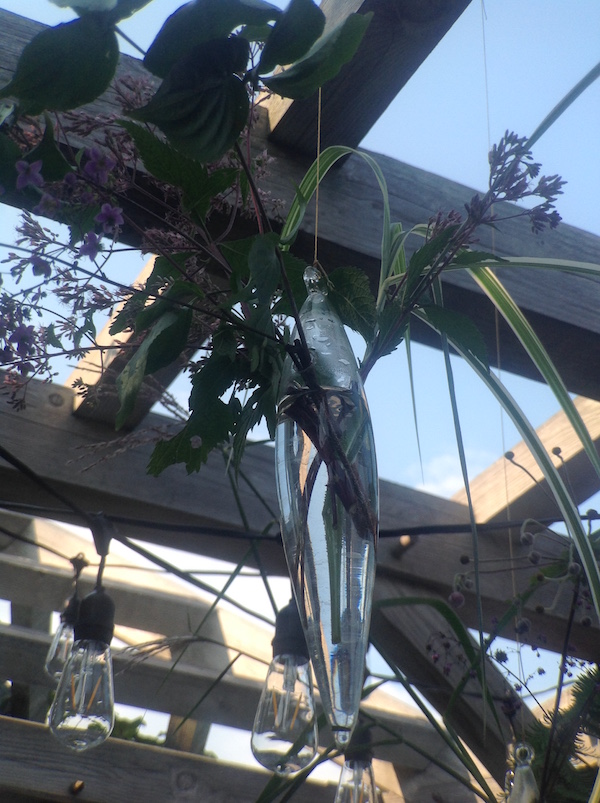 This summer, I'd like to construct a shelter of some sort so I can sit out and work in the garden even if it rains (and so I don't have to thread my way to through the raindrops carrying my laptop). Building something like this looks like work, though. I was thinking more along the lines of sticking rebar in the ground, and bending it…
Readers, Water Cooler is a standalone entity, not supported by the very successful Naked Capitalism fundraiser just past. Now, I understand you may feel tapped out, but when and if you are able, please use the dropdown to choose your contribution, and then click the hat! Your tip will be welcome today, and indeed any day. Water Cooler will not exist without your continued help.