By Lambert Strether of Corrente
Trade
"Democratic Sens. Debbie Stabenow and Ben Cardin are pointing to Trump's extensive business dealings in China as a reason why the president has yet to act on a campaign promise to instruct his Treasury secretary to label China a currency manipulator on his first day in office" [Politico]. Trump is an oligarch, so of course he has "business ties." But Trump's oligarch nature is the problem, which of course the Democrats (Saban, Soros, etc.) cannot say.
Politics
Infrastructure
"U.S. President Donald Trump met with business leaders on Wednesday including Tesla Inc Chief Executive Elon Musk and real estate developers, as the administration seeks partnerships with the private sector to boost infrastructure spending" [Reuters]. "Major real estate and private equity executives attended the meeting, including developer Richard LeFrak, Vornado Realty Trust Chief Executive Officer Steve Roth, and Apollo Global Management co-founder Josh Harris, the White House said. LeFrak and Roth have been tapped to lead an infrastructure council that Trump plans to create, a spokesman for LeFrak had previously said. The lunch with the CEOs follows his meeting on Tuesday with AFL-CIO union President Rich Trumka to talk infrastructure and other issues. The White House held a meeting of 15 federal agencies last Thursday to begin work on the administration's infrastructure plan…. In January, Trump signed an executive order aimed at expediting environmental reviews and approvals for all infrastructure projects, especially high-priority projects such as improving the U.S. electric grid and telecommunications systems and repairing and upgrading "critical" port facilities, airports, pipelines, bridges, and highways."

"Trump said he would was inclined to give states 90 days to start projects, and asked Scott Pruitt, the new head of the Environmental Protection Agency, to provide a recommendation. He expressed interest in building new high-speed railroads, inquired about the possibility of auctioning the broadcast spectrum to wireless carriers, and asked for more details about the Hyperloop, a project envisioned by Tesla founder Elon Musk that would rapidly transport passengers in pods through low-pressure tubes" [MarketWatch]. On grifting, Musk makes the Clintons look like amateurs. ""We're not going to give the money to states unless they can prove that they can be ready, willing and able to start the project," Trump said at a private meeting with aides and executives that The Wall Street Journal was invited to observe. 'We don't want to give them money if they're all tied up for seven years with state bureaucracy.'" Seven years? Because having the spending kick in at the end of Trump's second term won't do him any good?

"Shortly after Trump's election in November, Idaho Republican Rep. Raul Labrador said the conservative House Freedom Caucus, of which he is a member, would provide 'the check on the presidency,' partly by insisting that Trump's $1 trillion plan was fully paid for" [Miami Herald]. Hmm. It will be amusing to see if Democrats join the Freedom Caucus as they insist on "fiscal responsibility."

"Perhaps the most intriguing and potentially far-reaching implication of the new administration is the infrastructure funding, if it is actually approved by Congress, which could lead to the construction, at least of prototype, SmartRoads" [Insurance Journal]. "SmartRoads are roads with embedded technology that allows the vehicle to actually, actively interact with the roadway. In other words, unlike the current generation of autonomous prototype vehicles, which effectively used LIDAR (Light Detection and Ranging) and radar, and visual light cameras to sense their environment – much as analogous to the way that a human being uses their eyes, and to a certain extent, their ears to sense their environment – SmartRoad technology allows the vehicle to actually ping and interact with a roadway, usually, at least initially, contemplated to be a freeway. The implication of this is that it could allow autonomous vehicles, both cars and trucks, to platoon in very close formation"" [Insurance Journal]. When a programmer's algorithm doesn't work, they always try to simplify their inputs until the algorithm does work. Autonomous vehicles, in the general case, are a pipe dream. So, change the roads (the inputs) so the algorithms work, and retain the "autonomous" label. Another word for "roads with embedded technology that allows the vehicle to actually, actively interact with the roadway" is rails. Why not just build more trains, instead of giving Silicon Valley a ginormous reacharound?
Health Care
"The GOP plan to undo the health care law does not make any mention of congressional staff, so it is not clear if staffers will have to remain on the exchange or return to federal employee health coverage plans managed by the OPM. An OPM spokesman said the agency did not have any information on how congressional staff might be affected by pending legislation" [Roll Call].

"[I]t's not going to be easy to muscle the new bill through Congress. … The deeply problematic plan would roil insurance markets and destabilize state budgets. Although the Congressional Budget Office hasn't analyzed the legislation yet, it's expected that it would cause about 15 million Americans to lose their health coverage. It would increase the deficit by repealing some Obamacare taxes. House Republicans claim the proposal would end Obamacare's tax penalty for people without insurance, but the reality is more complicated. The bill would instead allow insurers to assess a surcharge if individuals let insurance lapse. So uninsured Americans would still face a penalty, but they'd just owe the money to insurers instead of the IRS" [Boston Globe]. With the Freedom Caucus worried that TrumpCare isn't crappy enough, Senators and Governors in Medicaid expansion states worried about angry voters, and important interest groups like doctors, hospitals, and insurance companies expressing concerns, it's true that passing the bill won't be easy. That said, the Republicans are feral and ruthless in a way that Democrats are not. Stay tuned for surprises.

One possible surprise: "The big story: Enter Donald Trump — charmer, negotiator, dealmaker. He's been away for a while, obscured in a haze of tweets and rhetorical missiles, wrapped up in a blustery tone that exhibited little interest in legislative blather. But these are his roots, and this will now mark his future as president. The humble start to the sales job on health care reform, with quiet, private meetings where participants are invited to air their concerns, is a break not just from what we've seen of Trump, but what we've seen from the most recent presidents. It's a huge test for the current president, and it's one for which he chose the terms. Will conservatives come along – after their public show of opposition, and urging from the AARP and the American Medical Association to sink the bill?" [ABC News]. And then there's this: "As Capitol Hill waits on the Congressional Budget Office to 'score' the new health care bill, the White House seems to be setting things up…to ignore it. 'If you're looking to the CBO for accuracy, you're looking in the wrong place,' White House Press Secretary Sean Spicer said Wednesday, citing the CBO's original Obamacare numbers, which were later adjusted.'" So, the administration is planning to blow past the CBO, another one of those "democratic norms" liberals worry so much about. (I remember the liberals using the CBO as a club against single payer in 2009, since single payer is not "revenue neutral" (which is all CBO looks at). Single payer, however, saves the country at least $400 billion a year. But that doesn't show up in the [genuflects] CBO figures.)
Trump Transition
"Why the Russia Story Is a Minefield for Democrats and the Media" [Matt Taibbi, Rolling Stone]. Well worth a read. "There is a lot of smoke in the Russia story…. Moreover, the case that the Russians hacked the Democratic National Committee now appears fairly solid. Even Donald Trump thinks so."

At that link, Taibbi goes astray by trusting CNN; I hate to cite a source with the John Birch society on its blogroll, but when they're right, they're right, and CNN sexed up the transcript. Here's the CNN quote: "'I think it was Russia, [1] but I think we also get hacked by other countries and other people.' Trump said. Putin '[2]should not be doing it. He won't be doing it. Russia will have much greater respect for our country when I am leading it than when other people have led it.'" From the full transcript, [1] shows what CNN deleted, and [2] comes 45 minutes later, in response to a very qualified question. Trump doesn't do nuance well, but I think he was trying to do it here.

Back to Taibbi. I think this is exactly right, and in today's vicious atmosphere, courageous:

[T]he manner in which these stories are being reported is becoming a story in its own right. Russia has become an obsession, cultural shorthand for a vast range of suspicions about Donald Trump.

The notion that the president is either an agent or a useful idiot of the Russian state is so freely accepted in some quarters that Beck Bennett's shirtless representation of Putin palling with Alec Baldwin's Trump is already a no-questions-asked yuks routine for the urban smart set….

We can't afford to bolster [Trump's] accusations of establishment bias and overreach by using the techniques of conspiracy theorists to push this Russia story. Unfortunately, that is happening.

One could list the more ridiculous examples, like the Washington Post's infamous "PropOrNot" story identifying hundreds of alternative media sites as fellow travellers aiding Russia, or the Post's faceplant over a report about a hacked utility in Vermont.

Setting all of that aside, look at the techniques involved within the more "legitimate" reports. Many are framed in terms of what they might mean, should other information surface.

There are inevitably uses of phrases like "so far," "to date" and "as yet." These make visible the outline of a future story that isn't currently reportable, further heightening expectations.

Similarly, Democrats in congress have been littering their Russia speeches with caveats like, "We do not know all the facts," and, "More information may well surface." They repeatedly refer to what they don't know as a way of talking about what they hope to find out.

Reporters should always be nervous when intelligence sources sell them stories. Spooks don't normally need the press. Their usual audiences are other agency heads, and the executive. They can bring about action just by convincing other people within the government to take it.

In the extant case, whether the investigation involved a potential Logan Act violation, or election fraud, or whatever, the CIA, FBI, and NSA had the ability to act both before and after Donald Trump was elected. But they didn't, and we know why, because James Clapper just told us – they didn't have evidence to go on.

Thus we are now witnessing the extremely unusual development of intelligence sources that normally wouldn't tell a reporter the time of day litigating a matter of supreme importance in the media. What does this mean?

"Omarosa, Trump's Favored Apprentice, Carves Out WH Role" [RealClearPolitics]. "Although Manigault's office is not in the West Wing, her close relationship with the president has won her walk-in privileges to the Oval Office, according to one friend, and vaunted status as one of roughly two dozen designated assistants to the president, the highest staff ranking. Manigault has not yet leveraged that influence on many key policy issues, although she did lead the push for the executive order on HBCUs, of which she is an alum."

"In late November, when CQ Roll Call polled Democratic congressional staffers on whether they were more inclined to try to block the Republican agenda or find areas of compromise, 51 percent said block it, compared to 39 percent willing to cut deals. The pain of the election was still acute" [Roll Call]. "Asked the same question in late February, despite the protest movement, the Democrats' aides were less combative: 48 percent said block the GOP agenda, 43 percent were willing to compromise." Why, it's almost like Democrats deploy "fascist," "sexist," and "racist" frivolously, isn't it?

"Democrats are holding up one of Trump's best appointees" [Editorial Board, WaPo]. Normalizing Trump, though that won't prevent them from trying to defenestrate him.

"EPA chief Scott Pruitt says carbon dioxide is not a primary contributor to global warming" [CNBC]. "The statement contradicts the public stance of the agency Pruitt leads. The EPA's webpage on the causes of climate change states, 'Carbon dioxide is the primary greenhouse gas that is contributing to recent climate change.'"
Realignment and Legitimacy
"Stefanik opponent plans series of town-hall like meetings" [Malone Telegram (bob)]. Sanders-supporting candidate leverages a town meeting: "Nelson, a Bernie Sanders delegate to the 2016 Democratic National Convention, was one of more than 100 people unable to get into the town hall after library personnel cut off admittance at 195 — the library's maximum occupancy by law. Outside the main room, Nelson made an unplanned speech in the foyer where the overflow crowd convened." If the Clintonites organized this, I bet they're ticked. If they didn't, so much the better.

"What Resist as a movement needs to keep in mind is the fact that we are in the midst of a historic structural transition from the capitalist world-system in which we have lived for some 500 years to one of two successor systems – a non-capitalist system that preserves all of the worst features of capitalism (hierarchy, exploitation, and polarization) and its opposite, a system that is relatively democratic and egalitarian. I call this the struggle between the spirit of Davos and the spirit of Porto Alegre" [Immanuel Wallerstein]. Somebody needs to tell Neera Tanden…
Stats Watch
Challenger Job-Cut Report, February 2017: "Challenger's layoff count remains low and favorable" [Econoday].
Jobless Claims, week of March 4, 2017: "Initial claims rose 20,000 in the March 4 week to a higher-than-expected 243,000 but the data remain very favorable for the labor market" [Econoday]. "Continuing claims, in lagging data for the February 25 week, also remain very favorable." And: "The trend of the 4 week moving average significantly improved this week" [Econintersect].
Gallup Good Jobs Rate, February 2017: 'Down slightly" [Econoday]. "The GGJ rate has declined year-over-year in two of the past three months."
Import and Export Prices, February 2017: "The 0.2 percent rise for import prices in February looks soft but there are pressures within. Excluding fuels, import prices rose 0.3 percent for the largest increase since July. Industrial supplies outside of petroleum rose 1.4 percent while food products rose 1.0 percent" [Econoday]. "An important sign of pressure comes from the overall year-on-year rate which is at 4.6 percent for its highest level in 5 years, since February 2012." But: "Yikes – seems like inflation is rampant? The elephant in this significant inflation is fuel / oil. If one ignores these commodities, the year-over-year inflation rate for imports and exports is almost zero" [Econintersect].
Bloomberg Consumer Comfort Index, week of March 5, 2017: "[C}ontinues to build to new cycle highs"[Econoday]. "Strong gains in many confidence readings, however, have to result in strong gains for consumer spending."
Quarterly Services Survey, Q4 2016: "Information revenue rose 0.7 percent in the fourth quarter compared to the third quarter with the year-on-year rate at plus 4.0 percent" [Econoday].
Retail: According to Green Street Advisors, a premier real estate research firm, sales at the nation's department stores averaged $165 per square foot in 2006. As of spring 2016, that number was down 24% to $124… and it's been falling steadily since then" [Econintersect]. "Meanwhile, those same department stores only reduced their physical footprint by 7% over the decade."
Retail: "Instacart has no warehouses, trucks or inventory, but the grocery delivery business has a shiny new valuation of $3.4 billion. The company added up to $400 million in a new funding round" [Wall Street Journal]. "Silicon Valley investors have long chased the elusive prize of same-day delivery, pouring billions of dollars into companies like Webvan Group Inc., one of the big busts in the early dot-com boom days. There are some big differences with Instacart, however. The smartphone era has changed shopping patterns, training a new generation of consumers to buy goods quickly and more easily on mobile devices. And Instacart has none of the physical assets that weighed down earlier startups, choosing instead to strike deals with grocery chains and use their stores as virtual warehouses that are served contracted couriers rather than company-owned trucks." Ah, "contracted couriers." So, like so many other Silicon Valley unicorns, the soaring valuation is based on screwing over the workers.
Commodities: "China's has decided to eliminate recently set restriction on coal production from local miners, which decreased global supplies and helped prices last year, and has instead vowed to adopt more market-friendly measures in the sector and other oversupplied industries" [Mining.com]. "The announcement doesn't mean the country's top planning agency has abandoned its intention to cut 150 million tonnes of coal mining capacity this year. But the National Development and Reform Commission would leave the size and timing of such cuts to local governments as long as prices remained stable." Hmm.
Commodities: "The US Department of Interior (DOI) has recently made public its plan of leasing 73 million acres in the Gulf of Mexico for crude oil and natural gas production. The areas in question are blocks off the coasts of Alabama, Mississippi, Louisiana, Florida and Texas" [Economic Calendar]. "The proposed plan echoes the previous administration's plan for the Gulf of Mexico fossil fuels production. However, the Obama administration was somewhat more humble, suggesting a lease of 64 million acres."
Shipping: "[T]he current shortage of truck drivers now stands at almost 48,000 and has the potential to go higher, due in large part to industry growth and drivers parking their trucks on the way to retirement and also noting that if current trends remain intact, the driver shortage could rise to around 175,000 by 2024" [Logistics Management]. "So, what happens now and what needs to be done going forward? Well, rising driver pay is a good place to start but it is easier said than done, given the typically very thin carrier margins. … This whole situation is like the hamster on the wheel in some respects. Maybe the whole thing will become a memory should autonomous vehicles truly become a huge success, but until then things continue to move down a highway of uncertainty, when it comes to the never-ending truck driver shortage."
Shipping: "One of the world's most important tech investors has told the logistics industry that there is little cause for its incessant worrying about the emergence of Amazon as a third-party logistics provider" [The Loadstar]. "At last week's TPM conference in Long Beach, managing director at start-venture capital firm Felicis Ventures, Wesley Chan, said he doubted that few shippers would want to hand over the sort of product data they would need to if employing Amazon as their freight forwarder…. [Mr. Chan] said: "When I was at Google, we tried to get into finance and it never worked out because people didn't want Google to have that information."
Shipping: "3 Innovations That Have Transformed Logistics and Trade" [Shipping and Freight Resource]. "Containeristion, information processing technologies, and fibre optic cables." Interesting. For example:
Containerisation must be viewed as revolutionary not because of its impact on cost [where the driver is oil], but rather because of its impact on time. Prior to this innovation, ships would typically be in port for a couple of weeks due to loading and unloading being extremely time consuming. Now, however, a ship can be in and out of port within 10 hours. Whilst this increase in speed is beneficial for all types of products, perishable goods in particular were dramatically affected. Time is the key limiting factor in the long-distance transfer of perishable goods and without the speed increases brought about by containerisation, the fresh food industry would not have the international configuration it has today.
The Fed: "Maybe all that post-election economic hope and all the day in and day out record highs on the Dow Jones Industrial Average and in the S&P 500 Index had some meat to it after all. Ahead of Friday's key employment report from the Labor Department, there has been almost nothing but incredibly strong data on the job market. The strength has even been strong enough that it now seems almost certain that Chair Janet Yellen and the Federal Reserve's Federal Open Market Committee (FOMC) will raise interest rates in the coming week" [247 Wall Street].
Today's Fear & Greed Index: 62 Greed (previous close: 62, Greed) [CNN]. One week ago: 75 (Extreme Greed). (0 is Extreme Fear; 100 is Extreme Greed). Last updated Mar 9 at 12:12pm. Zzzzz….
Health Care
"When Department of Health and Human Services administrators decided to base 30 percent of hospitals' Medicare reimbursement on patient satisfaction survey scores, they likely figured that transparency and accountability would improve healthcare" [The Atlantic]. "In fact, a national study revealed that patients who reported being most satisfied with their doctors actually had higher healthcare and prescription costs and were more likely to be hospitalized than patients who were not as satisfied. Worse, the most satisfied patients were significantly more likely to die in the next four years."
"Chilling Effect? Post-Election Health Care Use by Undocumented and Mixed-Status Families" [New England Journal of Medicine]. "Trump administration comments and actions regarding immigration policy and enforcement will most likely further dampen health care utilization. … [T]he community may lose confidence that information given to service providers, including health care organizations, will not be used for political purposes, including deportation proceedings. Undocumented-immigrant parents of U.S.-citizen children may be especially concerned, given the risk that family members might be separated."
Class Warfare
"In what is commonly called "pay-to-stay" or "private jail," a constellation of small city jails — at least 26 of them in Los Angeles and Orange counties — open their doors to defendants who can afford the option. But what started out as an antidote to overcrowding has evolved into a two-tiered justice system that allows people convicted of serious crimes to buy their way into safer and more comfortable jail stays" [The Marshall Project]. "An analysis by The Marshall Project and the Los Angeles Times of the more than 3,500 people who served time in Southern California's pay-to-stay programs from 2011 through 2015 found more than 160 participants who had been convicted of serious crimes including assault, robbery, domestic violence, battery, sexual assault, sexual abuse of children and possession of child pornography." Third world stuff. Appalling.
News of the Wired
"Wikileaks is offering tech firms CIA files first" [BBC]. "'Once the material is effectively disarmed, we will publish additional details,' Mr Assange said."
"Digital Privacy at the U.S. Border: Protecting the Data On Your Devices and In the Cloud" [Electronic Frontier Foundation]. This is so complicated there ought to be a market for solving it.
* * *
Readers, feel free to contact me with (a) links, and even better (b) sources I should curate regularly, and (c) to find out how to send me images of plants. Vegetables are fine! Fungi are deemed to be honorary plants! See the previous Water Cooler (with plant) here. And here's today's plant (PS):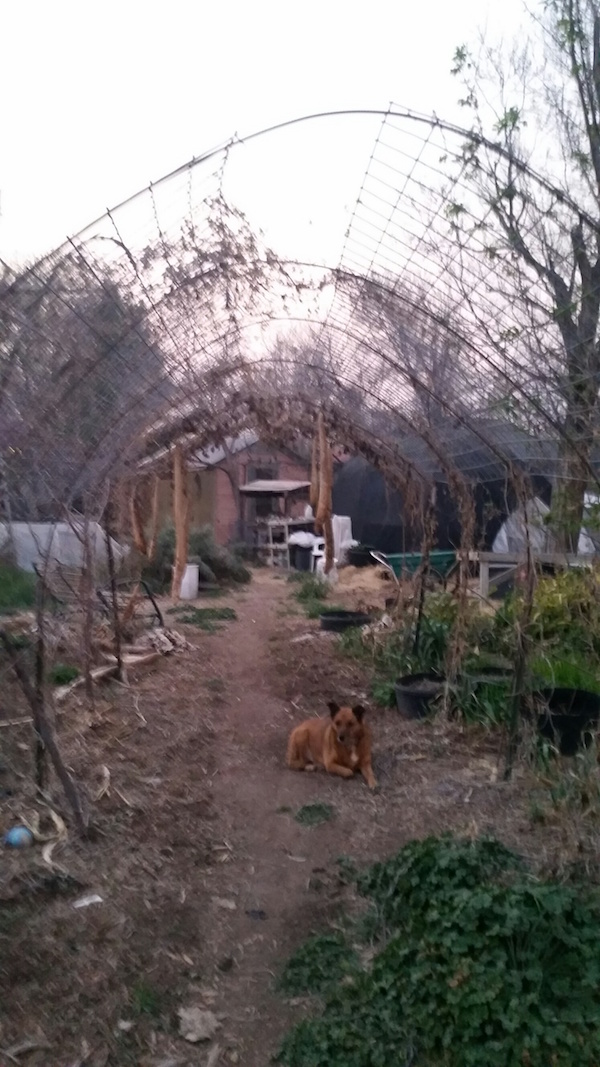 PS kindly sends a second concept for a "shade structure" — I had no idea there was a word! — this one with rebar. Thinking this through, a requirement is surveying the garden as a panorama from my desk. So in some ways the round shape of the hoophouse/rebar concept feels wrong. Sitting under a flat roof, in a lean-to concept, feels much more natural, I'm not sure why.
Readers, Water Cooler is a standalone entity, not supported by the very successful Naked Capitalism fundraiser just past. Now, I understand you may feel tapped out, but when and if you are able, please use the dropdown to choose your contribution, and then click the hat! Your tip will be welcome today, and indeed any day. Water Cooler will not exist without your continued help.