By David Llewellyn-Smith, founding publisher and former editor-in-chief of The Diplomat magazine, now the Asia Pacific's leading geo-politics website. Originally published at MacroBusiness
Don't look now but European election polling is turning bullish for growth. First up, the Netherlands poll in six days is seeing a crash in support for Geert Wilders' racism party (in grey):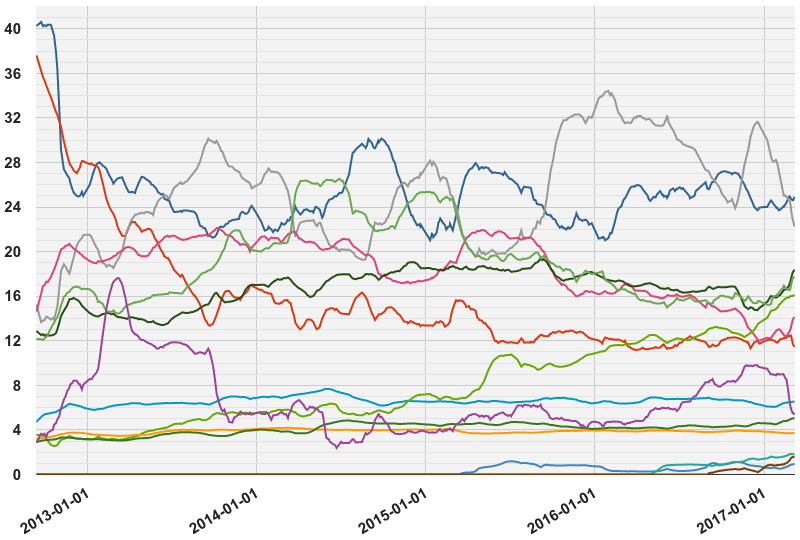 Mr Wilders could never win anyway given he could not form a coalition but with his vote down to 20% from a high of 34%, he might deliver a surprise drubbing of himself to markets.
Next, the French election is holding Le Pen at bay. In the first round of voting she is losing her big lead: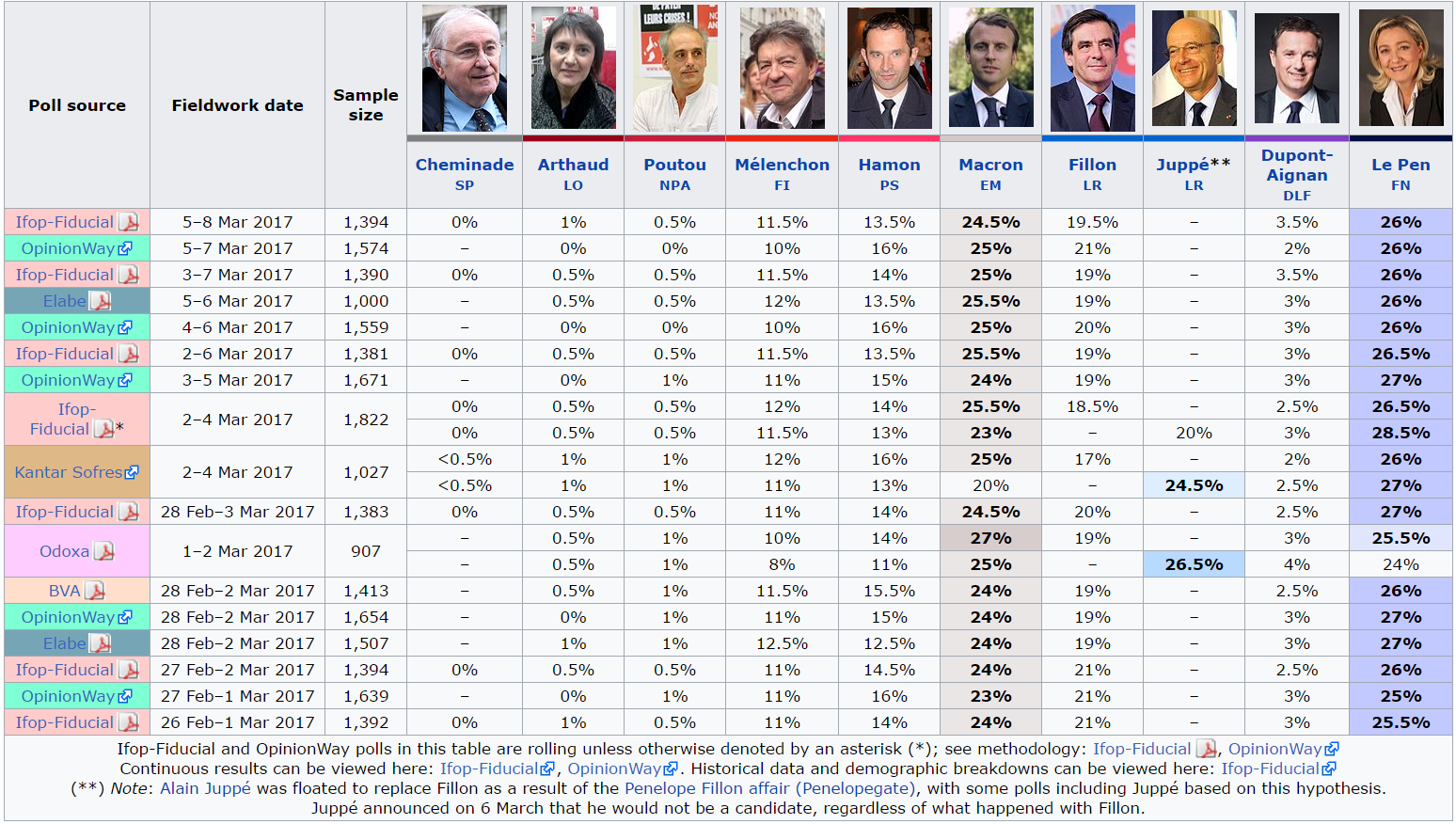 In the second round she is still miles to the rear: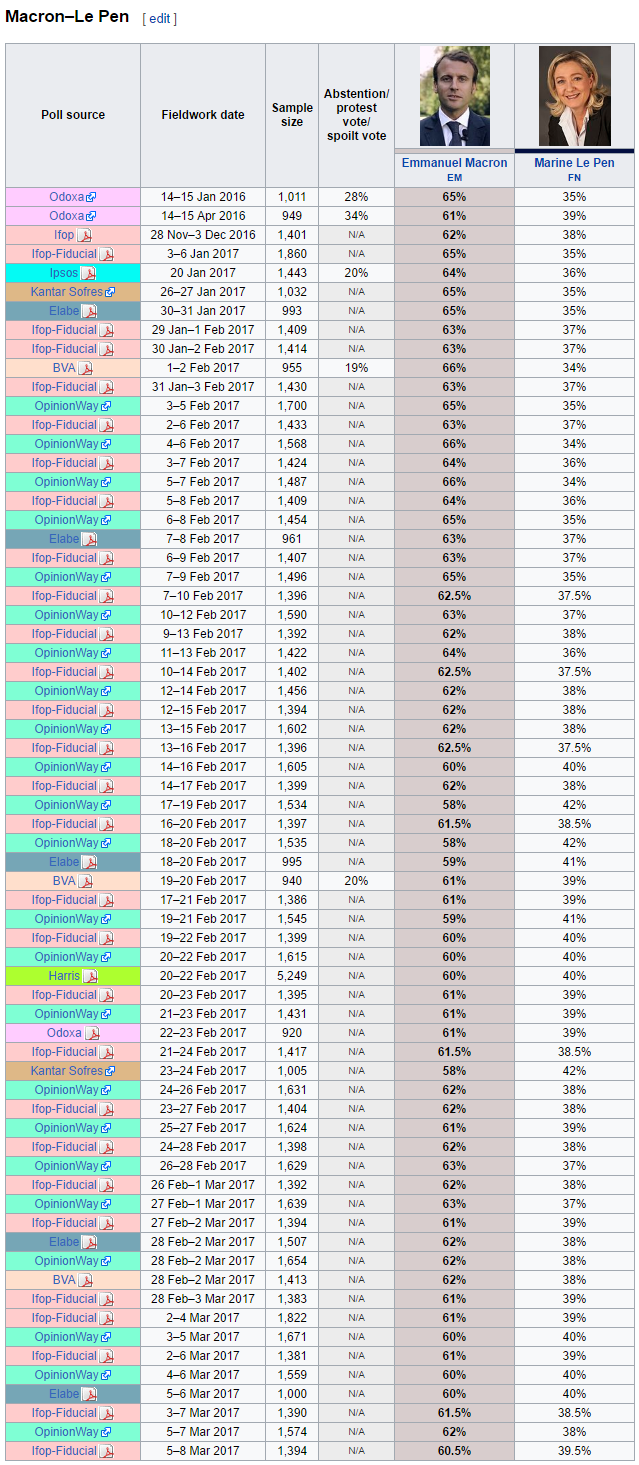 Never say never but I can't see her getting up from here barring something like a terrorist attack. Algrbris reckons it's no problemo: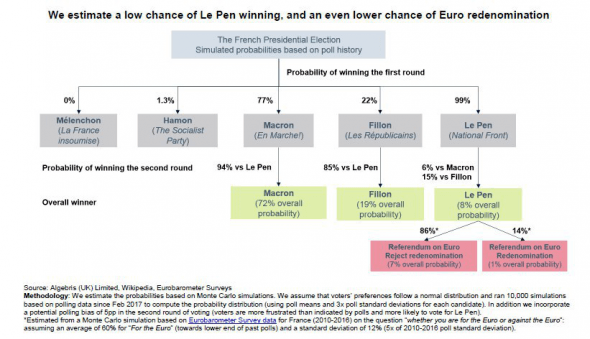 Even if Ms Le Pen wins, redenomination risk is low. In the FN's Les 144 engagements présidentiels, Le Pen details her ambitions to target 2% GDP growth by 2018 partly through tax cuts to SMEs and individuals in lower-income brackets. More importantly, she also plans to renegotiate EU membership and to break the single-market with a tax on imports.

We see a very low probability (14%) of Le Pen progressing on her Euro-exit agenda, even in the unlikely event of her winning both rounds of elections. For Le Pen to deliver on Frexit, she will need approval from France's bi-cameral parliament. France's parliament is split between the Assemblée Nationale and the Sénat. In theory, both houses need to pass legislation for it to become law, but in practice the final decision rests with the Assemblée Nationale. However, Le Pen's FN party currently only has 2 of the 577 deputies in the Assemblée Nationale. The next elections for the Assemblée Nationale will take place on the 11th and 18th this June, but the latest poll suggests that FN is only likely to get 58-64 seats, still far short of a majority. Additionally, FN has no deputies in the Sénat. Only a third of Sénat deputies are up for re-election every three years. This means the earliest the FN could control the Sénat is after three years, in 2020.

Markets currently overestimate the risk of currency redenomination. If we assume that French debt in local currency would be worth around 20 cents below its German equivalent, then market prices imply a 5% probability of redenomination: the 1% yield differential in 2-year French vs German bonds is roughly equal to 5% probability times a 20% loss given Frexit. Instead, we estimate a 1% probability of redenomination on French sovereign debt (8% probability of Le Pen winning elections, times a 14% probability of a referendum winning).
So, France would swing a little Right with Macron. He's your classic eurocentric progressive fiscal conservative. Everything everyone loves to hate right now. Go figure.
Finally, Germany may be building to a shock but not a bad one, via the FT:
Steffen, a salesman, volunteer firefighter and village councillor, has long been one of Angela Merkel's most enthusiastic supporters. But the card-carrying member of the German chancellor's Christian Democrat party says he will vote for her with a heavy heart in September's general election. "She is not so adored any more," says the 42-year-old at a party rally last week in the Mecklenburg Vorpommern town of Demmin, close to Ms Merkel's constituency. "There are many problems: problems the chancellor helped create. She wants to maintain the rule of law but she did not keep it herself in controlling borders [during Europe's 2015 refugee crisis]." Seeking an unprecedented fourth term in office, Ms Merkel is facing her most difficult poll battle yet — and she is part of the problem. After 12 years, burdened by some of the contentious decisions of a tumultuous period in power, one of her biggest jobs is to show she still has fire in her belly — and give her supporters the same feeling. Martin Schulz, her biggest rival, has done just that. The energetic former European Parliament president has galvanised the Social Democrats and turned himself into a credible rival since he took the helm of the party from the unpopular Sigmar Gabriel in January.
Polls bear it out, black is Merkel, red is Shultz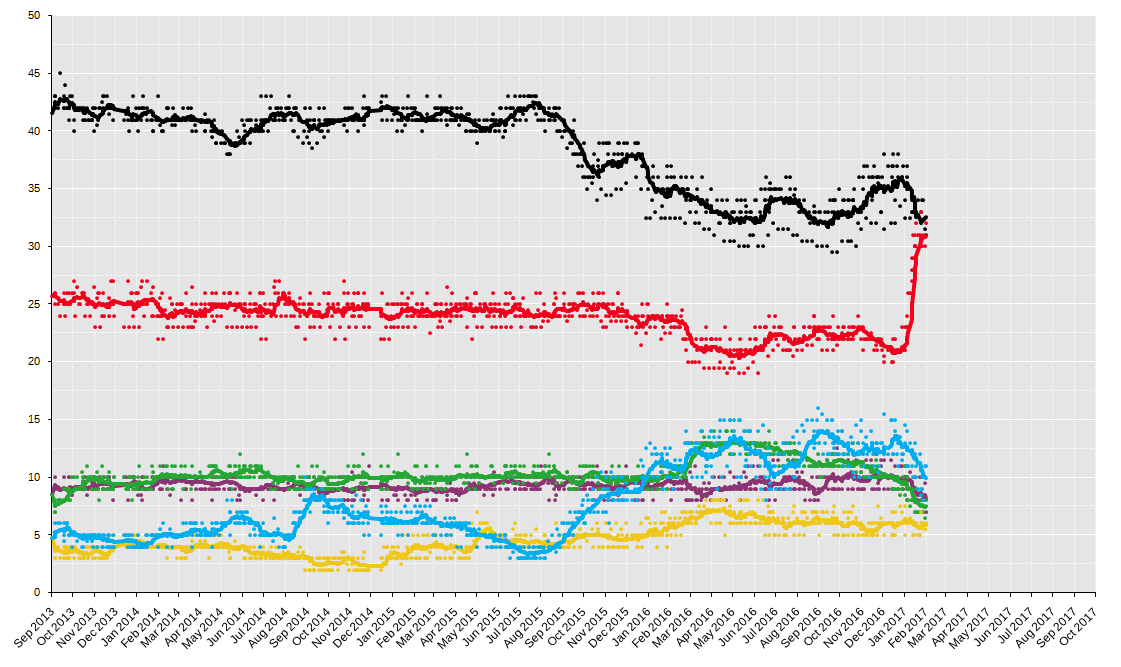 Shutlz would bring eurobonds and good times back to Europe. Indeed, if Macron won France would be further Right than Germany.
Capital is still pricing for risk, also via the FT:
Japanese investors sold French government bonds for the third consecutive month at the start of the year, reflecting souring sentiment towards the country's debt ahead of its presidential election next month. The latest figures from the Ministry of Finance show Japanese money market managers sold ¥34.9bn ($0.3bn) of French debt in January. That is a significant slowdown from the ¥232bn dumped at the start of the year, but marks the first three-month selling streak since 2011.
As you would.
The longer term risk till remains Italy where Five Star (yellow) continues to make headway: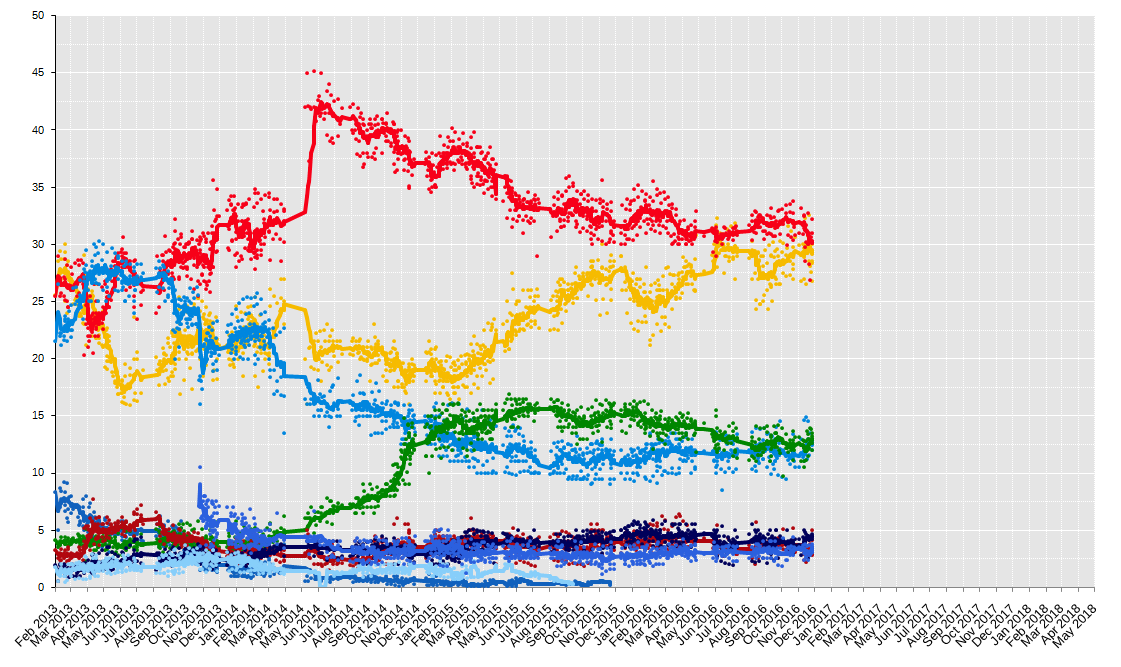 In sum, there's enough risk still here to make capital cautious. But there is also a clear shift towards eurocentrism in the core countries.
The three most important implications for asset allocation is the US dollar, gold and European stocks. The euro will get a good lift as these polls are born out and gold will sink (despite less upwards pressure on the USD). If Europe gets it together it might be time to think about switching out of gold and into something like inflation-linked bonds for portfolio protection, as well as adding a European stock long.