By Marina Bart (formerly aab)  a writer and former public relations consultant, who thinks and writes about many things, including political economy, culture and communication
We humans are innately, inescapably contradictory creatures. We evolved by cooperating, but we are descendants of hierarchical apes. Our ability to reason, drawing conclusions from the material world and its processes, has been crucial to our success as a species. But so has our creativity, our ability to beget both tangible and intangible value from the ether, from our inchoate emotions and sensate experiences that drive us together and apart.
These tensions play out in everything we make and everything we do, every day, everywhere, going back to our earliest beginnings. Because competition and hierarchy are part of our nature, there are always those who assert that their defining personal qualities are superior, thus the world should be organized with them and people like them at the top. In one era, poets condescend to mathematicians. In another, mathematicians dismiss poets. Warriors mistake their  coercive force for moral virtue, and in doing so, overreach the effective limits of their power, and destroy what they have built.
We are complicated beasties. For one thing, we often like to think we are not beasties – that we can use our minds to escape the limitations of our animal natures.
But there is no escape. We are creatures of both reason and feeling, both cooperative and competitive. Anyone who claims superiority on the basis of elevating any one aspect of human nature over another is either lying to themselves, to you, or both.  Often, they are not merely incorrect, they are dangerous. Ignoring or devaluing fundamental elements of what it means to be human leads not just to failures of ideas, products, relationships and societies, but to cruelty and exploitation.
Which brings me to persuasion.
Persuasion, the concept, is simple: it is the act of getting a person or persons to do or believe something you want them to do or believe. Persuasion can be as primitive as displaying your body to potential sexual partners to entice them or prove you would help them create and nurture healthy offspring. Or it could be a massive mathematical proof that lays out across thousands of lines of symbolic reasoning how to understand the center of the earth without ever going near it.
The mathematician might assert that her act of persuasion is superior because it is intangible and symbolic. But the only foolproof way to know her proof is correct (and not merely persuasive) is to subject its conclusion to the same physical reality the people having sex for pleasure and reproduction live in. The sex-having people who might scorn the mathematician for giving up more sex-having for symbolic reasoning would be very, very sorry if their ceiling fell in on them while having sex because they ignored the mathematical proof's ability to lead them to more earthquake-resistant design.
So, because humans are both logical and emotional, and cooperative as well as competitive, effective persuasion operates across all those domains. Which strategy will be successful depends on a variety of factors, including how direct and intimate the interaction is. (That's a fancy way to say "whether it is person to person, between strangers, or using broad public channels like television or the Internet.")  For the purposes of this introduction, I'm focusing on the core psychological drivers.
The more (or wider variety of ) people you want to persuade, the more you will tend to rely on emotional and sensate persuasion, because it so fundamental to our nature and survival that it transcends boundaries of gender, class and culture. Yet there are limits to the effectiveness of emotive persuasion. Like nuclear weapons, emotive persuasion can wreak havoc far beyond its intended target, its fallout drifting and swirling in ways its creators and launchers did not intend, cannot control, and do not want.
Because emotive persuasion taps into our irrational, animal natures, it can – at least temporarily – persuade people to believe and do things that are wrong for them. When emotive persuasion fails the test of reality long enough or hard enough, it stops working. (It can, however, do a lot of damage before that happens.) If you are using emotive persuasion to achieve a goal explicitly counter to the interests of the individuals or communities you are using it against, force is required to overwhelm and overcome protective defenses, both personal and communal, that have evolved over time precisely because emotive persuasion is so powerful and therefore so dangerous.
That is why, for example, propaganda campaigns to drive citizens to go to war don't just Otherize and Beastify the enemy to frighten and disgust people. They are also relentless, pushing their simple, emotive messages from every corner, using every channel possible, breaking down both internal and communal resistance until private terror and public shame corrals the society into offering up that which is most precious to them, their loved ones, their children, their present comfort and their evolutionary future, to a cause that usually gains them nothing.
When you want to go to war against a country that has not harmed you, in the service of an ally that financed an act of terrorism within your borders, for example, you have to use propaganda.
Emotive persuasion is not all evil propaganda, however. One of the modern giants in the field of persuasion, Dr. Robert Cialdini, initially researched it in part because he was an easy mark, and he wanted to protect himself. His famous six key principles of influence, developed by studying car salesman, are also used routinely by grass roots organizers. When someone knocks on your door, engages you in conversation about who you are and what you want, asks you to get a pen to write down your polling place and the election day, and offers to drive you to the polls, they are using four of the six principles. (Using a numbered list, as he does in his title, is also a persuasion strategy.)
Rational persuasion (logical argument, mathematical proofs, etc.) could be considered the exact opposite of emotive persuasion. The whole point of it is to escape the limitations of our animal selves via the systematic application of material facts within a framework that enables its assertions to be tested, corrected and reiterated. Its persuasive power derives, at least in principle, from its objectivity. It persuades by being demonstrably true.
But for that demonstration to effective, its target(s) must be able to comprehend the process and accept that this method has already been verified. There must be a shared fact set between the persuader and the persuasion target, and the symbols used to make the argument (words, numbers, etc.) must be defined and understood the same way by both parties, or the target will reject it. Rational persuasion has severe constraints as a persuasion tool. It tends to be more effective used in limited settings among peers with similar cultures. (The inversion of that is also important: you can damage or destroy potential rational communication by robbing words of their meaning. Explaining to a working class voter in Alabama that you're a leftist or a progressive and you want to help them becomes a lot harder if they hear the world "progressive" and picture Hillary Clinton, a woman who, for the record, has never espoused any policies that could rationally be considered progressive.)
However, like emotive persuasion, rational persuasion can be deceptive, its deceptive power made more potent precisely because its targets have been lulled into believing that rational persuasion cannot deceive. Just as reality and lived experience can erode the effectiveness of emotive persuasion, our emotive natures inevitably color our creation and evaluation of rational argument. The system, with its sturdy, proven framework, shared fact set and mutually accepted symbol definitions, is still imperfect, because humans are imperfect. Important information may be left out, or misrepresented. False assertions can be placed within the framework and accepted because they are surrounded by all that already proven, already mutually agreed to facts, symbols and processes.
The belief in the superiority of reason, with its emotionally flattering assumption that if you can follow the argument, you are more meritorious and thus deserving of a good life, embeds emotional persuasion within its rational cousin. It can make seemingly rational arguments both more persuasive and more toxic, like the sugar pumped into "low-fat" products people gulped down for decades to the detriment of their health.
So: persuasion runs the gamut from hard facts to hot feelings. Both rational and emotive persuasion can be effective. Both rational and emotive persuasion can be manipulative. Persuasion is a tool, like a blade you can use to build a house, hunt a deer, cut out a tumor or murder a rival. The tool is morally neutral. Whether persuasion is immoral is a function of its wielder and its goal. You can use persuasion to get people to change their behavior to save the planet. You can also use persuasion to get people to destroy the planet. Consensus-building requires persuasion. So does genocide.
Humans are constantly trying to persuade one another, so rather than treat the subject with suspicion, you will be both a better persuader and less likely to manipulated by persuasion if you understand its fundamentals.
The literature on persuasion goes back millennia. There's Aristotle. There's Bernays.  There are scientists seeking to quantify it, and businessmen seeking to profit from it. My goal is to give you a framework you can apply in daily life to better use persuasion yourself, and better understand when it is being used against you. So I will end this post with a quadrant chart, because (in case the word "framework" didn't ping in your head), I am using primarily (although not exclusively) rational persuasion strategy in this series, and visual charts are a rational persuasion tool.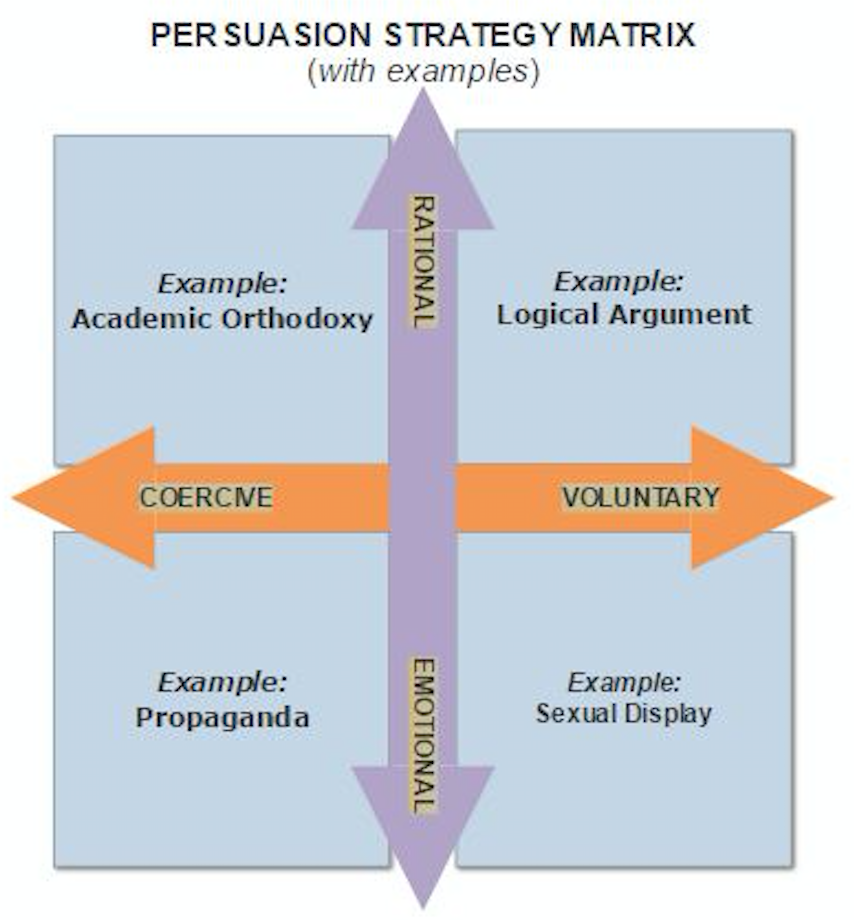 Propaganda sits in the III quadrant, because it is both highly emotive and highly coercive. Logical argument sits in the I quadrant, because it is both highly rational and presumes a shared background and understanding, as well as the freedom to reject or counter the argument. Academic orthodoxy, such as neoliberal economic practice, falls in quadrant II, while sexual display (highly emotive and voluntary) is quadrant IV.
Next post, I'll focus more on how to recognize and resist manipulation, regardless of which strategy is being used and which quadrant it fits.  In the meantime, I invite you to test drive my matrix. What persuasion strategies can you spot in your daily life? Where would they fit on the chart?