By Lambert Strether of Corrente
Readers, I wish to think you collectively for an extremely thoughtful and informative comments section, even for the NC commentariat, for my travel day yesterday. –lambert.
Trade
"The Trump administration flexed its enforcement muscles by taking the "unprecedented action" of invoking a new authority Congress granted under the Trade Preferences Extension Act of 2015. The action resulted in higher dumping margins on imports of oil country tubular goods — steel pipe used in oil extraction — from South Korea after an administrative review" [Politico]. "The new authority allows the U.S. to apply a "particular market situation" as justification for ratcheting up duties — which it did in this case by raising the maximum tariffs from 16 percent to 24.9 percent. In the South Korea case, the domestic industry argued that imports deserved more dire tariffs because of allegations that South Korean producers were using unfairly priced Chinese steel to make the pipe and tube. The so-called particular market situation of cheap Chinese steel in this case allowed Commerce to disregard home market prices or costs of production when calculating dumping margins." It would be helpful, in a "Please, not 1914 all over again" way, if South Korea weren't embroiled in an enormous political crisis.
Politics
Policy
"Transportation Secretary Elaine Chao said recently the administration plans to release a legislative package in May. Investors have become more skeptical that the plan would win approval this year in Congress, which is controlled by Republicans who are traditionally wary of big government spending programs such as this" [Logistics Management]. "Chao also said that DOT 'has a budget of $70 billion and we don't build anything.' She was referring to the billions that DOT distributes Highway Trust Fund dollars through a formula that essentially acts as a block grant to states. Chao now says 'money is not the problem,' adding: 'There's lots of money chasing too few deals. And so what we need to do is somehow work on the upstream part of rebuilding our infrastructure, and that is to let loose the permitting process so that der\egulatory efforts can be ongoing.'" "Unleash." Send in the tropes. There have to be tropes [hums].

"Don't Politicize the Federal Reserve" [Robert Rubin, New York Times]. Pretty rich, that headline. "The Fed is expected to raise rates two or three times during the coming year, based on its widely shared view that unemployment is as low as it can be without triggering inflation. There is undoubtedly still some room to bring those who have dropped out of the labor market back in, but mainstream labor economists say not much, especially given the skills gap." "Mainstream economists."

Cuomo's plan: "Because Excelsior is what is known as a "last dollar" program that kicks in on top of other scholarships and grants, its benefit to the poorest students would be limited. Tuition bills at the City University of New York or SUNY — already among the lowest in the country, with two- and four-year tuition roughly ranging between $4,350 and $6,470 — are often covered by Federal Pell grants or state aid. What those students most need help with — living expenses, books and fees — will not be covered by Excelsior" [New York Times]. Must be an oversight.
2020
Pretty shameless:

.@NYGovCuomo and @HillaryClinton take the stage in Queens to promote free college tuition in New York State pic.twitter.com/tvXfIXFsjJ

— Zack Fink (@ZackFinkNews) April 12, 2017

But the kids are alright:

Appearance of @SenSanders in video elicits loud cheers from student crowd. Reax to @HillaryClinton far more muted pic.twitter.com/Uzgriwchc7

— Zack Fink (@ZackFinkNews) April 12, 2017

"Former Maryland governor Martin O'Malley has scheduled a trip to New Hampshire, where he might be laying the groundwork for a second presidential run, the Globe has learned" [The Boston Globe]. (O'Malley supports "all payer," "another idea would maintain a private health care industry while achieving most of the goals of single payer" [Fiscal Times]. See PNHP here, including all payer in Maryland, more on Maryland, and here (also, a Vox explainer, because wonky). All payer is a cost-saving measure. It is in no sense a universal benefit, despite the confusingly similar branding ("all" vs. "single").
2016 Post Mortem
"How Trump Picked the Democratic Lock and Won the Presidency" [RealClearPolitics]. "Trump's process for winning the Electoral College can basically be divided into two steps. First, he managed to keep the Republican base mostly in line. According to exit polls (note that exit polls are an imperfect measure, but they're useful for broad descriptions), Trump won 88 percent of self-identified Republicans…. Trump's process for winning the Electoral College can basically be divided into two steps. First, he managed to keep the Republican base mostly in line. According to exit polls (note that exit polls are an imperfect measure, but they're useful for broad descriptions), Trump won 88 percent of self-identified Republicans…. The geographic pattern here is relatively clear. Trump made significant gains in the broad Midwestern/mid-Atlantic region. He gained in large, less populous swaths of Michigan, Wisconsin, Ohio, Iowa, Minnesota, the Dakotas, New York, Pennsylvania, and Maine."
Realignment and Legitimacy
KS-04: "The GOP breathed a huge sigh of relief Tuesday night when Republican Ron Estes eked out a narrow win to become the next Representative of the 4th District of Kansas" [Buzzfeed]. "It was a victory that was at once a relief and an embarrassment for Republicans. In November, Donald Trump won the district by 27 percent; on Tuesday, Estes beat Democrat James Thompson by single digits."

KS-04: "But in the middle of last week Republicans began circulating an internal poll showing Thompson trailing by just 1 point, and the national party quickly invested nearly $120,000 to back up Estes. President Donald Trump recorded a robocall on his behalf and tweeted about the race Tuesday morning, and Vice President Mike Pence and Sen. Ted Cruz (R-Texas) were dispatched to shore up support" [Huffpo]. "The infusion of cash was a signal to Democrats that, all of a sudden, the race was competitive. Yet the Democratic Party stayed out of the race until the campaign's final days, when the Democratic National Committee and Democratic Congressional Campaign Committee began making calls on his behalf." Here's the best part: "Washington Democrats, for their part, argue that had they jumped into the race earlier, it would have become 'nationalized' ― meaning voters would retreat to their partisan corners and Thompson would have been sunk." Oh, come on. They couldn't launder the money, or get some squillionaire to stump up? Leave it to an Establishment Democrat to explain how not giving help is actually giving help.

KS-04: "Tensions between Democratic congressional candidate James Thompson's campaign and the Kansas Democratic Party spilled into the open over the weekend after party leaders rejected a request from the campaign for $20,000 and the campaign accused some in the party of "sitting on the sidelines" [Wichita Eagle]. The Democrats flushed over a billion dollars down the crapper of Clinton's 2016 campaign. And they can't come up with $20K?

KS-04:

.@TheDemocrats fight in Kansas is just the start of what we'll bring to campaigns across the county in 2, 4, 6 yrs & beyond. #KS04

— Chuck Schumer (@chuckschumer) April 12, 2017

What, losing?

KS-04: Yes, since a "massive swing" is a triumph just like victory.

DCCC on the KS-04 results: "This massive swing from the 2016 presidential results should set off alarm bells for House Republicans." pic.twitter.com/wzvpyXaA8f

— Kyle Griffin (@kylegriffin1) April 12, 2017

KS-04: A theory of the case:

2. It really exists as a means of helping the existing Democratic House members govern through threats and candidate recruitment.

— Matt Stoller (@matthewstoller) April 12, 2017

And:

11. Based on the Kansas results, there's likely to be a wave. The DCCC's job is to shape that wave, make sure we don't get any leaders.

— Matt Stoller (@matthewstoller) April 12, 2017

The iron law of institutions…

"A lot of people are won­der­ing how Con­gress in gen­er­al and the Sen­ate in par­tic­u­lar sank to these depths. In my view, it goes back to 1984, to a con­tested House race in In­di­ana's 8th Con­gres­sion­al Dis­trict between fresh­man Demo­crat Frank Mc­Clo­s­key and his 28-year-old chal­lenger, state Rep. Rick McIntyre. In the ini­tial vote count, Mc­Clo­s­key led by 72 votes. Then a re­count flipped it to McIntyre by 418 votes, but with al­most 5,000 votes un­coun­ted for "tech­nic­al" reas­ons. At that point the Demo­crat­ic-con­trolled House in­struc­ted the Gen­er­al Ac­count­ing Of­fice to count the 5,000 votes and any oth­ers dis­al­lowed by loc­al elec­tion of­fi­cials, and some­how Mc­Clo­s­key was ad­judged the win­ner by four votes out of 133,000 cast. The Demo­crat­ic House ma­jor­ity, led by Speak­er Tip O'Neill, then voted to seat Mc­Clo­s­key on pretty much a party-line vote, and Re­pub­lic­ans walked out of the House cham­ber in protest" [Charles Cook, Cook Report]. "The con­tro­versy over the Mc­Clo­s­key-McIntyre race led to the rise of firebrand Rep. Newt Gin­grich, who ef­fect­ively pushed out House Minor­ity Lead­er Robert Michel, an old school Re­pub­lic­an. Once Gin­grich be­came lead­er, he promptly went after O'Neill's suc­cessor, Speak­er Jim Wright, ac­cus­ing him of eth­ics vi­ol­a­tions that res­ul­ted in him step­ping down." Late Roman Republic stuff?
Stats Watch
Atlanta Fed Business Inflation Expectations, April 2017: "Oil prices may be up this month but not inflation expectations among businesses which fell a sizable 2 tenths to 1.9 percent in April for the lowest reading since October" [Econoday]. "Inflation expectations among consumers have also been falling, pointing to limited expectations for overall economic growth and supporting Federal Reserve forecasts that core inflation will continue to remain contained."
NFIB Small Business Optimism Index, March 2017 (Tuesday): "The small business optimism index fell 0.6 points in March to 104.7, a slight decline that holds on to the bulk of strong post-election gains recorded in November and December" [Econoday]. "The small decrease was in line with expectations and indicates the continuation of a very high level of optimism for small business owners. Of the 10 components of the index, 6 posted declines, 2 were unchanged, and 2 increased. But the declines occurred mostly from very high levels, with the readings remaining strong, and the registered increases came in the important areas of capital investment and job creation. to increase capital outlays thus rose 3 points to 29 and to increase employment were up 1 point to 16." We'll see if the "plans" show up in real data. And then there's this: "NFIB pointed out, however, that most of the March data for the survey was collected before Congress failed to pass a bill repealing and replacing Obamacare, which had been one of the key points that together with expectations of other deregulatory measures made small business owners so optimistic in the post-election period. NFIB also noted that the uncertainty index hit 93, the second highest level in the survey's history, indicating that small business owners are having a difficult time anticipating factors that affect their businesses, particularly government policy. "
Import and Export Prices, March 2017: "Boosted by farm prices, export prices are extending their trend higher while momentum for import prices, due to March's dip in oil, has slowed" [Econoday]. "Today's results will keep in place expectations for soft headlines but intrend core readings in tomorrow's producer price report and Friday's consumer price report."
JOLTS, February 2017: "Job openings rose a sharp 2.1 percent in February to 5.743 million which is the highest level since July last year and the 4th highest of the expansion. Hires totaled 5.314 million which is also among the best months of the expansion though down 2.0 percent from January. Year-on-year, openings are up 3.2 percent in contrast to a 2.4 percent decline for hires" [Econoday].
MBA Mortgage Applications, week of April 7, 2017: "Purchase applications for home mortgages rose a seasonally adjusted 3 percent in the April 7 week, while applications for refinancing remained unchanged" [Econoday].
Shipping: "The first train from the UK to China left London Gateway today, heading for Yiwu, where it is scheduled to arrive on 27 April, with 30 containers carrying whisky, soft drinks, vitamins and pharmaceuticals" [The Loadstar]. "The big selling point is that the cost is around 70% less than shipping the cargo by air, and 16 days quicker than by sea." Also no pirates. Or aircraft carriers?
Shipping: "THE unprecedented liner capacity shortages on Europe to Asia ocean trades could continue beyond the transition of box carriers to new alliance schedules for several more weeks at least, putting upward pressure on freight rates and creating supply chain challenges for forwarders" [Lloyd's List]. Cartels work!
The Bezzle: "South Korea's Daewoo Shipbuilding & Marine Engineering Co., the world's second-largest shipbuilder by revenue, could go into receivership as soon as next week unless its creditors agree to massive losses, according to people involved in the restructuring efforts" [Wall Street Journal].
Labor Power: "Through March 2017, nominal hourly wages were up 2.7% year-over-year. This is a pickup from last year, and so far it appears wages will increase at a faster rate in 2017" [Calculated Risk].
Today's Fear & Greed Index: 28 Fear (previous close: 31, Fear) [CNN]. One week ago: 43 (Fear). (0 is Extreme Fear; 100 is Extreme Greed). Last updated Apr 12 at 12:30pm. "And suddenly there was a terrible roar all around us and the sky was full of what looked like huge bats, all swooping and screeching and diving around the car, which was going about 100 miles an hour with the top down to Las Vegas."
Our Famously Free Press
When the top left doesn't know what the bottom right is doing: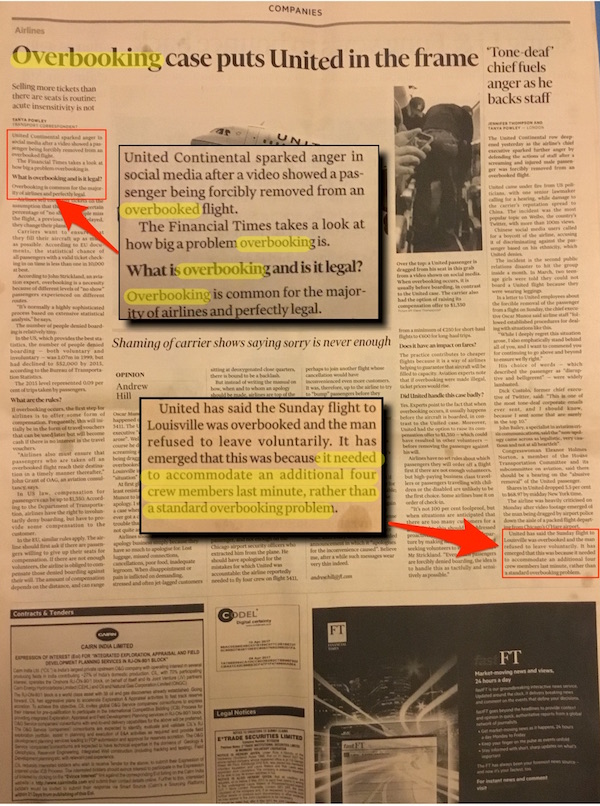 Further to Yves's post this morning: The press as a whole — including here a flagship mainstream publication, the pink paper — can't get basic facts in the United flight 3411 right; here is "overbooking" incorrectly reported (top right), and correctly reported (bottom left), on the very same page. What sort of editorial process allowed the presses to roll? And this is a relatively simple story. Is there a reason we should expect the press to get more complex stories — say, sarin gas in Syria — correct at some level greater than chance? And how exactly do the oligopolistic brainiacs at Google propose to distinguish fake news from such misreporting algorithmically? (Sorry for the slight discoloration; that's a water spot — really! — from dinner, which I sometimes like to spice up with the FT. Think of the water spot as a sign of authenticity, like scars in fine leather. And sorry for the distortion; best I could do with the iPad.)
Simon Stålenhag really seems to be catching the zeitgeist for today's newsflow:
That 2 am long-distance sync. https://t.co/epuXYUOHzD pic.twitter.com/SXvblZ5Wot

— Simon Stålenhag (@simonstalenhag) March 14, 2017
"Julian Assange: WikiLeaks has the same mission as The Post and the Times" [WaPo]. Well, for some definition of "mission." "Same same but different," as they say in Thailand.
Health Care
46% of Republicans favor strongly or Favor somewhat "Expanding Medicare to provide health insurance to every American":
New poll from @TheEconomist and @YouGov confirms: it's not just Democrats and liberals who support #MedicareForAll. pic.twitter.com/pFQWtCpUvY

— PNHP (@PNHP) April 7, 2017
Yeah, but are they suburban Republicans?
"Americans are no strangers to medical debt, and the burden is most severe in Mississippi, where nearly 40 percent of adults under age 65 owe hospitals or doctors, according to the Urban Institute. But the men and women carrying that debt are not always poor — they're increasingly middle class. And their inability, or refusal, to pay their bills is straining hospital budgets and threatening the availability of care" [Stat]. "Refusal," as in a debtor's strike, would be interesting. "Elsewhere in Mississippi, there are plenty of opinions from experts and advocates on how to reduce past-due medical debt: expand Medicaid, create jobs, let providers become insurers. But right now, with no clear solution, hospitals are likely to remain mired in debt, just like their patients."
"America: equity and equality in health" [Lancet]. This is an excellent series of five articles from the Lancet.
Dear Old Blighty
"The NHS is putting diabetic patients at risk of serious illness by rationing test strips that monitor blood glucose levels in an attempt to save money, a charity claims" [Guardian]. As the Tories continue to saw across the NHS's windpipe with austerity's rusty knife….
Guillotine Watch
"Rules the Google founders followed from the start" [CNBC]. Oddly, or not, "Don't be evil" isn't listed.
Class Warfare
"Reporters at the newly merged DNAinfo New York and Gothamist news sites will join the growing Writers Guild of America–East union, they announced Wednesday morning" [Crains New York]. Good. "'Everything happened and we didn't have a seat at the table,' said Noah Hurowitz, a DNAinfo reporter and member of the organizing committee. 'And we want to be able to have some collective voice in the future of the company.'"
News of the Wired
In fact — [***cough***] — I think I've caught the zeitgest too. Here's some more Stålenhag:
Roadside corporate message.https://t.co/epuXYV6iYd pic.twitter.com/oQFzo2o00X

— Simon Stålenhag (@simonstalenhag) October 31, 2016
And:
Something has happened at the border checkpoint.

Get no answers at https://t.co/epuXYUOHzD pic.twitter.com/DkQWZpqauV

— Simon Stålenhag (@simonstalenhag) February 7, 2017
"After vote to kill privacy rules, users try to "pollute" their Web history" [Ars Technica]. Dunno about this. It seems to me that algorithmic pollution ought to be pretty easy to remove algorithmically.
* * *
Readers, feel free to contact me with (a) links, and even better (b) sources I should curate regularly, and (c) to find out how to send me images of plants. Vegetables are fine! Fungi are deemed to be honorary plants! See the previous Water Cooler (with plant) here. And here's today's plant (via):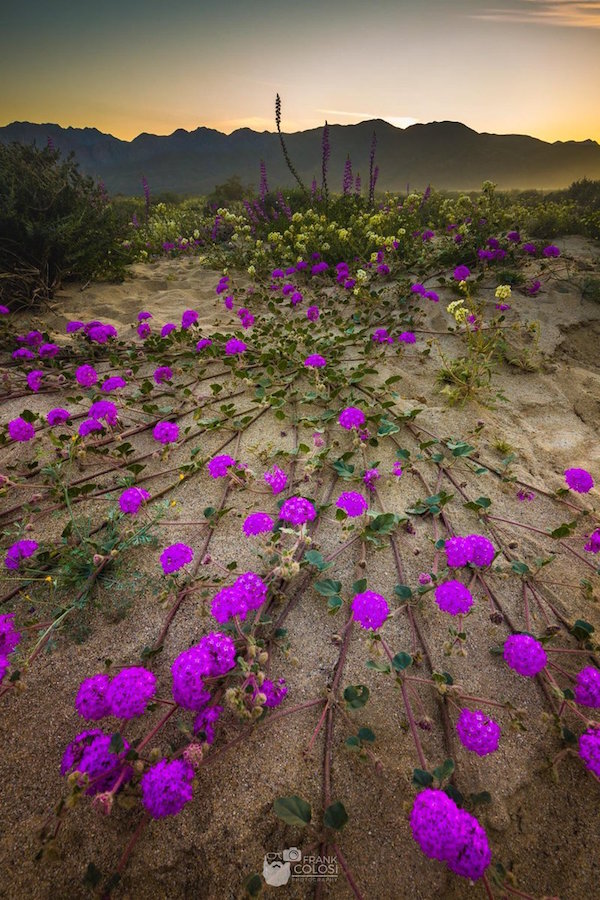 Desert spring.
* * *
Readers, Water Cooler is a standalone entity, not supported by the very successful Naked Capitalism fundraiser just past. Now, I understand you may feel tapped out, but when and if you are able, please use the dropdown to choose your contribution, and then click the hat! Your tip will be welcome today, and indeed any day. Water Cooler will not exist without your continued help.