By Lambert Strether of Corrente
Politics
Trump Transition
"Does Steve Bannon Have Something to Offer?" [Peggy Noonan, Wall Street Journal]. Nooners returns to Bannon's 2014 talk (linked to at NC here). Cutting freely: "The West is currently facing a 'crisis of capitalism,' he said. The world was able to recover after the world wars in part thanks to 'an enlightened form of capitalism' that generated 'tremendous wealth' broadly distributed among all classes…. Capitalists, he said, now must ask: "What is the purpose of whatever I'm doing with this wealth? What is the purpose of what I'm doing with the ability that God has given us . . . to actually be a creator of jobs and a creator of wealth?… Policy changes accompanying Mr. Bannon's diminishment this week included the president's speaking approvingly of the Export-Import Bank and NATO, declaring that China isn't a currency manipulator after all, suggesting the dollar may be too strong, and hitting Syria and Afghanistan. None of that sounds like Candidate Trump. It is possible what we are seeing is simply the rise of a more moderate or conciliatory or establishment Trump White House. But it also looks like the rise of the Wall Street Mr. Bannon painted as tending to see people as commodities." (And before we go down the racism route, it's especially noteworthy that most of the bodies blown to pink mist in the wars supported so vigorously by the political class and both party establishments were brown, many of them were wearing hijabs at the time, and plenty of them were "babies.")
2017
MT: "Quist Campaign Fundraising Tops $1.3 Million" [Montana NPR]. "His campaign says he raised nearly a million dollars in March alone, via more than 22,000 individual contributions, with an average donation of $40 each. There's no evidence that the national Democratic party is spending on Quist's behalf, but groups affiliated with Vermont Senator Bernie Sanders are backing him."

MT: "Democrat Rob Quist, a musician and songwriter from Creston, has a negative net worth, according to his financial disclosure form, and reported just shy of $29,000 of personal income last year — including about $15,000 in Social Security payments. Quist is 69 years old" [KRTV]. "Republican Greg Gianforte, 55, … reported 2016 income ranging from $2.3 million to $15.7 million – and assets valued between $65 million and $315 million." You'd think the national Democrats would have recruited Gianforte…

MT: "It's interesting to watch commercials slamming Rob Quist saying he is unfit to be a representative due to financial problems dating back several years. His response; it stemmed from medical bills. My response is, "But for the grace of God so go I'" [Letter to the Editor, Bozeman Daily Chronicle].

MT: "Bernie Sanders Says He's Willing To Campaign For Montana Populist Rob Quist" [HuffPo]. Get a motel room, camp out there for a month?

MT: "Donald Trump Jr. will join Republican congressional candidate Greg Gianforte at rallies in Kalispell, Hamilton, Billings and Bozeman next Friday and Saturday. The campaign did not give exact locations for the rallies, which won't be free, but they think Trump Jr. will be able to help gin up support for Gianforte" [Bozeman Daily Chronicle].

MT: "Rob Quist, the Democratic candidate for Montana's at-large seat, has been getting the same silent treatment Thompson got" [Slate]. Now, to be fair, the Slate writer believes that it's the DCCC's job to be "realistic" about where to spend their money. But when Ossoff has a war chest of $8.3 million, much of it from California, and the DCCC can't stump up $20K for a mailer for Thompson, it looks like they don't care enough to fake it. "'We have to all acknowledge that those seats are held by Republicans and they've been held by Republicans for quite some time,' Rep. Denny Heck, the DCCC's recruitment chair, said during February's House Democrat retreat regarding its involvement in a series of four spring special elections." Show me a good loser, and I'll show you a loser, as Vince Lombardi said.

GA-06: "The Re­pub­lic­an field has be­come in­creas­ingly frac­tured and con­ten­tious, while Os­soff quickly con­sol­id­ated sup­port from Demo­crats around the coun­try and in Geor­gia, win­ning en­dorse­ments from would-be rivals and in­vest­ments from ma­jor out­side groups" [National Journal]. "Voters in­tent on sup­port­ing a Re­pub­lic­an will have 11 to choose from… [Os­soff] has led every re­cent pub­lic poll of the race, though he is still be­low 50 per­cent." (Unless Ossoff wins 50%, he's forced into a run-off.) Speculating freely, a Republican "loss" here could rebound to their benefit long-term, since Ossoff is faithfully replicating the Clintonite strategy; which the Republicans have already beaten once.

KS-04: "Whether it was the troubles of Trump, Brownback or a combination of the two—or just the usual pattern of special elections—Republican turnout plummeted on Tuesday. Based on the unofficial results, Estes suffered a 62 percent drop in votes compared to the Republican candidate in 2016, while Thompson's Democratic decline was only 32 percent" [Politico]. If Republican turnout plummeted because of the Republican health care debacle, or Trump's flip-flop toward hawkishness, some percentage of those voters could surely have been picked up by a Sanders Democrat (with a little more money).

"Perez and Sanders will travel to states their party lost beginning on April 17 until April 22. The tour aims to make amends with Democratic voters who felt neglected during the 2016 presidential election" [Salon]. "Felt neglected." Oh, it's all about f-e-e-e-lings…. "'We'll be traveling — and Tom will be traveling with me — to traditionally conservative states,' Sanders told the Washington Post. 'It's absolutely absurd that the Democratic Party has turned its back on working people in literally half the country.'" Absurd it may be, but that's what the Democrats' base in the professional classes wants, as Thomas Frank points out (yet again) this morning. I don't see how this circle gets squared without a thorough housecleaning, which Perez was installed to prevent. We'll see what the reception is.

"Dems can't win Trump's base in 2018, but they'll try to demoralize it" [CNN]. "American Bridge, a Democratic super PAC, will launch a series of web ads aimed at Trump supporters who are likely to be angered by his recent flip-flops, a spokesman for the groups told CNN… The goal is not necessarily to turn Trump voters into Democrats, since that isn't likely to happen. But by demoralizing Trump's base of supporters, Democrats are hopeful they can capitalize on excitement in their base to sweep many Republicans out of power in the House and Senate." Sure. It's certainly more cost-effective to hold down turnout rather than win voters over with humane policies like #MedicareForAll, widely supported by voters in both parties.

"Sen. Jeff Flake weathers brutal, 2 1/2-hour Mesa town hall" [Arizona Republic]. "U.S. Sen. Jeff Flake endured a brutal face-to-face confrontation with angry constituents Thursday as liberal voters dominated a standing-room-only audience at a town-hall meeting in downtown Mesa." Will this change a single vote? Why? Wouldn't Flake see these voters as, well, "irredeemable"?
Realignment and Legitimacy
"The March on Everywhere" [Harpers]. This is important, a must-read (though it's long; at least try for a good sample). I would like very much to know what readers think of this. It's an excellent report from the ground, and those are few and far between. I have views, unsurprisingly, but I'd like to hear yours first.

"The coming constitutional convention train-wreck redux" [Alice Marshall, Medium]. "It is not enough to make policy changes, if it were the New Deal would still be intact and even improved upon. Instead it is hanging on by a thread. So what would constitutional protections against finance capitalism look like? You would have to know more about economics, Wall Street, and constitutional law than I do to know how to devise such protections, but clearly that is what is needed."
Stats Watch
Banks Open, Markets Closed.
Consumer Price Index, March 2017: "Yesterday's producer price report set up the disappointment for today's report on consumer prices where the headline fell a very sharp and unexpected 0.3 percent in March. The core rate (less food & energy) fell 0.1 percent which is also unexpected" [Econoday]. "A special negative in the March report is communications which fell a very steep 3.5 percent and reflects cell phone plans which subtracted 1 tenth from both the headline rate and core. Yet other categories are also weak including apparel, down 0.7 percent, and transportation where prices, due to weakness for vehicles, fell 1.4 percent. Housing and medical, two centers of price traction, managed only 0.1 percent gains. … The lack of price traction ultimately points to softness in overall demand for consumer goods and services. And though demand in the labor market is very strong, wage improvement has been only marginal. A report like this and will push back expectations for Federal Reserve rate hikes." So "consumers" aren't going shopping because "workers" are facing flat wages, and so the answer is… monetary stimulus. Not sure I'm following this. And: "Most elements of the CPI moderated this month lead by the energy sector" [Econintersect].
Retail Sales, March 2017: "First-quarter consumer spending is in trouble. Retail sales fell 0.2 percent in March which is under the Econoday consensus for no change. Importantly, February sales are revised sharply lower, to minus 0.3 percent vs an initial gain of 0.1 percent" [Economy]. "When excluding both vehicles and gasoline, sales could only manage — — a second straight 0.1 percent increase… [T]wo special areas of weakness are restaurants which fell 0.6 percent for a second straight decline and building materials which fell 1.5 percent." Yet again, the surveys say one thing, and the real data says another. Hard to see how Trump's promises on jobs are going to come true at this rate. And: "Economic growth likely slowed in the first quarter, a period normally associated with tepid increases in GDP" [Economic Calendar]. And: "The decrease in March was below expectations, and sales for February were revised down. A weak report" [Calculated Risk]. Then again: "[T]he three month rolling averages of the unadjusted data improved" [Econintersect]. "Retail sales per capita seems to be in a long term downtrend (but short term trends appear to be growing."
Business Inventories, February 2017: "Business inventories came in as expected in February, rising 0.3 percent for a second month in a build that will help support first-quarter GDP estimates" [Econoday]. "[T]he inventory-to-sales ratio which is unchanged at 1.35." And but: "Our primary monitoring tool – the 3 month rolling averages for sales – declined but remain in expansion" [Business Insider].
Retail: "Wal-Mart Stores Inc (WMT.N) said on Tuesday it is eliminating more U.S. corporate jobs this month" [Reuters]. "Wal-Mart's job cuts started in 2016 when the retailer said it was eliminating 7,000 back-office positions and moving more of its workforce to the sales floor. Earlier this year, Wal-Mart cut more than a 1,000 corporate positions, mostly in its human resources department."
Commodities: "British scientists find sub-sea minerals treasure trove" [Mining.com]. "A British team of scientists has discovered an underwater deposit of diverse minerals in the Atlantic, about 500km off the Canary Islands, which contains vast amounts of tellurium, used in the making of solar panels, wind turbines and electronics… The finding, part of a broader research project called MarineE-tech, is significant as the deposit is estimated to hold 2,670 tonnes of tellurium or 5% of the global reserves."
Commodities: "The latest report by the International Copper Study Group which includes full year 2016 estimates shows world mine copper production jumped by 5.3%, or 1 million tonnes last year to 20.16 million tonnes" [Mining.com].
Shipping: "LA area Port Traffic increased in March" [Calculated Risk]. "Container traffic gives us an idea about the volume of goods being exported and imported – and usually some hints about the trade report since LA area ports handle about 40% of the nation's container port traffic…. On a rolling 12 month basis, inbound traffic was up 1.6% compared to the rolling 12 months ending in February. Outbound traffic was up 0.8% compared to 12 months ending in February."
Shipping: "The art of handling a freight tender" [Shipping and Freight Resource]. "Imagine a MNC (Multi-National Company) who have multiple brands to be exported from their 20 odd group companies to around 200 countries globally where they are present…. Or imagine you are one of the lucky service providers invited to bid or tender for this business.. Visualise the dynamics involved in coordinating the movement of these containers across the 20 operating companies into 200 countries for these thousands of containers." It's a combinatorial explosion. It's gonna take some real software engineering to automate this. Or, failing algorithmic solutions, social engineering.
Shipping: "The Isle of Man has shot up the rankings in recent years and is now the 12th largest register in the world, and among the fastest growing" [Splash 247]. "The Isle of Man is a British register and flies the Red Ensign, but it is not recognised as an EU Flag."
The Bezzle: "At SolarCity [acquired by Elon Musk last November], crews are provided with 'panel pay,' a bonus system that incentivizes speed by paying installers for every panel they install if that rate is higher than their hourly wage. According to [SolarCity worker George] Estrada, the rapid pace led to leaky roofs when holes drilled to secure the panels weren't properly sealed, requiring return visits after customers complained" [Capital and Main]. "SolarCity, which is based in San Mateo, built its name on a zero-down financing model that leveraged investor dollars and federal tax credits to finance a rapid expansion that has yet to produce positive returns." Swell. I've also done piecework, back in the day. It's not a recipe for quality.
The Bezzle: "Apple obtains permission to test driverless cars" [MarketWatch].
Public Relations: "10 notable quotes from United passenger's lawyer — and what they really mean" [MarketWatch]. Fun stuff!
Political Risk: ""Right now United should be focusing more on how to address the social media storm swirling around its brand," Marzilli said. "The brand has not been moving at social media speed to catch up and get ahead of the crisis. This may be indicative of a breaking point with the public resenting their treatment by large corporations" [MarketWatch]. The Arab Spring started when a single street vendor immolated himself, having been harassed over a permit.
The Fed: "Disappointments on both inflation and retail sales for March might give reason for Federal Reserve officials to think twice about their plan to ratchet up rates as many as three more times this year" [MarketWatch].
Today's Fear & Greed Index: 25 Fear (previous close: 28, Fear) [CNN]. One week ago: 43 (Fear). (0 is Extreme Fear; 100 is Extreme Greed). Last updated Apr 13 at 4:37pm.
Our Famously Free Press
Interview with n+1 publisher: "I told him I was thinking of starting a literary magazine, and he was like, 'well that's a bad idea, what could possibly possess you to do that?' And I said, 'I really have things I'd like to say and things I've written that can't be published elsewhere. And my friends, the same situation. I want to publish myself and them.' And he said, surprised, 'Oh, that's the only good reason to start a literary journal" [The White Review].
Black Injustice Tipping Point
"Threats cast at contractors, workers linked to Confederate monument removals, New Orleans official says" [New Orleans Advocate]. I remember taking the Jeff Davis Highway to and from work, when I was in DC. The sensation was… odd.
Guillotine Watch
"Le Cinq, Paris: restaurant review" [Guardian]. An amuse-bouche: "It's bizarre. Not that the older gentlemen with their nieces on the few other occupied tables seem to care. The restaurant is never more than half full. Pictures of plates are snapped. Mind you I also take pictures, but mine are shot in the manner of a scene of crime officer working methodically." I have a very vague memory of a movie (Bunuel?) in which diners were served excrement, and forced — whether through raw fear or social pressure — to exclaim how much they enjoyed it. Perhaps this is all a massive and profitable jape by the chef? Épater la bourgeoisie…. Except they aren't….
Class Warfare
"Cities Where You Don't Want to Get Sick" [247 Wall Street]. "It is likely no coincidence that all of the worst metropolitan areas in which to get sick are also among the nation's poorer areas. The median household incomes in all of these areas do not exceed the national median of $53,657 a year. Of the 10 cities, only the Altoona, Pennsylvania area has a poverty rate lower than the national poverty rate of 15.6%." Class warfare is not a metaphor…
"Drivers of Declining Labor Share of Income" [IMF Blog]. "[A]though technological advancement and global economic integration have been key drivers of global prosperity, their effects on labor shares challenge policymakers to find ways to spread those benefits more broadly. The design of specific policy responses, of course, will have to depend on country circumstances and be anchored in their social contracts." "Challenge policymakers." Assuming good faith, noblesse oblige, etc., etc.
"Tax Cuts for the Rich Aren't an Economic Panacea — and Could Hurt Growth" [Center on Budget and Policy Priorities]. "In reality, tax cuts — particularly for high-income people — are an ineffective way to spur economic growth, and they're likely to harm the economy if they add to the deficit or are paired with cuts to investments that support the economy and working families." A worthy effort, and full of good talking points. That said, "working families" makes my back teeth itch. It's a liberal tell, because (a) some consultant's focus group report told them to use their family-friendly words, and (b) it's a circumlocution for "workers" or "working class." (For example, do working class singles count? Orphans?)
News of the Wired
"File This Under Nostalgia: New Book Pays Tribute To The Library Card Catalog" [NPR].
"How To Win Friends – The Malamud Strategy" [Another Word for It]. Defeating efforts to privatize access to the law.
* * *
Readers, feel free to contact me with (a) links, and even better (b) sources I should curate regularly, and (c) to find out how to send me images of plants. Vegetables are fine! Fungi are deemed to be honorary plants! See the previous Water Cooler (with plant) here.
And here's today's plant (KR):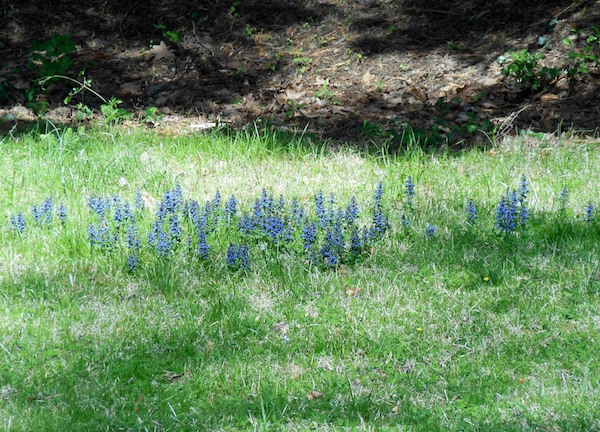 Another from KR's backyard: Bugle (?) in the middle ground, with grass and then the dappled sunlight of the woods…
* * *
Readers, Water Cooler is a standalone entity, not supported by the very successful Naked Capitalism fundraiser just past. Now, I understand you may feel tapped out, but when and if you are able, please use the dropdown to choose your contribution, and then click the hat! Your tip will be welcome today, and indeed any day. Water Cooler will not exist without your continued help.