Patient readers, today's Links are still very election-heavy. I'm worried about what the heck the usual suspects are getting away with as we (and Politico (and WaPo (and the NYT (and the FT)))) focus on the drama in Manhattan and the Beltway. Those of you who send us links, please do feel to send us — in addition to links on the transition — other other signals from amid the noise. Thanks! –lambert
Pluto's frozen heart may hide underground ocean that flipped planet over Telegraph
A secular trend away from public markets FT
How CalSTRS Investments Influenced Workers to Vote for Donald Trump East Bay Express. Must-read.
Tap or swipe? Banks identify quirks for added security FT
Facebook News Feed algorithm: How it works and why employees want to change it Tech.Mic. It's worth remembering that the vaunted New York Times helped get the country into the Iraq War with fake stories on WMDs from the since-disgraced Judy Miller. Has Facebook done anywhere near that damage? To me, this controversry looks less like news-gathering organizations defending reportorial integrity and more like desperate publishers from the Acela corridor trying to nobble Silicon Valley's Facebook. Not that there's anything wrong with that.
New York vows Islamic State will not ruin Thanksgiving parade Reuters. E. Mayer: "Maybe the parade organizers could appease ISIS by featuring a giant balloon mock-up of The Prophet? Just trying to think outside the box here."
The Mysterious Recurring Case of Mexico's Disappearing Governors Bloomberg
Brexit?
British Judges Can't Escape Brexit Turmoil, Even in Malaysia Bloomberg

Trump's Win, Brexit Vote Stem From Mishandling of Globalization, Obama Says WSJ
China?
Hydrocarbons
Syraqistan
Former Turkish general: Trump could broker peace in Syria and end the civil war Stars and Stripes

Why Russia sailed its navy thousands of miles to Syria when doing so brings 'nothing' to the battle Business Insider. Note: The sitting duck aircraft carrier is accompanied by a tug, in case of breakdown. So let's curb our enthusiasm just a little. Maybe it's all a sales pitch for those keen-looking fighter planes.

Syrian child disappointed she won't get to be drone-striked by the first female president Duffel Blog
Big Brother Is Watching You Watch
Yahoo scanning order unlikely to be made public: sources Reuters
Trump Transition
This Is How Steve Bannon Sees The Entire World Buzzfeed (TF). A transcript, not a screed; very interesting. Somewhere along the line Buzzfeed turned into a news-gathering organization. How do these things happen?

Why Rudy Giuliani Shouldn't Be Secretary of State Editorial Board, NYT

The Trump Doctrine Patrick Buchanan, The American Conservative

Trump's vast web of conflicts: A user's guide Politico. The advantages of a family foundation…

Donald Trump's Son-in-Law, Jared Kushner, Could Get Key White House Role WSJ. Inside Baseball. Makes sense for Trump to have people round him he can trust, much like JFK made RFK Attorney General, given the snakes he has to deal with.

Jeff Sessions starts to emerge with bigger role in Trump transition WaPo. I think a lot of these Inside Baseball stories are churn at best, gaslighting at worst. Yves tells me that the motto in real estate is "Fire, fire, fire." That is, you fire people until you get the right ones. That's what Trump did with his campaign team, and based on results, he finally got the right team in place. So expect more churn, Democrat tut-tuttery, media pearl-clutching. Go long Rolodex cards… (Sessions, incidentally, was the only Senator with the stones to go into the locked room where the text of the TPP was kept, and read a summary of what he found into the record.)

Trump Transition Team Gives Detailed Update Amid Infighting Bloomberg. Infighting! Quelle horreur! These people should all take a vacation. In fact, there's a vacation coming up. Maybe we can have a "national conversation" round the collective Thanksgiving table. Bringing this 1898 Caran d'Ache cartoon from the Dreyfus Affair era to mind:

Caption for top: "Above all, let us not discuss the Dreyfus Affair!" Bottom panel: "They discussed it!"

Two Senior Republican Senators Say the Filibuster Must Stay New York Magazine. The mud slowly rises under the treads of the Trump panzers…

Senate Democrats' Surprising Strategy: Trying to Align With Trump NYT

Trump's Team Makes Overtures to Democrats as Transition Push Ramps Up WSJ

Trump Team Floats 'Infrastructure Bank' Derided by Campaign Bloomberg

With Trump's Signature, Dozens of Obama's Rules Could Fall NYT

"Dear President-elect Trump: Congratulations on your recent election…." (PDF) Internet Assocation. This in particular:

Offer Consistent, Smart Regulatory Approaches: The rapid rise of this new sector of the economy, however, has been met by piecemeal regulatory approaches at the local and state levels that often feature misguided or overly burdensome rules driving up costs for consumers and workers. By steering clear of burdensome regulations, policymakers at every level can ensure this rapidly growing sector of the economy sees its full potential.

I believe I've warned readers that "smart" is a bullshit tell?

2 presidential electors encourage colleagues to sideline Trump Politico
2016 Post Mortem
You Are Still Crying Wolf Slate Star Codex. Must-read. Interesting to see I'm not the only blogger to have come up with the talking point/rebuttal format.

When The Shouting Stops The Archdruid Report. Useful, but Greer should read Thomas Frank. Then he'll stop conflating "left" and "liberal."

A Letter to a Friend in a Time of Trump Adam Gopnik, New Yorker. Every bit as nauseating as the usual "Letter to" genre piece. A sample: "The really great changes of our lifetime were all social and cultural in the first place, and political only later. " Yeah. Gopnik's mill didn't close. Did it.

The Two Americas of 2016 NYT. Not seeing a Mason-Dixon line, here…

Mourning for Whiteness Toni Morrison, The New Yorker

Donald Trump and the New Morlock Nation (Google webcache). DNA Science Blog. "Being smart, it seems, no longer matters." There's that word again. You'd think that the party of smart people would be smart enough not to lose the Presidency, the House, the Senate, most of the state Legislatures, and most of the Governorships. #JustSaying.

Trump Was Always The Republican Candidate Best Positioned To Defeat Hillary Michael Tracey, Medium (PU).

This Ohio Town Voted For Obama By Huge Margins. Then It Flipped To Trump. HuffPo. Note the role of the state prison…

Florida 2016 in the rearview mirror Steve Schale

And the 2016 Ralph Nader Award Goes to… Bernie Sanders Time. Deploy the Nader blame cannon!

Dear Hillary Pundits, Own Your Terrible Candidate ShadowProof

Hillary Clinton: 'There have been times when I wanted never to leave the house again' Guardian. Hold that thought.
Swedish women get hotline to report mansplaining Independent (Furzy Mouse).
Explaining It All To You Current Affairs (PU). Thinking inside the Vox…
The Simpsons: University of Glasgow launches course on philosophy of Homer Simpson Independent. I'm so old I remember when the Simpsons were a sign of the impending collapse of civilization!
Antidote (via):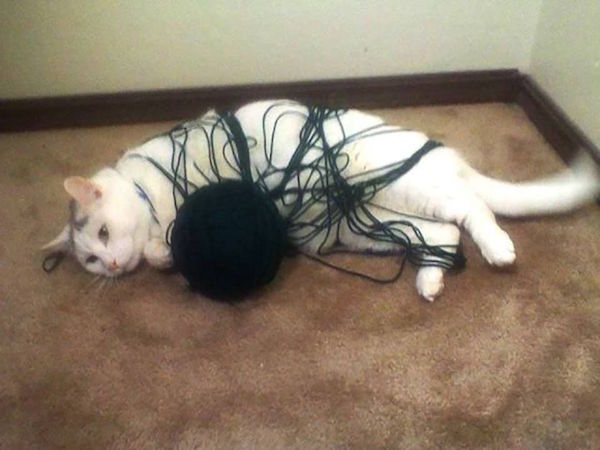 Normally, I deprecate cute cat pictures — too easy! — but there's something about this one…
See yesterday's Links and Antidote du Jour here.