By Lambert Strether of Corrente
Trade
"President Donald Trump will sign an executive order today directing the Commerce Department to investigate whether steel imports into the U.S. should be blocked on national security grounds, an administration official told POLITICO" [Politico]. "A Section 232 investigation requires the Commerce secretary to report to the president within 270 days whether a certain product is being imported in sufficient quantities or under such circumstances that it threatens to impair national security. The president then has another 90 days to decide whether to "adjust" imports or take some other non-trade related action. … The measure gives the president broad discretion to define national security, and he would not have to show that domestic producers have been materially injured by the imports as is the case in countervailing duty and anti-dumping investigations, [Gary Hufbauer, a senior fellow at the Peterson Institute for International Economics] said."
"TiSA and state-owned enterprises" (PDF) [The Transnational Institute]. "Uruguay's withdrawal demonstrates that it is possible to break free from the TiSA process. There were no reprisals or negative impacts. On the contrary, the country has gained the sovereignty it needs to continue trying to build an autonomous national development model without betraying its values and political history."
Paul Ryan: "In that same vein, the United States will work closely with our EU friends and chart a path forward on TTIP [Transatlantic Trade and Investment Partnership] negotiations" [Guardian].
Politics
Trump Transition
"The White House, under internal pressure to show legislative achievements ahead of the 100-day mark, is gearing up for a government shutdown fight to secure money for a border wall, more immigration enforcement officers and a bigger military, according to White House and congressional sources familiar with the plan" [Politico]. "It is a risky gambit. With almost uniform Democratic opposition to nearly all of the Trump administration's spending proposals, the fight could lead to a government shutdown next Friday — the day government spending expires, and right before the 100th day of Donald Trump's presidency. Officials could also strike a one-week compromise, giving them more time for a broader agreement."

"Trump needs a dose of 'manly virtues'" [David Ignatius, WaPo]. Let the trolling begin!
2016 Post Mortem
Clinton campaign staffers are responding to Shattered by tweeting happy images from the campaign:

Never in my life have I met anyone who has endured more crap and keeps going for all the right reasons than @HillaryClinton. pic.twitter.com/53nOJel428

— Nick Merrill (@NickMerrill) April 20, 2017

My guess is that the people in the Libyan slave markets that started up after we overthrew Qaddafi are "taking more crap" than Clinton ever did. And Clinton tipped the balance in the Obama administration for war in Libya. Whatever, Nick.
2017
"Sanders-Backing Socialist Wins Big In Georgia City Council Race" [HuffPo]. For the "Georgia's conservative, so what do you expect?" crowd, a candidate who actually won….

MT: "Democratic officials make no apology for their decision to stay away from the Kansas race, where their nominee lost by less than seven percentage points in a Wichita-based district that Mr. Trump carried by 27 points in November. They say their money has been better spent helping Mr. Ossoff" [New York Times]. Oh, come off it. Ossoff had $8 million dollars, and the Dems couldn't find Thompson $20K for a mailer. And: "Democratic officials, contributors and activists in Montana, which Mr. Sanders carried in the presidential primary, are clearly agitated over their Washington-based party. They say the top-down leadership never misses an opportunity to play it safe" [New York Times]. It's the other way round: Screwing Sanders is gambling; he's the most popular active politician in America. Supporting Sanders candidates would be playing it safe.

GA-06: "Sanders: I don't know if Ossoff is a progressive" [The Hill].

That's OK. His supporters don't either.

@Hesiod2k11 no. as i said, I don't know if Ossoff is a progressive, either. And I ran 3 phonebanks for him. But he's a Dem in GA06, which is enough.

— David Atkins (@DavidOAtkins) April 20, 2017

And I like Atkins. If the Dems were backing Ossoff (Clinton) and Thompson (Sanders) and Quist (Sanders) full force, I'd have no problem. But they aren't, are they?

GA-06: "Nevertheless, it's not just Democratic spin to say that a remarkable political transformation is happening in Georgia's 6th District: an affluent, highly educated suburb of Atlanta. Nearly overnight, progressive organizing has become the center of social life for thousands of previously disengaged people in the area" [Slate]. Well, I like to see people involved. That said, what does "progressive" mean, exactly? Are the affluent professional liberal women of Cobb County for #MedicareForAll? #FightFor15? Free college (for real)? How about a Post Office Bank?

GA-06: "Several of the takeaways I wrote about last Wednesday after the unexpectedly close special election in Wichita, Kan., are now doubly true: This will make GOP recruiting harder. Some House Republicans might become scared about being vulnerable and change their behavior. Congressional Democrats are going to become less likely to bail out House GOP leadership on tough votes. Democratic campaign committees will face more pressure than ever from the left flank to spend money in red districts, even if there's no realistic path to victory" [WaPo].
Realignment and Legitimacy
Perez looks like he's sucking a lemon:

Chris Hayes pushes Tom Perez to join Bernie in saying "the ruling class & billionaire class" are to blame for our problems. Perez refused. pic.twitter.com/7qiziHLMiX

— #AllofUs (@TimeForAllofUs) April 19, 2017

And Perez then proceeds to emit a high-pitched stream of bafflegab. The DNC may think they're using Sanders, but it looks to me like Sanders is getting the better of the deal.

"Mr. Sanders told a Maine crowd Monday night that 'our job is to radically transform the Democratic Party.' He put the onus on Mr. Perez and other party leaders to adopt his aggressive power-to-the-people worldview" [Wall Street Journal]. "'It can't be just symbolic, it has got to be real,' Mr. Sanders said. 'It has got to be that those ideas are allowed to become the dominant theme of the Democratic Party, and that's the choice that Democrats are going to have to make.'"

"The Party is moving to the left, but it has not adopted the Sanders campaign's agenda" [The New Yorker]. Um. Onward: "[A] savvy Democrat [like Ossoff] could position himself both as the face of the national resistance and a defender of the center of American life. They must have noticed how a liberal Democrat, running in a historically conservative district, could become a campaign's main character."

"In Louisville, Perez & Bernie Call On Southern Democrats to Embrace Organized Labor" [Payday Report]. More like this, please.
Stats Watch
Leading Indicators, March 2017: "March's softness in the labor market wasn't enough after all to hold back the index of leading economic indicators which came in at a March gain of 0.4 percent to beat Econoday's high forecast" [Econoday], "The LEI has been very solid and continues to point ahead to rising economic strength,"
Philadelphia Fed Business Outlook Survey, April 2017: "Activity has been so strong in the Philly Fed region, as it was in Monday's Empire State report, that delivery times are spiking" [Econoday]. "Dislocations indicated by delivery times can obscure the meaning of some readings, especially inventories which are up sharply to 17.8 and a 44-year high. The giant build is likely a mix of intended stocking of raw materials in anticipation of strong production ahead but also a piling up of finished goods that are waiting to be delivered. Philly was the first of the advance reports to catch fire and , the slowing in delivery times is tangible enough evidence of unusual factory acceleration underway, at least in the Northeast." And but: "There is continuing significant strength in this survey from new orders even with the decline. Note that last month, Federal Reserve data shows manufacturing declined and the regional fed surveys all said manufacturing improved" [Econintersect].
Jobless Claims, week of April 15, 2017: [V]ery low consistent with uninterrupted strength in the labor market" [Econoday]. And: "This was at the consensus forecast" [Calculated Risk].
Bloomberg Consumer Comfort Index, week of April 16, 2016: "[R]emains very strong" [Econoday]. "Strength in confidence readings ultimately points to strength in the jobs outlook."
Beige Book: "According to survey, the economy overall expanded in the period until the end of March with Districts equally split between modest and moderate growth in the period" [Economic Calendar]. "Manufacturing also continued to expand at a modest pace, although growth in freight shipments had slowed slightly."
Beige Book: "[The Beige Book] took a downbeat view of industrial business: 'worker shortages and increased labor costs' were restraining growth in sectors including transport, manufacturing and construction" [Wall Street Journal]. "That fits with a report from J.B. Hunt Transport Inc. this week that its labor costs rose in the first quarter even as freight demand remained tepid. The Fed sees competition for labor growing across the country, particularly for low-skilled jobs, and that wages are rising. That's a troubling trend for shipping providers that may now find themselves vying for workers even as business remains relatively flat. The Fed cited one unnamed nationwide freight hauler that says demand is 'ho-hum' and that recent improvements in manufacturing indicators weren't pushing freight toward trucks."
Real Estate: "Foreign money has been a key ingredient in propping up home values in many cities across the United States. There is no doubt about this. If you look at places like Irvine, many new home communities are being sold largely to investors from China. This also applies to house mania happy San Francisco. Yet even if you question your own sanity regarding California crap shack prices, things may look affordable to certain people abroad. The amount of investment flowing in from China into the United States is amazing. A large part flows into real estate. This is how you get lower homeownership rates and also a drop in mortgage application volume yet somehow, you see home prices surging on low inventory. In a global market money can flow in and out of systems easily" (charts) [Dr. Housing Bubble].
Rail: "The coal business that dragged down U.S. railroads is lifting up CSX Corp…. Revenue rose 9.5% from a year before to $2.87 billion, fueled in part by a 3% rise in coal shipments, much of which was primed for export" [Wall Street Journal]. "Revenue for the coal business soared 31%, a sign of more urgent demand that helped CSX generate a 28% gain in revenue per unit. That strong yield is the result of pricing discipline and restrained capacity that CSX and other railroads imposed during a steep downturn in coal demand. CSX is also getting more competitive with trucks under new chief Hunter Harrison. The carrier's intermodal volume edged up just 1%, but revenue for that truck-rail business rose 7%, another signal that the railroad is gaining pricing leverage."
Marketing: "In a landmark bout of activity, the Federal Trade Commission ("FTC") has announced that it is, in fact, watching celebrities, athletes, and other influencers on Instagram. According to a statement from the government agency, after reviewing Instagram posts by celebrities and influencers, its staff has sent out more than 90 letters reminding influencers and marketers that they must clearly and conspicuously disclose their relationships when promoting or endorsing products through social media" [The Fashion Law].
The Bezzle: "Cybersecurity Startup Tanium Exposed California Hospital's Network in Demos Without Permission" [Wall Street Journal]. "Andreessen Horowitz, which poured around $150 million into the company in 2014 and 2015, declined to comment. Tanium is the latest highflying tech startup to be discovered pushing the envelope to speed growth, in a Silicon Valley environment where aggressive tactics often are seen as essential to success."
The Bezzle: "Silicon Valley's $400 Juicer May Be Feeling the Squeeze" [Bloomberg]. "One of the most lavishly funded gadget startups in Silicon Valley last year was Juicero Inc. It makes a juice machine. The product was an unlikely pick for top technology investors, but they were drawn to the idea of an internet-connected device that transforms single-serving packets of chopped fruits and vegetables into a refreshing and healthy beverage…. But after the product hit the market, some investors were surprised to discover a much cheaper alternative: You can squeeze the Juicero bags with your bare hands."
Co-ops: "Legislation unveiled to streamline creation of worker cooperatives" [RI Future (DB)]. "Senator Donna Nesselbush (Democrat, District 15, Pawtucket, North Providence) and Representative Robert Craven (Democrat, District 32, North Kingstown) have introduced bills that will allow worker owned cooperatives to be started in Rhode Island. House Bill 6001, and Senate Bill 676 will allow organizations of working people to start cooperatively owned business. Current law makes it very difficult to form worker cooperatives, as it involves a lot of legal work, but the new law seeks to streamline that process."
Today's Fear & Greed Index: 34 Fear (previous close: 30, Fear) [CNN]. One week ago: 25 (Extreme Fear). (0 is Extreme Fear; 100 is Extreme Greed. Last updated Apr 20 at 11:50am.
The 420
"Sixty-one percent of Americans think marijuana use should be legal, a five-point increase from last year and the highest percentage ever recorded in this poll. Eighty-eight percent favor medical marijuana use" [CBS].
"The unofficial marijuana holiday on April 20 (4/20) has been the single best day for legal marijuana sales since, well, recreational marijuana sales first became legal in Colorado. And this year is expected to show the biggest increase ever, with sales rising by 20%? [247 Wall Street].
"With roughly 600,000 Americans facing pot charges every year, this year's landscape is very much a mixed big for backers of marijuana legalization" [McClatchy]. "They had unprecedented success at the polls in 2016, with voters in eight of nine states supporting initiatives to expand access to the drug. But the domestic industry remains under a cloud amid worries that President Donald Trump's administration may soon move to shut down the state operations by enforcing the federal ban against the drug. The legal limbo is expected to last at least until July 27, the deadline set by Attorney General Jeff Sessions for a Justice Department task force to review U.S. marijuana policies."
"According to High Times magazine, the idea to honor marijuana on April 20 started in 1990, when a group of Deadheads in Oakland, Calif., sent out flyers inviting people to meet and smoke "420" at 4:20 p.m. on 4/20 — the earliest known record of celebrating pot on that day" [Yahoo News].
Health Care
Health care under neoliberalism:
C what you're up against: Webinar training docs to bill out-of-network. https://t.co/4QSX2d3u3V New patient movement https://t.co/AD4az4RNBP pic.twitter.com/5Qf8XCR5A6

— Elisabeth Rosenthal (@RosenthalHealth) April 13, 2017
"The deal, brokered between House Freedom Caucus chairman Mark Meadows (R-N.C.) and Tuesday Group co-chairman Tom MacArthur (R-N.J.), would allow states to get waivers eliminating the so-called community rating provision ― the rule that prohibits insurers from charging higher premiums to people with pre-existing conditions. In order to obtain the waiver, states would have to participate in a federal high-risk pool or establish their own, and satisfy some other conditions" [HuffPo]. "In exchange for that conservative concession, the amendment would reinstate the Essential Health Benefits that were already taken out of the bill ― though, again, states could waive those provisions as well if they were able to show that doing so would lower premiums, increase the number of people insured, or 'advance another benefit to the public interest in the state.'"
"Trump Shifts Back to Health Care" [Wall Street Journal]. "Mr. Trump's revived push to fulfill a core campaign promise appears to be driven by three developments: First, a renewed confidence that he can still win enough votes to pass a bill; second, a belief that he needs the health-care savings to help pay for the tax bill and hit his economic growth promises; and third, a recognition that the tax-code overhaul isn't near ready."
"Here's How to Break the GOP Logjam on Health Care" [The American Conservative]. Not "on the table" anywhere! Explained in layperson's terms:
In a simpler and more idealistic time of my life—2011—I heard tell of a rather odd program in Arizona. Legislators there had seemingly figured out a way to overcome political resistance to school vouchers. Instead of the government providing the money, the private sector would donate it.

Except these weren't really … donations, per se. In exchange for funding the vouchers, the contributors got tax credits in the exact amounts of the sums they'd provided—in effect, a full reimbursement by the government. The entire "donation" mechanism was a sham, a shell game designed to disguise what was really happening. Its sole purpose was to launder public subsidies into something that looked like private charity, so as to skirt political opposition to the subsidies.
I think the conservative love affair with tax credits has gone far enough. Perhaps even too far. "Why can't my right hand give my left hand money? — My right hand can put it into my left hand. My right hand can write a deed of gift and my left hand a receipt. — But the further practical consequences would not be those of a gift. When the left hand has taken the money from the right, etc., we shall ask: 'Well, and what of it?'"– Wittgenstein, Philosophical Investigations #268.
"Stricter chargemaster regulations needed to rein in healthcare costs" [Modern Healthcare]. "'The problem of surprise bills from the chargemaster is even more pernicious,' said Barak Richman, a law professor at Duke University School of Law. 'It's almost akin to stealing, stealing for the purpose of obtaining leverage for subsequent negotiations….' 'A hospital cannot operate in a break-even environment, they have to make money,' [Joe Fifer, president and CEO of the Healthcare Financial Management Association] said. 'That comes from the cost shift into the commercial payer environment, where some contracts are tied to a percentage of the chargemaster.'" Do we have any chargemaster geeks in the commentariat?
Big Brother Is Watching You Watch
"The Department of Homeland Security is currently examining procedures to investigate travelers to the United States. In a congressional hearing, Secretary Kelly said they're even considering forcing some travelers to provide their passwords to social media accounts as a condition to enter" [ACLU petition]. This is a terrible idea. Other countries will ask the same of us!
"Bose headphones spy on listeners: lawsuit" [Reuters (DK)].
Guillotine Watch
"How a California Anesthesiologist Became One of America's Largest Antiquities Looters" [Men's Journal]. Primitive accumulation….
Class Warfare
"Workers at Tesla's Fremont, California electric car factory have filed a unfair labor practice charge with the National Labor Relations Board (NLRB), accusing the company of illegal surveillance, coercion, intimidation and prevention of worker communications. The employees, who have been attempting to organize the approximately 7,000 workers at the plant through the United Auto Workers, claim that Tesla violated multiple sections of the National Labor Relations Act, which protects the right to unionize" [Capital and Main].
"Case and Deaton have a theory for why mortality has risen for less-educated whites. For all the debate over whether college is worthwhile, high school graduates who go straight into the workforce have higher unemployment, weaker wage growth, and less chance of marrying than their predecessors and educated peers. Community supports have broken down, and as disadvantage snowballs, premature deaths rise" [Bloomberg]. Medicalization and criminalization don't help with despair…
News of the Wired
"Its location a mystery for centuries, huge Indian city may have been found in Kansas" [McClatchy]. "Etzanoa has remained a mystery for 400 years. Archaeologists could not find it. Historians thought reports of a permanent settlement with 20,000 Native Americans in it were exaggerated. But here in Arkansas City, at the confluence of the Walnut and Arkansas Rivers, Blakeslee, an anthropologist and archaeologist at Wichita State University, has found evidence of a massive town stretching across thousands of acres of bluffs and rich bottomland along two rivers. What clinched it was the discovery, by a high school kid, of a half-inch iron cannon ball. He even found a still-functional water shrine, depicting communication with the spirit world, carved into a limestone boulder in Tami and Greg Norwood's backyard."
* * *
Readers, feel free to contact me with (a) links, and even better (b) sources I should curate regularly, and (c) to find out how to send me images of plants. Vegetables are fine! Fungi are deemed to be honorary plants! See the previous Water Cooler (with plant) here.
And here's today's plant (MH):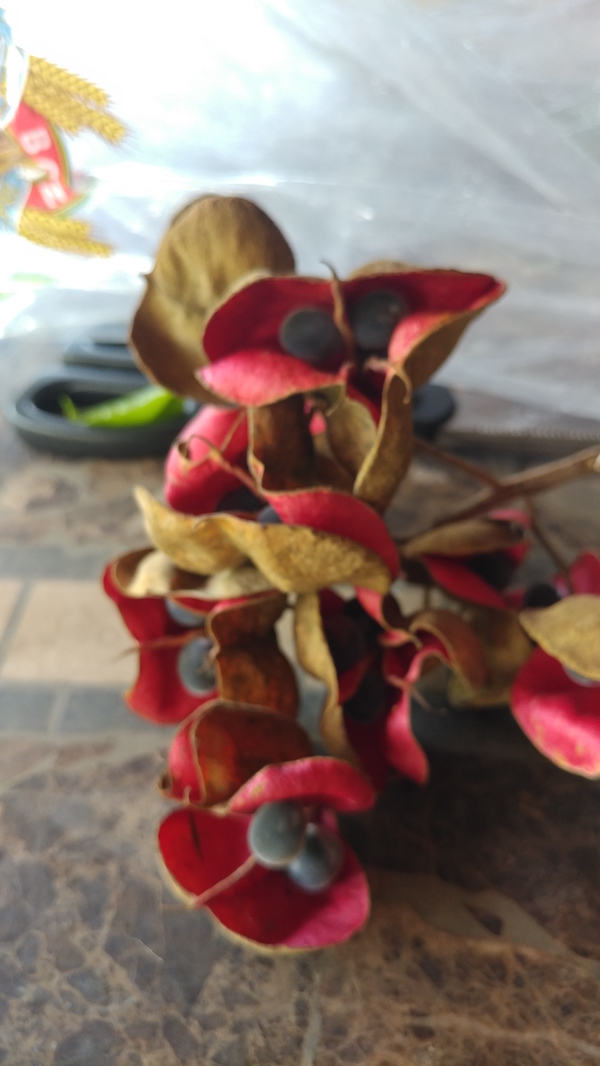 These are the blooms that produce the small fuzzy seeds strung into magambo beads! Aloha!
* * *
Readers, Water Cooler is a standalone entity, not supported by the very successful Naked Capitalism fundraiser just past. Now, I understand you may feel tapped out, but when and if you are able, please use the dropdown to choose your contribution, and then click the hat! Your tip will be welcome today, and indeed any day. Water Cooler will not exist without your continued help.