By Lambert Strether of Corrente
Trade
"TiSA and the Threat to Public Banks" [Transnational Institute (PDF)]. "TiSA is an attack on the future publicness of public banking around the world. Despite 30 years of privatisation, publicly owned banks remain active in most countries and communities. Yet the importance of TiSA to the future of public banks has yet to be raised as a fulcrum of resistance. This lack of attention is curious, and alarming, and shows how the secrecy of negotiations has not allowed the public to be meaningfully informed or engaged. We urgently need to turn the debate on TiSA to its negative impact on public banking, placing the defence of public banks at the heart of the global movement against TiSA."
"While there are legitimate questions as to how China is now managing its currency (in the last year it has actually intervened to raise rather than lower its value relative to the dollar), Trump has essentially abandoned his commitment to force China to raise the value of its currency to make U.S. goods and services more competitive" [The Hill]. "Without a change in the value of China's currency, it is very difficult to see how Trump could possibly make good on his promise to bring back the jobs we lost."
"Despite the president having expansive executive authority to set procurement policy and past presidents using that authority to deliver on their policy commitments and goals, the Trump administration has failed to exclude offshoring firms from qualifying for billions of dollars in federal contracts" [Public Citizen (PDF)]. "In fact, United Technologies is still receiving contracts under his administration despite going ahead with plans to relocate more than 1,000 jobs to Mexico even after Trump's intervention."
Politics
New Cold War
"A Democratic group is pressuring a trio of House Republicans to support an independent inquiry into President Donald Trump's possible ties to Russia, launching radio ads in the lawmakers' districts that feature the sound of a Russian voice laughing" [McClatchy]. ""That's the sound of the Russians and Vladimir Putin laughing at us,' a narrator says. 'Because they're getting away with undermining our democracy.'"

"Six months before Donald Trump won the United States election, Chinese-American blogger Xie Bin and seven others launched a WeChat page aimed at influencing Chinese-Americans to vote for Trump. They called it "The Chinese Voice of America" (CVA), and published several articles each week that drew from right-wing websites in English, as well as concerns people shared in Mandarin in WeChat groups" [BackChannel]. First I've seen on this. So, now we're pivoting to Xi?

"Grassley takes methodical approach, follows the money to find source of 'dodgy dossier" [Washington Times]. Interesting detail.
Corruption
"Ivanka Trump told me yesterday from Berlin that she has begun building a massive fund that will benefit female entrepreneurs around the globe. Both countries and companies will contribute to create a pool of capital to economically empower women" [Axios]. "Under the radar: Canadians, Germans and a few Middle Eastern countries have already made quiet commitments, as have several corporations, a source said." Fortunately, if there's no quid pro quo, there's no corruption, as we know from the Clinton Foundation, so move along people, move along, there's no story here.

"Whether fair or not, it's not difficult to look at Wall Street paying $400,000 to Obama as a reward for [not prosecuting anyone on Wall Street for the crash]. In that way, it's tough on both precedent and Obama's presidency" [WaPo].

"Out of office for about three months, Mr. Obama has begun the process of cashing in" [New York Times].
Trump Transition
"Trump will wrap up the 100th day of his presidency this weekend, and while he has begun to build up his administration, there's a larger story in who is still missing. For 470 out of 556 key positions requiring Senate confirmation — or about 85 percent — Trump has yet to announce any nominee at all, according to a tracker compiled by The Washington Post and the Partnership for Public Service. Less than two dozen have been confirmed, while 23 have been formally nominated and 40 are awaiting announcement of their formal nomination" [Politico].
Our Famously Free Press
Readers will remember Jon Ralston as the "reporter" who faked the story of the Sanders "chair-throwing" incident and never retracted it:

I just hate socialists. https://t.co/LqzSH2Vdy2

— Jon Ralston (@RalstonReports) April 25, 2017

One hates to attribute motives, but…
Democrats in Disarray
"100 days of Democratic rage" [Politico]. "The DNC has yet to announce the hire of an executive director or senior staff in many prominent units of the building, and no plan to conduct any sort of autopsy or accounting of the 2016 election cycle has been circulated. It all adds up to a Democratic Party suddenly fueled by a massive outpouring of energy but without the established power structures to channel and amplify it." Hmm. Who said the Democrat Establishment was about channeling and amplifying energy?
2020
"Flying the American flag and heckling, Chelsea Clinton, the former US president's daughter, has been waging her own campaign against peace protesters at Oxford University" [Guardian (November 9, 2001)]. "Eight days ago [Clinton] attended an anti-war rally at Oxford town hall with a group of friends. Not only did they hang an American flag across the wall, the group heckled from the floor, calling out: 'How do you catch Osama, then?'" Her mother's daughter…

"Chelsea Clinton Doesn't Owe You Sh*t" [Marisa Kabas, Medium]. A fun read, and a writer with an interesting bio: "founder of RESISTABLE, a newsletter for the resistance."
Realignment and Legitimacy
"A few days later he added in a speech: "One of the struggles that you're going to be seeing in the Democratic Party is whether we go beyond identity politics." Naturally, the party's existing base, overwhelmingly female and multiracial, don't like seeing their issues derided as 'identity politics' and shunned as distractions, lifestyle questions, or political correctness run amok, while the troubles of white downscale men are centered" [Joan Walsh, The Nation]. Walsh should stop lying about Sanders's views. One more once, what Sanders actually said:

"It's not good enough for somebody to say 'hey I'm a Latina vote for me' that is not good enough. I have to know whether that Latina is going to stand up with the working class of this country and is going to take on big money interests," Sanders said.

Surely what Sanders says here is unexceptionable? Fortunately, voters haven't been taken in by Walsh and her claque. I ran this yesterday, but it's worth repeating:

The #bernieBro myth was debunked by a Harvard Harris poll and yet… they persisted. #TheResistanceToFacts pic.twitter.com/Qa2YuAqf2S

— katie halper (@kthalps) April 24, 2017

The party's base seems to have no problem with Sanders "deriding their issues" at all. Could it be that Walsh is out of touch with the base, and not Sanders?

"The Democrats' hypocrisy fest: Disingenuous attacks on Bernie Sanders persist — and his popularity climbs" [Salon]. "[O]ne of the primary reasons for Sanders' popularity is that he clearly places principles before party — so we can expect his popularity to keep on growing, even as the smears become more and more desperate."

"Trump supporters are the most overrated force in American politics" [Matt Yglesias, Vox]. "The primary political question of 2018 and 2020 isn't whether Trump's voters will abandon him and the GOP, but whether Democrats will manage to field candidates and messages that inspire Trump's critics to unite and vote for the same person. It's not an impossible task, but it's not a trivial one either."

"Why a 'decentralized swarm of resistance' is the best way to contain Trump" [WaPo]. What's Brock doing for his money, then?
Stats Watch
MBA Mortgage Applications, week of April 21, 2017: "Purchase applications for home mortgages fell a seasonally adjusted 1 percent in the April 21 week, but applications for refinancing rose 7 percent" [Econoday]. And: "Even with the increase in mortgage rates late last year, purchase activity is still up slightly year-over-year" [Calculated Risk].
Housing: "During the housing bust, the builders had to build smaller and less expensive homes to compete with all the distressed sales. When housing started to recovery – with limited finished lots in recovering areas – builders moved to higher price points to maximize profits" [Calculated Risk].
Shipping: "By the end of 2018, the top seven container lines will control 70% of global capacity, but this will still leave a fragmented market open to price wars and rate instability, warns Alphaliner analyst Hua Joo Tan" [Lloyd's Loading List]. "The continued existence of the second-tier lines meant there would be little decrease in competition and the consolidation that had already taken place had had little measurable impact on rates, Mr Tan said at the TOC Asia conference." Hmm.
Shipping: "The dry bulk market has been gradually moving towards a recovery, while encouraging signs from the commodities markets have added further confidence to the segment. The increase in freight rates, though, had put a temporary halt to scrapping activity" [Lloyd's List].
Shipping: "Dry bulk vessel owners will have to start scrapping more vessels of higher deadweight tonnage in order to alleviate the overcapacity problem" [Lloyd's List]. ""You cannot really scrap yourself to a better future, that's the point. Shipowners can increase scrapping but it is not going to make a huge difference if you double the number of removals," [Lloyd's List Intelligence managing director of maritime insight Christopher Palsson] said. 'You have to take them from the large sectors, the large vessels, you can do more there… if you start to increase scrapping of those.'"
Shipping: "Truck Scales have become an integral part of the freight industry" [Shipping and Freight Resource]. "Flawless weighing practices help freight forwarders reduce the variance between the shipping weight and the stated weight, prevent overloading and achieve optimal and safer loading of the vehicles. Moreover, you can also maximize your profits, elevate safety and provide reliable services."
Rail: "Nearly 15 years and billions of dollars after launching an ambitious plan to tackle rail congestion at the freight crossroads…, Chicago is taking a new step in its program called Chicago Region Environmental and Transportation Efficiency, or Create, by tackling the notorious 75th Street corridor, where freight trains, commuter lines and motorists converge at one overloaded intersection. But that plan is running headlong into changing patterns that are putting even more stress on a corridor that already sees 25% of the country's freight rail traffic" [Wall Street Journal]. "Freight railroad Norfolk Southern Corp. is trying to expand its operations there to meet what it says is growing shipping demand, including goods from online retailers. The Create plan was supposed to prepare Chicago for the future when it was launched nearly 15 years ago, but new shipping patterns suggest it hasn't been ambitious enough."
Supply Chain: "[A] total value of $1.3 trillion dollars and 8.5 percent of the total value of the United States economy revolves in some way around inventory fulfillment and distribution. At some point soon, we will be able to state that we have left a manufacturing economy behind and have begun a new fulfillment economy. The economic indicators certainly suggest that a fulfillment economy has already begun" [Logistics Management];
IT: "Twitter (TWTR, Tech30) added 9 million monthly active users in the first quarter of this year, shattering Wall Street estimates and helping to send the stock up more than 10% in early trading Wednesday" [CNN]. "Twitter credited the surprise uptick in new users to tweaks made to its news feed and notifications as well as marketing and some seasonality. Notably not mentioned in the earnings release: having a new president who just happens to love the platform."
The Bezzle: "Airbus was plunged deeper into legal wrangling over past business dealings on Wednesday when Vienna prosecutors announced a fraud investigation into its chief executive in connection with a $2 billion fighter order over a decade ago" [Reuters]. "Austrian and German prosecutors have separately been investigating for years whether officials received bribes aimed at ensuring they chose Eurofighter jets over rival offers from Saab and Lockheed Martin. Allegations surfaced almost immediately after the purchase was agreed that money was pocketed by politicians, civil servants and others via brokers for so-called offset deals accompanying the transaction. These deals, common in large arms purchases, are designed to provide work for local businesses in countries placing orders." Let's clean up the arms industry!
The Bezzle: "Half the number of online ad clicks are by mistake, says a Silicon Valley veteran" (Scott McNealyt) [CNBC]. Yes, but which half?
Concentration: "This is the company that effectively killed the big bookstores and then started opening big bookstores. They're pissing on those grave sites to water the seedlings from the trees they chopped down. Ruthless. Brilliant. Amazon" [Medium].
Rapture Index: Closes down 1 on on crime rate ("Crime in several American cities has risen") [Rapture Ready]. Record High: 189 (October 10, 2016). Current: 181. Typo?
Today's Fear & Greed Index: 49 Neutral (previous close: 46, Neutral) [CNN]. One week ago: 30 (Fear). (0 is Extreme Fear; 100 is Extreme Greed). Last updated Apr 26 at 12:21pm.
Dear Old Blighty
"Stomach-churning images of 'fatberg' clogging toilets in Cheltenham" [Express].
"Inside Corbyn's Office" [Jacobin]. Corbyn's former press secretary: "Some days I was getting eighty to a hundred calls or texts from journalists, mostly with stories that were leaked by people on our own side. Obviously that's extremely frustrating." Maybe they weren't "on our own side"?
Black Injustice Tipping Point
"Why Isn't 'Ebony' Paying Its Black Writers?" [The Establishment]. The background:
Ebony has existed as an institution within black culture since its founding in 1945, and is one of the last black-owned magazine companies in existence. For the last few years, it's been recuperating from financial woes; in 2011, its publishing company was acquired by JP Morgan, and last year, it was purchased by a little-known private equity firm known as the Clear View Group.
The issue as stated:
Recently, the hashtag #EbonyOwes was started on Twitter to try and get Ebony to take notice and pay these people. Many of them feel they have a great professional relationship except for the fact that they haven't been paid for their work.

Almost every black journalist has dreamed of seeing themselves in print on the pages of Ebony Magazine, which makes it that much harder to call out the publication. I am disheartened by the fact that a black-owned publication is exploiting young black talent. As a person of color, I cling to uplifting other businesses and successes from black people; it's difficult when an obligation we feel to protect our culture comes into conflict with our own protection.
Remarkably, there's not even a whisper of speculation that private equity might have anything to do with whether Ebony's writers get paid or not…
Class Warfare
"Yale grad students go on hunger strike over union flap" [New Haven Register]. "The announcement of the fast by the four men and four women, who are part of graduate teachers' union Local 33-Unite Here, came at the end of a silent march in the rain from College Street to the home of Yale President Peter Salovey on Hillhouse Avenue. Led by Mayor Toni Harp, local clergy and several members of the city's Board of Alders, hundreds of graduate teachers and their supporters in rows of eight locked arms and began to march, the sound of raindrops and shoes hitting wet pavement the only sounds to be heard."
"Why Poverty Is Like a Disease" [Nautilus]. "Now, new evidence is emerging suggesting the changes can go even deeper—to how our bodies assemble themselves, shifting the types of cells that they are made from, and maybe even how our genetic code is expressed, playing with it like a Rubik's cube thrown into a running washing machine. If this science holds up, it means that poverty is more than just a socioeconomic condition. It is a collection of related symptoms that are preventable, treatable—and even inheritable. In other words, the effects of poverty begin to look very much like the symptoms of a disease." I have long felt that epigenetics were one mechanism through which class is transmitted across generations (think lead, and generalize). Now somebody agrees!
"White Collar Crime Risk Zones" [The New Enquiry (AM)]. "White Collar Crime Risk Zones uses machine learning to predict where financial crimes will happen across the U.S. The system was trained on incidents of financial malfeasance from 1964 to the present day, collected from the Financial Industry Regulatory Authority (FINRA), a non-governmental organization that regulates financial firms. The system uses industry-standard predictive policing methodologies, including Risk Terrain Modeling and geospatial feature predictors, which enables the tool to predict financial crime at the city-block-level with an accuracy of 90.12%. Predictive policing apps are designed and deployed to target so-called "street" crime, reinforcing and accelerating destructive policing practices that disproportionately target impoverished communities of color. Unlike typical predictive policing apps which criminalize poverty, White Collar Crime Risk Zones criminalizes wealth."
"Democratic leaders in Congress are expected to announce a proposal seeking to raise the federal minimum wage to $15 an hour, more than double the existing $7.25 an hour" [Wall Street Journal]. Another policy shift that would never have happened without Sanders — and never without #FightFor15, of course, which preceded the Sanders run.
News of the Wired
"Does your web browser have a unique fingerprint? If so your web browser could be tracked across websites without techniques such as tracking cookies. Additionally the anonymisation aspects of services such as Tor or VPNs could be negated if websites you visit track you using your browser fingerprint. This service is designed to test how unique your web browser's fingerprint is, and hence how identifiable your browser is" [BrowserPrint].
* * *
Readers, feel free to contact me with (a) links, and even better (b) sources I should curate regularly, and (c) to find out how to send me images of plants. Vegetables are fine! Fungi are deemed to be honorary plants! See the previous Water Cooler (with plant) here.
And here's today's plant (pq):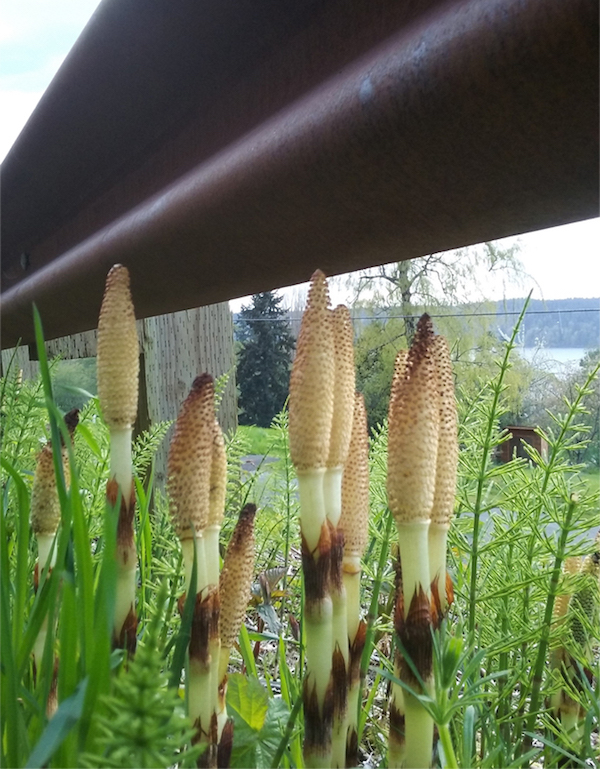 pq writes:
Horsetails: When I saw these things coming up during my first spring in the Northwest 12 years ago, my immediate thought was that they were alien plants. NC readers in this part of the world will immediately recognize them as horsetails — so-called, because that's what they look like when they mature. But in a way, they are alien; they are primitive, first detected in the fossil record more than 300 million years ago. Back then, they were trees that grew to nearly 100 feet tall. They're actually pretty amazing plants.
* * *
Readers, Water Cooler is a standalone entity, not supported by the very successful Naked Capitalism fundraiser just past. Now, I understand you may feel tapped out, but when and if you are able, please use the dropdown to choose your contribution, and then click the hat! Your tip will be welcome today, and indeed any day. Water Cooler will not exist without your continued help.