By Lambert Strether of Corrente
Trade
"Japanese Deputy Prime Minister Taro Aso warned on Friday that the U.S. shouldn't expect that a bilateral trade deal will result in the same concessions Tokyo offered in TPP talks. …. 'Twelve countries have worked on the TPP, that is why the U.S. had gained something from Japan,' Aso said. 'It was on the multilateral framework. If it is on the bilateral, there is no one else to go to for balancing out the gains and losses, so the conditions that resulted in the TPP can get worsened on the bilateral route'" [Politico].
Politico Europe's Matthew Katnitsching attended the [meetings of the International Monetary and Financial Committee, the IMF's global economic advisory panel] in Washington and came away with a positive take. He noted [Treasury Secretary Steven Mnuchin] received loud applause at the end of his address: 'The warm reception was one of several signals during the IMF's spring meeting that following a rocky start to their relationship, both the international financial community and the Trump administration are trying to find common ground on issues from financial regulation to trade ahead of the G-20 summit in Hamburg in July'" [Politico].
"If President Trump is serious about strengthening Buy American and delivering on his pledges to create more American manufacturing jobs, he could immediately withdraw with 60 days written notice from World Trade Organization procurement rules with no penalty and invoke his executive authority to reverse all 59 trade pact Buy American waivers." (On March 13, U.S. Sens. Tammy Baldwin (DWis.) and Jeff Merkley (D-Ore.) wrote to Trump calling on him to suspend trade agreement Buy American waivers.) [Lori Wallach, Public Citizen].
"Kenneth Smith Ramos, head of the Mexican Embassy's Trade and NAFTA (North American Free Trade Agreement) Office, said the two countries aren't 'operating in a vacuum,' and the trade balance frequently cited and criticized by Trump 'does not reflect the level of supply chain integration' between the U.S. and Mexico's agricultural and manufacturing industries. For example, U.S.-produced components are found in about 40 percent of Mexico's exports to the United States, he said" [DC Velocity]. "What about NAFTA, another frequent Trump target? Smith said the Mexican government's position is that the 23-year-old treaty would benefit from 'modernization' that is based on a 'fact-based assessment that reflects reality and avoids political rhetoric.' The outcome of any renegotiation must be a win for all three countries involved, and it must maintain the integrity of the integrated supply chains that NAFTA created, he said."
"The US Treasury on Friday denied Exxon Mobil's request for a waiver to exempt it from sanctions on Russia" [Splash 247]. "Treasury Secretary Steve Mnuchin issued a brief statement on Friday saying that, after consultation with President Donald Trump, it was decided no waivers would be issued to Exxon and the Russia sanctions would be upheld…. Exxon also has revealed that, under the administration of previous President Barack Obama, it received three waivers of the sanctions for limited work with Rosneft."
Politics
New Cold War
"Nearly three-quarters of Americans say they want an independent, non-partisan commission instead of Congress to investigate Russia's involvement in the 2016 election, according to the latest NBC News/Wall Street Journal poll" [NBC]. "Seventy-three percent of respondents prefer the independent investigation, versus 16 percent who pick Congress. Still, a majority of Americans — 54 percent — believe that Congress should investigate whether there was contact between the Russian government and the Trump campaign, which is essentially unchanged from February's NBC/WSJ poll." If we had some sources with names, and some evidence to look at, that would be wonderfully clarifying. Is there a reason we have to wait for hearings, or a commission, for this information?
Our Famously Free Press
"His rise has fractured the once-powerful editorial page of the Wall Street Journal and elevated Breitbart—which enjoys a direct line to the White House, with Bannon perched in the West Wing, and is now struggling with how to wield its newfound power. Meanwhile, Fox News, the network with which Trump feuded bitterly during the campaign, has developed the closest relationship with the new administration of any television network. The result of this overall shift is, in essence, a new branch of the Fourth Estate in which the elites have lost their power, and some of the most central outlets are more closely intertwined with the executive branch than ever before" [Politico].
2016 Post Mortem
"An examination by The New York Times, based on interviews with more than 30 current and former law enforcement, congressional and other government officials, found that while partisanship was not a factor in Mr. Comey's approach to the two investigations, he handled them in starkly different ways. In the case of Mrs. Clinton, he rewrote the script, partly based on the F.B.I.'s expectation that she would win and fearing the bureau would be accused of helping her. In the case of Mr. Trump, he conducted the investigation by the book, with the F.B.I.'s traditional secrecy. Many of the officials discussed the investigations on the condition of anonymity because they were not authorized to speak to reporters" [New York Times]. Like everybody who was anybody, Comey thought Clinton would win, so no problemo. Too funny.
2016 Post Mortem
"The Clinton campaign made several strategic decisions that have drawn heaps of scorn from the press. In the pages of Shattered, it becomes clear that their fundamental origin rested in Clinton herself" [Vox]. Starting with the Goldman speeches and privatizing the server with the data from her public office. To be fair, Putin forced her to do that, exactly as he forced her not to campaign in Wisconsin, but you get the idea. More: "Allen and Parnes write that Clinton frequently acknowledged to her aides that she didn't have the pulse of the electorate or understand the political currents. When she did campaign in Michigan, Clinton resisted condemning global free trade deals, and then drew criticism in the local press for her tepid answers. As easy as it is to mock Mook, he appeared to be in a real dilemma: Why go all out trying to talk to voters and persuade them if you yourself don't believe your message can win them over?"
Realignment and Legitimacy
Ouch:

New WP/ABC poll has Trump at record low, but also has this alarming view of Dem Party & "concerns of most people" https://t.co/HdlrNUblNb pic.twitter.com/9AGNLCMk5E

— Glenn Greenwald (@ggreenwald) April 23, 2017

""I think what is clear to anyone who looks at where the Democratic Party today is, that the model of the Democratic Party is failing," Sanders told CBS's "Face the Nation'" [The Hill].

"Over 1,300 aspiring campaign managers, field directors, and finance chiefs have so far enrolled in what the Democratic Congressional Campaign Committee is calling 'DCCC-University'" [NBC News]. "Like "American Idol" for political junkies, students who show the most promise in each of the cities will be invited to a more advanced course in Washington, D.C." Gee, I wonder what "show the most promise" will mean, operationally? From a diary at Kos: "You want 'Change you can believe in'? This is how it looks" [Daily Kos]. Well, process isn't everything…

"Fueled by disenchantment with the traditional institutions of the Democratic Party, the promise of Sanders' candidacy, and the specter of Trumpism, DSA membership has more than doubled since the election. The DSA now boasts more than 20,000 members and more than 120 local chapters. Sure, you could fit just about everyone comfortably inside Madison Square Garden, but being a socialist hasn't been this cool in years" [Mother Jones]. I was wondering when Clara would get round to this: "More pressing than its inability to play nice is the movement's inescapable whiteness." "Inescapable" why? Were the Black Panthers liberals, for pity's sake?

"Marches for Science Outdraw Donald Trump's Inauguration" [Politics USA]. Useful crowd numbers, but I need to think more about this. After all, Monsanto depends on "science," right?

"The Average 29-Year-Old" [The Atlantic]. "So, how useful that the Bureau of Labor Statistics recently published a report on the demographics of 29-year-olds in the U.S. … The impression of young people in the U.S. today is warped: In trend pieces, the word Millennial has become shorthand for 'a college-educated young person living in a city.' But this usage elides some critical details, for example that most people born between the early 1980s and late 1990s (a) didn't graduate from college, (b) aren't living in a city, and (c) generally hate being called 'Millennials.'"

"May Hires Jim Messina for U.K. Conservative Election Team" [Bloomberg]. Obama's campaign manager goes to work for the Tories. Reminds me of Plouffe doing PR for Uber…
Stats Watch
Chicago Fed National Activity Index, March 2017: "The 2 tenths fall in the March unemployment rate and surge in the month's utility output helped offset weak payroll growth and a sharp drop in manufacturing production to make for a slightly positive reading in the national activity index" [Econoday]. "These results help confirm that March was a slow month for the economy and will be a weak contributor — but perhaps still a positive contributor — to first-quarter economic growth."
Dallas Fed Manufacturing Survey, April 2017: "The strongest growth of the economic expansion continues apace for the Dallas manufacturing report" [Econoday]. "Delivery times, which in last week's Empire State and Philly Fed reports showed significant delays consistent with strong activity, also slowed in this report but only marginally." And but: "Remember that last month, the hard data said manufacturing declined whilst the Fed surveys showed growth. This survey declined but remained in positive territory with both new orders and unfilled orders in positive territory, and new orders improved" [Econintersect].
Credit: "See any reason not to panic?" (charts) [Mosler Economics]. Percent change from a year ago for various categories: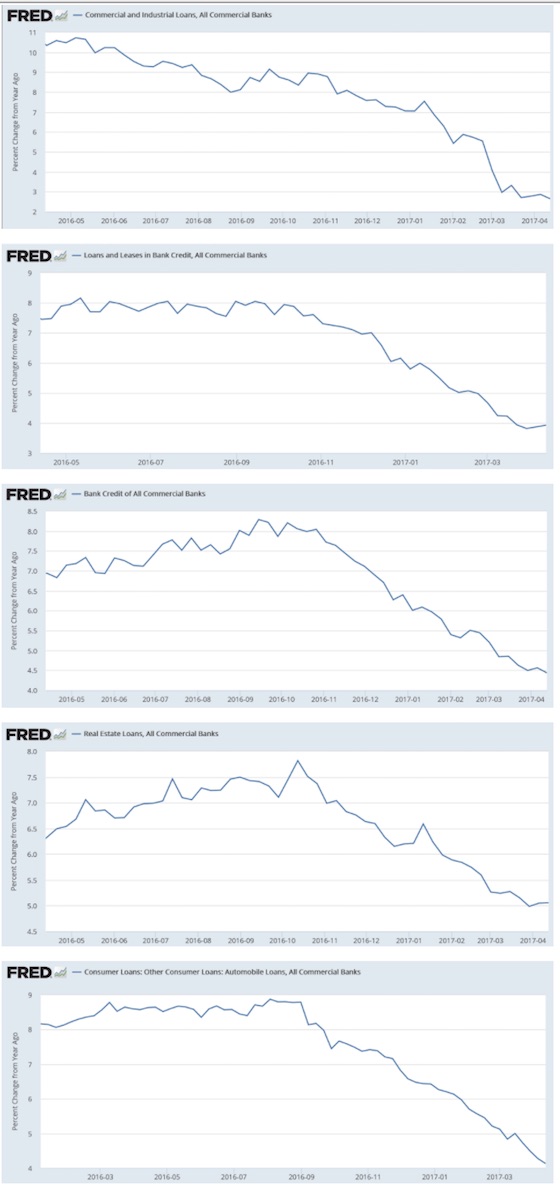 The first one is "Commercial and Industrial Loans, All Commerical Banks." But all the curves seem to be heading the same direction, don't they? Why? Banks want to play the ponies instead of doing due diligence on loans?
Credit: "Even young, hip Americans don't want to use mobile payment apps" [MarketWatch]. "Nearly 40% said cash and plastic cards already met their needs to make a payment." Sounds like they've been reading Clive…
Retail: "The changes e-commerce is forcing on the physical retail world are accelerating. Brick-and-mortar stores are shuttering at a record pace this year, and experts say the rash of closings is only the beginning… Last week, Bebe Stores Inc. BEBE -0.75% and Rue21 Inc. became the latest mall staples to announce they would shut down hundreds of locations, pushing the number of closed stores to nearly 3,000 this year" [Wall Street Journal]. "The growth of online shopping is the primary force behind the trend, but not the only one. Also to blame: a decades-long rush by retail chains to open as many locations as possible, fueled in recent years by record-low interest rates. Some analysts compare the rise and fall of mall staples like The Limited and Wet Seal to the housing boom and bust." Or all the dumb money that built overcapacity in shipping. And: "8,600: Projected retail store closings this year, according to Credit Suisse, more than during the 2008 financial crisis."
Real Estate: "Developers can't build warehouses fast enough. Industrial tenants absorbed 1.7 million square feet in New Jersey in the first quarter, up about 30% from a year ago, despite an 11.7% increase in rent… The insatiable demand for space is being driven by the needs of e-commerce giants like Amazon.com Inc. , which last week announced plans to open three fulfillment centers in New Jersey totaling 2.8 million square feet" [Wall Street Journal]. "[Real-estate services firm JLL] said soaring rents are a "new normal" for industrial tenants. With vacancy rates down to 4%, from 5.9% a year ago, landlords remain firmly in control."
Commodities: "Anglo American sold more volumes of iron ore for export in the first quarter than a year earlier.Exports of iron ore from its operations in South Africa rose 7% to 10.1m tonnes, the miner said in a production report on Monday" [Lloyd's List]. And: "ANGLO American expects to increase thermal coal exports from South Africa and Colombia this year due to productivity improvements" [Lloyd's List].
The Bezzle: "John Deere just told the copyright office that only corporations can own property, humans can only license it" [Boing Boing]. "The fact that the DMCA felonizes bypassing copyright locks, combined with the proliferation of copyrighted software in gadgets means that companies can turn their commercial preferences into private laws. Just design your gadget so that using is in any way apart from the official, prescribed way requires breaking a copyright lock. Now, anyone who violates your license terms is also committing a felony, punishable by five years in prison and a $500,000 fine. For a first offense."
The Bezzle: "The chief executive of email unsubscription service Unroll.me has said he is 'heartbroken' that users felt betrayed by the fact that his company monetises the contents of their inbox by selling their data to companies such as Uber" [Guardian]. "While he said it was 'heartbreaking', he was not talking about the sale of customer data: instead, he said he felt bad 'to see that some of our users were upset to learn about how we monetise our free service.'" When the service is free, you are the product…
The Bezzle: "At its height in early 2015, social payments startup Tilt had the makings of the next Facebook—and dude, it was going to be awesome" [Fast Company]. "But the hopes embedded in Tilt's $375 million valuation came crashing down to earth last year. Beshara hadn't built a business; instead, he had manufactured a classic Silicon Valley mirage. While investors were throwing millions of dollars at the promise of a glittering business involving 'social' and 'money,' their Mark Zuckerberg-in-the-making was basking in the sunny glow of Bay Area praise and enjoying the ride with his bros. Revenue was not a top priority—a remarkable oversight for any company, and a particularly galling one for a payments company." "Mirage" seems a little too kind. How about "scam"? Or "fraud"?
Today's Fear & Greed Index: 39 Fear (previous close: 35, Fear) [CNN]. One week ago: 30 (Fear). (0 is Extreme Fear; 100 is Extreme Greed). Last updated Apr 24 at 11:40am.
Health Care
"Kentucky is moving closer to an overhaul of the state's Medicaid program Bevin has said is aimed at controlling costs and encouraging more personal responsibility in consumers, changes that include elimination of basic dental and vision benefits for most 'able-bodied' adults who instead would have to earn them through a 'rewards' program" [Courier-Journal]. "The state proposal also includes a "My Rewards" account where people can accumulate points for activities such as passing a GED exam, completing job training or completing wellness activities such as stop-smoking classes, points that go toward the purchase of services such as dental or vision care. But Medicaid members also would have points deducted from their rewards account for infractions such as failing to pay premiums or "inappropriate" use of emergency rooms up to a negative balance of $150." First, I don't see a difference between this and liberal "nudge theory." Second, the liberal objections to this proposal are not that it's gatekeeping to a program that should be a universal benefit, but that it's the wrong sort of gatekeeping.
"American health care is so messed up that a whole industry has been created to help navigate it" [MarketWatch]. "Medical bill advocates and other such third-party businesses have sprung up in the gaps and blind spots of America's complicated, fragmented health care system. These services make sense of health bills for consumers and even fix errors in them. In the process, these businesses can reduce wasteful health-care spending and possibly even improve health outcomes. Their numbers have exploded. And they've become even more important as high-deductible health plans — which put employees on the line for thousands of dollars in out-of-pocket expenses — have increased in popularity. Though confusing medical bills are pervasive, utilization rates for professional help remains low. The ultimate success of these businesses will hinge on how well they use technology to change awareness and access, according to many in the sector." In other words, ObamaCare's complexity is, among other things, a jobs guarantee for a wholly new class of professionals. How nice.
Guillotine Watch
"The career of Lin-Manuel Miranda, the Pulitzer- and Tony Award-winning creator of the Broadway sensation 'Hamilton,' has benefited from grants from the National Endowment for the Arts, one of the government agencies threatened with elimination by the Trump administration. A strong proponent of arts education, especially when it comes to kids in underserved regions of the country, Miranda spoke with Erin Moriarty and 'Sunday Morning' about the importance of federal funding for the arts" [CBS News]. As a humanities major, I should feel sympathetic to Manuel on this one. But what Manuel's really talking about is a jobs guarantee for artists; that's what those "grants" are. So how come every American doesn't deserve a jobs guarantee? (I'm thinking here of the wonderful work by Dorothea Lange, Gordon Parls, and Walker Evans, et al., for the Farm Services Adminstration. These were not simply grants to make art, but shared a larger, social purpose that provisioned a wide swatch of Americans, not a narrow one.)
Class Warfare
"President Donald Trump's hard line against immigrants in the U.S. illegally has sent a chill through the nation's agricultural industry, which fears a crackdown will deprive it of the labor it needs to plant, grow and pick the crops that feed the country" [AP]. It's totally OK to ruthlessly exploit your workers as long as you're not racist about it, right? If "sanctuary cities"-types would be honest enough to admit they're also advocates for cheap labor, that would be wonderfully clarifying. And while we're on that topic–
"Instead of allowing a small group of highly skilled workers in to fill positions where no Americans are available, H-1B has become a treadmill for replacing US workers, as well as facilitating the outsourcing of hundreds of thousands of jobs abroad. The end result is unemployed Americans and foreign workers with lower wages, fewer protections, and no clear path to citizenship. "As long as you allow the H-1B cancer to keep growing, you're hurting everybody except the companies that are getting cheaper labor," says [Bruce Morrison, a former Democratic Congressman from Connecticut who helped to draft the legislation that created the H-1B system]" [The Verge]. This is why Facebook is letting its employees protest on May 1; it's all about cheap labor.
"In the aftermath of the Great Recession, labor force attachment declined. However, that pattern has been reversing itself lately. In particular, the labor force participation rate (LFPR) of the prime-age (25 to 54 years old) population, the core segment of the workforce, has been moving higher since late 2015" [Federal Reserve Bank of Atlanta]. "While this is good news, the prime-age LFPR remains well below prerecession levels, meaning that there are more than two million fewer prime-age people participating in the labor force. What factors have contributed to that decline? Where did those people go?"
"Although often associated with developing countries, illicit activities or undocumented workers, the informal labor market is much broader than many would imagine. In fact, people from all walks of life participate in a wide array of legitimate business ventures that are part of the informal economy. So, how big is the U.S.'s informal labor market, and who participates in it?" [Federal Reserve Bank of St Louis]. "For example, the Survey of Informal Work Participation within the Survey of Consumer Expectations revealed that about 20 percent of non-retired adults at least 21 years old in the U.S. generated income informally in 2015.2 The share jumped to 37 percent when including those who were exclusively involved in informal renting and selling activities."
And then there's this:
Clearly, people have been lying on their census forms for a long time. pic.twitter.com/JZVmdoqBZ5

— Helen Dale (@_HelenDale) April 13, 2017
It's clear which country invented Monty Python, no?
"In other words, the poorest fifth of 50-year-old American men can now expect to live just past 76, six months shy of the previous generation. The richest 50-year-olds should make it almost to 89, seven years longer than their parents' generation" [Bloomberg]. They call it class warfare for a reason. It's not a metaphor.
"Current Populist Discontent Seems Mainly Driven by a Fear of Change and Uncertainty" [Promarket]. Well, that's certainly an anodyne reformulation of "deaths from despair," isn't it?
News of the Wired
"China is big. Each province starts to develop its own characters, its own system. In Github words, they fork the repo and it becomes a big mess. But in 221 B.C. the great Emperor Qin Shi Huang finally unifies China and wants a symbolic reunification reform: there will be only one, normalized writing system. It's time for pull requests and merging. A project manager called Li Si makes an exhaustive list of all the characters used in the six unified Kingdoms. Gathered, sorted, filtered, this set is the first official Chinese writing system" [Alex LeBrun].
"[I]n our last two conversations, Riccardo Manzotti outlined a radically "externalist" account of consciousness, proposing that our experience is not inside the head at all, but actually identical to the many objects that our bodies and brains carve out from all the atoms, electrons, neutrinos, and photons around us. In short, our consciousness is the world—or the objects—that we experience. There are no manufactured representations of that world or those objects in the head" [New York Review of Books]. "Such an approach requires a new notion of what we mean by 'an object.' An object is not something that exists absolutely, but in relation to the things around it; in our case, in relation to our bodies and brains. So every experience must have an object, simply because the experience is that object. Mental and physical object are one. If I perceive an apple, there is an apple out there that is my perception."
"May didn't notice much with the first dose of LSD. She felt good, and she got a lot accomplished, and that was all" [The Verge]. Now that is a lead!
* * *
Readers, feel free to contact me with (a) links, and even better (b) sources I should curate regularly, and (c) to find out how to send me images of plants. Vegetables are fine! Fungi are deemed to be honorary plants! See the previous Water Cooler (with plant) here.
And here's today's plant (CR):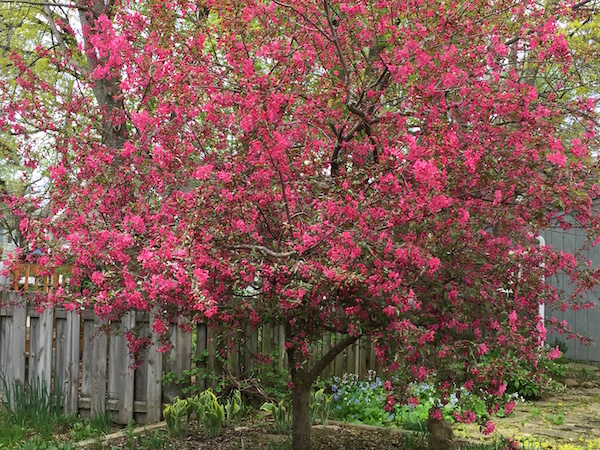 CR writes: "Crabapple – NE Ohio." Readers, it may not be too late to put some trees in the ground! In just a few years, you could be seeing this!
* * *
Readers, Water Cooler is a standalone entity, not supported by the very successful Naked Capitalism fundraiser just past. Now, I understand you may feel tapped out, but when and if you are able, please use the dropdown to choose your contribution, and then click the hat! Your tip will be welcome today, and indeed any day. Water Cooler will not exist without your continued help.