By Lambert Strether of Corrente
Readers, I was running errands yesterday so I can travel today. Since I'm leaving early, I'm going to do a pantry clear-out of links I had to blow past, because of the tyranny of the urgent. Adding, worse, owing to schedule slippage, I didn't get to as much of The Persecution and Assassination of Jean-Paul Marat as Performed by the Inmates of the Asylum of Charenton Under the Direction of the Marquis de Sade contemporary politics as I'd hope. My apologies, and talk amongst yourselves. –lambert
Politics
New Cold War
"Diplomats warn of Russia hysteria" [The Hill]. "Former U.S. ambassadors to Russia and Foreign Service diplomats are angered by what they view as a 'witch-hunt' pursuing Russian ambassador Sergey Kislyak, warning that 'hysteria' over Russia in Congress and the media will undermine U.S. interests abroad." Ya think?
Realignment and Legitimacy
"Chelsea Clinton praises Sanders for Zika op-ed" [The Hill]. Clinton III: "Thank you Sen. Sanders – we need to ensure equitable access to the Zika vaccine & all vaccines." So what about #MedicareForAll?
Stats Watch
Today's Fear & Greed Index: 46 Neutral (previous close: 47, Neutral) [CNN]. One week ago: 29 (Fear). (0 is Extreme Fear; 100 is Extreme Greed). Last updated Apr 3 at 5:30pm. Note the odd time. When I said I was leaving early, I meant it…
Health Care
We seem not to have heard much about this:
People lined up to demand single payer at Nancy Pelosi's town hall today. (video via @reedm livestream) pic.twitter.com/ZZctRcR8BH

— Lee Fang (@lhfang) March 26, 2017
What kind of State manages to decrease the life expectancy of its citizens?
This cannot be repeated enough.

⏮▶️ ⏮▶️ ⏮▶️ ⏮▶️ ⏮▶️ https://t.co/jeA5r7Lp4v

— Stephanie Kelton (@StephanieKelton) March 13, 2017
"Medical students rally in Philly for single-payer option" [Philadelphia Inquirer]. "We're willing to take this to the halls of our medical schools, our nursing schools, the halls of Congress, and the streets of our cities to say we're not going to stand for corporate America taking over our health-care system and holding patients hostage,' said Dr. Richard Bruno, 37, a founding member of [Students for a National Health Program (SNaHP)] who specializes in primary care and public health in Baltimore."
"Bernie Sanders, Top Progressives Announce New 'Medicare For All' Push" [HuffPo]. Good overview. "During the debate over repeal, Rep. Ro Khanna (D-Calif.) used some of his time during a Budget Committee hearing to note that if Trump wanted to follow through on his campaign promise to repeal Obamacare and replace it with something 'terrific,' he could fall back on an idea Trump himself endorsed in a 2000 book: single-payer."
From The Department of Good, But Not Nearly Enough
States now exploring Medicaid expansion this year:
—Kansas
—Virginia
—Georgia
—Mainehttps://t.co/OPsrUNxEBV

— Sarah Kliff (@sarahkliff) March 27, 2017
"What politicians, those hardy folk, don't understand about health care is how anxious it makes their constituents. Not suspicious, not obstinate, but anxious. Because unlike such policy questions as tax reform, health care can be an immediate life-or-death issue for you. It has to do with whether, when, and where you can get the chemo if you're sick, and how long they'll let you stay in the hospital when you have nobody, or nobody reliable and nearby, to care for you. To make it worse, the issue is all hopelessly complicated and complex and pits you as an individual against huge institutions—the insurance company that doesn't answer the phone, the hospital that says "I'm afraid that's not covered"—and you have to make the right decisions" [Peggy Noonan, Wall Street Journal]. "Politicians don't understand all this, in part because they and their families are well-covered on a government insurance policy, and they have staff to put in the claim and argue with the insurance company, which, when it's a congressman calling, answers the phone in one quick hurry. They don't know it's not easy for everyone else. Or rather they know on some abstract level but forget in the day-to-day, as one does with abstractions." The amazing thing, here, is that Nooners has no policy advice to give. She concludes: "A proper White House reaction? Not anger, bluff and bluster, not finger-pointing or defensiveness but modesty and calm. And this: Offer to work with Democrats and moderate Republicans to create legislation that will help and can pass." #MedicareForAll?
Black Injustice Tipping Point
"Beyond the Hashtags" (PDF) [CMS Impact]. "Black Lives Matter (BLM)—ignited an urgent national conversation about police killings of unarmed Black citizens. Online tools have been anecdotally credited as critical in this effort, but researchers are only beginning to evaluate this claim. This research report examines the movement's uses of online media in 2014 and 2015. To do so, we analyze three types of data: 40.8 million tweets, over 100,000 web links, and 40 interviews of BLM activists and allies." Despite the horrid catchphrase "national conversation," this is an interesting report.
Police State Watch
"Scores of NYPD cops have installed illegal flash-reflecting plastic covers on their personal-vehicle license plates that can thwart toll and traffic cameras — and officials said a crackdown is under way" [New York Post]. "A reporter also confronted the driver of an SUV displaying a placard for federal officers, and asked why he was 'hiding' his ­license plate. That officer slammed his door and refused to answer questions." So it's the Feds, too. The assumption of impunity is sickening.
Water
"The headwater source areas of rivers are a huge component of overall water infrastructure systems, but historically, this natural infrastructure has gone unrecognized, to the detriment of rivers and water users downstream" [American Rivers]. If Since rivers are persons, I wonder how we (re-)conceptualize headwaters, catchment areas, etc.?
Gaia
"The massive crack in the Antarctic ice shelf is hanging on by a 12-mile 'thread'" [USA Today]. "[Scientists] also aren't sure when the now 110-mile crack will finally break open the rest of the way, creating a massive iceberg larger than Rhode Island. "It is particularly hard to predict when it will occur," said Adrian Luckman of Project MIDAS, a British Antarctic research project that's keeping watch on the ever-growing crack."
Just one word: Plastics.
A study attempts to estimate the amount of plastic that is being dumped in the ocean. Free to read: https://t.co/SzogZvVy53 pic.twitter.com/McDjHhf4w7

— The Economist (@TheEconomist) February 16, 2017
Class Warfare
"More than 750,000 people die prematurely from dirty air every year that is generated by making goods in one location that will be sold elsewhere, about one-fifth of the 3.45 million premature deaths from air pollution. The study says 12 percent of those deaths, about 411,000 people, are a result of air pollution that has blown across national borders" [AP]. So we might ask what it is, exactly, that the "global supply chain" is supplying.
"The dark side of cities" [The Week]. This is an important post, and I speak as one who loves the crackle and sparkle of a world city.
Cities dominate American society like never before because of what they did right, these promoters say.

But actually, cities succeeded because of what the country did wrong.

A small number of liberal urban clusters certainly do dominate America's economic output. Rates of productivity growth are higher in cities. And over the last few decades, rates of business and job creation during recoveries fell off a cliff in less-dense areas — but held stable in the most dense areas.

Yet the productivity growth rate and the GDP growth rate across the entire national economy slowed to near record lows as cities rose in prominence. Certainly, agglomeration effects and dense innovative cultural milieus have real economic value. But how much value compared to other forces is the question.

More to the point, rates of job and business creation in dense areas held stable as rural areas died. They didn't increase to compensate. Economic vibrancy and opportunity didn't move to the cities. They just drowned everywhere else, while cities became the economy's only remaining life rafts.
Again, I think it's useful to think of the flyover states as colonies (e.g., India), and the (blue) cities as the metropolitan center (e.g., London), make the politics of Blue Secession all the more inane.
"Jerks and the Start-Ups They Ruin" [New York Times]. Because capital allocation is never a problem, societally or systemically.
News of the Wired
"A Retiree Discovers an Elusive Math Proof—And Nobody Notices" [Wired]. Supports my pet theory that our current systems for organizing labor are immensely wasteful of human talent. Notice even the clickbaity headline: The point is not that the mathematician a "retiree," i.e. no longer in the labor force; the point is that they are not seeking fame or leveraging professional networks to get heard.
"You Can Now Beg for Money on Facebook" [LifeHacker]. Yeah, who needs Medicare for All and free college when you can grovel to your "friends" for money on Mark Zuckerberg's advertising platform?
"The Real Peril Of Crowdfunding Health Care" [Buzzfeed]. "Like millions of Americans, McFarland struggles in the margin between being 'insured' and actually being able to cover her health care costs. And while her story is tragic, when she first posted it, it wasn't dramatic enough to go viral on crowdfunding sites filled with similar pleas for help. She's young, but she's not an adorable child; she's extremely sick, but not with a disease that most people understand. Which isn't to suggest that her story, or her life, isn't worthy. But her situation highlights many of the underlying issues with a new-found reliance on crowdfunding as a social safety net." Another way of saying this is that the so-called "safety net" — what are we all, trapeze artists? Wait, don't answer that — is no subsitute for programs that provision universal benefits, as for example health care.
* * *
Readers, feel free to contact me with (a) links, and even better (b) sources I should curate regularly, and (c) to find out how to send me images of plants. Vegetables are fine! Fungi are deemed to be honorary plants! See the previous Water Cooler (with plant) here. And here's today's plant (PM):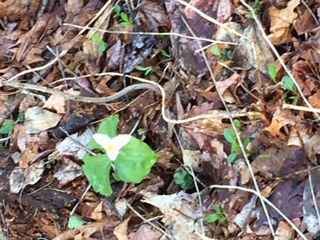 PM: "First trillium this spring."
Readers, Water Cooler is a standalone entity, not supported by the very successful Naked Capitalism fundraiser just past. Now, I understand you may feel tapped out, but when and if you are able, please use the dropdown to choose your contribution, and then click the hat! Your tip will be welcome today, and indeed any day. Water Cooler will not exist without your continued help.