Yves here. From time to time, I've stated that in light of Brexit, the UK should have a war-level planning and industrial strategy project underway. The island nation already has a large trade imbalance that is destined to become worse as the EU takes chucks out of US export businesses as a result of Brexit. Financial services and transportation industry manufacturing (car, truck and airplane parts) are two area of vulnerability.
It turns out that the Tories are not being completely remiss, despite "industrial policy" being a dirty word in business and neoliberal circles. As the post below describes, the Government, with little fanfare, has presented a Green Paper in which it set forth a first draft of "industrial strategy".
However, "industrial strategy" means among other things providing government backing for what the Japanese liked to call "national champions" as in industries where the nation could develop a competitive advantage. In the US, communications, computer and defense hardware and software have long been explicit national priorities, along with the pharmaceutical business, via the large investments in research paid for via the National Institutes of Health and other Federal agencies. And in Australia, the Commonwealth Scientific and Industrial Research Organisation did R&D in a set of sectors like viniculture where Australia had the potential to become a strong player (CSIRO played an important role when I was in Australia in the early 2000s; I gather it is a shadow of its former self).
However, the US more often has had industrial policy by default, as in powerful industries getting support regardless of whether it would benefit parties beyond the incumbents, or would otherwise produce damaging distortions. For instance the banking industry is so heavily subsidized as to not properly be considered private enterprise and as a result has grown faster than the economy as a whole. Yet a raft of recent economic studies have concluded that overly-large financial services industries are a drag on growth, and America's clearly falls in that category.
The nascent industrial strategy plan underscores one of the Big Lies of Brexit: that the UK would be able to free itself from supposedly overbearing EU rules. As the below post details, even the mild version of industrial policy that is palatable to Tories appears to be against the provisions that the EU gets in most of its trade pacts and it would almost certainly require in the upcoming trade negotiations.
We identified this as an issue in December:
Putting aside the substantial difference in size between the two economies, the fatal flaw of this logic is that the UK cannot be meaningfully sovereign due to its degree of economic integration into the EU. They've run up against Dani Rodrik's trilemma, which he first wrote about in 2007:

Sometimes simple and bold ideas help us see more clearly a complex reality that requires nuanced approaches. I have an "impossibility theorem" for the global economy that is like that. It says that democracy, national sovereignty and global economic integration are mutually incompatible: we can combine any two of the three, but never have all three simultaneously and in full.

Here is what the theorem looks like in a picture:

To see why this makes sense, note that deep economic integration requires that we eliminate all transaction costs traders and financiers face in their cross-border dealings. Nation-states are a fundamental source of such transaction costs. They generate sovereign risk, create regulatory discontinuities at the border, prevent global regulation and supervision of financial intermediaries, and render a global lender of last resort a hopeless dream. The malfunctioning of the global financial system is intimately linked with these specific transaction costs…..

So I maintain that any reform of the international economic system must face up to this trilemma. If we want more globalization, we must either give up some democracy or some national sovereignty. Pretending that we can have all three simultaneously leaves us in an unstable no-man's land.

In other words, if the UK wants to have more national sovereignity, it must become more economically self-sufficient, as in more of an autarky. Yet making that sort of change would require a national economic policy, meaning having the government identify sectors where the UK has or could develop competitive advantage and do more to promote their growth. The failure to do planning (and better yet, some preliminary execution) means the UK, despite the phenomenal arrogance and ignorance of its officials, is approaching these negotiations as a beggar: it wants and needs to preserve substantial elements of the status quo, such as access to the single market and passporting rights for UK financial institutions, or face meaningful shifts of activities out of its economy (and please don't try the dubious statistic that the EU will face bigger trade losses than the UK. What matters isn't the absolute dollar, or in this case, pound and Euro hit, it's the cost of the losses relative to the size of the economy. Measured properly, UK citizens will suffer considerably more than their EU counterparts).

And that's before you get to the fact that this sort of industrial policy is anathema to Thatcherites and neoliberals.

As they say in Maine, you can't get there from here. While greater national sovereignty is an estimable goal, the UK has gone down a path for decades that means it will take a long time to get the economic independence that would allow it to have more political autonomy. And despite all their bluster, UK leaders aren't taking that objective seriously either.
By Nicholas Crafts, Professor of Economics and Economic History at the University of Warwick and CEPR. Originally published at VoxEU
The UK government has both embarked on Brexit and announced the outline of an 'industrial strategy' (HM Government 2017). The two initiatives are more closely related than is generally recognised because leaving the EU could mean a relaxation of rules controlling state aid, while the new supply-side approach entails a shift towards selective industrial policy.
Should we see this as an exciting new opportunity to build a stronger economy or as an unwelcome threat to the making of well-designed economic policy? In two recent papers, I argue that the latter is nearer the mark than the former (Crafts 2017a, 2017b).
State aid is defined by the EU as interventions – including grants, subsidies, loans, guarantees, and tax credits – that give the recipient an advantage on a selective basis that has distorted or may distort competition and which are likely to affect trade between member states. These are generally prohibited, but there is a broad exemption for horizontal industrial policies deemed to address market failures with relatively slight implications for trade.
State aid has to be notified to and approved by the European Commission, whose decisions are subject to scrutiny by the EU courts. Under this regime, UK expenditure on state aid has been relatively low: in 2014, it was 0.33% of GDP. Table 1 reports the main categories of expenditure and also notes spending on sectoral development; this was only about 0.1% of the total.
Table 1. UK expenditure on state aid, 2014 (million euros)

Note: total excludes agriculture and transport.
Source: European Commission (2016)
If, following Brexit, the UK chooses to stay within the European Economic Area (EEA), rules on state aid would remain much the same. Selective industrial policy would generally remain illegal.
If, as seems more likely, the eventual outcome of Brexit is a trade agreement between the EU and the UK, the implications are somewhat less clear. Nevertheless, it seems quite likely that the EU would insist on continuation of the equivalent of EEA rules and enforcement mechanisms: a majority of existing EU trade agreements have legally enforceable rules on state aid (Hofmann et al. 2017). On the other hand, a hard Brexit with a default solution of WTO trade rules would allow much more scope for selective industrial policy as is underlined by the recent surge in 'murky protectionism' (see Table 2).
Table 2. G20 protectionist measures recorded by GTA (2009-2016)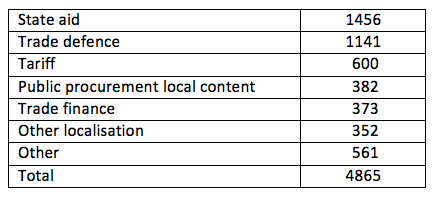 Source: Evenett and Fritz (2016)
The Green Paper (HM Government 2017) aspires to deliver "a stronger economy and a fairer society" so that "more people in all corners of the country share in the UK's success". It identifies ten pillars for the new industrial strategy (see Table 3).
Table 3. The 10 pillars of UK industrial strategy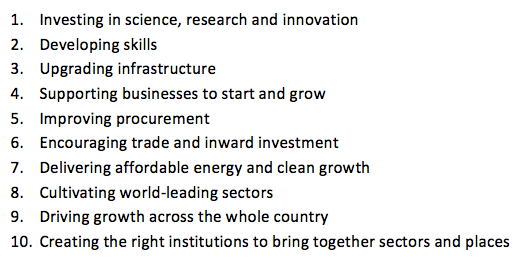 Source: HM Government (2017)
It is conventional to distinguish between 'horizontal' and 'selective' industrial policy. The former addresses economy-wide issues with a view to correcting market failures and removing policy distortions. Well-designed policies can improve productivity and perhaps have a small positive impact on the rate of economic growth. Many of the ten pillars, especially the first three, are essentially of this horizontal type.
The latter – selective industrial policy – entails interventions that favour particular sectors and/or categories of investment, skills, technologies or places. The fifth, sixth and especially the eighth pillars can be seen as explicitly selective policies.
The most eye-catching new policy initiative relates to the pillar "cultivating world-leading sectors" in terms of a proposal for "sector deals". The Green Paper indicates that the government is prepared to work with any sector that can organise behind strong leadership to help deliver upgrades in productivity. This could involve addressing regulatory barriers, promoting competition and innovation, working together to increase exports, and working together to commercialise research.
To complement this, it is intended to take a strategic approach to government procurement to support investment in innovation and skills. All major government projects will be structured so that UK-based suppliers are in the best position to compete for contracts.
There will also be a new, more strategic approach to inward investment. This clearly envisages giving more inducements for foreign direct investment in projects that are judged to have a greater impact on economic growth.
Taken together, these three announcements signal an intention to rebalance industrial policy towards a distinctly more selective stance.
The proposed horizontal policy reforms to innovation, infrastructure, and skills can happen with or without Brexit, whatever the flavour of Brexit. The obstacles to better policy in the past have been located in Westminster, not Brussels. It is difficult, however, to believe that the proposed moves towards selective industrial policy would be allowed under EU rules on state aid.
If a high priority is attached to pursuing a return to state intervention, then that in itself would be a reason to choose a hard Brexit. If, on the other hand, a high priority is attached to controlling the politicisation of industrial policy, then an attractive aspect of a trade agreement with the EU is that it would provide a commitment technology to constrain ministerial discretion.
The problem with selective industrial policy is that government failure is highly likely. It has been widely remarked that, as in the UK in the 1970s where such policies were an expensive failure (Morris and Stout 1985), support is disproportionately given to declining rather than new industries, and this may be an inherent aspect of the political economy of industrial policy that slows down the process of creative destruction (Baldwin and Robert-Nicoud 2007).
Protection against the ravages of industrial decline is probably what many pro-Brexit voters want: it has largely been precluded by EU membership, but it is a likely outcome of a newfound concern to help the 'left-behind'. But the constraint on political discretion arising from EU rules on state aid has been helpful since inhibiting the exit of poorly performing firms and industries is not good for long-run productivity performance.
In any case, it is highly desirable that as the government formulates its industrial strategy, it pays attention to the institutional architecture (LSE Growth Commission 2017). A framework is needed not only to replace EU rules on state aid but also to provide appropriate oversight of the whole gamut of industrial policy. This is highlighted by the recent deal with Nissan, which sets an unfortunate precedent, especially since this is surely only the first of many companies that will threaten to move production to locations inside the Single Market.
Policy guidelines for intervention should be made public and transparent, and evidence-based evaluation both ex ante and ex post by an independent body is required (Banks 2015). The chances of this approach being adopted in UK policymaking have always been remote and, no doubt, it is even less likely in the current political climate.
A recent poll of economists finds that a large majority thinks that it is time for a new industrial strategy, but at the same time they doubt that the government could implement one successfully (Den Haan et al. 2017). I share these opinions. And hard Brexit reduces rather than enhances the likelihood of success since it increases the scope for bad policymaking.
See original post for references