By Lambert Strether of Corrente
Trade
"TRUMP TO SIGN EXECUTIVE ORDER ON 'BUY AMERICAN, HIRE AMERICAN': President Donald Trump will act on one of his signature campaign promises today when he signs an executive order aimed at promoting "Buy American, Hire American" practices. The order, which Trump will sign in Wisconsin this afternoon, will direct Commerce Secretary Wilbur Ross to lead an investigation into government procurement practices at federal agencies, with a focus on rooting out weak monitoring, enforcement and compliance efforts. It will also task four agencies with re-examining all programs under which workers enter the United States from abroad" [Politico].
Politics
New Cold War
"US deploys 'a few dozen' troops to Somalia: Pentagon" [Al Jazeera]. Swell.
2016 Post Mortem
"Trump's Wisconsin win was an aftershock of the Great Recession" [WaPo]. Eight years later… Some shock! About a new book on Janesville, Wisconsin, which nearly flipped to Trump. This: "To this day, most Washington elites don't fully grasp just how painful the Great Recession was for tens of millions of Americans. Government spending increased, and the military-industrial complex prospered, so D.C. denizens were mostly insulated from the economic crisis." And this: "Importantly, Janesville is not part of the Rust Belt. Places like Youngstown, Ohio, and Pittsburgh have been decaying for decades. But this area was faring relatively well until the 2000s. Generations of Janesville kids, going back to 1923, grew up excited to follow their dads onto the assembly line so they too could make Chevys. They saw a union card, not a college degree, as the ticket to a respectable middle-class livelihood. So the plant closure was a profound shock to the system."

"'Shattered' Charts Hillary Clinton's Course Into the Iceberg" (ha) [New York Times]. "In chronicling these missteps, 'Shattered' creates a picture of a shockingly inept campaign hobbled by hubris and unforced errors, and haunted by a sense of self-pity and doom, summed up in one Clinton aide's mantra throughout the campaign: 'We're not allowed to have nice things.'" No nice things. So Clinton delivered the same message internally she delivered to voters.

"'Shattered' offers a number of gratifying revelations. Among them: Mrs. Clinton's tinkering with a certain computer server. Not that server—a different one" [Wall Street Journal].

After losing to Mr. Obama in the protracted 2008 primary, she was convinced that she had lost because some staffers—she wasn't sure who—had been disloyal. So she "instructed a trusted aide to access the campaign's server and download the [email] messages sent and received by top staffers." This tells us, first, that Mrs. Clinton possesses an almost Nixonian paranoia about treachery and, second, that her use of a private email server at the State Department was never the naive "mistake" she pretended it was. In fact, she didn't want anyone reading her emails the way she was reading those of her 2008 staffers.

Plausible, at least.
2017
GA-06: Voting today.

GA-06: "It's not clear what to expect Tuesday night, however. It's hard to estimate how many people will vote, and the public polls are of fairly low quality. One prediction: It's likely that the first votes counted will be misleadingly good for Mr. Ossoff" [New York Times]. "There is no reasonable way to look at the polls and conclude that Mr. Ossoff is likely to get to 50 percent. But it would not take an especially unusual polling error, at least for a special election, for him to pull it off."

GA-06: "WaPo's Bob Costa gives us his take: 'This district has been the launching pad for big foot conservative Georgia Republicans ever since Gingrich won the seat in '78. Then came Johnny Isakson and Tom Price. As Ralph Reed told me, this explains why 11 Republicans are clamoring to be the next congressman. Get a base in the wealthy Atlanta suburbs and you've probably got yourself a political future. The chaotic GOP scramble hasn't been pretty but as long as Ossoff remains below 50 percent Tuesday, it'll still probably be a GOP district come June, when and if the run-off comes. Ossoff has done well but the Atlanta 'burbs aren't the swing Philly 'burbs… yet.'" [Politico].

GA-06: "Georgia special election: one local penny for every $10 in national cash" [Center for Public Integrity].

GA-06: Ossoff: "I'm focused on bringing fresh leadership, accountability and bipartisan problem solving to Washington to cut wasteful spending and grow metro Atlanta's economy into the Silicon Valley of the South" [Newsweek]. Eesh. Sounds like the Dems backing Ossoff read Listen, Liberal and said "Yeah, let's do more of that."
Realignment and Legitimacy
DNC Deckchair Perez and Sanders kick off the DNC unity tour in Portland, Maine:

Crowd goes wild at mention of Bernie Sanders. Some crowd members 'boo' at mention of DNC Chair Tom Perez. #NEWSCENTERnow pic.twitter.com/iFX4So1eWp

— Kristina Rex (@KristinaRex) April 17, 2017

Be interesting to see if this keeps happening…

"And in recent weeks, former President Bill Clinton told new Democratic National Committee Chairman Tom Perez that he didn't want the Democratic Party 'to be simply the party of Bernie,' according to a source familiar with that conversation" [The Hill]. Marching orders? "An aide to Clinton refuted the characterization, saying the former president has always said the strength of Democratic Party is its inclusiveness. A DNC spokesperson said Perez says the conversation didn't happen."

"DNC Announces Members Of Unity Reform Commission" [HuffPo]. "The commission will now begin the process of discussing reforms to the party's presidential nominating process, including hot-button issues like the role of super-delegates and caucuses. It will present its recommendations to the DNC by January 2018."

Sanders had also already named his selections to the commission. They are Cohen, the vice chair; former Ohio state Sen. Nina Turner; former Sanders campaign manager Jeff Weaver; former Sanders New York delegate Nomiki Konst; Jim Zogby, founder of the Arab-American Institute; former Berkeley, California Mayor Gus Newport; former Nevada Assemblywoman Lucy Flores; and Nebraska Democratic Party Chair Jane Kleeb.

The DNC declined to name the three members Perez picked and a spokesman for Clinton did not respond to a request for information on her appointments.

"The Upstate New York congressman who faced overflowing crowds of protesters at town hall meetings managed to raise a record amount of money after the protests gained national attention" [Syracuse.com]. "U.S. Rep. Tom Reed raised $585,282 in the first quarter of the year, a personal high for the fourth-term Republican from Corning." What if Dems had a positive, policy-driven message? I guess we'll never know.

"Moderate Republican House members have had a much tougher recess than conservatives when it comes to Trumpcare. Members from purple districts have had to weather angry liberals and disappointed conservatives, while conservatives have largely emerged as heroes" [Axios]. "With different factions of the GOP pointing fingers at one another, the blame game is only effective if members' constituents are angry with their representative. Right now, it seems like the Freedom Caucus is actually being celebrated for blocking Trumpcare, which was extremely unpopular nationally."

And then there's this:

There's a sharp drop in Democratic Party favorability among Dem-leaning independents https://t.co/3lv2aPqlhp pic.twitter.com/HaoNfU5SJa

— Pew Research Center (@pewresearch) April 17, 2017

Clearly, Democrats need to talk more about Putin and keep pushing for war.
Stats Watch
Industrial Production, March 2017: "A weather-related surge in utility output masks what is otherwise a weak industrial production report for March" [Econoday]. "[M]anufacturing production, where a small gain was expected, fell. … [I]t's manufacturing that represents the vast core of this report and it points to a quarter-end fizzle for a factory sector where unusually strong readings in sentiment reports have not panned out to strength in definitive data like today's report." And: "Very modest growth continues from the lows following the crash in oil capex, and note that the numbers are not inflation adjusted" [Mosler Economics].
Housing Starts, March 2017: "The first quarter ended with a thud for housing starts which fell a very steep 6.8 percent" [Econoday]. "[S]trength is entirely on the multi-family side… March data are often difficult when seasonal factors, including heavy weather, are often at play. But the weakness in starts and strength in permits do point to a possible and favorable theme for the first-half economy in general: weakness in the first quarter followed by a sizable rebound in the second." Huh? "Favorable theme"? Huh? But and: "Multi-family is frequently volatile month-to-month, and has seen especially wild swings over the last six months" [Calculated Risk]. "Starts were up 9.2% in March 2017 compared to March 2016, and starts are up 8.1% year-to-date. My guess is starts will increase around 3% to 7% in 2017. This is a solid start to 2017, however the comparison was pretty easy in March."
Retail: "Warehouses like these are becoming a way of life for many urbanites. Instead of spending the afternoon choosing items off store shelves and standing in a checkout line, city dwellers of the future will tap a few buttons on hand-held devices and a part-human, part-machine warehouse crew in a nearby industrial district will handle the transaction from start to finish. The weekly shopping is done in 10 minutes, and the shopper never has to leave the house" [Wall Street Journal].
Debt: "Loan growth stalls despite profit, trading gains at some U.S. banks" [Reuters]. "Big U.S. banks revealed more evidence of a slowdown in loan growth in their earnings reports on Thursday, though executives assured there is still healthy demand from borrowers and no reason to worry about the state of the economy." I'm not an expert in bank executive-ese. Is "no reason to worry" like "the dreaded vote of confidence" in baseball?
Commodities: "Companies controlled by Israeli mining magnate Beny Steinmetz sued fellow billionaire George Soros, claiming he cost them at least $10 billion through a defamation campaign that stripped them of rights to an iron ore deposit in Guinea and other business opportunities around the world" [Bloomberg].
Shipping: "Within the maritime industry, non-compliance in container packing comes in several flavours, such as container weight mis-declaration, cargo mis-declaration, undeclared hazardous cargo, and lack of identification marks such as proper labelling" [Lloyd's Loading]. "Whatever the flavour, this non-compliance has caused, and continues to cause, a lot of damage across the shipping and freight industry, both in terms of money and lives, and places the entire supply chain under risk." No hard numbers, though.
Shipping: "Los Angeles reported a 29% year-on-year rise in containers handled in March to 788,524 teu due to a post-Lunar New Year jump in cargo from Asia as well as more US retailers transporting goods before the new vessel alliance network operations kicked in on April 1" [Lloyd's List].
Shipping: "J.B. Hunt operated fewer trucks last quarter, and the results show few signs that the carrier will want to add capacity anytime soon" [Wall Street Journal].
The Bezzle: "Do Independent Directors Curb Financial Fraud? The Evidence and Proposals for Further Reform" [The Harvard Law School Forum on Corporate Governance and Financial Regulation]. "One would have hoped these SOX-created independent watchdogs would reduce the incidents of securities fraud and result in better governance. Yet, our analysis of the number of class action settlements for claims of financial fraud for settlements greater than $10 million shows no significant decrease since the adoption of SOX."
Labor Power: "The Boeing Co. will shed more employees as it faces new orders and production slow down for some of the company's current commercial jets. According to reports Monday morning, the company plans to fire 'hundreds' more engineers this year with the cuts scheduled to begin on June 23" [247 Wall Street].
Mr. Market: "A measure of implied volatility known as the CBOE VIX surged to five-month highs before the Easter long weekend, sending a clear signal that anxiety was returning to the market" [Economic Calendar].
Rapture Index: Closes unchanged ("The higher the number, the faster we're moving towards the occurrence of pre-tribulation rapture") [Rapture Ready]. Record High, October 10, 2016: 189. Current: 184.
Today's Fear & Greed Index: 27 Fear (previous close: 30, Fear) [CNN]. One week ago: 31 (Fear). (0 is Extreme Fear; 100 is Extreme Greed). Last updated Apr 18 at 12:10pm.
Health Care
"How Dumping ACA Exchanges Boosted UnitedHealth's Profits" [247 Wall Street].
"Trumpcare's demise offers an important lesson about economic policy more generally. The more universal a program is, the greater the number of Americans will become advocates for its preservation. This is a fact that conservatives know and fear thanks to Medicare and social security, but many establishment liberals since the Democratic Party's neoliberal turn have failed to understand — or perhaps some Clintonites understand it all too well" [Jacobin].
Gaia
"Gas Leak At BP Oil Well In Alaska Has Been Stopped" [NPR].
"Bacteria-busting toothpastes that help prevent cavities in your teeth could be making small dents in the community of microbes in your gut—possibly allowing antibiotic-resistant bacteria to fill in—preliminary data suggests" [Ars Technica]. "The data is preliminary—it has not been peer-reviewed or published in a journal yet—and the study was small, including women and infants from only 39 households. But, the findings fall in line with several other studies that found that triclosan and other common antimicrobials can cause subtle disruptions in all-powerful gut microbiomes."
"It stands to reason that as global warming intensifies certain weather patterns and creates stronger storms, inflight encounters with strong turbulence will increase. Until recently, however, there haven't been any formal studies linking climate change with rougher flying. Now there are. A new paper published by atmospheric scientist Paul Williams from the University of Reading suggests that instances of strong, potentially dangerous turbulence will increase significantly by the middle of the century" [Ask the Pilot]. "I've been flying across the North Atlantic since 1997. My observations are just that, and are purely anecdotal, but what I've experienced more or less meshes with the research. It's become bumpier and windier, on average, and storms seem to be larger and more widespread. Most notably, it's no longer uncommon to encounter thunderstorms even in the colder months."
Class Warfare
"In a survey of Americans ages 31 to 37, the Fed bank found that, although having a college degree substantially boosted one's likelihood of owning a house, those still paying off debt for their bachelor's degrees had homeownership rates several percentage points lower than that of their peers without student loans. The gap was larger among graduates with associate's degrees, and the homeownership rate of associate degree holders who took on student debt was closer to that of Americans with no degree than to that of their fellow associate's degree grads with no debt" [International Business Times].
"Andrew Sullivan has a post where he argues that the economic success of Asians in the United States suggests that the lack of financial success of other groups cannot be chalked up to racism" [Jacobin]. "Asian economic success also varies a lot by group…. Some Asian groups are doing well, but others are doing very poorly. Cambodians and Hmong people, for instance, have poverty rates that are similar to those of blacks, Natives, and Latinos. Statements like the one Sullivan made do not just wave over the complicated history of the matter. They also mislead people about the current situation of Asians in America."
The rise of the robots:
Minsky reflecting on a conversation with Joan Robinson about who will buy the output when the robots "take over." ?https://t.co/ieeh2o6ih3 pic.twitter.com/aF4KbusYIl

— Stephanie Kelton (@StephanieKelton) April 17, 2017
News of the Wired
"Email, in other words, is regulated like a physical record, but we treat it as a conversation. And that causes problems small and large" [New York Magazine]. "In a survey of 586 companies from 2009, 6 percent of workers admitted to sending customers' confidential information to outsiders, 14 percent said they shared proprietary company information, and 14 percent said they shared embarrassing company correspondence. Nearly everyone — 89 percent — admitted to using company email for gossip, jokes, and insults, and 9 percent shared romantic or pornographic material. It's no wonder that a quarter of companies reported having employee email subpoenaed and another quarter reported firing someone that year for email misuse."
"But there's a dark side to [FaceBook's] Free Basics that has the potential to do more harm than good — a side that suggests that Zuckerberg doesn't get Africa after all. The app is essentially a cheap version of the internet, a fact that by itself implies that some people aren't good enough to merit the whole thing. Even worse, it's a version of the internet that gives Facebook — and by extension the corporations and governments that partner with Facebook — total control over what its users can access" [Foreign Policy].
The original "I have several tabs open":
A must for every library: eighteenth-century rotating table allowing readers to view multiple volumes at once. pic.twitter.com/p18X8LRpPo

— NSCM (@LitteraCarolina) April 14, 2017
* * *
Readers, feel free to contact me with (a) links, and even better (b) sources I should curate regularly, and (c) to find out how to send me images of plants. Vegetables are fine! Fungi are deemed to be honorary plants! See the previous Water Cooler (with plant) here.
And here's today's plant (via):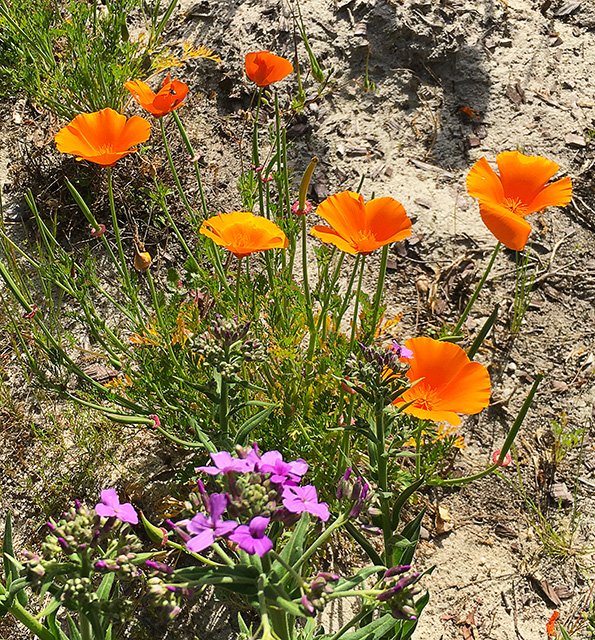 California poppies!
* * *
Readers, Water Cooler is a standalone entity, not supported by the very successful Naked Capitalism fundraiser just past. Now, I understand you may feel tapped out, but when and if you are able, please use the dropdown to choose your contribution, and then click the hat! Your tip will be welcome today, and indeed any day. Water Cooler will not exist without your continued help.