By Lambert Strether of Corrente.
The post title is taken from the lyrics to the Beatles' "Back in the USSR," which sadly I cannot include for copyright reasons. For those who came in late, USSR stands for "Union of Soviet Socialist Republics," a federal, multinational, and multilingual empire of continental scope, ruled by a police state and administered by a sclerotic party apparatus using an unworkable economic theory[1]. For those of you who are saying "Wait a minute. That reminds me of something…"… This post is for you.
Now, we have actual Soviet and Russian experts as contributors to Naked Capitalism, and I couldn't compete with them analytically on the causes and consequences of the fall of the Soviet Union, even if I wanted to. The thrust of this post is a little different: I want to open your minds to the idea that the United States shows serious signs of dissolution, just as the Union of Soviet Socialist Republics could be seen to show when looked at through the eyes of the New Soviet Man or, as we say in this country, the "consumer." So, I'll present some classic images of Soviet decay, and then present American parallels.
Exteme Queuing for Basic Services
The USSR was famous for its queues (via):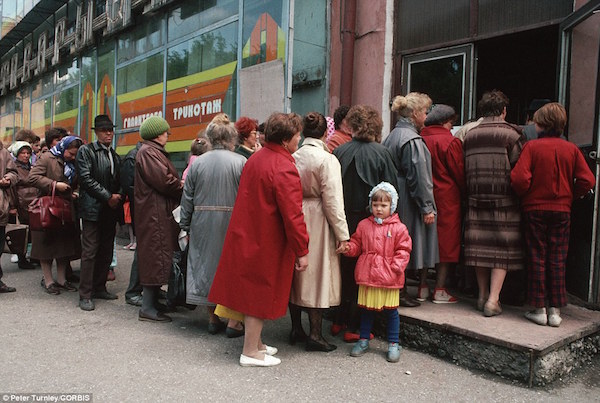 We have our queues, too, though they're not necessarily so visible as in the USSR. Take ObamaCare — please!
Yves frames many useless, but rental extraction-enabling, mechanisms as a tax on time. For example, you can take a day to figure out which policy you should purchase, and you can be additional hours on the phone straightening out the policy with the insurer, and many hours straightening out any billing errors. So who do you invoice for all those hours you spent, that you would rather have spent doing some more pleasant task, like getting your teeth pulled, or cleaning your refrigerator? Nobody. That's why it's a tax on your time, levied on you by neoliberals because markets.
Michael Olenick describes this queue in "'Conversation with the Receptionists' – An Obamacare Skit":
Receptionist: Beegbaux Medical Clinic, can I help you?

Newly Insured: Hi. I have a new Obamacare policy and I'd like to schedule a visit.

Receptionist: Who is your insurance with?

Newly Insured: A company called Corporate Welfare Assurance Company. You've seen their ads on TV, 'The President's giving you CWAP so sign up!'

Receptionist: Duh: don't you read the news? This is a respectable medical clinic: we don't take CWAP here.

Newly Insured: I pay 18% of my gross salary for quality affordable healthcare. I've had a strange looking growth for ten months but after scheduling an appointment under my old plan my last insurance company dropped me before I could show up.

Receptionist: All that is very interesting and I can relate – despite working in a medical office I have ACA CWAP insurance myself — but there's nothing I can do. Bye. [Click sound]

[Cut to a montage of various receptionists for each line]
The queue may not be out in the street, but it's still a queue!
Prices That Do Not Send Signals
Many economists (for example, those at the St Louis Fed) believe that a "command economy" like that of the Soviet Union cannot match supply to demand absent a price system:
A shortage is a situation in which the quantity demanded of a product is greater than the quantity supplied. In a government-run economic system, the government would most likely attempt to increase the quantity supplied by dictating that firms produce more gasoline. The government would also likely restrict the quantity that consumers could buy. This would take an extensive bureaucracy of people to provide a massive amount of information, to plan and direct resources, and enforce the new rules. Even then, the amount of gasoline produced might not match what consumers really wanted or what firms could produce efficiently. This kind of mismatch was an ongoing problem in command or centrally planned economies, such as the former Soviet Union, where government planning agencies tried, and failed, to effectively manage the economy.
Hence these ladies selling their own vegetables to supplement what the USSR's centrally planned collective farms could not produce (via):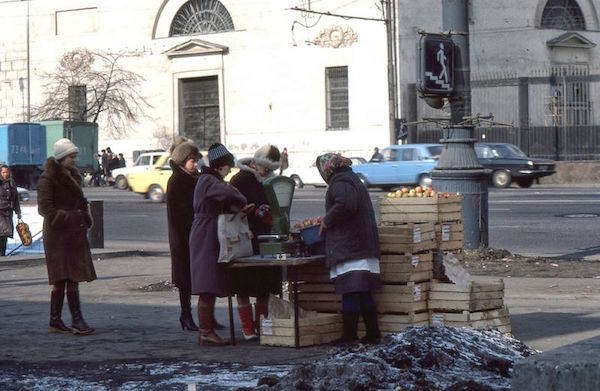 But we have our own dysfunctional pricing systems. I'm happy to hoist this comment from reader LaSherri, who tried to challenge a medical bill. Her comment reads in relevant part:
I have been with United Healthcare since 6/2016 (previously was with BC/BS Anthem). I recently wrote to United Healthcare, my state medical board and providers (all within 1 group)…. I detailed my treatment experiences with the providers from 2013. In particular, I went to an ER for dizziness for a week (3 days I had to move around on my hands and knees hugging the wall). I was there for 3 hours, and the bill was over $2,000 even tho there wasn't any treatment rendered except some Zofran for nausea (and this was after markdown of costs in accordance with the insurance company). They did an EKG and a CAT scan since I have migraines. I was released with a prescription for meclizine and told I had benign paroxysmal positional vertigo and nothing could be done. I requested 3 times an explanation for the high bill (wanted the codes) as there were 2 ER charges, 5 chemistry charges, 2 med/surgical supply charges, 2 hospital services, among others. I was never supplied with anything. There were numerous similar instances listed in my 4-page complaint to the state medical board, etc. I was contacted via CM, RRR letter a month later by the physician conglomerate and informed they were requesting all reports from all departments and would schedule a meeting with me after receipt (and they gave a deadline for the reports). Over a month past the deadline, I received another CM, RRR letter from the physician conglomerate to inform me that the deadline was extended, and they still wanted a meeting. That deadline has also since passed. About 2 weeks after my complaint, I received notice from the state medical board that they were investigating. I think this is why I received the first CM, RRR letter to cover their butts. I also believe the extended deadline is to provide the physician conglomerate time to see who the state medical board finds in favor of.
LaSherri's experience is by no means unique, as other readers have testified. Does this sound like a functioning price system to you?
A Corrupt Nomenklatura
Finally, the Soviet Union was famous for its bureaucrats ("nomenklatura"), not all of whom got to ride in limosines, but we'll use the Zil as a symbol anyhow, since it's never easy to hold somebody accountable if they go to and fro in a limo (via):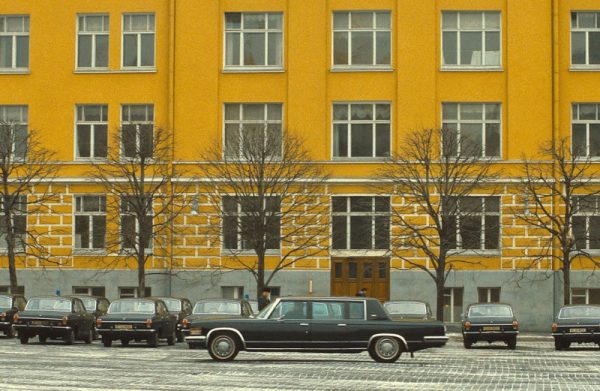 This last year has seen a constant drip-drip-drip of stories about unaccountable bureaucrats in this country, not all of them from the national security state:
The IRS: "The IRS took millions from innocent people because of how they managed their bank accounts, inspector general finds."

The IRS pursued hundreds of cases from 2012 to 2015 on suspicion of structuring, but with no indications of connections to any criminal activity. Simply depositing cash in sums of less than $10,000 was all that it took to arouse agents' suspicions, leading to the eventual seizure and forfeiture of millions of dollars in cash from people not otherwise suspected of criminal activity.

The IG took a random sample of 278 IRS forfeiture actions in cases where structuring was the primary basis for seizure. The report found that in 91 percent of those cases, the individuals and business had obtained their money legally.

They just reach right into your pocket and take your money!

The Police: "Civil asset forfeiture: Tracking the cash seized by police in a Deep South state where transparency is not required":

Each year, law enforcement agencies seize billions of dollars in cash and other property from potential suspects – some of whom are never convicted or even charged with a crime – through a process called civil asset forfeiture.

Civil asset forfeiture laws originated and grew during the 1970s and 1980s as a way to fight drug trafficking. They have created a lucrative revenue stream for law enforcement agencies, one that grew from $94 million in 1986 to $4.5 billion by 2014, according to the Institute for Justice.

But drug traffickers are hardly the only people targeted. Often, the targets are simply people carrying cash who are stopped and searched by suspicious police.

Many times, the individual cash amounts taken are so low that it isn't worth hiring a lawyer or taking time off work to go to court to get the money back. And sometimes, people are intimidated and unwilling to even ask about getting their money back.

Again, they just reach right into your pocket! And lest we think it's only the organs of State security that can do this:

The Banks: "Wells Fargo Gets An Additional $110 Million Wrist Slap Over Fake Accounts Scandal":

On the one hand, it's frustrating to see Wells Fargo, which engaged in a remarkably large-scale, brazen fraud by opening as many as 2 million fake accounts to keep its stock-boosting cross-selling story going, get away with penny-ante costs. The initial joint regulatory fines of $185 million, combined now with an additional $110 million settlement of some private suits, seems skimpy.

But even though Wells opened tons of bogus accounts, it levied bogus fees in a smaller number of cases. Those charges didn't add up to big bucks. While customers suffered all sorts of other harm, like possible damage to credit ratings (opening more accounts, or even just pulling more credit reports, are a demerit) and the hassle of fighting Wells to close phony accounts and get rid of fraudulent charges, regulators and courts see those costs as too intangible to be worthy of compensation.
It's the same thing! They reach into your pocket and take your money! Because they can! As if the United States were some Third World country!
Conclusion
Of course, there's also the drop in life expectancy in post-Soviet Russia, mirrored by the drop in life expectancy in this country two decades later, as shown by the Case-Deaton studies. One more from the USSR (via):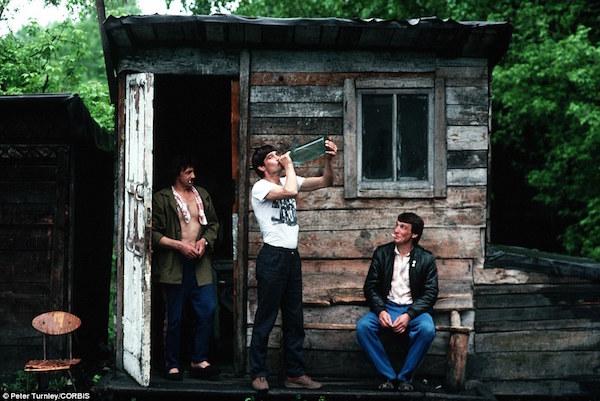 From bottles and cigarettes to needles and white powders. Never let it be said that the arc of history does not bend toward justice!
NOTES
[1] The USSR dissolved itself in 1991; cf. "How It Could Happen" from The Archdruid. The "unworkable economic theory" was not neoliberalism.