Great-grandma survives five days in Colorado wilderness BBC
US hiker given warning for rescuing 'abandoned' bear cub BBC
Polar bears spotted in Scotland as animals flee melting Arctic ice cap Telegraph :-(
Jane Austen, a £400 painting and an art mystery Financial Times
Trump EPA Green Lights Pesticide Known to Damage Children's Brains Chicago Tribune (furzy)
Multifunctional Landscapes Would Be a Boon to Rural Vitality for the Midwest Big Picture Agriculture
Brexit
EU draws up tough stance on Brexit transition deal Financial Times. Quelle surprise! The EU did what it said it would do.

Outrage as Spain and EU accused of using Brexit to take back Gibraltar, as MPs say Britain will 'not be bullied' Telegraph. Someone noticed this in the FT comments section yesterday. This means this is a bargaining chip, as in the UK is expected to concede something to keep it. The EU is making it clear that Brexit is not going to come cheap.
First Minister's Questions Scottish Parliament. Our Richard Smith gets a shout out, and a prominent one too! Congrats Richard!
Britain Demands That Twitter, Facebook, Google Tackle Extremism Fortune
Protesters set fire to Paraguay Congress after secret vote on presidential term DW
Big Brother is Watching You Watch
Russia and China Catch Security Council in a Devastating Lie Russia Insider
Trump Transition
Obamacare
The Democrats Are Learning Something They Should Have Learned a Long Time Ago Charles Pierce, Esquire (resilc)
How the Freedom Caucus Is Undermining the G.O.P. New York Times
FASCISM HAS ALREADY COME TO AMERICA MTV (Bob K)
South Carolina U.S. Rep. Mark Sanford: Trump threatened to back primary challenger against me Post and Courier
The Anti-Trump Movement In North Carolina Has The Potential To Flip The South Huffington Post This piece is way over its skis. It's not as if what happens in one state affects another. Mass state politics do not affect Maine, for instance. North Carolina is not Deep South. In any other Southern state advocating transgender bathroom rights would be political suicide (save Virginia which despite having been part of the Confederacy is not hard core South). And Alabama loves Trump.
California lawmakers release details on universal health care bill East Bay Times (martha r)
Official says interstate repairs to take months Washington Post (martha r). Wowsers.
Police State Watch
With Trump, Police Hope to Deploy Military Gear Banned Under Obama Wall Street Journal (furzy)
Fake News
This one is a real blooper and I cannot let it pass by Tyler Cowen (martha r)

Trump Says CNN Is Fake News — But That's Where He Wants Surrogates BuzzFeed (furzy)
Trucker drives non-stop from Seattle to Mass. while high on drugs New York Daily News (martha r)
CalPERS' Pension 'Myths' Busted California Political Review. Some of the counter-claims here are exaggerations or flat out false. The analysis attributed to "Stanford University" was made by grad students and has been criticized (but oddly not by CalPERS in any sort of rigorous manner, all the agency has attempted is a handwave). It also flagrantly misrepresents SB 400, which effectively applied only to "badges" as in police officers like state troopers, who are in jobs deemed hazardous and can retire in their 50s at full benefits. But it is 100% correct in depicting how cack-handed CalPERS has been in its use of the lame "Myth vs. Facts" and its other messaging efforts. We wrote about an earlier misrepresentation here.
Wall Street's New Favorite Way to Swap Secrets Is Against the Rules Bloomberg
Amazon and Walmart are in an all-out price war that is terrifying America's biggest brands Recode (martha r)
Guillotine Watch
How a Cruel Foreclosure Drove a Couple to the Brink of Death Dave Dayen, Vice (Steve). Today's must read. Note that part of why this came about is that bankruptcy judges are Federal judges and way over the caliber of state court judges that handle foreclosures. And bankruptcy judges take very badly to violations of the bankruptcy stay.

What Caused the Downfall of New York City's Glitziest Restaurant? Bloomberg. This piece is missing something. Le Cirque went out of its way to try to be a club for rich regulars, to the point of giving noticeably poor service to newbie diners, on the apparent assumption that they were out of town hicks. This was long established; I ate there once in the 1980s when I was on an expense account and resolved never to go there again.
Class Warfare
Penn Plaza Matters Memorial March Against Gentrification. "Pittsburghers call on the City to purchase Penn Plaza Apartments for long-term affordable housing and to adopt policies to prevent city-wide displacement." Dunno why the e-mal for a march on April 1 at noon hit my inbox at 5:41 PM on Friday, but it you are in Pittsburgh and can participate on short notice, I hope you will. "March begins at the corner of Penn Ave and Centre Ave in East Liberty and will end with call to action at Penn Plaza Apartments near the corner of Penn Ave and Negley Ave " Contacts Crystal Jennings: 412-335-7093; Randall Taylor: 412-537-2564, randalltaylor2016@gmail.com; Helen Gerhardt: 412-518-7387, helengerhardt1@gmail.com

How pharmacy benefit managers morphed from processors to predators Dave Dayen, American Prospect (furzy)

WILL ROBOTS REPLACE HUMAN DOCTORS? JSTOR. This is nuts. Interaction with doctors has major placebo effects. And I would not consent to being treated by a robot.
Antidote du jour. Lawrence R, from Spring Ledge Farm,New London, NH which sent this via e-mail:
Even with all the white stuff falling from the sky, we will have the scheduled seed sowing workshop tomorrow, Saturday April 1st, from 10-3.

Why are we still having the workshop in a snowstorm, you ask? Here are some reasons, in no particular order:

-It's April dammit.

-And then there's denial…that's in play for sure.

-Plus we're farmers, who just have to deal with the weather every day of the year, so no big whoop.

-And possibly stubbornness plays a role, As yankees, we don't like to see things change.

-Although it could be pride; yup, I'm not proud to admit that pride does play a role.
And the picture caption is: "Floppy & Joe enjoying an exotic ray of sunshine."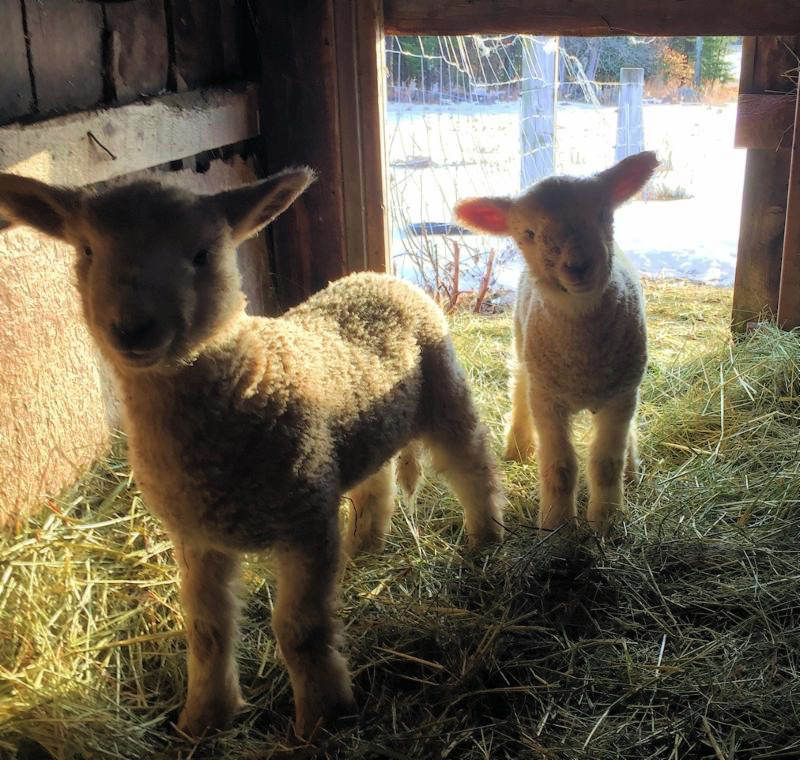 See yesterday's Links and Antidote du Jour here.